It's what they call going out with a bang. Just after Sebastien Bourdais threw in the towel at the Nurburgring because of an hydraulic problem, he was assailed from all sides by microphones and cameras as soon as he got out of his car, all asking the same question: "Will we see you in Budapest, Sebastien?"
He'd already heard this phrase hundreds of times since the start of the weekend. When a journalist from French television asked him again, live, Bourdais erupted. Three days of frustration, stress and pressure were vented in a few seconds: "You piss me off with that question, is that clear? I've got a contract, I'm going to Hungary and that's all there is to it," he shouted as he turned on his heels and dived into the motorhome. Those were his last words as a Toro Rosso F1 driver.
Surplus to requirements
When Bourdais departed with this spectacular flourish, he knew that his relationship with the team was over. The Frenchman had been worried by the rumours swirling around on the web and he called Franz Tost on the Wednesday before the German Grand Prix. The rather ambiguous reply set the alarm bells ringing. The following morning, the blow fell. In the Nurburgring paddock, Tost told Bourdais that he would be racing for the team for the last time. "I just wasn't expecting it - there were no warnings," the Frenchman points out. "I didn't understand what had hit me."
But at Toro Rosso, the decision had been taken a long time before Bourdais was informed. "Sebastien had been confirmed for 2009 in a very specific role as leader because of his experience as a driver," explains Red Bull advisor and talent scout Helmut Marko. "His experience was supposed to make the difference between him and newcomer [Sebastien] Buemi."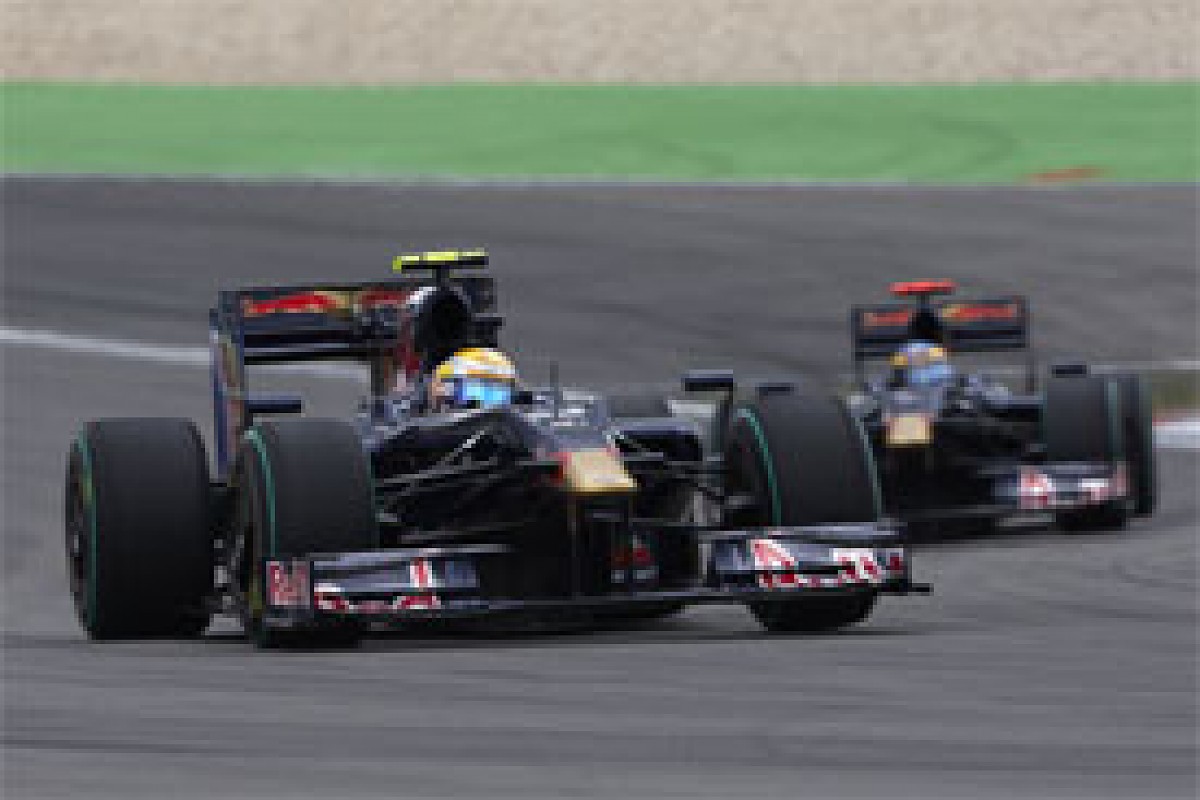 Sebastien Buemi leads Sebastien Bourdais at the Nurburgring © LAT
Unfortunately, things did not work out as expected. The Swiss showed he was as quick as the Frenchman the very first time he got in the car. The pupil had the measure of his master straight away and was quicker in qualifying seven times out of nine.
Thus, Bourdais' position was under threat. Behind the scenes, Toro Rosso quickly selected his replacement, Jaime Alguersuari, and the best place for his baptism: Budapest. The Spaniard knew the circuit and, in addition, the STR4 was going to benefit from an update.
"It would have been tricky to give Jaime his debut without that upgrade," says a team engineer. "The Silverstone and Nurburgring car was twitchy and unpredictable; it would have been dangerous for a rookie. With the Hungarian update we could give him a more competitive, more forgiving machine."
In addition, the 2009 regulations played against Bourdais. Had testing not been banned, the Frenchman would have kept his seat as the team could have given Alguersuari the time to play himself in by testing.
An isolated driver
Bourdais arrived at Toro Rosso from the United States with all the confidence of a four-time Champ Car title winner. He was sure of himself and his talent, but what he didn't realise was that he was considered a beginner by his new employer. This difference of opinion surrounding his status was like a ball and chain between the two parties during their tenure.
"In hindsight, you could say that they never really gelled," says a close observer. Bourdais had developed in a relatively protected environment from the start of his career, and he was thrown into a hostile milieu for the first time in his life. He had to defend himself and take his career race by race. He was used to being talked up, reassured, pampered even, and he had to prove himself each time out. He never really understood the pressure that he was under, and it did his morale no good. Little by little, Bourdais began to look at the F1 world in terms of a plot by Toro Rosso against him. He lost his confidence and withdrew into himself so he became isolated.
"Despite everything, we liked him a lot," says one of the mechanics. "He was a bit strange, sometimes a bit abrupt without meaning it, but overall a good guy." The Frenchman was not the kind to have a beer with his mechanics after the race, and he forgot to call Franz Tost between grands prix. What was worse was that he stood up to his boss when the latter got angry and told him he wasn't quick enough.
"Everybody knows that in such cases, it's better to take it and shut up," says a Toro Rosso team member. "By fighting back against certain criticisms, Sebastien blacklisted himself."
He was taken on by the team thanks to Gerhard Berger's powers of persuasion with Dietrich Mateschitz and Helmut Marko, and Bourdais found himself deprived of a powerful ally when the 10-time F1 race winner quit Toro Rosso. His disappointing results during the first half of 2009 made him a sitting duck.
Technical traumas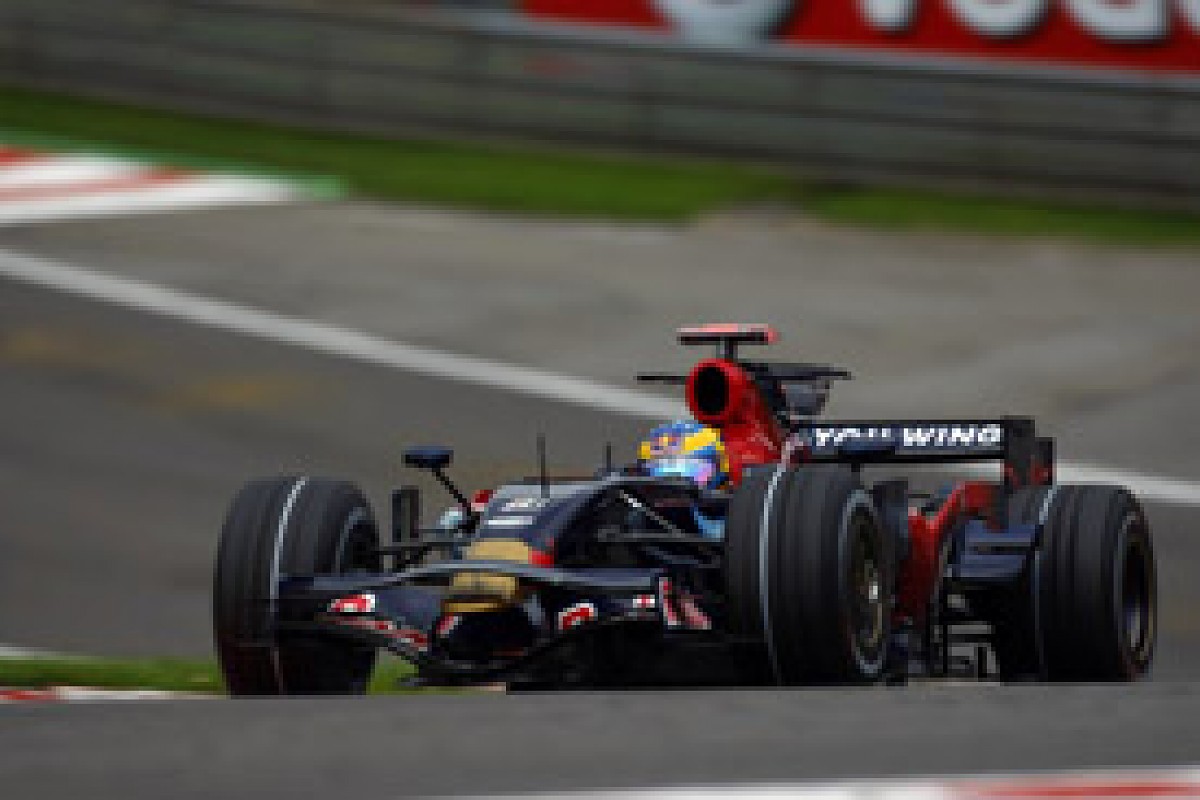 Sebastien Bourdais en route to the fastest time in Q1 for the 2008 Belgian Grand Prix © LAT
Is Sebastien Bourdais a bad driver? The answer, of course, is no. His first race for Toro Rosso in Melbourne in 2008 ended with a points finish. This never happens by accident. But the Frenchman, who is a real perfectionist, could never get to grips with the naturally oversteering tendency of modern F1 cars. Instead of accepting the fact and making the best of it, he kept trying to improve his performance by playing with the set-up. Before qualifying he asked for changes to the angle of the front or rear wings. In the race, as refueling loomed he wanted small detail adjustments, which usually had no effect. The result was confusion surrounding the right technical set-up.
This handicap masked several of his qualities: physical endurance that enabled him to be very consistent in the races plus accurate technical feedback that was always proved right.
"When the moment came to really go for it Sebastien never gave the impression of pushing himself to the limit to set a time," explains the same engineer. "When he should have stopped thinking and really gone balls out, he was still trying to understand the car and modify its set-up."
Alguersuari may have a lot of work to do but his approach has already delighted the team. "He's calmer, stronger mentally, and doesn't get into a panic when things get complicated," say several mechanics, already won over by the young Spaniard.
Keeping his dignity
Bourdais initially threatened to take legal action against Toro Rosso for unfair dismissal as his contract did not contain a results clause. However, the Frenchman and his team of advisors recently came to a settlement agreement in the form of a big cheque compensating him for the damage caused to his image and his career. As his salary was reduced by half in 2009, the payment of the remainder was not enough in terms of compensation. The top-up seems to have done the trick.
For Bourdais F1 is still the main target, but it looks difficult for 2010. "Who knows? Campos, Manor and USF1 might need his talents as a test driver," say his entourage in an attempt to reassure. Bourdais has already made a few changes in his private life and will soon leave Switzerland to set up in his home town of Le Mans. In the coming weeks, he will get down to mapping out his future, which may include a drive with Peugeot in the 2010 Le Mans Series.
What about a return to racing in the USA where he raised his stock so highly in the Champ Car World Series? Why not - he still owns a house in Florida. Were he to find a drive in the States, his salary would be lower than what he was used to a few years ago, as the economic crisis has hit the motor racing world there.
Nicolas Todt, Sebastien's manager, will have to use his powers of persuasion to the utmost to find a challenge worthy of Bourdais' talents for 2010. But more pressing matters - fellow client Felipe Massa's serious accident in Hungary - will keep Todt Jr busy in the weeks to come. Bourdais will just have to grit his teeth and fight on to pursue his dream while not losing confidence. As the saying goes in La Sarthe, his native region: 'Impossible ain't French'.