For the first time in two years, McLaren-Honda was outpaced. And by a league this was the best race of the season, maybe of several. Nigel Mansell always thought he and the Ferrari would be on the pace in Hungary. On qualifying tyres, though, the car was a disaster - so much so that he spent the last session on race rubber, concentrating on a race set-up.
It was a sound gamble, time well spent. Qualifying only 12th, he took the lead from Ayrton Senna with 20 laps to go. Senna was cheerful in defeat. The man in tears was Riccardo Patrese, who took pole and led for 52 laps before a radiator burst.
According to Nigel, this was the best race of his life. He won by passing people - beating them.
Qualifying
The Hungarian Grand Prix (subtitled 'The Filthy Rich Go East and Show OFF') has a slightly immoral feel to it. The Ferraris and Porsches with their western number plates seem a touch ostentatious in the Eastern Bloc - even in these times of glastnost and pere-stroika.
The local competition really isn't up to much: Tatras, Ladas, Skodas, Wartburgs and Trabants dodge the tramlines along the wide-open boulevards of the beautiful city of Budapest.
Actually this is two cities: Buda and Pest, divided by the Danube, but linked by ornate bridges. Imagine Paris with goulash and gypsy fiddlers ad you're not too far out. It is a city of splendour.
The hills of Buda are topped with the dramatic Royal Palace and the Citadel, with its striking Liberation Monument.
Down below, across the river, on the plain, is the bustle of the more modern Pest. The residents of this quarter certainly live up to their name when it comes to driving but, if you can avoid the errant Trabants, you will find Heroes Square and beyond that the M3 Motorway, which leads out of the town to the rolling hills wherin the Hungaroring lies.
This year it was a new look Hungaroring, with one of the more tiresome wiggles removed. The change was to improve lap times considerably. It may wriggle here and there in its natural amphitheatre, but the Hungaroring is a very technical track. Time can easily be thrown away; new boys are at a disadvantage.
And so it proved in pre-qualifying: Stefan Johansson was immodestly quick - 1.25 seconds clear of Piercarlo Ghinzani (not exactly a spring chicken), who had his first successful session of the year. Michele Alboreto (the odd grey hair visible) made it too. Philippe Alliot, however, dropped the ball when he came across "a driver in a dream," and was blocked on his fast lap. Lola doesn't always get what Lola wants.
As a result of Philippe's misfortune Bertrand Gachot slipped through by 0.1s, edging out Nicola Larini. "I was very lucky," admitted Bert, whose car got a puncture after just five laps. He was left with the prospect of just one lap on Q tyres; but delivered the goods. "The car was very good," he explained later. "I had a big advantage. It just shows you what a lottery pre-qualifying is."
The rest were a long way back with assorted tails of woe and no experience of the place. Hardest hit was Pierre-Henri Raphanel, who had just two laps before his Coloni's engine croaked. "I did more laps yesterday in my hire car," he mused later.
By then, of course, it was too late and the survivors joined the main field for the Friday morning free practice.
It was, at best, an unusual session. Initially Johansson led the way and into the last few minutes the unusual theme continued. With 15 minutes to run Alain Prost bumped a Minardi to take fourth place! Moments later Ghinzani took fifth. In those dying moments the old order reasserted itself with Prost, Nigel Mansell, Riccardo Patrese, Ayrton Senna and Gerhard Berger all doing quick times.
Alex Caffi sneaked in to take fourth place and the top 10 also featured Luis Perez Sala, Pierluigi Martini and Ghinzani.
The lesser-known heroes all had one thing in common - Pirelli rubber - but this was certainly an unexpected list.
The afternoon session, with the official clocks running anyway, was in a similar vein. Caffi led the way. "I saw his time come up on the TV screen," said Berger. "And I thought 'Shit, what's happening now? Alex is good huh?' The best of the young Italians."
But youthful exuberance was put firmly in its place just short of the half-hour mark when Mr Experience Patrese (185 GPs and counting) did a blinder of a lap. It was so fast that many had doubts if such a time was possible. The men at Olivetti/Longines checked, but it was right. A mere 1.3s up on Caffi.
"It shouldn't be such a shock," said Riccardo. "I am fast! The car was perfect, there was a nice balance and I pushed hard. It felt quick." It looked it too. This was one of those laps about which drivers dream. Every corner was just so.
The rest piled in with their times, but no one was close to Patrese. A red Italian car was alongside on the front row - but (whisper it and marvel it) it wasn't a Ferrari. Caffi had held on to second.
Italian youth and Italian experience had outdone everyone, even the mighty McLaren Honda. Down in the Ferrari pit, if the ground had opened up, the team would have been happier.
At Scuderia Italia, Caffi beamred like a sportscar on the Mulsanne at night. Presumably he would like it to rain in the second session on Saturday? "No I don't want rain. Half a metre of snow would be good," he said."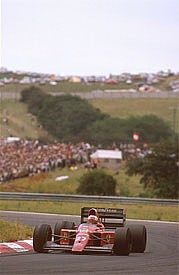 Nigel Mansell, Ferrari 640 © LAT
Prost salvaged third for McLaren and Berger upheld Ferrari's honour in fourth, but neither team was having a bundle of laughs.
Honda power was not quite as useful as it has been for much of the summer. The Hungaroring is a handling track and no amount of horsepower could mask the fact that the McLaren was not handling well.
The imbalance affected both Prost and Senna and neither was exactly ecstatic about being blown off; but blown off they were. Yes, traffic played a part, but that was the same for everyone.
"If every driver talked to each other about being held up," said one of the stars, "the paddock would be flying backwards and forwards." To emphasise the point, he waved his arms in the air like an orchestra conductor on funny pills.
So what was the problem?
"You cannot afford to go off-line," was a sentiment freely expressed. If you did, you picked up all manner of rubbish and warming tyres or further qualifying runs were out of the question. Everyone stayed on line and most were frustrated. Caffi flew off while trying to pass someone on what might have been an even quicker lap.
Some reflected their frustration in alarming ways. Mansell felt aggrieved that Jean Alesi had carved him up at one point in free practice. "He finished a quick lap," explained Jean. "And he stayed in the middle of the road. He is a champion, a top driver, he has a car for winning races. Why did he do that?"
Jean admitted that he had lost his temper and braked in front of Nigel. "It was very close," he said.
No one dared breathe the expression 'brake test,' and Nigel didn't want to discuss it, but it was the most overt display of the emotions that were running through the field.
The pressure even got to regular iceman Senna, who jumped from his car at the weighing point, in the closing part of the afternoon session, jumped into the spare and had managed only a few hundred metres before the flag came out. It had achieved nothing but a US$5000 fine.
There was still the Saturday official session to get through, of course, and most drivers (all of them being optimists) reckoned that things would be better. The Red Sea of cars would open up and allow them that lap of which they knew they were capable.
But the reality was different. No snow came on Saturday, but in the morning Caffi was still up there, second only to Sandro Nannini's Benetton. Behind them the heavy hitters continued to look frustrated.
In the afternoon the track seemed quicker and there were improvements from most of the runners.
There was also more baulking and bad temper. Senna admitted to a couple of mistakes on his fast run, but bounced Caffi to the second row. Patrese looked set for another lap in the 1m19s when he encountered Stefano Modena at the end of his lap. Caffi improved, but blew an engine at the end of his fastest lap. Thierry Boutsen carved a slice off his Friday time to sneak into fourth. Prost did not improve. "Qualifying was impossible," he said. "I was a full second quicker on race tyres than on qualifiers. I just could not make the front end work."
Mansell had a similar problem: "I'm reasonably happy," he said. "We have gone forward from yesterday, but I could not get the qualifiers to work." He would start 12th on the grid.
Team-mate Berger was sixth. "No changes have any affect," he mused. There was much disappointment about, notably at Ligier and Rial, both teams losing both cars. "My car is incredible," said Christian Danner. "You can use whatever settings you want; you stiffen it; soften it; change the ride height, the wings, the rollbars, even the rockers. The lap time is always within 0.5s.
Olivier Grouillard merely shrugged. He had done all he could.
The upshot of all this was that Patrese had his first pole position since Monza 1983 and ended a run of 17 straight McLaren poles.
And what a breath of fresh air it was. For once the post-practice press conference had a joyful air to it. Riccardo was not bored by his success. He wanted to tell the world. In fact, he wouldn't stop talking and smiling.
Elsewhere there was plenty of talk flying about. "It's much better in race trim," said Senna. "Things should be better in the race," said Prost. "It'll be okay tomorrow," said Berger." Things are looking encouraging for the race," said Nelson Piquet. "We'll see," said Caffi. "The race will be interesting," said Mansell.
We hoped it would be. Perhaps this would be the kind of race we had waited so many months to see...
Race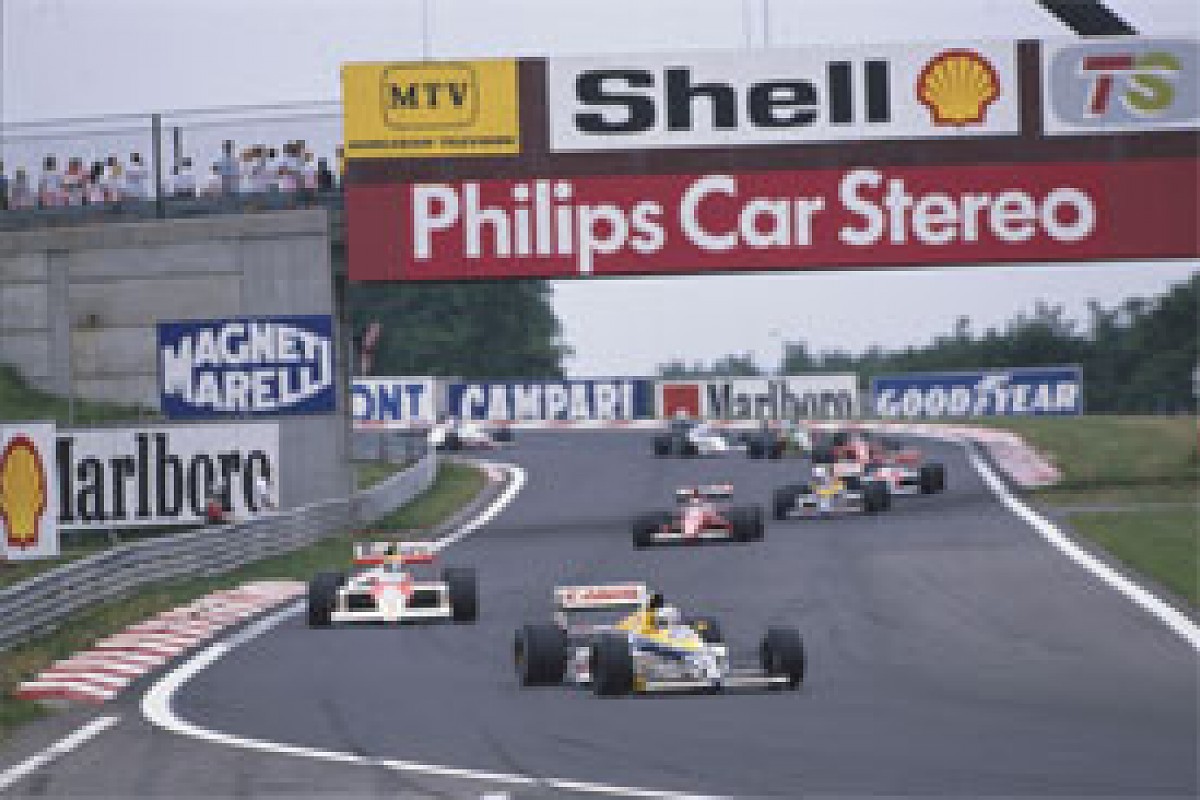 Riccardo Patrese (Williams FW12C Renault) leads in the early laps © LAT
Mansell and Jonathan Palmer seemed like an unlikely pair to find at the top of the morning warm-up times. Jonathan, only 19th on the grid after two very troubled qualifying days, had the Tyrrell set up like Alesi's, and found the handling transformed.
Nigel may have been disconsolate about qualifying only 12th, but had thought his predicament through with the kind of calm logic we associate with Prost. It takes discipline and self-confidence to effectively throw away the last session, to give it over to a race set-up, but Mansell figured he had little to lose. He didn't touch qualifying tyres on Saturday afternoon.
"It was frustrating, sliding further and further down the list," he said. "But I couldn't get the car to work on qualifiers, anyway. Over the two days, I'm quite sure I did more running on race tyres than anyone else, and I had the set-up pretty good on both Bs and Cs. I felt pretty happy the night before the race; the big problem was starting so far back."
Berger, fourth in the warm-up, was less content. The handling was reasonably good, but there was a gearbox problem, and Gerhard - who has yet to score a point in 1989, and has retired endlessly with gearbox-related troubles - requested it be changed for the race. It was not. And later in the day it would make him very angry.
The McLaren drivers were also in differing frames of mind. Handling was better, but Prost's engine wasn't picking up properly, and the same problem affected Boutsen's Williams-Renault. The engine was changed for the race, but then an electrical glitch meant taking the spare, after all, and it was set up for Patrese. Thierry, a man unusually finicky about set-up, wasn't thrilled. Riccardo, troublefree in the morning, was relaxed.
In the paddock, people said that qualifying was one thing and the race quite another. Just wait, they said; Senna will get Patrese by the first turn. End of story.
Well, perhaps. But at least there were wild cards in the pack for once. And another was in the elements. After two days of sun, race morning was hazy and overcast, and spots of rain intermittently fell right up to start time.
Patrese got it right, Into the first corner Senna, as predicted, jinked to the inside, trying to claim the line. But Riccardo confidently chopped across and Ayrton decided discretion was the better part.
Caffi followed them through, then Berger, Prost and Boutsen. In the course of the first lap Brundle spun after making smart contact with Alesi's Tyrrell, which pitted for attention to a damaged undertray.
Patrese's first lap was one of which Senna might have been proud. At the end of it, Ayrton trailed the Williams by more than a second, and already a discernable gap was opening between these two and the rest, who were being led - and held up - by Caffi, Dallara and Pirelli.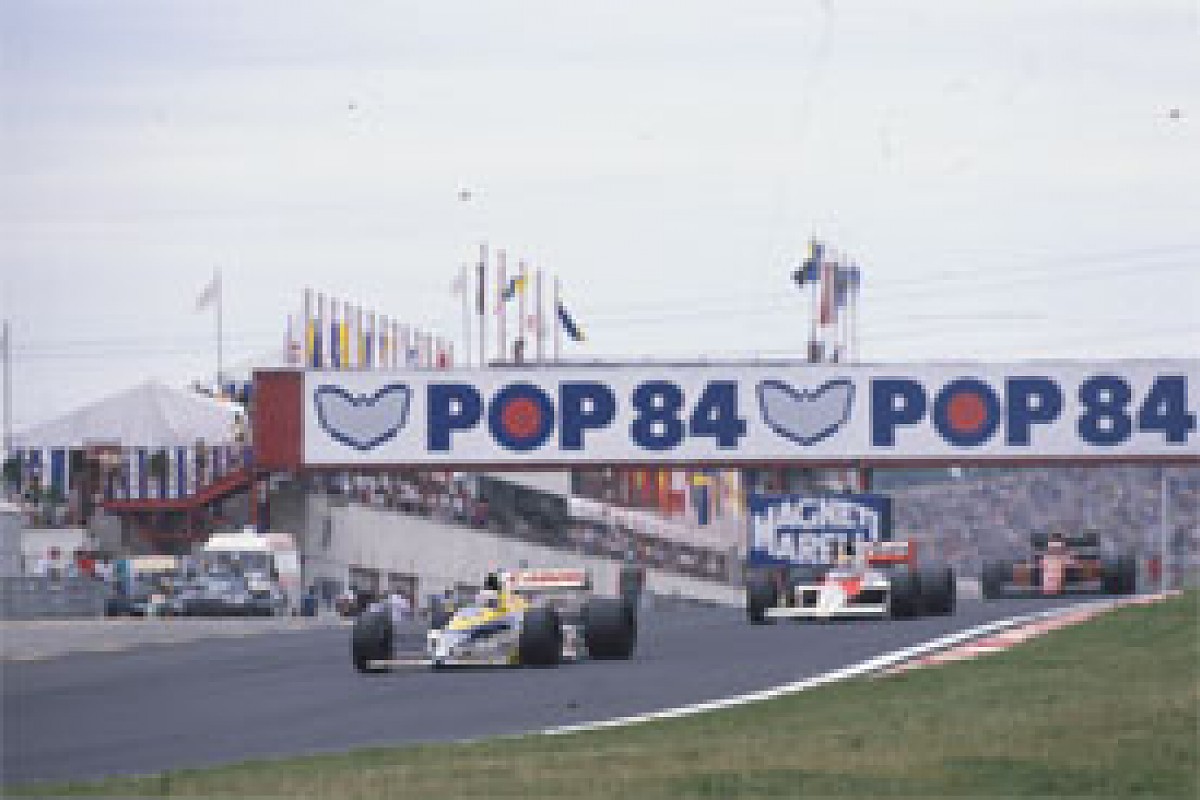 Riccardo Patrese (Williams FW12C Renault) leads Ayrton Senna (McLaren MP4-5 Honda) and Gerhard Berger (Ferrari 640) © LAT
Already Mansell was up from 12th to eighth: "I knew I had to get a good start, make up a lot of places early, and I got around four cars at the first corner. Right, I thought, I've survived that; don't blow it. I got stuck a bit behind Boutsen and Nannini, but I didn't want to push. It was important to keep the tyres in good shape."
Nigel, in the end, had opted for Cs, whereas Patrese, Senna and Prost had gone for Bs. There wasn't a great difference in wear; it was a matter of what worked on which; Ferrari had a little too much oversteer on Bs, McLaren too much push on Cs. Hence, their decisions were made for them.
Pirelli's race rubber wasn't wonderful. "There's no grip, whatever you run," Brundle had said before the race. "So, that being the case, we may as well run the tyre with no grip that's going to last the distance."
Caffi's Dallara was similarly shod, which explained why he needed a fairly brutal technique to keep Berger and Prost behind him.
By lap four, Gerhard had made it by, but Alain was twice blocked into the first turn, and it was a surprise that the Honda couldn't more decisively deal with the Cosworth earlier on the straight.
"From the start," Prost said. "I had engine problems. The pick-up problem I had in the warm-up was still there and also the engine was cutting out intermittently. I was slow getting off the corner onto the straight, which made overtaking difficult."
On lap seven though, the number two McLaren was past and into fourth place, albeit now a long way back from Patrese, Senna and Berger. And Caffi bent himself to the task of holding up Boutsen, Nannini and Mansell, which he managed with some effiency.
The Senna believers were now beginning to have doubts. Ayrton had seriously threatened Patrese's lead for a couple of laps, but now the Williams had pulled clear again, never less than a second ahead, sometimes more than two. Waiting has never been Senna's game; if he could have passed, he would have done. On the straights he gained a little, but on grip, he said, Riccardo's car had a definite edge. He knew he was in a race this time; Berger was even moving in on his second place. And Prost, with a clear track before him, was catching everyone. This afternoon promised much.
Nannini pitted for tyres on lap 12. He had no desperate need for new ones, but had grown frustrated with sitting in the queue behind Caffi. Now, he reasoned, might be a smart time to stop. But it dropped him to 19th. He had a lot to do now.
By lap 15 we had a four-car train at the head of the field, for Prost had hitched himself to Patrese, Senna and Berger. And at this point we also had spots of rain; not sufficient to make anyone think of a change to wets, but perhaps a portent of worse to come. For now though, it made little difference to the pace at the front.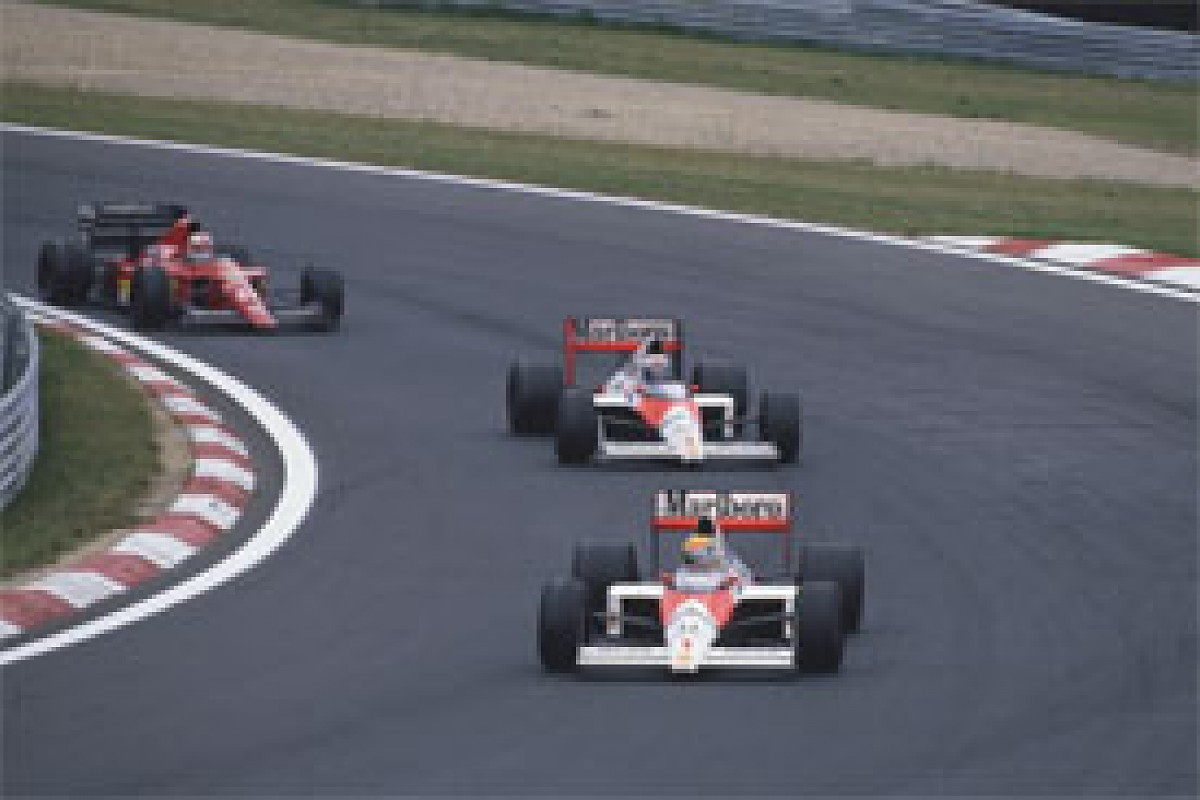 Nigel Mansell closes on the McLarens of Ayrton Senna and Alain Prost © LAT
By now Mansell has tired of sitting behind Caffi and Boutsen, and in short order dealt with each: "Basically, I had a quiet Sunday afternoon drive for 20 laps or so, until I got a bit annoyed and started to push. The fuel load
A quintet it would soon be. That much was obvious from the speed at which Nigel closed - around a second a lap.
Boutsen, still stuck behind Caffi, followed Nannini's example and stopped for tyres on lap 22. "I was having to adapt to the handling of the spare car, which I didn't like very much. But on new tyres it was much better - I made the right choice."
We might have expected a spate of tyre changes now, but they didn't come. Most of the front runners were still in good shape, although Berger wasn't sure, and came in on lap 30. The Ferrari mechanics did their work swiftly, sending him out in sixth place, but Gerhard's original set had been quite intact. And this piece of information they radioed to Mansell.
In the space of two laps the Marches disappeared. Ivan Capelli and Mauricio Gugelmin had run strongly from the start, both in the first 10. But Ivan lost his left rear wheel when the drive pegs sheared, and Mauricio retired with something straight out of Peter Ustinov's 'Grand Prix of Gibraltar.' "You wouldn't believe it," grimaced designer Adrian Newey. "But he asked for an electric pump to be fitted to his drinks bottle. And the bloody thing shorted itself out against the seat belts..."
Both Arrows drivers played a prominent part at the Hungaroring, their cars much better balanced on race day. Derek Warwick had run in the first six or eight from the beginning, but came in after 33 laps to have the rear of his car checked over; he felt it was beginning to take over the steering from him. The stop was a long one.
"It wasn't that I needed new tyres," Derek said. "What worried me was the possibility of broken suspension, and they had to check it over carefully. Nothing was found, and probably it was a wheel coming loose, because when they'd changed the tyres the car was perfect again." That dropped him from a competitive seventh to a frustrated 17th.
Warwick exited the pits quickly, gunned the car down to the first turn, as one would, But at the same moment Nakajima arrived with his Lotus, and instead of backing off he tried to go around the Arrows. They hit. Warwick continued without damage, but Nakajima spun away into the guardrail very hard.
Lap 38, one past half-distance: now Patrese, Senna, Prost and Mansell were circulating as a single bunch, and we wondered who, if anyone, would emerge as the man to take charge.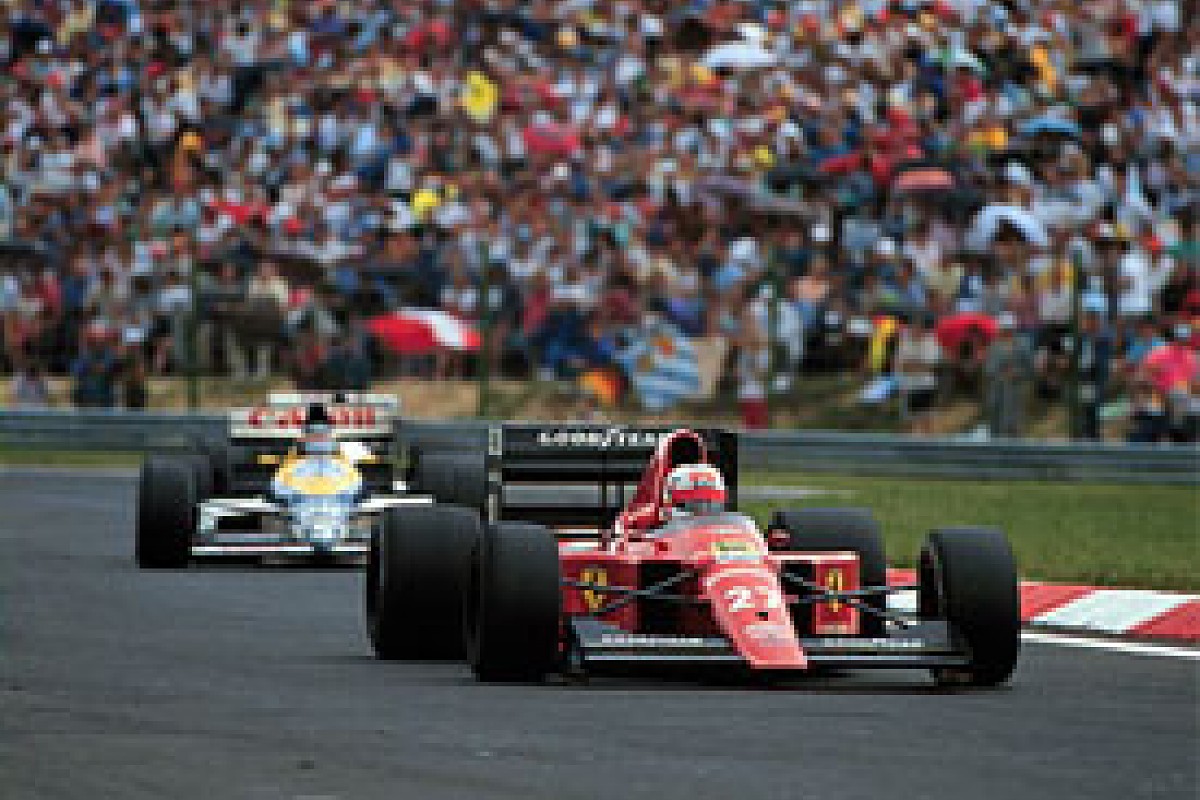 Nigel Mansell overtakes the Williams of Thierry Boutsen © LAT
Riccardo, it had to be said, looked very composed in the lead, but Senna and Prost were right there, and Mansell... well, we knew how much time he had made up on them after his earlier delays.
Not too far away, either, was the re-tyred Berger. Indeed, if the others were to need fresh rubber later in proceedings, Gerhard was looking a sound bet. Perhaps, unknowingly, he had done the right thing at the right time.
The picture changed fundamentally on lap 41 and began to take its ultimate shape. Patrese was still ahead of Senna, but now Mansell was up to third and Prost... Prost was falling sharply back. "It was hopeless just then," he said. "Cutting out all the time. And the Ferrari was handling much better than we were. I just hoped that the engine would make it to the finish. After a few laps the problem disappeared for a bit, then came back, then went..."
Gradually Prost slipped back into Berger's clutches, but Alain had an ally in the shape of Warwick, whose Arrows, while lapped by the leaders after its pitstop, was working well - well enough to keep Gerhard's Ferrari from passing.
Afterwards the Austrian was extremely angry. Not only was he being delayed in his pursuit of Prost, he said, but also being reeled in for fifth place by Warwick's team-mate Cheever, who, as ever, was coming truly alive on race day. Warwick, unimpressed, felt Berger should have been able to find a way by if he were that much quicker. He, after all, was running every bit as fast as the leaders, and had a point to make.
Patrese's dream began to evaporate on lap 51: the water temperature was starting to go up; the power to go down. Down the long pit straight Senna aimed to the right of the Williams, and at last the familiar red and white car was in front. So that was that. Here came Senna's fifth win of the season.
Next time around Mansell, too, was past Patrese, and at the start of lap 54 Riccardo pulled off abruptly. The spectators' applause he probably never heard as he walked back to the pits, tears of rage in his eyes. "I felt quite happy and confident in the lead," he said. "Until the temperature began to go up. But eventually I radioed the pits that the engine seemed about to blow, and what should I do? But before they answered, I told them 'I think I stop'."
Something solid had punched a hole in the radiator. It was as simple as that. As in Montreal, the unfortunate man had perhaps lost a race through no fault of his own.
Senna and Mansell were half a second apart. The two most uncompromising racers in Formula 1. This, someone said, might end in tears, leaving nine points for the troubled Prost. At all events, Nigel would not quietly follow Ayrton over the line.
Now we saw that the work of the previous afternoon had been well done. The Hungaroring essentially has just one passing spot, into the first turn. But all day Mansell had been going by other cars in places off-limits to everyone else. The Ferrari was that sharp, that deft. It didn't have the straightline speed of Senna's McLaren Honda, but certainly it came off the corners better.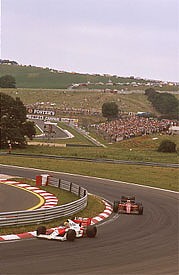 Nigel Mansell prepares to dispatch with race leader Ayrton Senna © LAT
"When I passed Prost," Nigel said. "He was very fair about it, and gave me room. I think he was in trouble anyway. But Senna was a different matter. I knew I'd have to grab any opportunity that came up.
One came on lap 58. Out of the new right-hander (by-passing the old chicane), the two had Johansson's Onyx in front of them. Stefan had made several stops for attention to his gear linkage, and wasn't going terribly quickly. But he kept over to the left, out of the way. Ayrton, untypically, hesitated just a fraction before flicking right to go by. And it cost him dear, for by now Nigel was right there, going for the gap.
They nearly touched, but didn't. And Mansell's additional momentum was enough to keep him in front along the straight, into the next corner. Putting the Ferrari's superior handling and grip to work, he pulled out enough of a lead to be safe from attack on the pit straight. Senna, astonishingly, had led for only six laps. McLarens sometimes fail; rarely are they passed.
Joy in the Ferrari pit was tempered by the realisation that Berger's car was missing. Gearbox again, as Gerhard had feared after the warm-up, when the pressure in the hydraulic system had been low. His love affair with Maranello is clearly at an end.
As Mansell pulled away in the lead, the focal point of the closing laps was Cheever's energetic pursuit of Prost. On lap 62, to general amazement, the Frenchman was in the pits. "It was nothing to do with my engine problem," Alain reported. "Just before Patrese blew up, my visor was covered in oil haze from his car - in fact, I had to drive off line to keep away from it, and my tyres picked up all kinds of debris, so I pitted for a new set.
The stop went well, but now Prost was 17 seconds behind the Arrows. He reduced the gap swiftly, but Cheever made it clear he wasn't about to offer his place to Alain, on one occasion obliging the McLaren to stand on his brakes at the first turn. Eventually Prost made it by on the last lap, but fourth didn't cheer him up too much. "Not such a good weekend," he commented. "And the worst thing, I think, is that I feel more and more alone in the team."
Senna made no attempt to get on terms with Mansell in the dying laps; indeed he could not. "I had a bad tyre vibration towards the end," he said, and there were suggestions, too, that the Honda V10 had proved unexpectedly thirsty on this occasion.
Boutsen's third place was some consolation for Williams, but hardly the consequence of a distinguished drive - not in the context of Patrese's performance. Behind Prost there was Cheever, deservedly in the points, and Nelson Piquet, who ran alone for most of the afternoon.
It hadn't looked like Mansell's day - not even when he'd set fastest time in the warm-up. People don't win grands prix from the sixth row, after all. But Nigel's drive was supremely aggressive only when it needed to be.
"I think maybe it was the best of my life," he said. Then he dedicated his win to Enzo Ferrari's almost a year after the great man's death. Monza will be something else.