Last Wednesday at Nurburgring typified all that is currently wrong with F1.
A meeting of the sporting and technical working groups had been scheduled to hammer out the future direction and arrive at a situation whereby the teams were happy to put their names to a new Concorde Agreement that would facilitate peace in our time and allow the sport to move forward.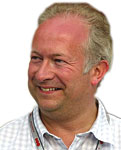 The FIA trucks in the paddock © LAT
Both the FOTA teams and the five who entered unilaterally (Williams, Force India, USF1, Campos and Manor) headed to Germany a day early with good intent. Rational, intelligent men such as Ross Brawn, Pat Symonds (Renault) and Paddy Lowe (McLaren) set their alarms for 4am in order to be there. When the time came they were told, sorry chaps, you can observe but you can't have an input because this is to discuss regulation changes for a championship you didn't enter.
But, said Lowe, "The FOTA teams all felt they had an unconditional entry because on the press release from the World Motor Sport Council on June 24, the asterix had been removed from our names and we had done an awful lot of preparation for that meeting. We reached a point where all the points had been unanimously agreed by the FOTA teams and the process of voting them through should, in theory, have been a very easy process."
Symonds added: "I think I was fully aware that we were a little bit in no-man's land but I hoped that good will would prevail. I certainly hoped that we would all behave in a responsible manner but it wasn't to be." Pat has always been a pragmatist but I didn't know he was such an optimist as well...
When it became apparent they couldn't contribute, the FOTA eight left the meeting. Your fault, said the FIA, you knew the situation in advance. When the press arrived next day we all found a sheet and a half of A4 on our desks from the FIA entitled 'Putting the record straight.' I had just started to digest it when one of the FOTA-aligned press officers, smiling, said, "Here, let me assist you with that..." At which point he deposited it firmly in the nearest waste paper bin.
"It has been said that we knew beforehand (that we couldn't vote)," Symonds explained, "but that's not exactly true. I had received a copy of a letter about 8 o'clock the previous evening which wasn't explicit that we would not have a vote. It may have indicated that but it was a little bit late for us to make decisions."
When it did become clear, Ross Brawn sought to have the meeting deferred, which would have managed things in a softer way, but that was rejected, so the FOTA men felt they had little option but to walk.
The point of course, is that whether or not they thought they had a vote last Wednesday is irrelevant - as eloquent men representing F1's core they damned well ought to have done.
"Nobody enjoys those things," Ross said, "and in the technical area a lot of the teams have had a very good relationship with the FIA over the years. It's very disappointing when they happen but it was just an untenable situation. I hope though, that it is just a blip in the process rather than a chasm. It's a terrible distraction in what is a fantastic season - a great shame.
Sam Michael, Paddy Lowe, Pat Symonds, and Adrian Newey © XPB
"It seemed to evolve from the new teams being observers and the rest of us voting on the way we should go, to the other way around, where we were the observers and the new teams were deciding the future of F1. With all due respect there were five teams there, four of whom have never scored a point and three who have never built an F1 car before. They were supposed to be deciding the future of F1 and we weren't prepared to accept that. I'm very happy to have those members in a meeting in a balanced way but what happened was wrong. And I suspect the FIA realised it was wrong. There were a lot of interesting things to go through. It would have been interesting to see the position of the new teams and where they sat on various issues..."
Indeed. But, because ego and power games mean more than the business of running the sport in a responsible fashion, everyone wasted their time. All except Adrian Newey, who emerged from last weekend looking very smart. Not only did his car disappear into the far blue yonder once again, but he'd been wise enough not to bother pitching up for the meeting either. Thirty - love.
Another thing Newey said last weekend to which I found myself nodding in agreement concerned overtaking. There have been suggestions that the work done by F1's Overtaking Working Group (OWG) has been ineffective, that the show has not improved in any noticeable way. As always though, these matters are complex.
Newey thinks that it's actually the circuits that are a bigger influence than the cars but added: "People have this rose-tinted idea that overtaking used to be fantastic and now it isn't. I think that's selective memory. You still get some great overtaking moves, just as we always used to. I don't see the need to make it a lot easier to overtake. If it becomes too easy the car that is quicker simply goes by and disappears and you don't even get the excitement of two cars battling each other for a number of laps.
"At some of the IRL-type races where everyone is changing place all the time I'm of the opinion that it's actually quite dull because it just becomes commonplace. I personally don't find NASCAR races very interesting because the whole art seems to be to be in about fourth place with three laps to go. I don't think that's modern F1 and it would be a very artificial set of rules that came up with that. I don't think it's as much of a problem as people are making out."
Symonds says that a misconception is that the OWG was just about producing a car with a constrained wake rather than one that would operate within a wake. That certainly struck a chord when a group of us were talking to Timo Glock. Timo explained that, in Melbourne, he had found all the cars easier to follow, except the Renault, which was a nightmare. Behind it, his Toyota was all over the place. Now, he says, following any of the cars is a nightmare.
What's changed since the beginning of the year is that everyone has developed a double diffuser, although it's odd that the Renault didn't actually have one in Melbourne of course.
McLaren's Martin Whitmarsh was candidly amusing when I asked whether his guys had reported similar findings to Glock.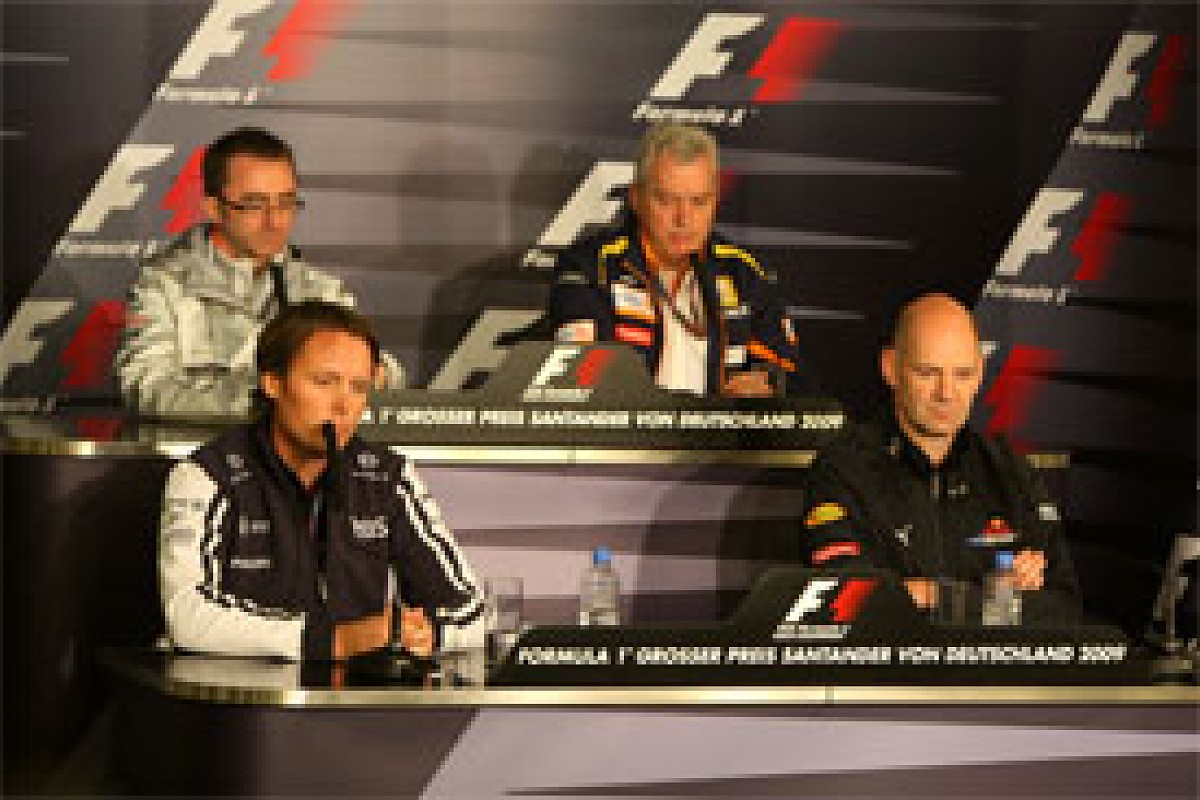 The field streams around the Nurburgring © XPB
"To be honest, no," he smiled, "probably because anything we've been behind has normally been pulling away... Being serious though, the OWG set out to halve downforce, go to more mechanical grip and then optimise the airflow behind the car, but in reality we haven't halved the downforce and by putting on double diffusers we're working that lower element much more strongly than the OWG intended.
"So, anyone who says the OWG screwed up, well, you could say it happened because this loophole was allowed which I personally don't think was there. It was convenient for some people to have it there because it nearly split the teams down the middle at a convenient time. It's a massively cynical view but I just sense that had Ferrari and McLaren had double diffusers then it might have been a different view at the start of this year..."
The inextricably linked agendas of politics and regulation are never far from the surface, come what may. In the Nurburgring paddock last weekend though, there seemed to be an air of optimism that soon, hopefully even later this week, 'if people do what they have promised to do,' then common ground will be reached, a new Concorde Agreement (forged by the teams and the commercial rights holder, CVC) will be signed and we can all go forward into the Brave New World. It can be a tripartite agreement including the FIA or, if there is more silliness, FOTA and CVC can go ahead without them.
The general feeling seems to be that enough is enough. Imagine your job was to interest multinational sponsors in an F1 programme at the moment....

"No-one will be able to quantify the damage done to our sport," Whitmarsh offered, "but when was the last decent sponsorship deal signed? It was a bloody long time ago. Things like last weekend do not help..."
He was referring to Bernie's Hitler remarks and it was a view echoed throughout the paddock. The F1 image is tarnished right now, a fact brought home by the observations of national newspaper inside columnists rather than just their sports counterparts.
The Mail's Stephen Glover wrote: "Bernie Ecclestone and Max Mosley have run Formula 1 motor racing for many years. A more grotesque pair would be difficult to imagine... In an interview with the Times, the diminutive 78-year-old billionaire praised Hitler's 'ability to get things done' and endorsed tyranny as an ideal for government. He also offered the opinion that his friend Max 'would do a super job' running the country. God save us!
"As for Max Mosley, he has something of his father's cruel, hard, fanatical look.... If the gruesome Bernie Ecclestone was embraced by the political establishment in the shape of Tony Blair, so the no less ghastly Max Mosley was cosseted and indulged by the judiciary in the shape of Mr Justice Eady... Following a Formula 1 spat, Mr Mosley has indicated he may be retiring in October, though it is not certain he will... Partly for the sake of motor racing, but more for the health and happiness of this nation, let's hope both these awful men soon bow out of public life."
Bernie Ecclestone © LAT
And Marina Hyde in the Guardian: "If only the German politician who has now cancelled his meeting with Bernie had persuaded a tame Austrian counterpart to issue a statement along the lines of: 'So Hitler wasn't an angel. But linking him with Fomula One is offensive to his memory.' Facetious, obviously, but the plain fact about such outbursts by cretins like Ecclestone is that they do more for the anti-fascist cause than 10 dreary marches."
Which is kind of the point the marketing men were making in Germany. Imagine putting your hand up at a board meeting or AGM and advocating an F1 sponsorship programme last week. Even if you weren't fired you'd be laughed out of the room.
lf the vast majority of the paddock believes that Bernie lost the plot and might be more than a little 'out of touch' I found myself wondering whether a man as smart as he had not actually had an agenda with those remarks. With him you never quite know. On the newspaper-is-chip-paper principle, was he not in fact just trying to speed things along a little? It seems to have taken CVC a while but they now appear to have reached the firm conclusion that to be left holding anything of value at all, they need to side with the teams.
Regarding the succession to Mosley and future governance, the direction seems clear - Ari Vatanen, who arrived on cue, like a knight in shining armour, at Nurburgring. Simultaneously though, we were told that an FIA private jet had taken Monsieur Todt to Africa where he was in the process of drumming up support for a presidential campaign yet to be announced. We will see (For further insight, see MPH in Thursday's AUTOSPORT magazine).
Certainly, parts of Vatanen's message were clear enough: "Of course that system (the need for 22 cabinet nominees to support a presidential campaign) has been made to protect the incumbent president and if I get there that would be the first thing I'd change - so people could get rid of me easier..."
And, "If it did materialise (a breakaway championship), that would be the end of the FIA as we know." Got that everyone?
And, "the FIA needs unbiased professional management now."
So much for the politics. It was a fascinating weekend on the track too and how apt that with everyone knee deep in bullshit it was a no-nonsense fellow like Mark Webber who put it on pole and waltzed off into the distance despite a slightly contentious drive-through penalty.
I'm not going to get overly hot and bothered about the penalty either way. It's just that I watched Michael do that for years and no-one said a pip. I thought they might just let away with it a bloke who's tried to win a GP 130 times and was starting from his first pole. I couldn't help but recall that last year Webber was the only driver who had the balls to call for Max to step down. Wonder if he thought about that as he tooled down the pitlane at 50mph...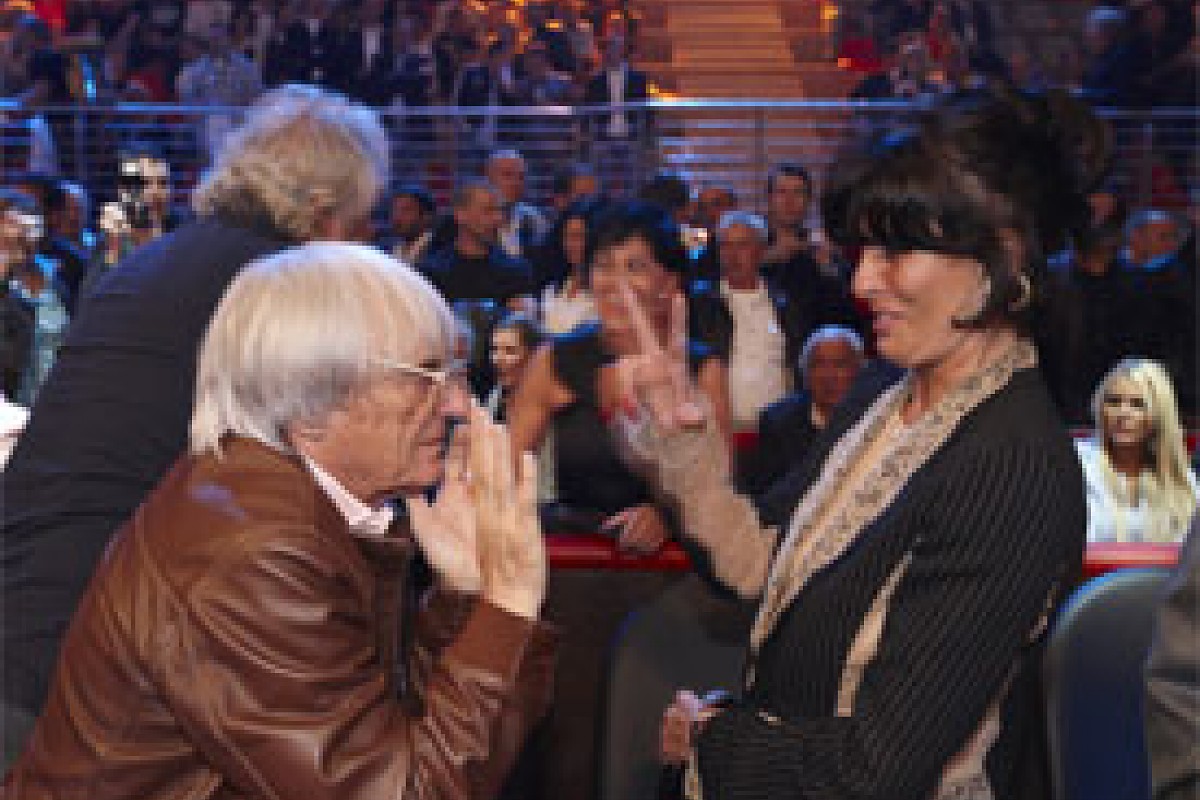 Heikki Kovalainen holds up Jenson Button, Felipe Massa, and Sebastian Vettel © LAT
But hey, silly me, don't be daft, we all know the three stewards are independent. Max told us. In fairness, DC and Martin Brundle disagreed on the penalty's merits and both know what they're about, so fair enough. Either way I'm delighted that thanks to Heikki Kovalainen's mobile chicane, it didn't torpedo Webber's race.
McLaren's performance was one of the talking points of another race that left us with more questions than answers. They had been due a significant upgrade at Hungaroring but Martin Whitmarsh had hurried it along. They had been working round the clock. There was a new front wing, sidepods, floor and engine cover - so, full house. Nobody at Woking is enjoying the year and it had been decided that rather than engineer the bits to perfection the important thing was to get them on the car even if they wouldn't win a councours d'elegance. Hamilton had the whole package but Kovalainen just the front wing.
Clearly it was a major step and Whitmarsh reckoned that if the cards had fallen for Lewis in mixed conditions qualifying, he could have put the car on the front row. As it was, the third row was a big step for the team and a potential nightmare for those - including the Brawns and Sebastian Vettel - who risked being swallowed up by a KERS-assisted Lewis or Heikki on lap 1. As it turned out Hamilton tried to do a bit too much, collected his puncture and we never discovered the full potential. The team was talking about a 0.6-0.7s per lap improvement, which they think will be even more significant on a quick track.
For Brawn, the potential for others to interfere in their title battle with Red Bull is not welcome. Kovalainen, for instance, threw a spanner in the works of the team's German race. It ultimately allowed Massa and Rosberg to get to the line before Button, and Red Bull to maximise the points clawed back.
"We knew Red Bull had half a second on us here in the (cold) conditions and took a view that we wanted to be at the front out of the way of trouble because the first corner here is normally pretty exciting," Brawn said on Saturday night.
To make sure of qualifying at the front the team fuelled Jenson and Rubens light but the practice days had also shown that the Brawns had big problems heating up the prime tyre which, depending on race day conditions (which actually looked like being wet) added up to a possible short stint on the primes at the end of the race if dry. But, a short first and last stint of course added up to a long middle stint with an attendant long first stop and potential loss of track position. Which steered the team in the direction of a three-stopper. Then along came Kovalainen's KERS McLaren to put them in trouble...
The second successive race with cooler ambient temperature did not play to Brawn's strengths, but what does Ross envisage when we return to more typical summer conditions?
"I think there is a gap now," he admitted. "Obviously they have made a good step with their car. If you look at Turkey, I think in Istanbul the cars were pretty similar, we had a better set-up in the race. It turned hot and that worked in our favour but they've had quite a big step at Silverstone.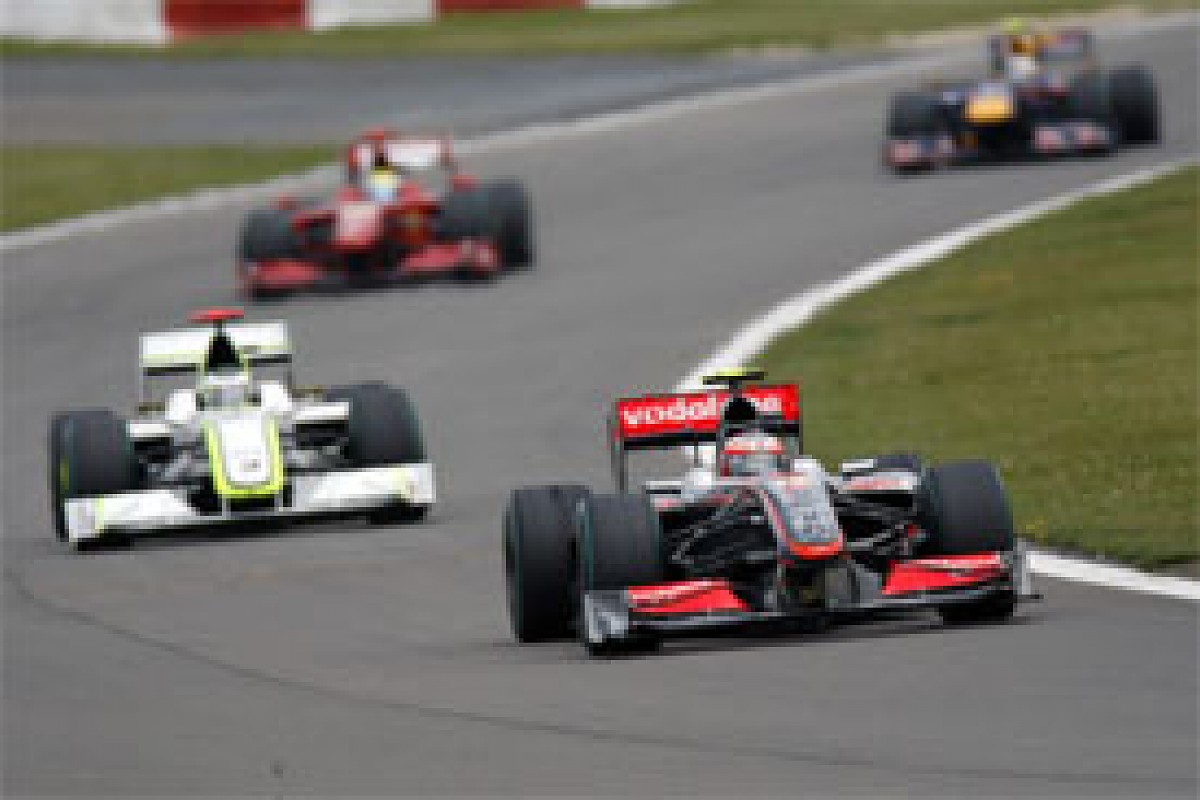 The Brawns of Rubens Barrichello and Jenson Button late in the race © LAT
"The two races that have been exceptionally cold have possibly exaggerated the difference. It was 11 degrees for qualifying yesterday, but that's racing. We were running 50-60 degrees front tyre temperature, which is hopeless. You need 70 or 80 to get the things working properly. They have moved away from us with the car but we've got some improvements coming, which we need to introduce as quickly as we can. We have a new floor, new engine cover and new wings for Hungary. We are doing the normal balancing act between this year and next year and it just depends how these next two races go whether we steer a bit back to this year."
As far as McLaren was concerned, he confirmed: "It looks like they have made a very good step and seem to have sorted out their problem. And they had a problem. You could see from the car there was something not working properly. Because you looked at the bits and they all looked sensible but it wasn't working, so clearly they had some issue which I think now they have solved."
As far as typical tyre useage goes, hotter conditions and the ability to look after rubber are usually more relevant than the ability to heat tyres in colder weather. Red Bull hope that their latest iteration RB5 has improved in that regard too, and Hungary will probably give us more answers.
Brawn explained: "The DNA of cars I've been involved with in the last few years have been that way inclined. Ferrari are having the same issues as us and in the Ferrari days we had a period when McLaren were the ones who could look after the tyres and we struggled. We did a lot of work to understand how we could reduce the work load of the tyres and increase the durability and I think Ferrari are now quite gentle on their tyres and so are we. In Monaco we made the soft tyre (used in the opening stint) last 16 laps and Vettel's were finished after four laps. It just doesn't help in these circumstances where we're struggling for tyre temperature."
Brawn is also confident that in another full wet race the Red Bull advantage so apparent in China, although linked to tyre temperatures too, may not be so marked.
"In China we had specific problems with the way we set the car up and I think we learned from that. We have a different front wing now. One of the problems with the wing we had in China was that when we dropped the flap to get the balance you need in the wet, the car lost an enormous amount of aerodynamic performance and we didn't fully understand that until afterwards. I can't judge exactly where we'll be in the wet but we won't have the problems we had in China, for sure."
That was another question left unanswered by last Sunday, which most weather forecasts predicted would be wet. With fingers crossed that a political solution is close at hand, you get the feeling that the on-track battle is just beginning.