For the British media, for nigh on 20 years now, the Silverstone British Grand Prix weekend has traditionally kicked off with a Renault dinner hosted at The Vine House in nearby Paulersbury.
It's always a fine evening among some of the more experienced and entertaining paddock raconteurs. This time though, everyone was anxiously glancing at their mobiles. Just down the road, at Renault F1's Enstone premises, a FOTA meeting was in full swing. Would they reach a solution to the stand-off with the FIA and submit unconditional entries to the 2010 world championship by the imposed deadline of the following day? Or would they announce a breakaway championship?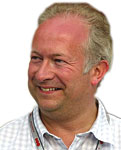 Max Mosley © LAT
It was right before midnight when the statement came through. No deal. They were going it alone. The war was on. Some of the guys managed to knock out the bones of the story for the last edition of their dailies. The ones whose last edition had already gone cursed and went to bed, knowing there'd be a call from a frustrated sports editor next morning.
It seemed like a strange time to put out an announcement, particularly if you were trying to get the fourth estate on your side. There had been a couple of delays. One or two people had some deep thinking to do before committing. Then they'd uncorked a bottle of bubbly and toasted the future.
"We know it was strange timing," one of the team principals admitted, "and that wasn't the plan. The favoured option was to release it first thing Friday morning, just as Max arrived at the circuit. He's often done just that to us as we're about to walk into a press conference... But in the end we were getting so many calls, so much intimidation if you like, that we just wanted to get it out there. Then we could hide behind it a bit."
For anyone who has not been following too closely, the teams are unhappy that recent changes to the F1 rules structure effectively renders them powerless to influence regulatory change that can be imposed on them willy-nilly. And, of course, they don't like that 50% of the sport's revenues disappear out the door to CVC Capital Partners and Bernie Ecclestone.
That has long been the case, of course, but one TP put it like this: "We've been fleeced by Bernie but to a certain extent you accept that. You chastise yourself for it and tell yourself it's not going to happen again. Then you sit down opposite him, there's that twinkle in the eye, sometimes a smile, and it happens again. But then you look at what he's done, you shrug ruefully and you get on with it. But when you're being fleeced by a venture capitalist with no passion for the business and no interest in reinvesting, just pure concentration on the bottom line, then that's a different issue."
The rules and regulations may be the trigger but it is this fundamental issue - the money - that is at the root of everything.
Ecclestone has become staggeringly rich through Formula 1, much of it facilitated by his partnership with Mosley and Max's accession to the FISA presidency in 1991. Sports Pro magazine recently estimated that Ecclestone had taken no less than $6 billion out of F1 since then, and suggested that without Max's help he would probably have got to a sixth of that.
Ecclestone and Mosley first started working together in the seventies when Bernie negotiated for the teams via his leadership of the Formula 1 Constructors' Association. He was rumoured to be on 20% commission.
Bernie Ecclestone and Max Mosley at the 1977 French Grand Prix © LAT
The true ownership of the F1 commercial rights has always been a thorny issue, resolved via the Concorde Agreement that was first signed in the early eighties and which provided for a revenue split between the FIA, Bernie, and the teams.
When Max became FIA president he started to deal directly with Bernie rather than Bernie on behalf of the teams. The justification was twofold. First, Mosley said, it was the FIA's championship and the governing body was free to divest the commercial rights in whomsoever it chose. Bernie's attitude was that considering it was he who did all the work and the teams who simply pitched up, went racing and benefited from it, why should he be the one on the small percentage?
Back in the eighties and early nineties it was a different game. There was not the huge manufacturer corporations which populate the sport today. There were a bunch of entrepreneur team owners who found themselves propelled into the Sunday Times Rich List via Bernie's efforts at the same time as being able to go motor racing every two weeks. The world was indeed a fine place and they did not squawk too loudly.
One or two did - the ones who'd been around as long as Bernie and saw that he was now becoming disproportionately rich via hugely lucrative TV contracts on the back of their efforts, as they saw it.
Along the way to where we are today, Ecclestone and Mosley have cleared what looked like insurmountable hurdles. In the late nineties Ecclestone wanted to cash in by floating his rights-holding companies. Instead of the usual five-year Concorde Agreement there was a 10-year one, which of course put a higher value on Bernie's assets.
Ron Dennis, Frank Williams and Ken Tyrrell baulked at signing it. Tyrrell in particular was a bitter man. Part, but not all of that was eased by a deal with British American Tobacco - some say assisted by Ecclestone, which gave Tyrrell an exit and lucrative pension that he cannot have been anticipating.
But that still left Ron and Frank. At the time, Williams and McLaren had dominated F1 for the past 10 years. The business would not have the same value unless Ron and Frank signed the Concorde Agreement. For a long time they did not, which scuppered Bernie's float. So Ecclestone agreed that if ever he sold the business there would be cash payments. In the cases of McLaren and Williams these are said to have been $20 million. Last weekend one of those teams at any rate, had not received a cent.
In the middle of all this, the BBC's Panorama programme investigated the nature of the relationship between Ecclestone and Mosley and some of the deals that had been done. They had a surprising amount of inside information and were able to put Mosley on the spot. Clearly some of the information had come from within and many regarded it as a further attempt to torpedo Bernie's planned flotation. Rightly or wrongly, many paddock insiders believe that the root of Ron Dennis's strained relationship with Max and Bernie was some sort of assistance to the Panorama team.
Bernie Ecclestone, Ron Dennis, and Sir Frank Williams in 1998 © LAT
There was also the spectre of legal challenges over alleged breaches of EC anti trust and competition law. European Commissioner Karel van Miert became a thorn in the side of Ecclestone and Mosley when he sent a warning latter at the back end of 1997.
The issue rumbled on for more than two years and it was around this time that Alan Donnelly, one of the brightest and sharpest Blairite MEPs appeared on the scene, having turned his back on politics in favour of establishing his own consultancy company. Donnelly was well connected within the car manufacturing business having long represented the interests of Sunderland-based Nissan in his own Tyne & Wear constituency. One of Donnelly's first clients was the FIA.
In late '99 in the German magazine, Focus, Van Miert was quoted thus: "In the F1 case, people were spending a lot of money to destroy me."
Shortly afterwards, he was replaced by a new competitions commissioner, Mario Monti, who was hailed as "a breath of fresh air" by Mosley in comparison to Van Miert.
A formal statement of objection had been made to the FIA in June '99. The crux of that was that the way in which the commercial rights were being divested amounted to abuse of a dominant position and that they should have been put out to tender. This was done on Van Miert's watch, with a hearing scheduled for May 2000, by which time Monti had arrived.
A week before it was due, the EC said that Mosley had made proposals to Monti in order to bring the commission's competition case against the federation to a satisfactory conclusion. The hearing was postponed.
The FIA told the EC that it would separate its regulatory and commercial roles. Ecclestone got rid of the world rally championship rights to David Richards and the FIA started sanctioning other series, such as CART and ALMS, where it could conveniently point out to the EC that it did not control the TV rights because it was the sanctioning body but not the organiser.
At the same time, in order to show serious intent about separating the commercial side from the regulatory, Mosley announced that the FIA was proposing to sell Bernie the rights to F1 for 100 years, beginning in 2010!
Far from being bowed by the commission, Mosley also started to play hardball, pointing out that if his proposals were not accepted. he would reveal the extent of maladministration and lack of understanding he felt that they had shown thus far. This was sport, remember, something that it was not too politically cool to get bogged down in, especially if the problem hadn't happened during your administration. Monti could hardly be blamed for wanting to move on to something both higher profile and less threatening.
And so, in less than two years, we went from Mosley and Ecclestone being in a position whereby they looked like being right royally screwed by the EC to the point where Max and the EC commissioner were singing from the same hymn sheet alongside each other as keynote speaker at the first ever European debate on sports governance in Brussels. And from a position where a five or 10-year commercial rights deal was being interpreted as abuse of a dominant position to one in which a 100-year deal was quite acceptable!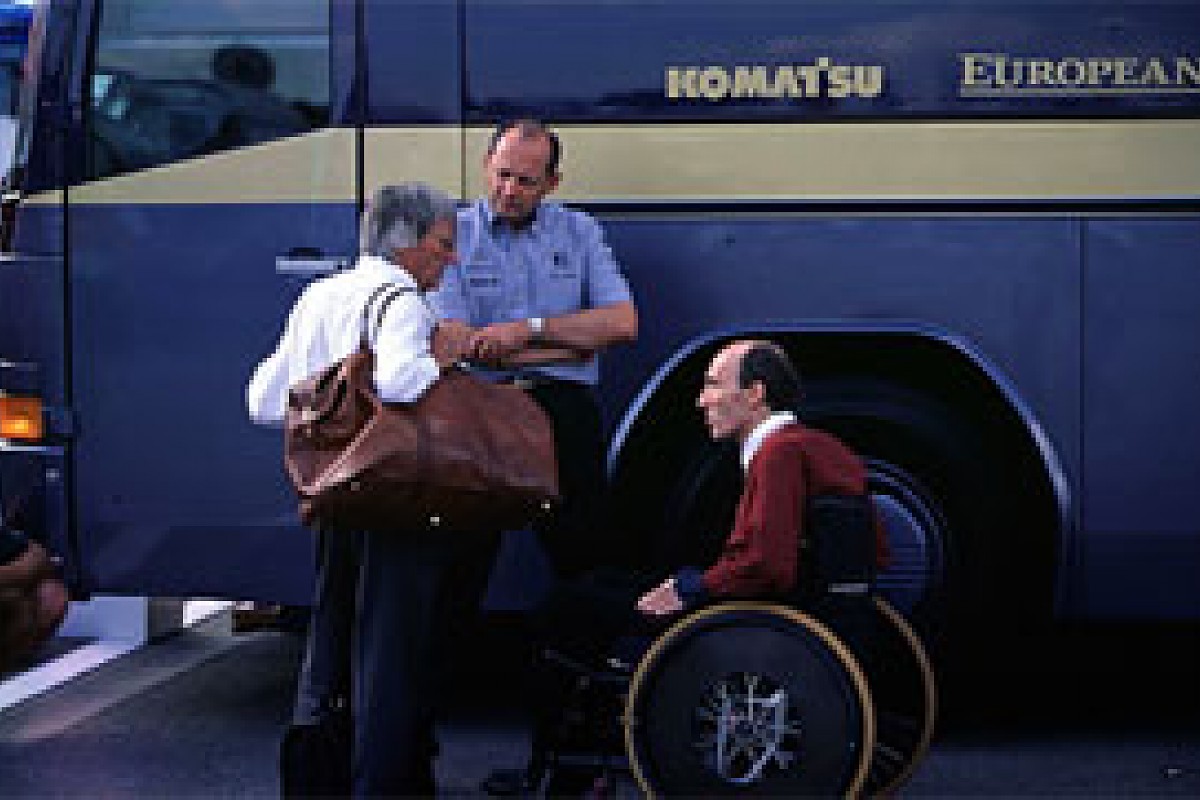 Alan Donnelly and Martin Whitmarsh © LAT
I'm afraid I can't tell you quite how big a part Mr Alan Donnelly played in this quite stunning success. But he's still around, and apparently being very nicely remunerated. I bet you all thought the most influential north-east sporting figure ever was Jackie Milburn! You might all be wrong...
When it came to negotiating the 100-year deal with Ecclestone, Mosley wisely realised that it was perhaps best that he was not directly involved. He therefore appointed four delegates, gave them full executive authority and lo and behold, they came up with just over $300m for 100 years worth of global F1 rights. Or, slightly less than a couple of year's worth of NASCAR rights if you prefer. At the time, guestimates of a more realistic appraisal put the value of the F1 rights at upwards of $10 billion. It was simply astounding.
Mosley announced this in Monte Carlo. When he did do, AUTOSPORT GP editor Mark Hughes and I turned to each other with puzzled expressions. Had we heard right what he'd just said? We had. We looked at each other again and just started giggling. By the time we turned back to the front of the class, Mosley had put a crash helmet on the desk in front of him.
Moving swiftly on... This sudden generous windfall, he said, would allow an FIA Foundation to do important work on matters such as safety and here was the first project - the crash helmet. Blah, blah. We shrugged, had another giggle and then got back to worrying about lap times and tyre degradation...
Down in the paddock team principals were having apoplexy. It was a disgrace. The biggest heist in history. What were we going to do about it? And so forth. Okay we said, where's the evidence of wrongdoing? What are we supposed to do? The specialist racing press didn't really care, the financial press either didn't understand or, if they did, it wasn't happening for almost a decade. That was clever. It meant that consequently it wasn't very interesting and so flew right under most radars.
One hundred years or not, Ecclestone had the teams committed to competing until at least the end of 2007 by the Concorde Agreement in existence at the time. There was plenty of profit in the business before then and Bernie started making billion dollar sales left, right and centre.
Mosley and the FIA could have vetoed any reckoned to be unsuitable via the existence of the so-called 'Don King clause' but it was never invoked.
When the time came to renew the Concorde Agreement in 2007 it remained unsigned and we have gotten into the round of disputes over money and governance that has led to the current situation.
In the past there was never the clout, the will, the finance or the unity among the team owners to take on Max and Bernie. They could talk about breakaway series but it was never going to happen. But that changed with the arrival, en masse, of the manufacturers. It should have happened before 2007 but it didn't. Ferrari was bought off, which was crucial.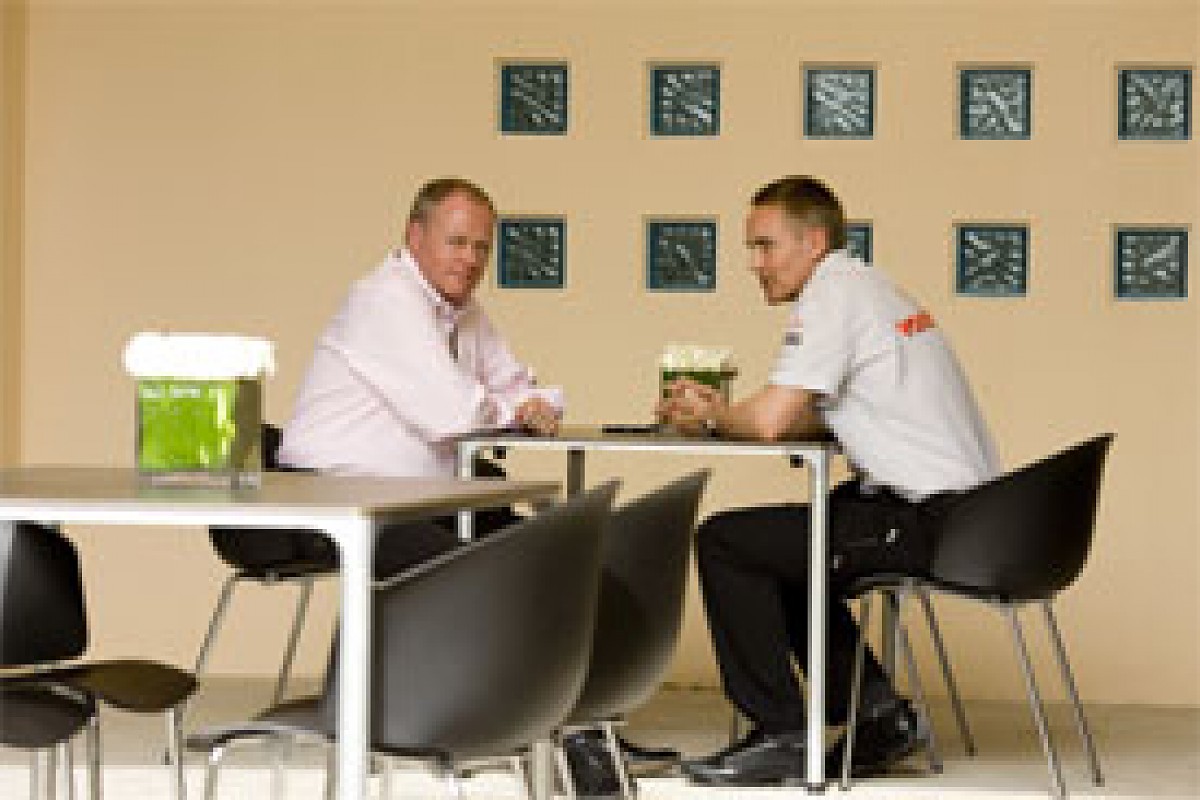 FOTA meets in Switzerland © LAT
Earlier this year I reckoned that the arrival of the credit crunch and the disastrous car sales figures had come at exactly the right time for Mosley. I figured that the boards of hemorrhaging car companies would have bigger concerns than joining forces with their adversaries to organise a pirate motor racing championship. But it looks like I was wrong. The word in the paddock at Silverstone was that their boards were behind them. But then they would be saying that, wouldn't they?
Apparently we were close to an agreement just 24 hours before the announcement of the FOTA breakaway series. Then the teams were handed a new Concorde Agreement that expired not in 2012, but in 2014.
What I'm told is that the teams were prepared to wear the existing one until 2012, when they would have pushed vigorously for a bigger slice of the pie. But they were not prepared to sign up for the extra two years.
Certainly, Silverstone last weekend saw more U-turns than an autotest. Max was making concessions and, as well as Bernie talking about returning to Silverstone in 2010 (he must know that Donington won't be ready), he was also saying things like "if the manufacturers -- not just the teams -- commit to another five years, you guys can spend what you want." I can't claim to be any kind of financial expert but CVC apparently needs to refinance its F1 investment in 2013...
The FIA was supposed to be publishing its 2010 entry list on Friday. And then it wasn't. Was that because it didn't have any teams to put on it?
On Friday, after the breakaway announcement, the FIA said: "The actions of FOTA as a whole, and Ferrari in particular, amount to serious violations of law including wilful interference with contractual relations, direct breaches of Ferrari's legal obligations and a grave violation of competition law. The FIA will be issuing legal proceedings without delay."
Ferrari didn't wish to comment on that, but pointed out that "on the 15th June last, it already instigated arbitration against the FIA to protect its contractual rights in its dealings with this Federation, including those relative to the respecting of procedures as regards the regards the adoption of rules and the right to veto."
What Ferrari is effectively saying is that, because you've not allowed us to veto your rules - an ability the governing body unbelievably appears to have granted Ferrari so that they signed the previous Concorde Agreement! -- then we are not obliged to play.
Which is important because, as long as Ferrari is not onside, Max and Bernie do not have a strong hand. They were not in a strong position before when Ferrari was in the rebel GPWC/GPMA camp. Now, if Ferrari were persuaded to change sides one more time...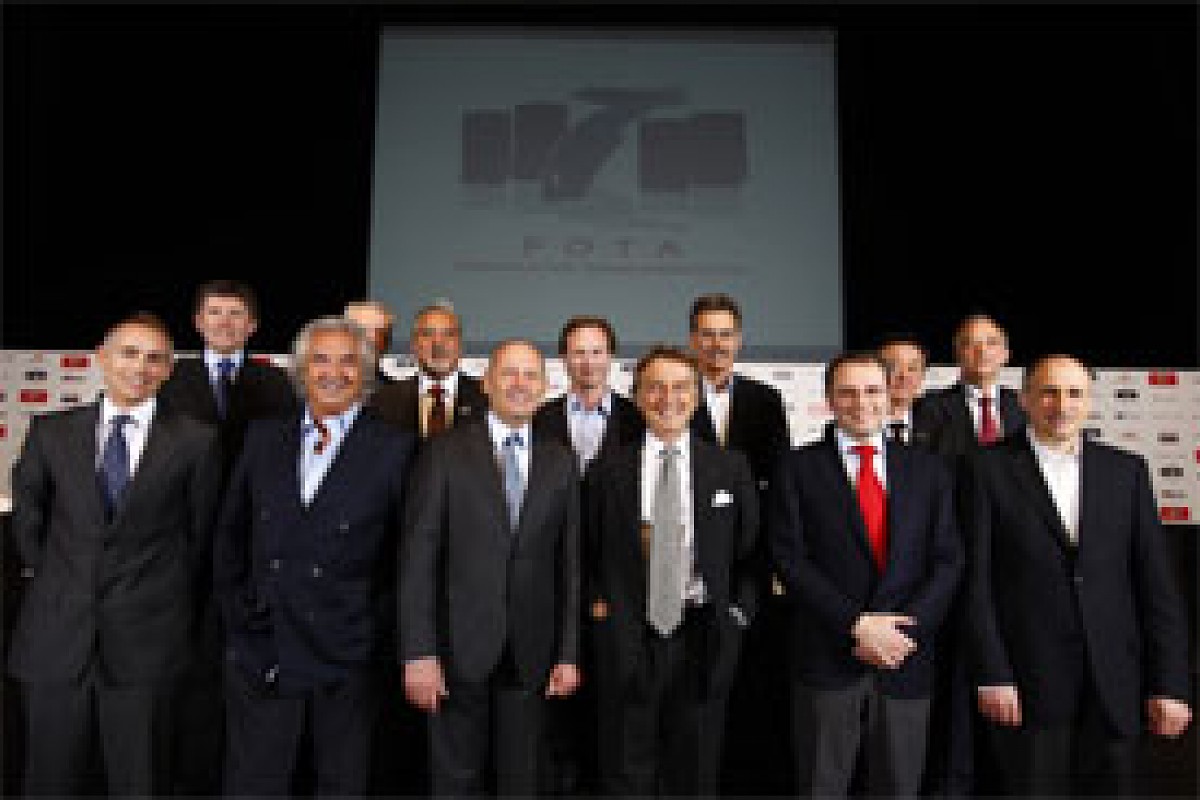 Luca di Montezemolo © LAT
If that happened I believe that the likes of Toyota and BMW would withdraw and I've even found myself wondering if that isn't the end game, thereby diluting some of the opposition to Ferrari and allowing in a couple of new independents. You never quite know in this business but at this juncture it doesn't seem so.
Luca di Montezemolo is the leader of FOTA after all, and it was said earlier this year that if Mosley thinks Montezemolo can be swatted aside like Ron Dennis, he's wrong. One TP does report though, that intellectually none of them are a match for Mosley and that Montezemolo is more show than substance.
But the fact that Mosley is smarter than them doesn't mean he's in a stronger position.
Peering through the woods it seems sensible to conclude that there will be just one top quality championship next year but who will be organising it is anyone's guess.
The FOTA teams deny publicly that they want rid of Mosley but there is little doubt that's what they'd like to see. What they would call their championship and who would regulate it is another matter, although the FIA would be obliged to licence it.
Another key point is that although Max and Bernie have been a double act for 40 years, they have always needed each other. While Bernie has become exceedingly rich, what's been in it for Max? Well, power, and if reports are to be believed, a gratitude payment said to be around $300 million was made by Bernie to Max at around the same time that the president moved to Monte Carlo. A gesture of gratitude apparently. Nothing wrong with that. Generosity is surely to be admired and people are free to do as they please with their own...
Max's justification for his move to the Principality was nothing to do with 40% UK tax but rather a change in the European arrest warrant that meant he might be collared if there was a fatal accident in an F1 race.
"Anyone who believes that is as daft as anyone who thinks Lewis Hamilton went to Geneva because he likes lakes," one sage said last weekend.
Bernie Ecclestone © LAT
Arguably though, Bernie no longer needs Max. He's nearing 80 and his money is in the bank.
FOTA though, could probably do with Bernie. He knows how it all works and they could do without the hassle of trying to oppose him, however strong their hand. As someone put it on Sunday, "there's a deal to be done there. What price the little man changing sides?"
But remember that line about not wanting to be abused by venture capitalists? It may have to be their championship and then what will they call it? They will also need a ruling body and the teams made it perfectly clear last weekend that they have no argument at all with the FIA on-circuit organisation and its structure. They are simply not signing up to anything without written guarantees. And they mean it.
Despite what he'd said on Friday, by Sunday night Mosley was talking not about litigation but about consultation. He had to really. Because CVC is faced with owning 75% of nothing if there isn't any. Which could just be the teams' aim. It's a big mess, to be sure.
The sensible thing is a deal, on much more favourable terms for the teams. Max will know that. He faces his biggest challenge yet. When you look at what the man has been through in the past year - the humiliating exposure of his private life, the fight for survival and then, just a few weeks ago, the death of his son, it is truly remarkable that he has the need or the stomach for it.