It was the old firm of Stewart & Tyrrell Ltd at Silverstone last Saturday, for Jackie Stewart won the British Grand Prix by over a lap, setting new lap and race records. But that doesn't tell the whole story, for Jochen Rindt was on superb form, and for 62 laps he and Stewart battled nose to tail, Jochen having led right from the start apart from nine laps when the Scotsman went in front. Then a bit of the rear wing on the Lotus came loose and necessitated a 34-second pit stop; finally in the closing stages Rindt's car ran short of petrol, which brought him in again.
Several other teams miscalculated their fuel consumptions, for Jacky Ickx took second place by coasting across the line with a dead engine and dry tanks. He had made a bad start and worked his way up from an initial tenth place. Denny Hulme, who was third fastest in practice, was an early retirement with a blown engine, but Bruce McLaren turned in a smooth, fast drive for third place. Rindt was eventually fourth just behind Piers Courage's Brabham.
Four four-wheel drive cars started the race and two finished; Jean-Pierre Beltoise had to drive the MS84 as Stewart crashed one of the MS80s in practice and used Beltoise's customary mount in the race, and the Frenchman finished ninth after a steady drive. John Miles was a lot quicker in the 4WD Lotus but finished the race stuck in third gear, while both Jo Bonnier (Lotus 63) and Derek Bell (McLaren M9A) retired in the opening laps. All four non-Ford-engined cars, two BRMs and two Ferraris, retired.
Entry
If there was any doubt that Britain was still the home of Formula 1 racing, it was dispelled by the entry for the 22nd RAC British Grand Prix at Silverstone. In all 19 cars were entered, half a dozen more than at Clermont-Ferrand, and only two of these failed to come to the line.
One of these was the long-awaited Cosworth four-wheel drive car, which had done plenty of testing at this circuit over the previous couple of weeks. Brian Redman, who was originally slated to drive the car, missed his opportunity to try it when it was damaged in a road accident, and due to his Watkins Glen commitments Trevor Taylor was called in.
During testing on the Tuesday before the race (a very hot day) the heat generated by the front differential and transmission joints was sufficient to overheat the front-mounted oil tanks, and so much heat was travelling up the steering column that the steering wheel spokes were too hot to touch! Mike Costin wisely decided to take the car back to Northampton for various modifications, including resiting the oil tanks at the back, and it was withdrawn. However, the car obviously has considerable potential: Taylor's third lap on Tuesday, having never sat in the car before, was said to be around the 1m27s mark - using a two-year-old (7-series) engine.
The other non-starter was the second Brabham. Jack Brabham's injured foot is expected to keep him out of racing until Monza, and Ron Tauranac's efforts to put Dan Gurney in the car were frustrated by a previous USAC engagement, although Dan will almost certainly drive the car in the German Grand Prix next month if he can fit in a test session with it between times. Brabham's quasi-works F3 driver Tim Schenken was given a gentle run in the car at Silverstone and by no means disgraced himself, but Tauranac realised that, should there have been a lot of retirements and Tim finished in the first six, he would have become a graded driver for 1970, which could well have adverse affects on his career in F2 next year. Thus they decided to field only one car.
Pre-race favourites, as always, were Ken Tyrrell's Matra International team of Stewart and Beltoise. Just as at Clermont, the team comprised the two MS80s and the spaceframe MS84 4WD car. All three were unchanged, but this does not covey the amount of work that is done on a Tyrrell between races. Every component on every car has a predetermined life of so many hours, just like on an aircraft, and when a component has done its number of hours, it is thrown away and replaced. For example, every gearwheel in all the gearboxes is renewed after each race. When you're winning, you can afford to go to these lengths to stay at the top.
In complete contrast, Gold Leaf Team Lotus seemed a shambles. Anxious for the whole effort of the team to be focused on the Type 63 4WD car - which he is convinced will ultimately be a winner - Colin Chapman has sold all but one of the 49s, the sole remaining 2WD car being destined for Rindt (who is still adamant that he will not drive the 4WD machine). Thus Graham Hill would be obligated to drive one of the two 63s so far built, his usual 49 having been bought by Rhodesian John Love.
Another of the 49s - in fact the car driven by Richard Attwood at Monaco, completely rebuilt to 49B spec - had been sold to Bonnier, who had entered it in this race, but when much testing with the 63 revealed that it was still not fully competitive, Bonnier was persuaded to lend his new mount to his old friend Graham and earn his starting money in Hill's Type 63. In addition to that, Miles, who put on a very good show in practice at Clermont, was again entered in the other 63; modifications included revamped transmission lubrication to keep the oil in the gearbox cooler.
To make matters worse, Rindt had had a busy day at Silverstone getting his car absolutely to his liking on Tuesday, and in the course of something like 80 laps got under 1m22s consistently. However, Chapman asked for certain details to be changed during Wednesday's day of preparation, and when Jochen got to drive it in the second session on Thursday he was no longer at all happy with the car's handling. It would seem that, although the Lotus mechanics work very hard to do a good job, something is amiss with the direction of the team.
Bringing the total Lotus complement to five cars was the Rob Walker/Jack Durlacher car for Jo "Sideways Seppe" Siffert, with another new nose to replace the one crunched at Clermont. After Clermont it was discovered that the Lotus had had a bent front wishbone for most of the race, and this had also been replaced. The car was back on its Series 9 engine.
Although only one works Brabham was to race, Motor Racing Developments brought two BT26s for Ickx: his usual car, and the new spare, BT26/4. The mounting points for the rear aerofoil had been moved back over the gearbox, and the aerofoil itself had Perspex sidepieces; their season-long experiments with wheel-rim widths and offsets had culminated in 11" fronts and 16" rears. Since the Monaco failures the rear uprights on the works Brabhams have been a heavier casting. The smart blue Frank Williams BT26 was on hand as usual for Piers Courage.
How nice it was to see two works Ferraris entered - for the first time in an F1 race since March. Actually, three cars were brought, Chris Amon having the choice of his usual pair, while last year's 0009 was resurrected and updated for Pedro Rodriguez, who has in fact rarely driven in F1 for Ferrari, although he has driven works Ferraris in sports car racing for so long. Pedro is contracted for the rest of the season to drive the Tim Parnell BRM, which is at the moment in dry dock at Bourne being updated and fitted with a new four-valve engine, but if there are more Ferrari drives to come for the Mexican, one cannot see him going back to Parnell. After their spate of engine failures, the Ferraris had completely revised oil systems, and both of Amon's cars had the oil coolers mounted high at the back in a nacelle between the split wing.
Once again the McLaren camp boasted no changes on their usual M7A and M7C pair, but they did have a completely new offering - the M9A 4WD car. Both Hulme and McLaren opted for their usual cars, and in Peter Gethin's absence in America with the Church Farm Formula 5000 McLaren, Derek Bell, on leave from Ferrari, was brought in to drive the M9A. Since being fully described in AUTOSPORT (July 11, 1969) the M9A has had plenty of testing at Goodwood, and like on the Lotus, the torque-split differential has been the subject of much experimentation. Like Brabham, McLaren is reaping the benefit of the new Goodyear G18, which is obviously a very competitive tyre. The fourth McLaren was Colin Crabbe's Antique Automobiles M7B for Vic Elford, which, apart from a re-angled rear spoiler and a bit more white paint on the maroon, was in Clermont form.
BRM was making its first appearance since Zandvoort; there were several new faces in the Owen Organisation pit, and the tube-shaped P139 had obviously seen a lot modification during the month lay-off. The whole of the back of the monocoque around the engine bay had been radically strengthened by sheeting in extra panels and moving the oil coolers up onto the aerofoil as on the earlier cars, to eliminate lack of torsional rigidity which was adversely affecting the roadholding. All the suspension pickup points had been altered and the fuel load had been repositioned lower in the monocoque, producing typical BRM bulges in the previously smooth exterior. Even the cockpit had been lined in Nomex - a safety idea of John's.
Just as much had been done on the engine side: on the brake various inlet pipe lengths and inlet tract shapes had been tried, together with various exhaust pipe lengths, and the result was an engine with 25bhp less at the top end, but a torque curve with the power coming in strongly some 1000rpm lower. Surtees said this made the car very much more driveable. The engine in Jackie Oliver's car had benefited from the same treatment, but the chassis was still the original 133; thus one could make a direct comparison before and after engine modifications, which showed an improvement of 1.5s a lap. The 139, incidentally, is over 150lbs lighter than the 133 and is right down to the weight limit.
Practice
No fewer than five practice sessions were scheduled, three of them officially timed, and throughout the days of practice the weather was fine and dry. Perhaps because of the abundance of practice, some teams seemed a little casual about arriving for the first session, and Lotus did not turn up at all on Thursday morning, but of course Ken Tyrrell was on the ball as usual and Stewart was first out. Almost immediately he had posted the time which was to remain fastest of the session, 1m21.5s, using CR84 Dunlops. Stewart felt that the handling was not perfect, for the car seemed to be changing rather rapidly from understeer to oversteer, but - a mark of his ability - he had no trouble adapting himself to its behaviour. However, the car went back onto CR82s, which were used for the race.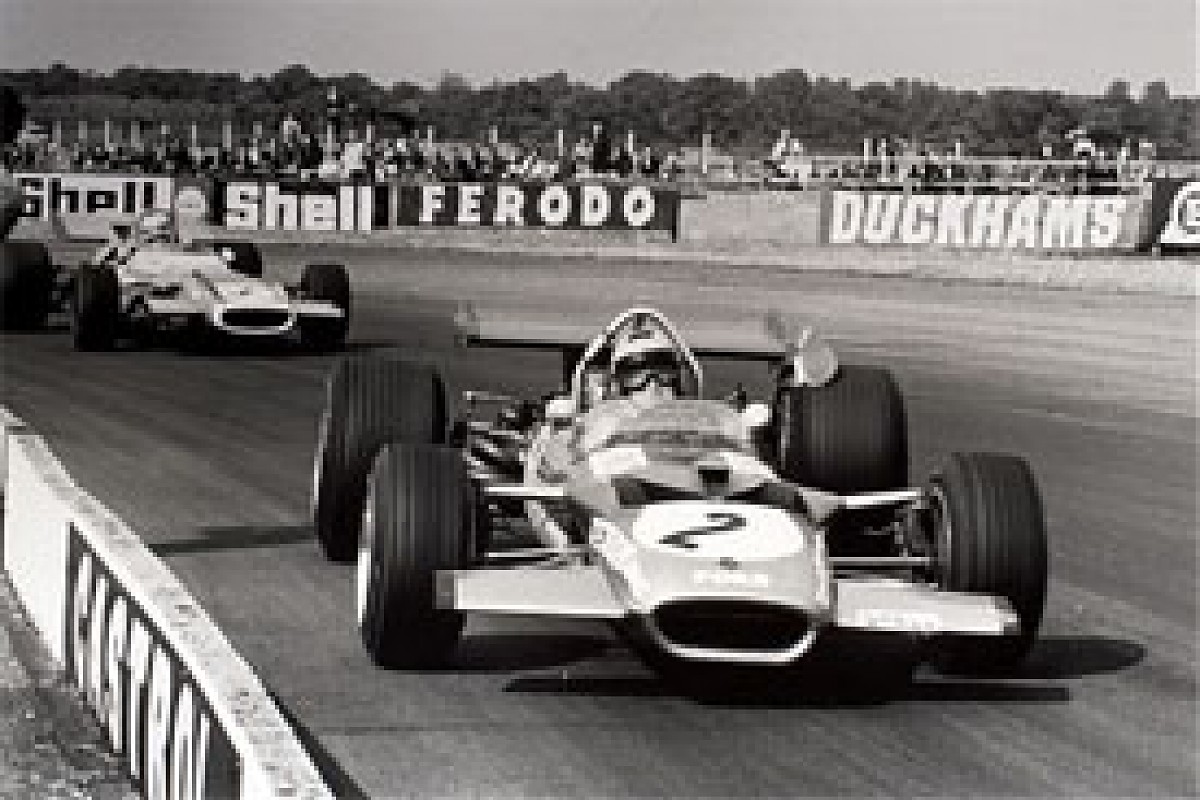 Jochen Rindt (Lotus 49B Ford) leads Jackie Stewart (Matra MS80 Ford) © LAT
Upsetting form more than somewhat, Rodriguez posted the second fastest time of the session in 1m22.6s, a tenth of a second faster than Amon, which was immediate justification for his inclusion in the Ferrari team. Amon was still complaining of lack of power and had to work very hard for his 22.7, and the revamped lubrication system was blowing out oil. Beltoise followed Stewart round for some of the session, and his best was a strong 1m23.0s, 0.6s faster than Siffert, who was lapping without front flippers (and understeering as a result) because Lotus hadn't arrived with his new ones. Next came the McLaren twins, Bruce slightly faster than Denny, whose car was oversteering rather too much for his liking.
Ickx was delayed at Brussels Airport and phoned to say he would be late; Tauranac had no driver and Hill had no car, so - to start with almost as a joke - Ron suggested that Graham should have a go in the new BT26/4. Graham accepted with alacrity, slipped off his shoes and tried the cockpit for size before going out to do a 24.1 He came into the pits and characteristically requested all sorts of tweaks - brake balance, roll bar setting, etc - and Ickx arrived in the middle of all this and looked slightly nonplussed. The Belgian went out in it himself and was 0.4s slower; in his usual car he later came to a halt out on the circuit when the gearbox input shaft broke.
The BRM mechanics had had a busy time since Tuesday, when Surtees returned from Watkins Glen, did three laps in the car and immediately gave them a lengthy list of things to do; he was still not completely happy but managed a 1m22.4s, which wasn't at all bad. However, Oliver was not going as fast as he expected to. Bell found he wasn't getting as many revs as in previous private tests at Silverstone with the M9A and the rear spoiler was trimmed. Neither Elford nor Courage got out for long, for Elford's car was delayed by the scrutineers who were being pedantic about its wing, while Courage's Brabham refused to start after a pit stop due to loss of drive to the distributor; broken timing gears were suspected.
Stewart was again fastest that afternoon, clipping a fifth of a second off his morning's time after spending the opening laps in the 4WD car. In the morning he had got the MS84 round in 1m24.1s, but no official time was published for him in the second session. Hulme, his rear suspension reset, was nicely in the groove and posted second fastest time, although he was 1.1s slower than Stewart.
Rindt's best time, according to the timekeepers, was three thousandths of a second slower than Hulme's, which is taking accuracy to an astonishing degree; in fact Jochen, having found his car changed against his wishes since Tuesday, asked for fourth gear to be changed, a shock absorber to be replaced and the aerofoil adjusted. Team-mate Hill was even more unhappy, having had his car sold from under him; he went out in the 4WD car but was slower than Bell's McLaren - apparently 63-1 had a different torque split ratio from Miles' 63-2, which did one slow lap with a recurrence of its Clermont fuel pressure problems (which necessitated removing the engine to get at the trouble).
Fourth fastest was Ickx, driving the new car and seeming very pleased with it, for he was only a fraction slower than Hulme and Rindt. Beltoise went 0.4s quicker than in the morning, while the two Ferraris again did similar times, albeit slower than in the morning. Pedro asked for a lower top gear but decided to change back again after the session.
Surtees improved his time with the BRM by 0.4s, but Oliver's session was curtailed when the engine went very sick. Valve gear trouble was diagnosed and the car was wheeled off for an engine change. Courage's engine had been rapidly changed since the morning and he managed a 24.3, 0.8s slower than McLaren. Siffert had his new front wings but was slower than before and was very worried about the handling, lifting front wheels all round the circuit. Bell improved after turning in a lot of laps.
Friday morning's session was untimed, but several drivers went out. Stewart got down to a 23.8 with the 4WD Matra, coming through Woodcote in enormous slides in the difficult car - "It was quite an experience," he said later. Rindt couldn't go out because when the mechanics started up the car they found it had a fuel leak, but by now Bonnier had turned up and so Hill was able to go out in the Swede's 49 - although he only managed a few tours before a front wheel bearing went. In addition the engine seemed off song, giving the symptoms of low fuel pressure although the appropriate gauge was giving normal readings.
Courage, for the umpteenth time this season, had a split fuel tank. Ickx used the session to try the earlier of the two Brabhams, its gearbox mended, with full tanks, while Siffert was still finding the Walker Lotus a pig to drive, and the Firestone boys were probing his rubber to see if that told them anything. Pedro did a few laps to convince himself that is gear ratios were now right, while Surtees tried some new springs, which seemed to improve the 139. Elford's McLaren lost fourth and fifth gears when a selector fork broke. Overnight suspension mods had made the 4WD McLaren more to Bell's liking; JPB tried some new gear ratios, and the 4WD Matra was given 13" wheels all round to see if they helped to keep it pointing straight.
Friday afternoon's two-hour session had added incentive, for The Daily Express had offered £100 at the end of each half-hour for the fastest lap in the preceding 30m - good copy for Saturday morning's papers, but everybody is likely to try pretty hard in final practice anyway. This looked like an easy £400 for Ken Tyrrell, and sure enough Stewart came straight out right at the beginning of each of the first two half-hours, set a really quick time, and then retired to the pits to see what the others could do. His 1m21.1s in the first half-hour earned the first £100, and his next effort of 1m20.6s was in fact the fastest-ever official practice lap round Silverstone.
With £200 earned, Tyrrell decided to put the third half-hour to good use and sent Jackie out initially in the MS84 for a bit; the Scot improved to 1m23.8s, his best so far with this car. He then came in again and went out in the MS80 towards the end of the third half-hour, with a 1m21.4s by Rindt to beat; he instantly started to hurl the 2WD car round at terrifying angles, coming through not only Becketts but also Stowe and Club in full-blooded opposite-lock power slides.
But then disaster struck: going through Woodcote and taking, as usual, the shortest possible line, his front wheel ran over a bit of the rounded concrete inside kerb, which was breaking up. The front wheel cocked the broken piece up so that it was vertical when the rear wheel hit it, tearing the tread. The tyre deflated instantly and at around 150mph the car lurched and spun. Jackie, despite much wheel-twirling, said afterwards that there was nothing he could do about it - "I was dialling all my friends!" - but fortunately the car had scrubbed off a lot of its speed by the time it spun backwards across the verge and thudded heavily into the wooden sleepers opposite the pits.
In a trice, before the dust had begun to clear, Jackie was unbuckled and leaping out, waving frantically to the marshals on the corner to warn other drivers about the broken kerb. The session was stopped so that the Matra - its monocoque kinked and the rear suspension smashed - could be moved out of the way, and cones were put in front of the offending kerb. This necessitated a slightly wider line at Woodcote that, according to Rindt, cost 200rpm down the pit straight.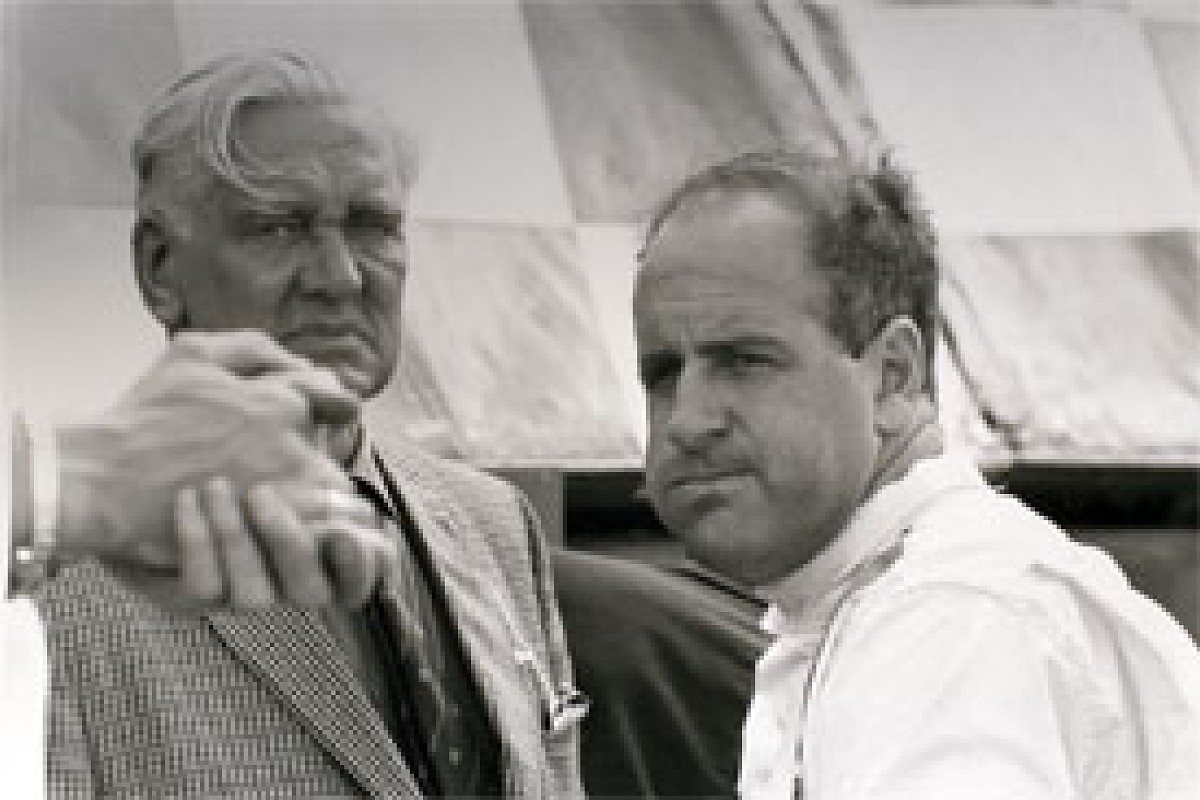 Denny Hulme © LAT
The moment practice was resumed Stewart was out in Beltoise's MS80/1, which he drove consistently until the end of the final half-hour. Although Beltoise's engine seemed to pull 600rpm less, and Stewart did not fit the seat and pedals precisely right, he immediately began to turn in good times, and eventually got down to a first class 1m21.2s. It was his grid position that he was driving for, for it was obvious that his own MS80/2 could not be repaired for the race the next day, and he had to earn his grid position with the car he was to race. For the same reason, Beltoise was put straight into the 4WD car, which was now to be his mount for the morrow.
Meanwhile Rindt had been chiselling away, and had now at last got his car handling to his satisfaction again. By the end of the afternoon he was really going, and in the first session his 1m21.4s earned the third £100. In the fourth, hurling the 49 round and waving his inside front wheel at the marshals, he got down to a tremendous 1m20.8s, 0.2s slower than Stewart's best with the crashed car and 0.4s quicker than Jackie was able to do in the MS80/1, so that Jochen had netted his second pole position in three grands prix.
Team-mate Hill missed the first hour with a broken water pipe, and then ran out of fuel. Sundry other trivial problems restricted his practice to a best of 1m23.6s, which banished him to the fifth row. Of the Lotus 63s, Miles got in plenty of laps and the fastest of the 4WD entries with a 1m 25.1s; Bonnier was much slower, lapping and with and without a rear wing before he too suffered mechanical fuel pump failure, so that the mechanics were faced with taking another engine out.
Hulme, the old M7A and Goodyear's new G18 are obviously a good combination, for Denny backed up his second fastest at Clermont with a front row position earned right at the end of the afternoon with a 1m21.5s. This demoted Ickx to the second row with a 1m21.9s; he was trying very hard all round the circuit, and clouted the apex wall with his inside front wheel at Club at one stage, which sent him into the pits to check for damage. The split rear spoiler had been adjusted for this car, with its predominance of right-hand corners, so that the right-hand side was cocked up more steeply than the left.
Surtees seemed much happier with life, getting the inside place on the third row with his 1m22.1s, beside McLaren and Rodriguez who were both on 1m22.6s. Pedro was complaining of fluctuating oil pressure, and his anxieties were justified when the engine blew about half an hour before the end; McLaren had had a misfire all day, and that night his engine was changed too.
Row four comprised Siffert and Courage, the stalwart privateers. The Swiss was still frightening himself with the Lotus' odd handling, while Courage, who looks like becoming as much an opposite-lock man as Seppe, adopted similar attitudes without distress, although he fitted bigger front wings for the final session. Another privateer, Elford, was next up; he clipped the wall at Becketts, damaging a front wheel and fin, and by the time this had been repaired there was very little time left. He rushed out to do a handful of quick laps, the last of which was 1m23.3s. Hill was next to him, while Oliver was going better now and was 0.1s slower than the world champion.
At the back of the grid came the four 4WD cars, with Miles exactly a second quicker than Bell, whose gearbox had broken very early in the afternoon and ended his practice for the day.
On Saturday morning there was an additional brief session, which was untimed. Overnight the Tyrrell mechanics had modified the seating and pedals in MS80/01 to suit Stewart, but they didn't have sufficient time to fit the better engine from the crashed car. Both Stewart and Beltoise took advantage of this final opportunity to thrash round, as did Rindt, but Hill was in further drama as his car obstinately refused to start. All subterfuges failed, and there was nothing for it but to change the engine. McLaren and Rodriguez made sure their new engines were on song, and Bell did many laps to make up for time lost on Friday. Miles seemed well on form, and he turned in a surprisingly quick lap in 1m23.3s. A brake pad fell off the front left-hand wheel on Siffert's car at Becketts, while McLaren had fitted an auxiliary fuel tank (on the right of the car for this right-turning circuit).
Race
Race day was dry like its predecessors, although cooler and overcast. There was a light breeze which caused havoc in the dusty paddock, which was so crowded with the populace who had paid their 30 shillings to cross the spectator bridge, that the mechanics were finding life very difficult.
All 17 cars moved forward from the dummy grid without drama, although Stewart was a bit worried about his clutch action, but the starter held the flag aloft for just too long, and several drivers were in trouble with creeping and had to back off the power at the critical moment. Ickx was particularly affected and made a very bad start, but Surtees pressed on and was up from the third row and right behind Rindt as the race got under way.
Rindt's start was sufficiently trouble free to put him into the lead as they rushed under The Motor bridge, with Stewart slotting in behind as they went into Copse. Surtees had the BRM in third place, followed by Hulme, but the P139's first race was to be a short one, for a weld broke on a front wishbone and the suspension collapsed in an enormous cloud of smoke under braking for Stowe, giving John a nasty moment, although he was able to nurse the car back to the pits.
Streaming under the bridge and into Woodcote for the first time, Rindt had Stewart hard on his tail, and already there was an appreciable gap to third man Hulme. The New Zealander was followed by a huge gaggle comprising Rodriguez, McLaren, Amon, Courage, Hill, Siffer and Ickx, who was busily making up for his bad start. Then came Oliver, Bell, Elford, Beltoise, Miles and Bonnier.
Next time round Stewart was just as close to Rindt, and McLaren was harrying Rodriguez, while Elford head passed Bell, and Miles had picked off Beltoise. The leading pair were now well clear of the rest, dropping Hulme at over a second a lap; on lap four McLaren dealt with Rodriguez, who began to fall back into the clutches of a tremendous battle for sixth place between Amon, Courage, Hill, Siffert and Ickx, who were all nose to tail.
Ickx took Siffert, and Elford forced the Antique McLaren through on the inside of Woodcote to demote Oliver. Bell spun the 4WD McLaren at Becketts, perhaps due to a deflating tyre, and on the same lap his rear suspension collapsed at Abbey when the rear suspension carrier broke, giving him another nasty moment. Derek drove in slowly to post the second retirement. The following lap there was another, when last man Bonnier found his oil pressure dropping and came slowly in. In the pitroad a puff of smoke and overflowing oil breathers spelt internal disaster (at least a broken piston) and Jo Bo was out.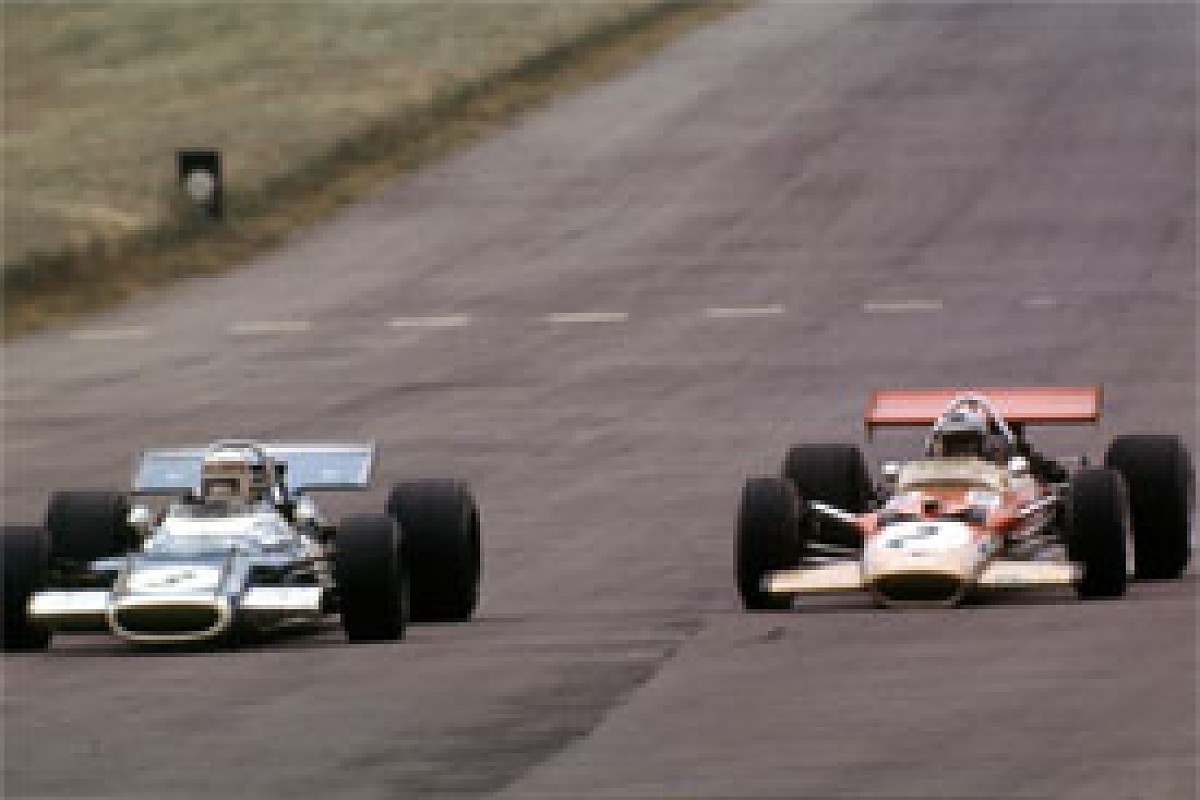 Jackie Stewart (Matra MS80 Ford) and Jochen Rindt (Lotus 49B Ford) battle for the lead © LAT
The leading battle was tremendous stuff - the two fastest men in grand prix racing fighting it out wheel to wheel. On lap six, as they swooped out of Chapel Curve and rushed down Hangar Straight into Stowe, Jackie darted out of the slipstream and outbraked the Lotus to snatch the lead. His clutch was now refusing to disengage and he was driving without it - no great hardship with a Hewland DG300 gearbox.
Behind the two McLarens the heat was just as strong, and in the fight for fifth place the two Ferraris of Rodriguez and Amon were now being pressed by Ickx, who had disposed of Courage and Hill, with Siffert at the tail of that queue. Elford was on his own in 11th place, while Miles had the 4WD Lotus going very nicely and hard on the tail of his former team-mate Oliver in the BRM. Beltoise was already some way behind in the 4WD Matra, driving to Tyrrell's instructions to bring the heavy car to the finish at all costs.
For a few laps Stewart managed to put a couple of lengths between himself and Rindt. Ickx was certainly the third fastest man on the circuit, and on lap eight he took Amon under braking for Woodcote and set his sights on Rodriguez. Miles, to his great delight, snatched 12th place from Oliver on lap nine and pulled away.
At the front Rindt, getting the Lotus into very exciting attitudes, had closed up on Stewart again, Stewart replying with a new lap record of 1m22.5s, and then 1m22.3s. Ickx, having disposed of Rodriguez, immediately pulled away from that group, which had a shuffle when Amon, whose gearbox had been tight from the start, fell behind Courage and then Hill. Courage then passed Pedro to lead the gaggle, and on lap 15 Siffert also took Amon.
Rindt was making a real effort to get back in the lead now. Darting about in the Matra's slipstream, he set a new record of 1m22.2s, and a lap later 1m21.9s. It was tremendous stuff and just what was needed to keep the enormous crowds happy (for once the usually optimistic Silverstone attendance figures of 100,000 may well have been justified). On lap 16, just after the pair of them had lapped Beltoise, the determined Jochen had forced his way through, taking advantage of a muffed gearchange by the clutchless Stewart. Already third man Hulme was 22s down, while McLaren, himself under pressure now from the irrepressible Ickx, was closing on him. Denny's engine had lost power after being over-revved when the throttle stuck. The fifth place battle was as hectic as ever, and Hill had now moved past Rodriguez and was chasing Courage.
The next casualty was the sole surviving BRM of Oliver, who, shortly after being lapped, pulled off between Maggotts and Becketts with transmission failure, which was probably a broken final drive pinion. The leading dice was still being matched in excitement by the sixth-place battle, which was being led by Courage from Hill; Siffert got past Rodriguez at this point, with Amon still at the back.
Denny Hulme was obviously in trouble, for McLaren and Ickx were now almost on top of him, and on lap 22 they both went by. Four laps later Denny came into the pits complaining of misfiring, and the ignition black box was changed, but after one more slow lap he came in again. The McLaren mechanics checked the compressions and then decided that a camshaft was probably broken - this seems to be what goes first when a DFV is over-revved.
Amon found that his stiffening gearbox was easing a little, whereas Pedro's engine had lost power and the temperatures were rising, and the two Ferraris swapped places. Hill was trying everything to get past Courage but was having no success; one of his front flippers had moved to full angle, which did not help matters, ad this could well have been caused when he clipped one of the rubber markers at Woodcote and sent it flying.
Rindt was driving superbly and, although Stewart was still hard on his heels, the Austrian seemed to be in charge for the time being. By now the pair of them were 39.5s ahead of McLaren, who was under very strong pressure from Ickx. On lap 28 the Belgian dived onto the inside under braking for Woodcote and was past the orange car in a nicely executed manoeuvre. The places behind them changed on the same lap, for Courage got a couple of wheels on the grass coming out of Copse and Hill was through, taking Siffert with him.
For several laps the order remained constant, with the fight for the lead as hot as ever, Ickx already on his own ahead of McLaren, and then the gaggle - in which Hill emulated Courage on lap 31, getting two wheels on the grass, so that Seppe now led the group from Courage and Amon, with Rodriguez still at the back. Then Courage, whose engine was fluffing at awkward moments, dropped two places again, so that the group was now Siffert, Amon, Hill, Courage, Rodriguez. It was just like an F3 race. Next Siffert's gearbox began to get awkward and on lap 39 he fell right back behind Courage; meanwhile the leaders were coming up to lap the lot of them and it seemed that the road was going to be very full for a lap or two.
Pedro, who was still a few lengths behind the others, was lapped without difficulty on lap 37, but next time round the group came through with Rindt and Stewart in among them - and Beltoise in there too, being lapped by the lot of them! Somehow it all sorted itself out and Hill managed to get by Amon in all the excitement, so that the group was now Hill, Amon, Courage, Siffert and Rodriguez. Stewart lost a little more time in the traffic than Rindt and was several lengths in arrears when they next came through, but he rose to the occasion with a new lap record of 1m21.8s on lap 41.
Now Amon was in trouble. His gearbox, having been stiff earlier and then loosened up, was now jumping out of fourth, and after a couple of very worrying moments when Chris suddenly found himself in neutral at the wrong moment - once at Abbey when he nearly motored into the farmyard - he decided that discretion was the better part of valour and came in to retire, although he said that had he been placed higher he would have pressed on.
It was around now that the gap between the leaders was at its biggest; on lap 48 it was 2.2s, while on lap 50 it suddenly stretched to three. But the Tyrrell pit was keeping Stewart well informed, and on lap 54 it was back to 2.6s and Jackie was obviously readying himself for a big effort. The track was very slippery with its 50 laps worth of rubber and oil, and Elford got very sideways at Woodcote on one lap but managed to sort things out. Siffert was back in front of Courage, but then he lost fourth gear completely, and on lap 55 he dropped a couple of places again behind Rodriguez.
Miles, despite lacking a clutch for most of the race, had been pressing on well, but then the gear linkage became troublesome; when he could no longer select top he came in, and the mechanics tried to adjust the linkage - with the result that when he went out again he had no gear but third. However, like Beltoise he had orders to finish, so he pressed on, holding a constant 9000rpm virtually all round the circuit.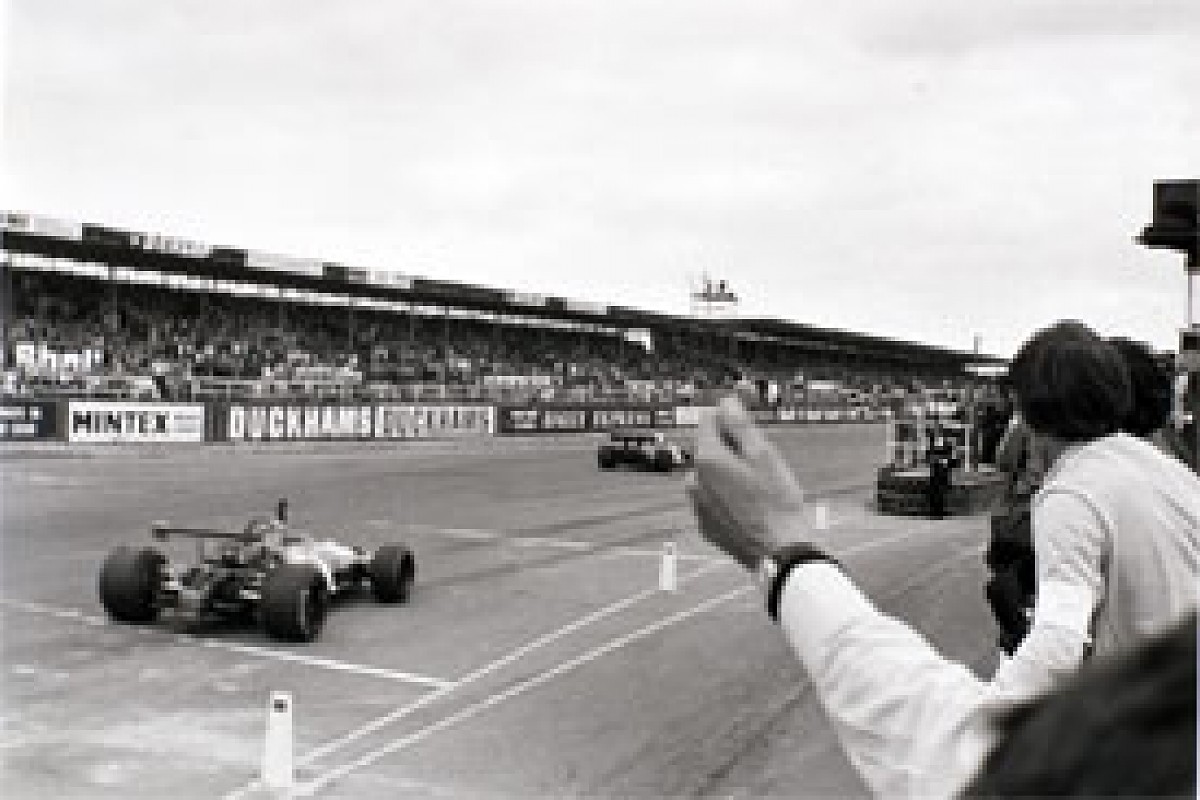 Jacky Ickx (Brabham BT26 Ford) coasts across the finish line out of fuel © LAT
Stewart now made his big effort. His lap 56 occupied 1m21.6s, and then on lap 57 and again on lap 60 he turned in a 1m21.3s, which was to remain the fastest lap of the race. This brought him right back onto Jochen's tail, and now for the first time Jochen had a problem - the left-hand sidepiece of his aerofoil had come adrift and was rubbing against the rear wheel.
On lap 62 Stewart repeated his manoeuvre of an earlier lap and darted alongside on the run down Hangar Straight into Stowe to take the lead again. The Matra came rushing through Woodcote triumphantly in front, while poor Jochen rushed into his pit to have the offending piece removed. This took 34 s, so that with 21 laps to go it seemed that there was no way he could catch Stewart - although he was still comfortably ahead of Ickx.
Rodriguez was up with Hill and Courage again, although his engine was still running very hot. Then the exhaust note went rough on lap 61 and he switched off before the worst happened and coasted in to retire. This left Hill and Courage to fight it out alone for fifth place, and on lap 64 Courage shot through to lead the World Champion on the inside of Woodcote, staying ahead for four laps before being retaken (Hill later complained that his engine had lacked power for most of the race). During the heat of this battle Courage clipped a marker at Woodcote and his front right-hand flipper assumed a crazy angle, although this did not seem to slow him down at all.
As the closing laps were reeled off, Stewart seemed to be in a very secure position, for although Rindt was charging as hard as ever he had only managed to shave 2.5s off his deficit. Stewart's engine started to fluff a little as the fuel level got low but, his memory jogged by a pit signal from Tyrrell, he switched on his reserve and all was well.
Not so with Rindt, however; obviously fuel consumption had been higher than anticipated in this very fast race, and on lap 76 the second-placed Lotus cut out completely at Stowe before spluttering back into life again. Jochen did another lap while the Lotus mechanics got the fuel ready, but his stop on the next lap dropped him irretrievably behind Ickx and McLaren, ad he came out just as Piers Courage came sweeping through - minus Hill, for the other works Lotus had had identical trouble and also came in for more fuel. Then it was Siffert's turn to suffer precisely the same malady, and after a very spluttery lap he came in for more fuel as well.
All this completely changed the order of the race and put paid to any chances of a Lotus finishing in the first three, for Ickx and McLaren now seemed to have second and third places sewn up, although without its fuel load Bruce's car was understeering a lot, and Elford, having been lapped by McLaren, followed him for several laps and then unlapped himself.
Amid this chaos and confusion the invincible Stewart motored on to score his fifth grand prix win in six races, a fantastic record which reflects admirably on his own ability, that of Ken Tyrrell, and the skill and hard work of the Tyrrell mechanics and the Dunlop boys. With 45 points in the World Championship, he now has no fewer than 28 more than his nearest challenger, and only a very surprising set of circumstances could now rob him of the 1969 title.
But the race was not over yet, for Ickx was overdue. Incredibly, he too was running out of fuel, and on his final lap the engine died at Copse, picked up again and took him to Club and then stopped completely. In a repetition of his Guv'nor's performance at this circuit last March he coasted up through Abbey and just had enough impetus to roll over the line, bouncing up and down in the cockpit like a trials driver to urge his mount along. Just 6.4s later Bruce McLaren took third spot.
As for fourth place, this was the subject of further drama. The now totally dejected Rindt was only just ahead of Courage, who was himself nursing a fuel-starved motor, although Piers obviously thought the Lotus was a lap ahead. Nevertheless he passed Jochen, and it was only on the last lap that Jochen became aware of the situation and nipped past the Brabham to take fourth place by less than a second and earn his first championship points of the year. The consistent Elford profited from the pitsops by Hill and Siffert to take sixth and add another championship point to his collection, while Beltoise carried out his instructions by bringing the 4WD Matra home ninth after a trouble-free run in its first race, ahead of third-gear man Miles.
As the vast crowd started to jam up the lanes surrounding Silverstone as they endeavoured to make their way home, they could reflect that the exciting motor race that they had just watched was a perfect example of how important good organisation is in a racing team - speed is not enough. It was very sad that we did not see a fair fight between Stewart and Rindt right to the flag, for the result of that would have been hard to predict, but with the leading battle and the dices lower in the field the spectators had certainly had their money's worth.