"So that's it then?" said one long-serving F1 figure I bumped into on the morning after the Turkish Grand Prix. "Jenson's got the championship, Red Bull is pretty safe in second and everyone else is in trouble."
Not since 2004 has the world championship looked so destined to be going to one man so early in the season. The tale of the year so far has been of the best driver in the best car getting better and better with each passing race.
There have been times when Button has appeared to be in trouble - be it Friday dramas or having Sebastian Vettel stuck right under his gearbox - but he has proved unflappable during what is turning into a remarkable campaign.
Judging by the form of Turkey, and the totally dominant manner of his victory - considering he was conserving his engine and car for much of the afternoon, it is likely that Button is going to win a lot more races to come.
Had the original plan for a winner-takes-all system been adopted then we could be looking at having the championship wrapped up by the Hungarian Grand Prix. Even without it though, it looks like it is going to get settled around the time of the Italian or Singapore Grand Prix.
One interesting aspect about the current story is that there has not yet been a huge backlash against the dominance from fans claiming that it has become all a bit too boring.
Button for one is certainly not worried about his form turning any fans off - as he made clear in Turkey last weekend.
"I can't really do anything about that," he said. "We are all here to do the best job we can and as a team we've done a better job than any other team. That's a fact. Sorry if it gets boring. They shouldn't be looking at us to help out with the situation; they should be looking at the others.
"If you look beneath the surface, you'll see we haven't walked away with any of the victories. Maybe Australia. Other races others have been as quick as us but we've done a better job over race weekend. Qualifying and race, doing it when it counts, strategies, to get a good strategy you need to be in a good position to do that. It's not easy."
Yet why has the most dominant start to the season since 2004 not yet turned people away from the sport? Had it been a McLaren, Ferrari or Renault driver who had done a Button-type start to the campaign, then fans would be throwing their arms up in the air about how dull F1 had become.
Part of the factor is because Button and Brawn are new winners - and in some senses began the year as underdogs even though some suspect the BGP 001 is the most expensive and most developed F1 car in history.
The fact that dominance has come on the back of the F1 formbook being thrown on its head has done much to keep interest high. While Brawn and Button have got it so right at the front, the struggles of Ferrari, McLaren, BMW, Toyota, and Renault at various stages of the year have been something to keep an eye on.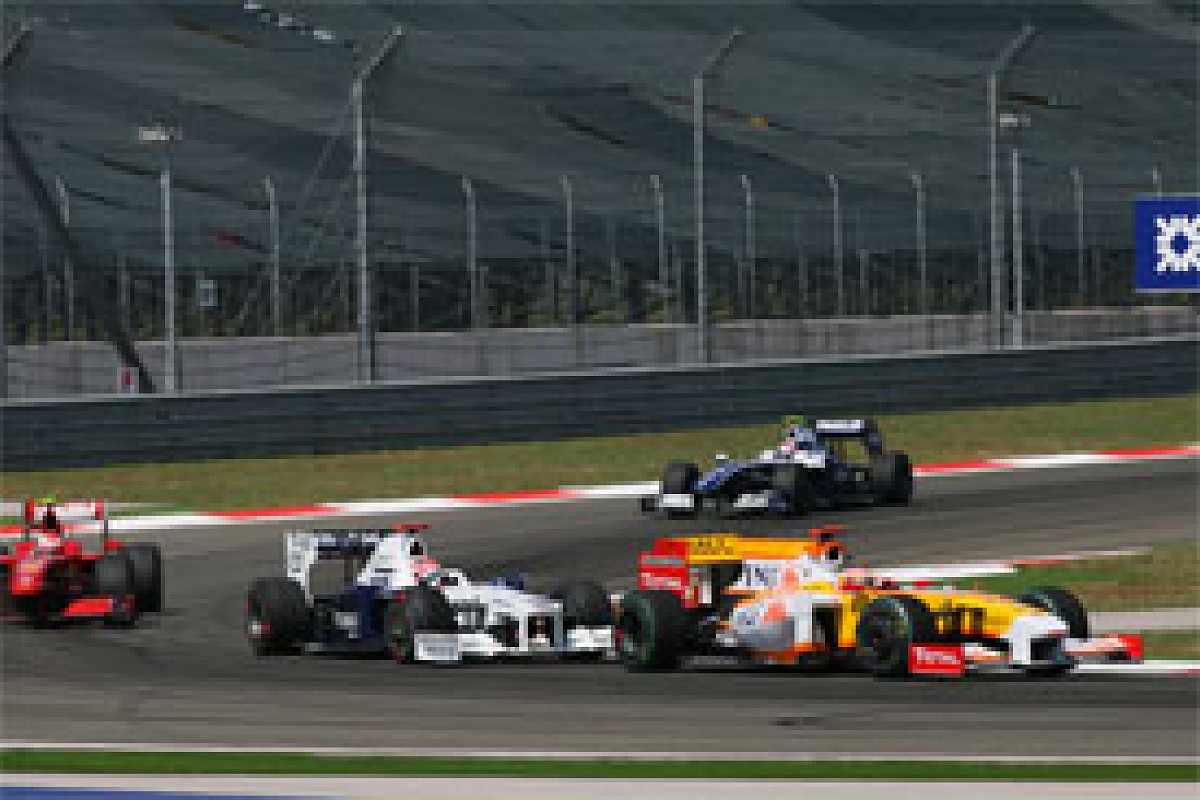 Fernando Alonso (Renault), Robert Kubica (BMW Sauber), Kimi Raikkonen (Ferrar), and Kazuki Nakajima (Williams) dicing at Istanbul © XPB
While Brawn and Red Bull have pretty much had it their own way at the front of the field, there have been enough disasters, troubles and controversies elsewhere to leave the fight for 'best of the rest' much too close to call.
And judging by how the formbook keeps changing race by race, the fight for third looks far from settled - delivering plenty of reason to keep tuning in. Who knows, maybe one of the non Brawn/Red Bull teams could make the step needed to get the jump at the front....
Another part of the explanation of why Button's dominance is not a turn off has to be because of his charm - and the fact it is so easy to like the man from Frome. After the feel-good factor that got everyone behind him at the start of the season, as Brawn went from not existing to winners in the space of weeks, Button's enthusiastic delight at his ongoing success is still warming people.
There is still something remarkable about seeing a driver who was staring into the abyss of his F1 career being at an end, coming back and delivering the form needed to become champion.
People still love the fact that he treats every success with the same pleasure as the last - and that each of his victories has been hard fought. Forget the cloud of team orders that hung over much of Michael Schumacher's success during the dominant Ferrari era, Button is doing it all himself - battling other teams and his own team-mate all the way.
It is inevitable that at some point over the summer, if Button carries on in the manner that he is doing now, then people may start deciding that F1 is not essential viewing for now.
Yet while almost the entire paddock is sure that the title is going Button's way, there is no sense of resignation that the fight is over. Too many people still need to do a better job and, as Button himself confessed over the Turkey weekend, the law of averages dictates that sooner or later he is going to trip up too.
Until then, we should all enjoy watching a story that no one would have predicted in the build up to the season. Not least those eight teams in trouble.
To continue reading this feature, subscribe to Autosport Plus today.
Expert opinion. Technical insight. Unbeatable analysis. Subscribe today for unlimited access to the world's best motorsport journalism.
Get unlimited access now
No more monthly limits. Get complete access to all our news and Autosport Plus features.
Subscribe to Autosport Plus
Completely ad-free environment.
Access Autosport Plus - the best motorsport analysis, insight and opinion.
No monthly news limit.
Explore Forix, the world's most comprehensive motorsport stats database.