The normal start to a Friday morning, especially a Bahrain Friday morning, the track liberally sprinkled with desert sand. Just the single installation lap and then everyone sits there, helmets on, waiting for someone else to be track cleaner.
The BlackBerry bleeped and the message was from McLaren's communications chief.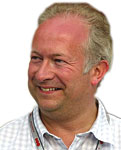 McLaren hospitality at Sakhir © LAT
"This is not a press release," it said, "more of a personal update from me to you, to bring you up to speed on various small changes we're making that may interest those of you who regularly (or even irregularly) attend grands prix.
"You'll be pleased to hear that the Bahrain Grand Prix marks a return to Meet The Team's usual time slot of 4.30pm on Saturday afternoons. However, it will be rebranded as the VMM180 and will have a slightly different feel from before. (This weekend, again, however, it will feature our team's senior management only.)
A bit of explanation here. 'Meet the Team' is the opportunity for the press to sit and ask Martin Whitmarsh and Norbert Haug anything they feel like about the team performance that weekend or F1 in general. And very useful it is too. Ask any poor hack who's had to elicit anything more than a monosyllabic grunt or a caustic response from an under pressure premiership football manager - okay, they're a bit better than the players - and you begin to appreciate how fortunate you are to be surrounded by intelligent, articulate people who actually make an effort.
Sometimes though, Meet the Team is moved to a Sunday morning - usually if there's a team principals meeting or a later, after-hours race schedule. That is about as much use as a chocolate fireguard to a journalist trying to file a qualifying story or needing some detail for a colour piece in a Sunday paper. But, hey, let's not get picky, such an open approach and the effort extended is not mirrored everywhere else.

Normally, the session is kicked off by the two drivers before the mikes are handed over to the management. Occasionally though, in moments of great crisis the drivers are plucked out. Alonso, for example, was pulled in Hungary '07 when he'd been telling a couple of people about some dodgy emails knocking around... And Lewis, right now, is apparently in a bit of a strop with the press over 'liegate'. Probably he was still feeling sensitive and it was thought prudent to keep him out of the firing line before the Paris World Motor Sport Council hearing.
The message went on: "Why VMM 180?"
Sounds like a darts tournament, someone helpfully piped up, before bursting into best Tony Green geordie: "Quiet please... on the oche it's big Norbert. Nobby you require one hundred and thirty two. Game on..."
"Norbert, you require a ****ing miracle!" someone else offered. A bunch of comedians us hacks, you see! But everyone understood the significance of this last bit - a miracle needed to avoid a team-threatening, sponsor-evacuating spanking from the WMSC...
But you're intrigued, I know, so I'll tell you what it was really about.
"The VMM bit stands for Vodafone McLaren Mercedes, obviously," went on the missive. "The 180 is for 180-degrees - making the inside face outwards to tell you about our team, our drivers, and our objectives.
McLaren Head of Communications and Public Relations Matt Bishop © XPB
"In the future, we'll also be organising seminars and Q&A sessions for you, inviting our managers, engineers and drivers to tell you about new and behind-the-scenes developments that we hope you'll find fascinating.
"In addition, there will be drinks, light refreshments and ice creams available for all." Ah, now we're getting to it!
"At each race we plan to offer bespoke cocktails on Friday evenings and Saturday evenings. Today's cocktail is called Absolute Taste Desert Sunrise, and tomorrow's is called Absolute Taste Middle Eastern Breeze. Cocktail hour begins today at 4.00pm and tomorrow at 4.15pm. See attachment for recipes..."
The recipes bit got everyone tittering. "A bit like worrying about the champagne temperature on Titanic as it steams towards the iceberg!" someone laughed.
But there was more.
"On our return to Europe, the VMM180 will take place on the Vodafone floor at the top of the Brand Centre (a motor home which has mutated into a super-posh semi-permanent structure befitting Bernie's World). With improved acoustics, drinks and snacks and a panoramic view across - you've guessed it - 180 degrees of the Formula 1 paddock, we hope to provide you with the best and most informative media session of the weekend in a truly relaxing setting.
"Finally, the VMM Big Breakfast will be starting again this weekend. Come and join us on Sunday morning at 9.30am for some grub, some chilled tunes and some great conversation.
"If you can't pop in, feel free to help yourself to an ice cream or a cocktail from one of the Absolute Taste girls at our hospitality area in the paddock - they're available all weekend so please tuck in! And tell your colleagues and friends to do the same!"
If you read it in the Kuoni or Thomas Cook pages you'd have the booking form filled out in a jiffy!
"Bloody hell, what next?" someone asked, "Pole dancers by Monaco?" But obviously, hackdom being what it is, there was a large congregation shortly after 4pm chez McLaren and hugely lengthening odds on anyone finding out what was happening next door at Ferrari. As for staggering all the way down the vast Bahrain paddock to Brawn, well, forget it...
But what was it really all about? Well, so concerned is the team at what the WMSC might do on Wednesday, this was an effort to show Max Mosley that Ron really has gone and the vibe really has changed. Mechanics might now even be allowed to lean on a wall in the garage occasionally and the message that people were partying at McLaren might just get back to Max in time. A feel-good factor at McLaren. A team with friends. Positive news.
It's no exaggeration to say that the team is feeling the heat. You wondered about how coincidental was the timing of a Mercedes shop steward in Germany questioning the necessity of being in F1 in the current environment...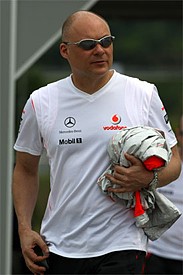 Norbert Haug © XPB
Forget the flippancy, Norbert Haug was as matter-of-fact as I can recall on matters Mercedes.
"The whole economic situation, it's very tough. To sit down and guarantee we're going to be here five years or whatever, is just not possible. But if we find a set of rules, limits, a budget cap, something feasible, I think FOTA and the FIA have to come together in the middle.
"Really, this is serious, I don't think there's any room for manoeuvre or playing games. Instead of discussing diffusers, KERS or not, all the stakeholders need to look at the big picture. Behind closed doors we're working on it. But everybody who is honest is considering the situation. We have confirmation for our activities, and I'm very happy about that, but do we have that indefinitely? I don't know? I don't know what's happening in car sales in the next two, three, four, five, six months."
You don't have to be Einstein to realise that the wrong verdict in Paris on Wednesday could tip Mercedes over the edge. "If the punishment is very serious I haven't a clue what's going to happen..." Haug admitted. And that went for everyone else.
It's fair to say that former McLaren team boss Ron Dennis and FIA president Max Mosley have not always enjoyed the best of relationships over recent decades, but as one wise old sage said in the paddock last weekend, Wednesday's verdict is about something much bigger.
"Don't forget," he said, "it's not Max, it's the World Motor Sport Council. And I'm not being naïve there.
"Plenty of people on that council will not want to see F1 without McLaren and without Lewis Hamilton. And at the moment, the way things are economically, anything heavy - and I'm not just talking a ban, I'd include a big fine or anything too publicly embarrassing to Mercedes in that - might just tip the whole lot over the edge. I don't think Bernie will want that and I don't think the WMSC will either. I'd bet on some kind of suspended sentence and possibly a nominal fine."
It all sounds logical but in this game you never know. Hold your breath on Wednesday...