Aston Martin Racing's LMP1 scored a debut victory at Barcelona last weekend, and although it wasn't my car that won the race, I was really pleased for my team-mates Tomas Enge, Stefan Mucke and Jan Charouz.
They're going to get stronger and stronger as the season goes on - that certainly won't be their only win. They can target podiums and big points at every race because they've got a very good shot at the championship.
Darren Turner in the 009 Lola-Aston Martin at Barcelona © LAT
I think my 009 crew should be very optimistic as well, especially after such a great qualifying session.
With our limited testing programme, my first chance to practice on low fuel and with new tyres was in qualifying itself! I just wanted to do a solid job and see where I ended up - I wasn't even thinking I'd be in the top six, let alone second on the grid.
It was actually my banker time that got me a front row slot. Afterwards I slowed down for some traffic and to conserve my tyres ready for another push, then on my flying lap I did the quickest first sector of all but then the red flag came out and I had to abort. Without that I certainly would've been much closer to pole.
Things then went wrong at the start. The race director came to me on the grid and said 'we want a really tidy start, do not overtake Strakka until you've crossed the line'. He really emphasised this point so I was very aware of it.
But as the lights went green Peter Hardman in the Strakka car on pole actually slowed down and caused chaos. I slowed down because I didn't want to overtake him before the line, and Stefan and Andrea Belicchi didn't have anywhere to go so they accelerated. That meant they were in the lead before the start/finish line, but it was either that or have a massive accident on the grid.
It was a chaotic start, all instigated by Peter either not being awake when the lights went green or trying to be clever and make everyone brake so he could accelerate away. It created a very dangerous situation. When you've got a load of professional drivers at the front of the grid, when the lights go green they're going to accelerate.
Danny Watts had put Strakka on pole, and I thought that whoever qualified the car started the race, but that rule isn't in the Le Mans Series. It would make sense if it was though because if the quick guy puts it on pole and then hands it over to another guy for the start, it puts that person out of position compared to where he would have qualified himself. Someone who has the experience to put the car on pole would also have the experience to make a clean start.
Having escaped the mess at the start, I thoroughly enjoyed the race. It was a big learning experience because with our minimal testing, I'd never done more than 10 laps in a row before Sunday. Suddenly you're in the car for an hour and a half and you've got to learn about different fuel loads, tyre degradation and so on - all in a race scenario.
And certainly the races are a lot different in a prototype compared to the GT1 cars I'm used to. The closing speeds are huge and it's easy to get wrong-footed. I'm learning racecraft in a prototype as I go along, and it takes some adapting to. There were certainly a few close shaves.
But by the second stint it felt much more relaxed and I was developing more of an eye for what was going on and where I needed to be placing the car to deal with the traffic. You will never catch me complaining about the traffic in this championship. I think it's fantastic, something I really like about sportscars - the traffic is part of the race and getting through it as quickly and cleanly as possible is a real skill.
Darren Turner in the 009 Lola-Aston Martin at Barcelona © LAT
Ultimately our race ended when Miguel Ramos had a spin. I think the team is still looking into it, because it may not have entirely been a driver error. I'm actually really pleased with both Miguel and Harold Primat. We've still got some work to do to get all of us comfortable in the car because we're three very different shaped guys and the driving positions just aren't working for any of us at the moment. But both Harold and Miguel did a great job, all of us were running strongly and had a good shot at the podium.
I actually think this year will be an even better season for the LMS than 2008. It's going to be a proper close fight all the way. I can't see anyone dominating. All the cars have got strengths and weaknesses, and it's going to be fantastically tight.
I was racing against Pescarolo and ORECA, and you can see where they're strong. There could be times during the season when we're not going to be able to live with them.
With the Ginetta-Zytek, Danny Watts is a first class driver and he's got good experience with that car. Strakka is getting stronger and stronger as a team, and Ginetta has obviously put a fair bit of finance into development because they've gained a lot of time. The Kolles Audi drivers didn't get much time in the car prior to the race, so they will regroup and be a real threat at Spa.
Audi versus Peugeot in 2008 was like a battle of the titans, whereas now it's more like a battle of the independent teams, but I think the races will be closer for it. Everyone is operating within a similar budget, similar restraints and making the best of what they have. I certainly couldn't predict who's going to win the next few races, I wouldn't have a clue.
Peugeot might spoil it at Spa, but maybe all the other teams can gang up and ruin their weekend! It's good Peugeot will be there though, because they are the main competition for everyone who's preparing for Le Mans, so it will be a good chance to judge where we're at and see what we need to work on.
I'm writing this from the FIA GT Championship test at Paul Ricard, where Michael Krumm and I are putting more miles on the new Nissan GT-R.
It's built for the 2010 GT regulations, so it has less downforce and is slightly heavier than the GT1 cars I've been used to. It takes a bit of time to adapt, but today in particular has been very positive. It's starting to feel like you've got a racing car underneath you and you can start to push.
Given the rules difference, we're not going to be able to challenge for victories or anything like that this year. Anyway, we're only there for four races - Silverstone, Oschersleben, Spa and one other. The other teams have got a championship to win, so it's important that we don't get in the way or affect their races.
I'm straight off to test the Aston again after Ricard, and between all this testing, I'm also fitting in my first attempt at the London marathon - although my preparations are going a little bit pear-shaped.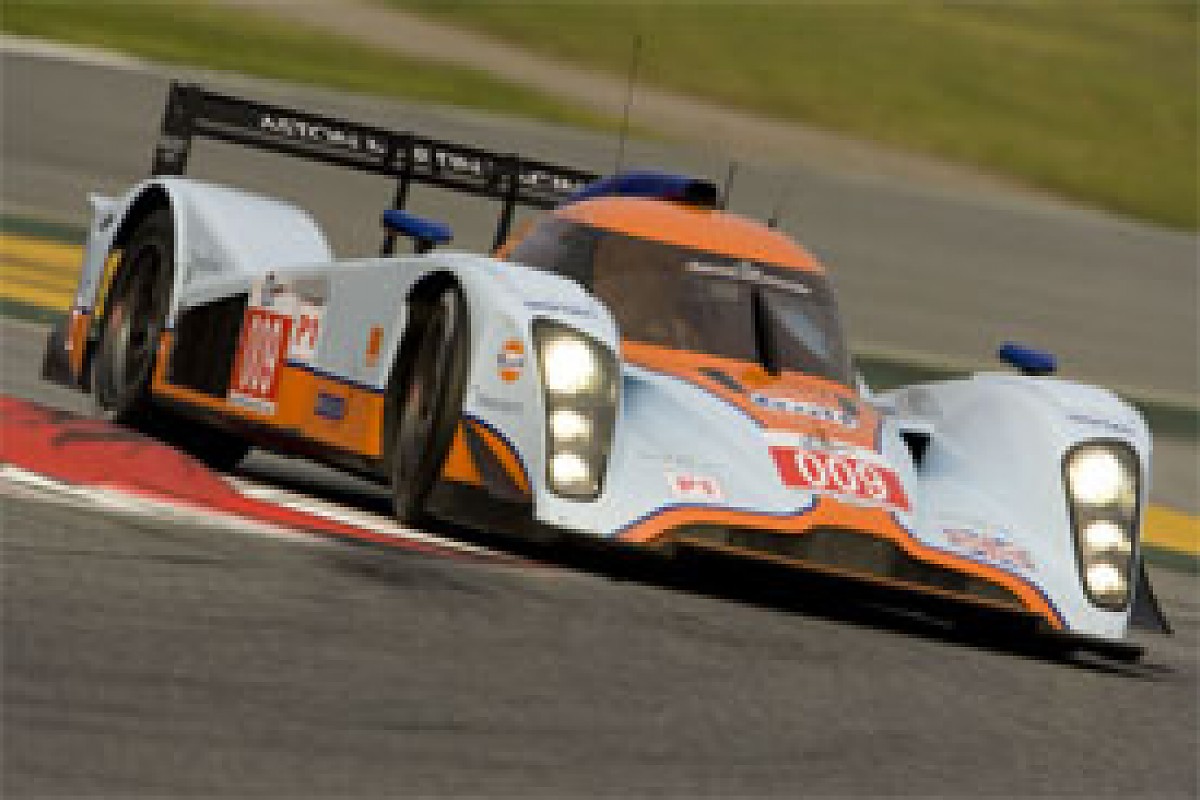 Darren Turner © LAT
Because I've been doing so much driving, I haven't had time to do much training. I've got a few days free this weekend so I'll be trying to get in as many miles as I can.
At the start of the year I had a target of getting around in three hours and 30 minutes, but with my lack of training I'll be happy if I do it in four hours now.
Straight after the marathon I've got a massive test with Aston and then the first FIA GT race, so I'll be very conscious that I can't overdo it and jeopardise the following week's driving. There are plenty of years when I can come back to the marathon, and my racing is always my priority. The marathon is a bit of fun and to raise some money for the Motor Neurone Disease Association (you can sponsor me via http://www.justgiving.com/dtlondonmarathon) so I'm not about to bust my balls to do a good time when I'll be thinking of the amount of driving I've got to do the following week.
The guys that do single seaters nowadays are so professional and most of them have got their own personal trainers and are incredibly fit, whereas my generation of drivers use our time in the car to build up our race fitness. I could be a lot fitter generally, but I spend so much time at airports, hotels, and at racetracks testing that fitting in a full fitness programme is pretty hard. So there's room for improvement there, but you've always got to balance it with doing your job.
There will be several racing drivers doing the marathon, including Andy Priaulx, Gareth Howell and my old GT1 rival Ollie Gavin. I'd like to be competitive against them, but whatever happens with the time is fine, as long as I get to the end. Ollie in particular has done plenty of marathons so I won't be taking him on. As far as I'm concerned, when it comes to the London Marathon, Ollie will be in GT1 and I'll be happily sitting in GT2...