The first ever Malaysian Grand Prix in 1999 saw Michael Schumacher return after a long lay-off with a broken leg and help his Ferrari team-mate Eddie Irvine to a victory that left the latter ideally placed to become Ferrari's first world champion in two decades.
But hours after the race, the stewards disqualified both Ferrari for barge board irregularities, handing Hakkinen the race win and the world championship.
That proved to be a short-lived situation as well, for the Ferraris were ultimately reinstated on appeal, setting the scene for a world title showdown at Suzuka a fortnight later.
This is how AUTOSPORT reported Schumacher's momentous - and typically controversial - comeback at the time.
Qualifying: Red leader flies again - By Adam Cooper
The Sepang circuit was a fresh challenge for everyone. While all had studied maps of the track and run computer simulations, there was no substitute for getting out there and running laps.
Unfortunately, heavy overnight rain left the track soaking wet on Friday morning, so not a lot could be gleaned early on. Appropriately the 'national team' (Sauber is backed by Petronas - Malaysia's national oil company) went out first - Jean Alesi and Pedro Diniz becoming the first men to lap the track in Formula 1 cars. The Brazilian was also the first to spin off - fortunately there was not too much harm done.
Although it dried out towards the end of the session, and the afternoon was fine, not a lot could be read into the times. The fact that Jacques Villeneuve was top and Alesi third was a good indication of that. However, it was already pretty obvious that with its variety of corners, Sepang was a challenge to drivers and engineers, and that finding an ideal set-up would not be the work of a moment.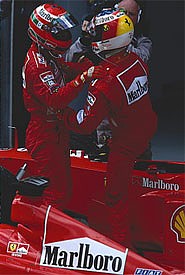 Michael Schumacher and Eddie Irvine congratulate each other in parc ferme after qualifying © LAT
The first clues to real form came on Saturday morning, when the sun finally burst through the clouds and the temperature took a massive hike. Ferrari's returning star, Michael Schumacher, had been quickly into the groove the previous day, and he soon topped the times, ahead of team-mate Eddie Irvine. Mika Hakkinen's McLaren was 0.6s behind in third, and this seemed a highly significant gap at a point when everyone was just about finding their limits.
It was an intriguing prelude to what became a fascinating qualifying session. After Johnny Herbert put his Stewart briefly on provisional pole, Schumacher went to the top on his first run with a lap of 1m40.830s. Irvine was just 0.052s slower. Hakkinen's first run of 1m41.388s suggested McLaren was in trouble. The defending champion could not improve on his second set, and team-mate David Coulthard usurped him for third by recording 1m41.115s.
Both McLarens had run a little wide at the exit of Turn 15, and on his second set Schumacher had to abort after having put all four wheels on the grass at the same point. Irvine then wasted his second run by spinning there, too, showing just how hard they were trying.
With a little over 15 minutes to go, Hakkinen finally got into the ballpark when he split the red cars with 1m40.866s, but any comfort evaporated moments later when Schumacher set a stunning 1m39.688s - more than 1.1s quicker than his own personal best. Ferrari got a further boost when Irvine did 1m40.635s to snatch second back from Hakkinen, whose fourth and final run showed no improvement.
The Ferrari men had another set each left, but they stepped out of their cars, sure their times could not be beaten. In Irvine's case, this was a gamble that could have backfired, as Coulthard and sixth-placed Rubens Barrichello still had runs to go. The Scot did indeed go quicker, but only by enough to put Hakkinen back to fourth - which made Ferrari smiles even broader.
"It's fantastic," said Irvine, "Michael's had three months off, and the rest of us are all destroyed by the time we get to this stage of the season. He's coming back fresh and feeling good, and he's driving as we know he can drive. It's great to have him back.
"I never got what I felt was a good lap. If you add up my sector times, it's a lot quicker than I went. But I didn't want to risk my last set of tyres. I wanted to hang on to them for tomorrow."
Coulthard was delighted to be ahead of Hakkinen in a fair fight on a dry track, and the Finn was clearly upset, refusing to come out to speak to the waiting TV camera crews.
"I didn't expect there to be a gap at all," said Coulthard. "When I looked at the circuit, I thought it would be a track that our car would work well on. It's not bad, but we just haven't quite got the combination of the fast, slow and medium to our liking. We all had the same time to do it, and obviously Ferrari were better at it this weekend."
Almost unnoticed, the rejuvenated Herbert did a superb job to take fifth, beating his team-mate Barrichello for the second successive race.
The race: It's a technical knockout - By Andrew Benson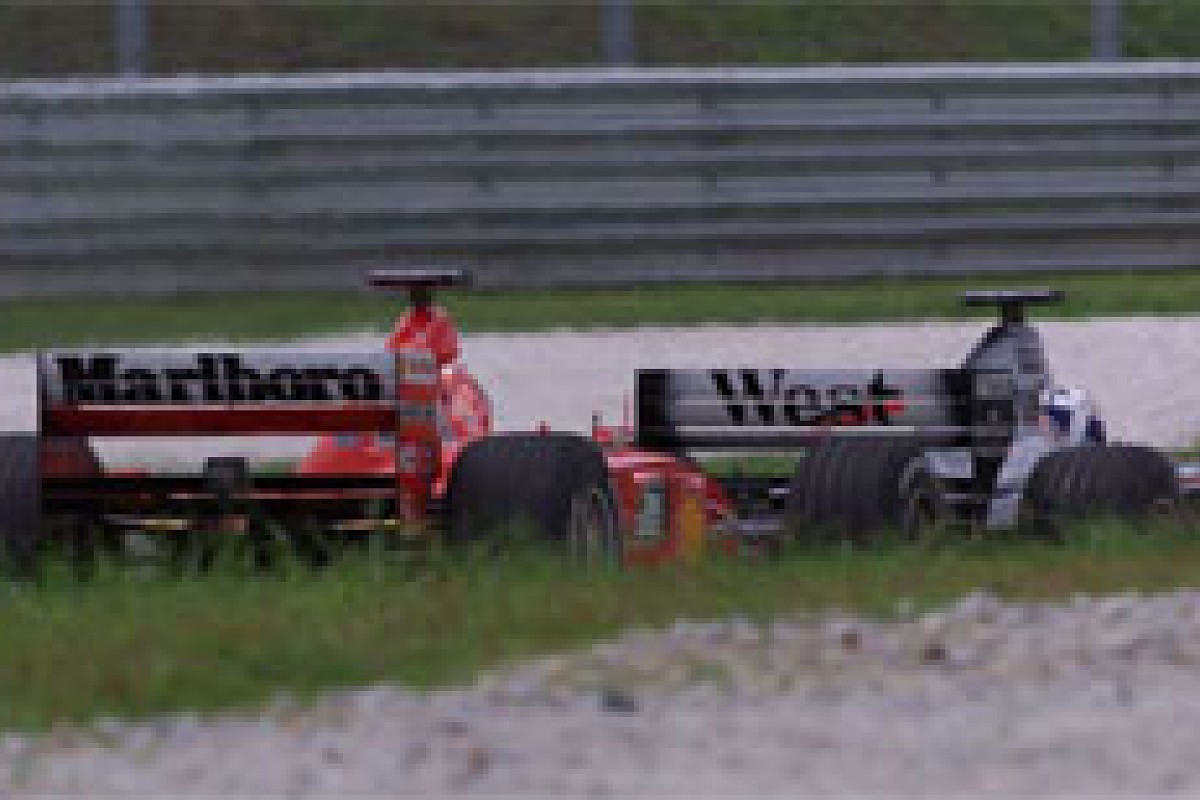 David Coulthard (McLaren MP4-14 Mercedes) passes Michael Schumacher (Ferrari 399) and sets off after race leader Eddie Irvine © Forix
An appeal court will decide if McLaren's Mika Hakkinen won the drivers' world championship by inheriting first in the inaugural Malaysian Grand Prix, but the race left no doubt about who is the best driver in the world.
Michael Schumacher dominated the weekend in a way that undermined the claims of any of the 1999 title contenders. He and his Ferrari team-mate, Eddie Irvine, may have been disqualified, but the assistance afforded their F399s by a barge board that contravened the rules was debatable.
It should not detract from Schumacher's comeback - it could not possibly account for the second a lap advantage he had over the rest. Had the need to fight for the championship not taken precedence, he would have scored a crushing and demoralising win at the Sepang track on Sunday.
Even so, he made his point in style. On pole by nearly a second, his superiority was magnified in the race. Away from the start, he fairly flew away from the field, pulling out 1.798 seconds in the first lap, and extending the margin to 3.167s next time around. His point made, he set about fulfilling his other task for the weekend - giving his team-mate a hefty leg-up in his attempt to beat Hakkinen to the title. As with his driving, Schumacher made the operation of clinical - and some would say cynical - team tactics look easy.
He slowed his pace dramatically on lap three, let Irvine by next time round, and spent the rest of the race doing what was necessary to ensure the Irishman won, while holding Hakkinen at bay to take second. He did the job to perfection, but it must have been one of the hardest things the proud and selfish German has ever done.
For three and a half years he has slaved away at Ferrari trying to take a substandard car to the world title. He wanted to go down in history as the man who had ended the most famous losing streak in the sport by winning the team's first drivers' crown since 1979. Yet here he was having to let his underling, a man with a fraction of his talent, by into the lead for a golden opportunity to take the honour himself.
"I knew what my job was," Schumacher said, the tone of his voice and the look on his face revealing more than the words that came slowly out of his mouth.
"When the team said 'Thank you', I said, 'I've done it for three and a half years for me, so it's pretty natural to do the same as I would expect people to do for me.' I would prefer to win the race, but it doesn't make sense. There is no point in being glorious and afterwards we don't win the championship. Then we would look stupid."
One could argue he could afford to sound magnanimous. By then he had made the point McLaren had so feared he might - that without his broken leg, his dream would probably already be achieved.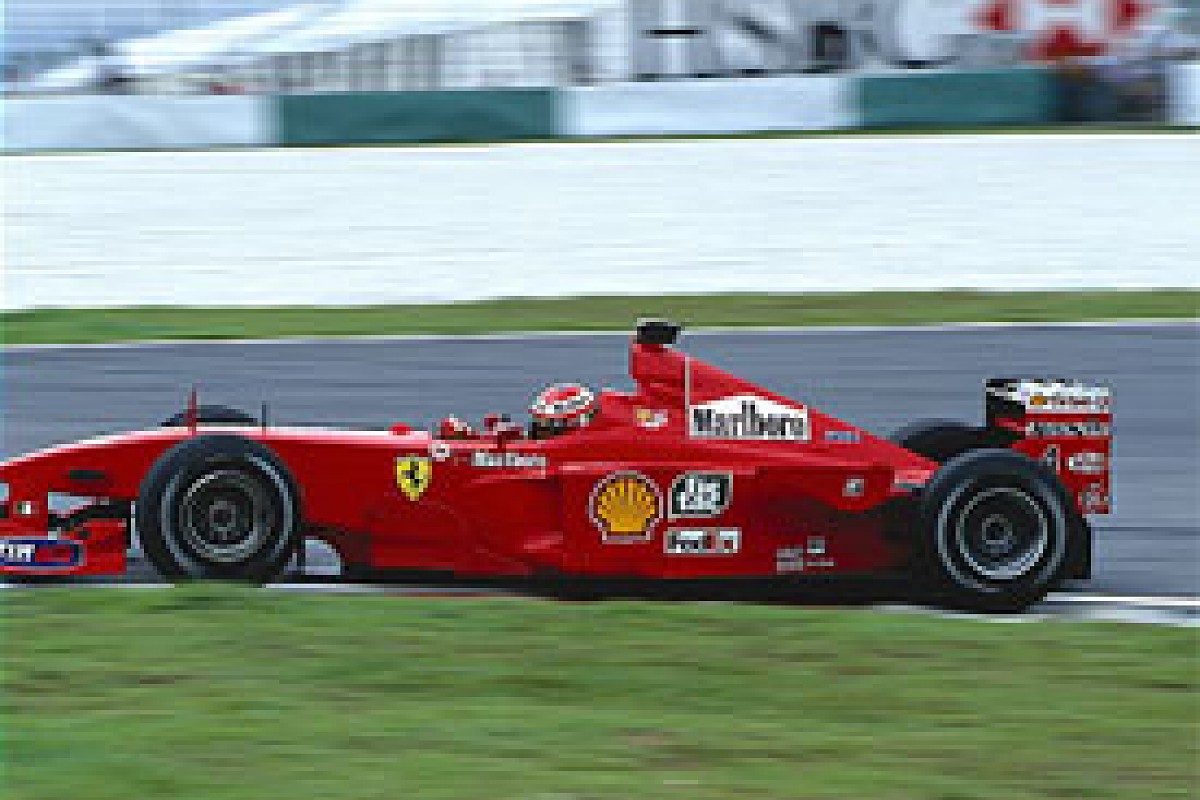 Eddie Irvine (Ferrari 399) leading at Sepang © LAT
"We improved the performance of the real Ferrari and not what was seen by the people in the past races," Schumacher said. Undoubtedly, the team made more of the car in Malaysia than it had for some time, but most of what it was able to achieve before the technical department of the sport's governing body got involved was made possible by this giant of a driver.
"He's depressing," Irvine said in tribute later. "He's the best number one and the best number two! We couldn't have done this without him. One of the good things about having Michael's input is he comes up with totally different theories. He calmed the situation down."
Without him, the Irishman would have been in trouble. "The front end of my car was very sharp on turn-in," he said. "I was worried I would spin. It was a matter of settling into a pace I was comfortable with and letting Michael do all the hard work."
Having let Irvine by, the idea was to keep both McLarens away from his. This was where Schumacher made his one mistake. David Coulthard, showing admirable aggression, barged past him at Turn 2 on lap four in a style similar to that which the German has previously employed on him. The McLaren man then set about making Irvine's life very difficult indeed.
"That was not part of the plan," Schumacher smiled. "I didn't expect David to go down the inside, but he shocked me a bit - perhaps that is partially to do with me being away for so long. We touched and I had a damaged car later in the race because of that."
Coulthard was much quicker than Irvine, and it seemed only a matter of time before he went by. Had he done so, the race would have been turned on its head. But, on lap 15, McLaren fragility let him down again, Coulthard ground to a halt, his fuel pressure at zero.
It was a bitter blow. "What is frustrating," said team boss Ron Dennis, "is we have phenomenal reliability at the moment - our testing reliability has been exceptional. The plan was working. He [Coulthard] was going to give Eddie a very hard time. Eddie had everything to lose and David nothing, so he would have been very aggressive in trying to take the lead."
Schumacher then set about slowing Hakkinen down so that Irvine was far enough ahead to come out in the lead after they had all made their first pit stops.
The Finn was not bothered by Ferrari's tactics. "In their position, we would probably do the same," he said, in direct contradiction of Dennis' claims.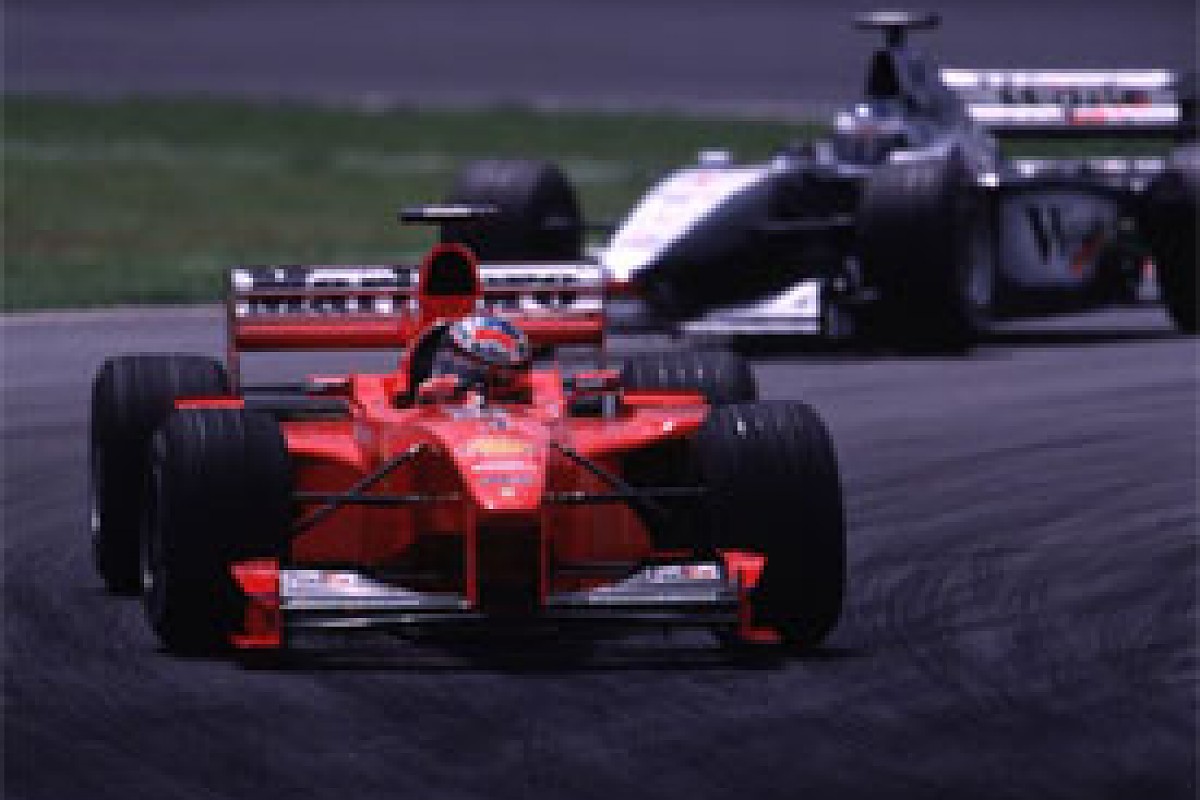 Michael Schumacher (Ferrari 399) holds off Mika Hakkinen (McLaren MP4-14 Mercedes) © Forix
However, he was not best pleased with the German's driving and waved his arm in the air a couple of times during the race to indicate the level if his displeasure.
"I was pissed off," he said. "It was frustrating. It was the hardest race I have ever done. Michael was not consistent in the fast corners. I always had to be careful in case he was going to brake there or in surprising places. I was pushing him very hard, but passing him was always risky. He was sometimes quick and sometimes slow, and accelerating in funny places. I had to be careful not to run into him."
Schumacher explained his actions by saying the Coulthard incident had damaged a front-wing endplate. "After a while, I was missing a piece of wing. The fast corners were very difficult. I also had to worry about my tyres because we were going long [on a one-stop strategy] and they were not very grippy at the end of each stint."
Ferrari's view was that he was doing his job and taking it easy in the fast corners because he could not be overtaken there, and because that is where the tyres and downforce are most under load.
The wing may have slowed him a bit, but not too much. On laps 25 and 26, building a gap for his own fuel stop, he set times faster than anyone else would do all weekend.
When Hakkinen came in on lap 27, just one short of half-distance, many thought he must be on a one-stop strategy, but the duration of his first gave it away. Ferrari then knew he would have to pit again.
McLaren was criticised for its decision. Why, some asked, did the team not put Hakkinen on a one-stopper? Then it would have had a chance of surprising Ferrari and being ahead of Irvine when he came out from his own second visit, even if Schumacher would still have beaten them.
"Sometimes it's useful to change," Hakkinen said, "but we were stuck."
Dennis added, "There wouldn't have been any point, because Michael would have slowed him again. It was an option and we looked at it, but when we did the mathematics, no way."
The extra two seconds for the fuel needed to get Hakkinen to the end would have put the Finn behind Stewart's Johnny Herbert, driving an unobtrusively excellent race on a one-stop strategy himself. Getting by him on harder tyres and a full fuel load would not have been easy.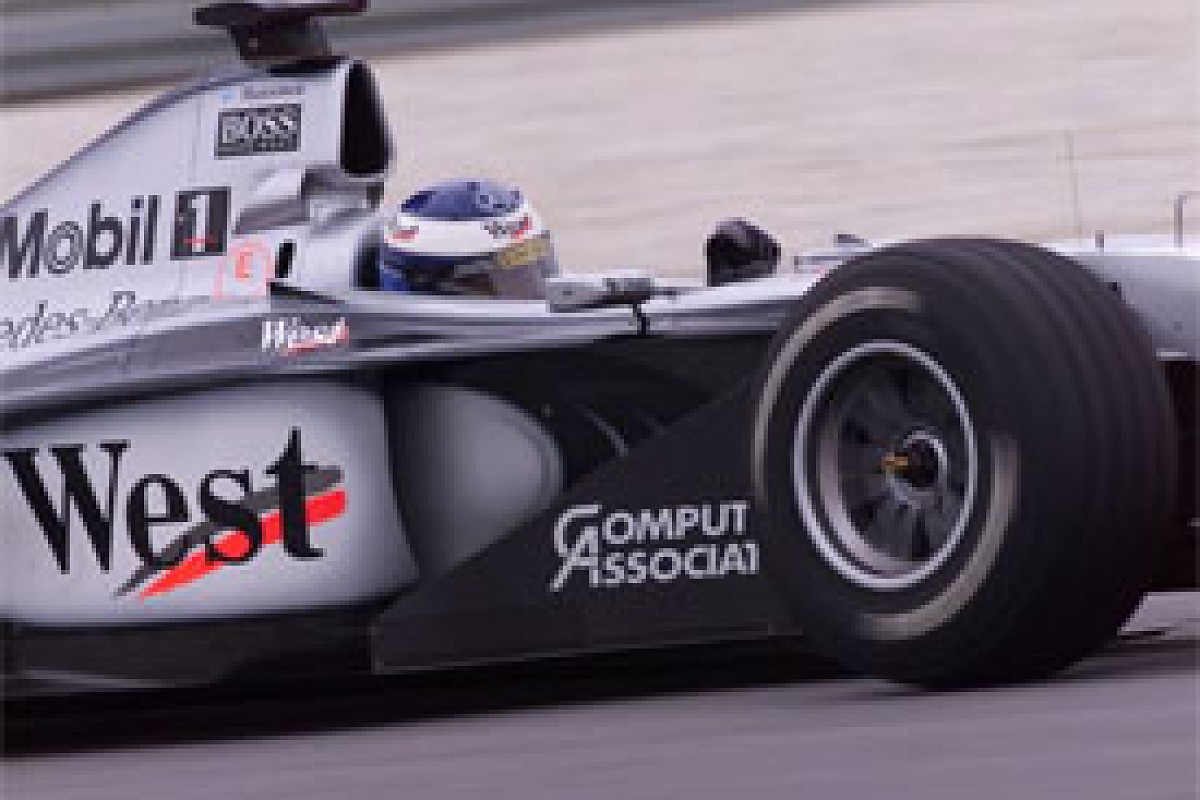 Mika Hakkinen (McLaren MP4-14 Mercedes) was declared the winner and world champion pending the outcome of the appeal hearing © Forix
As it was, Hakkinen dropped behind Herbert anyway after his second stop, on lap 47, but by then any chance of victory was gone.
Those harder tyres were the source of the other criticism levelled at McLaren. The team should, the argument went, have put Hakkinen on the same super-soft rubber as everyone else. That way, he might have qualified higher than fourth, probably on the front row, and given Ferrari more trouble.
It might have worked - the team's engine designer, Mario Ilien, thought so. The problem was that Hakkinen could not get a balance on the softest tyre, so the decision was effectively made. Mercedes sports boss Norbert Haug may have been right when he said the harder tyre was not a factor, even if Ferrari's choice proved controversial after the race.
Following his stop, it looked as though Hakkinen might be stuck down in fourth place. He trailed Herbert closely, pushing him hard for six laps, and then, with one and a half to go, the Briton made a mistake in Turn 9. "He went wide," Hakkinen said, "and after that he lost his momentum."
With Herbert lacking grip, the Finn slipped by coming up to the start of his penultimate lap, but it did not detract from a great drive by the Stewart driver. He was on top of team-mate Rubens Barrichello all weekend, and his one-stop strategy was the better one.
Barrichello, in fact, had to work hard to fight off a charging Heinz-Harald Frentzen's Jordan in the closing laps. "It was hard work out there," said the Brazilian. "I'm absolutely exhausted."
If he thinks that was bad, he will get a ride shock next year at Ferrari. He believed he'll be allowed to beat Schumacher, but he'll have to catch him first. On the evidence, there's not much chance of anyone in the same car doing that.
"Sometimes," Ferrari technical director Ross Brawn said, "being away from the sport for a few months helps; it freshens you up. Michael has come back with huge determination. He's determined and committed anyway, but he's come back with almost a fresh lease of life."
The man is awesome.