Any lingering doubts over whether the Brawn's pace was the real deal were stomped on at Albert Park last weekend, with Jenson Button winning at a canter and Rubens Barrichello completing a 1-2 despite spending a fair bit of time running into things.
If anything, the signs in Australia were that the Brawn might still have more speed on tap - which is bad news for the team's rivals as they prepare for the second round of the season in Malaysia this weekend.
So can anyone take up the fight? Red Bull had good pace in Australia but both Sebastien Vettel and Mark Webber were kneecapped by accidents. The RB5 is aerodynamically strong and should be happy through Sepang's second sector, so an opportunity to rebound beckons.
Ferrari has happy memories of Malaysia from years gone by, although past form is less relevant this season than it has been in years. Toyota and Williams are showing some promise, as is BMW - and given that the benefit of using KERS is expected to be reduced in Malaysia (as will be explained shortly), this could be Robert Kubica's chance to shine.
The Australian Grand Prix did its bit to help 2009 maintain its 'most exciting season in years' status; so can Malaysia pick up where Melbourne left off? The fact that it's probably going to rain is certainly a good start.
Talking points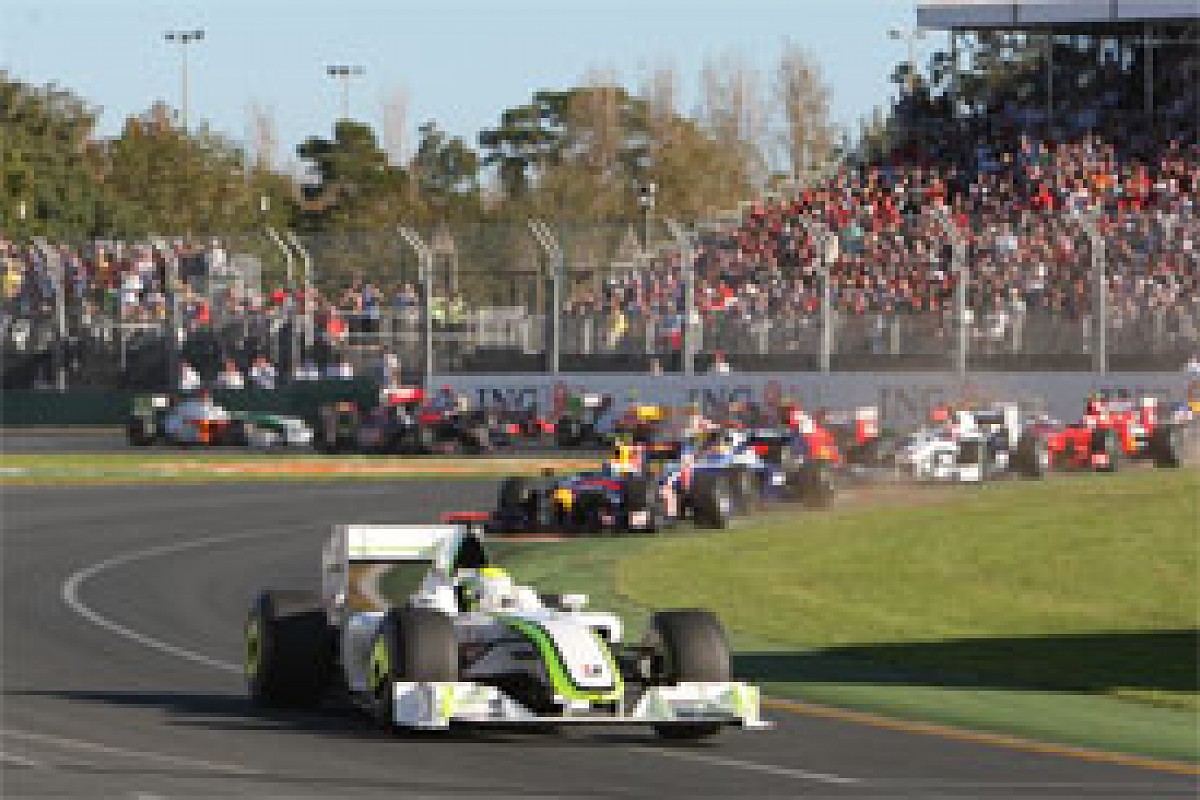 Jenson Button leads the start of the Australian Grand Prix © XPB
1. What else does Brawn have up its sleeve?
Despite the dominant performance of Jenson Button and Rubens Barrichello in Australia, the common view was that Brawn GP had still not revealed the full strength of its hand. Button could have won in Melbourne by even more had he not had to deal with two safety cars, while Barrichello gave a vivid demonstration of the BGP 001's virtues by continuing to lap at a decent pace despite taking damage at the first corner.
2. Will KERS make a bigger difference in Malaysia?
On paper, Sepang looks like a KERS-friendly circuit with its hard stops followed by long, long straights. But that's before you take into account the high ambient temperatures, which are routinely in the low 30s. Managing cooling without sacrificing aerodynamic performance by opening vents everywhere will be hard enough without adding KERS to the equation, so it is possible that teams might decide that optimising the aero at the expense of the horsepower boost is a worthwhile trade-off.

3. How dramatic will the performance drop-off be on the option tyres?
Everyone was expecting the performance of the option tyres to drop away noticeably, but few thought it would happen to quite the extent it did in Australia. Bridgestone is taking harder compounds to Malaysia than it did to Melbourne (hard/soft as opposed to medium/super soft), but on the other hand, track temperatures are expected to be higher. Whether this will translate into a quicker rate of degradation remains to be seen.
4. What are the rules regarding passing under yellows?
Toyota will be keen to get clarification on this after Jarno Trulli was stripped of his third place in Australia for passing Lewis Hamilton under safety car conditions. According to the regulations, you are not allowed to overtake under yellows. Simple enough, but in Trulli's case, Hamilton slowed down and waved him through under orders from McLaren after he passed the Toyota as it bounced through the grass following a mistake at Turn 14. Situations like this are not explicitly covered in the rules at the moment - has Trulli created a precedent?
5. Have we heard the end of the diffuser row?
As expected, the three 'diffuser gang' teams were protested after being declared legal in technical scrutineering at Melbourne. That case will be heard by the FIA International Court of Appeal in a couple of weeks, but don't be surprised if the cars are protested again in Malaysia. In the meantime, all the teams with 'conventional' diffusers are already working on new versions in anticipation of the legality of the design being confirmed.
Key factors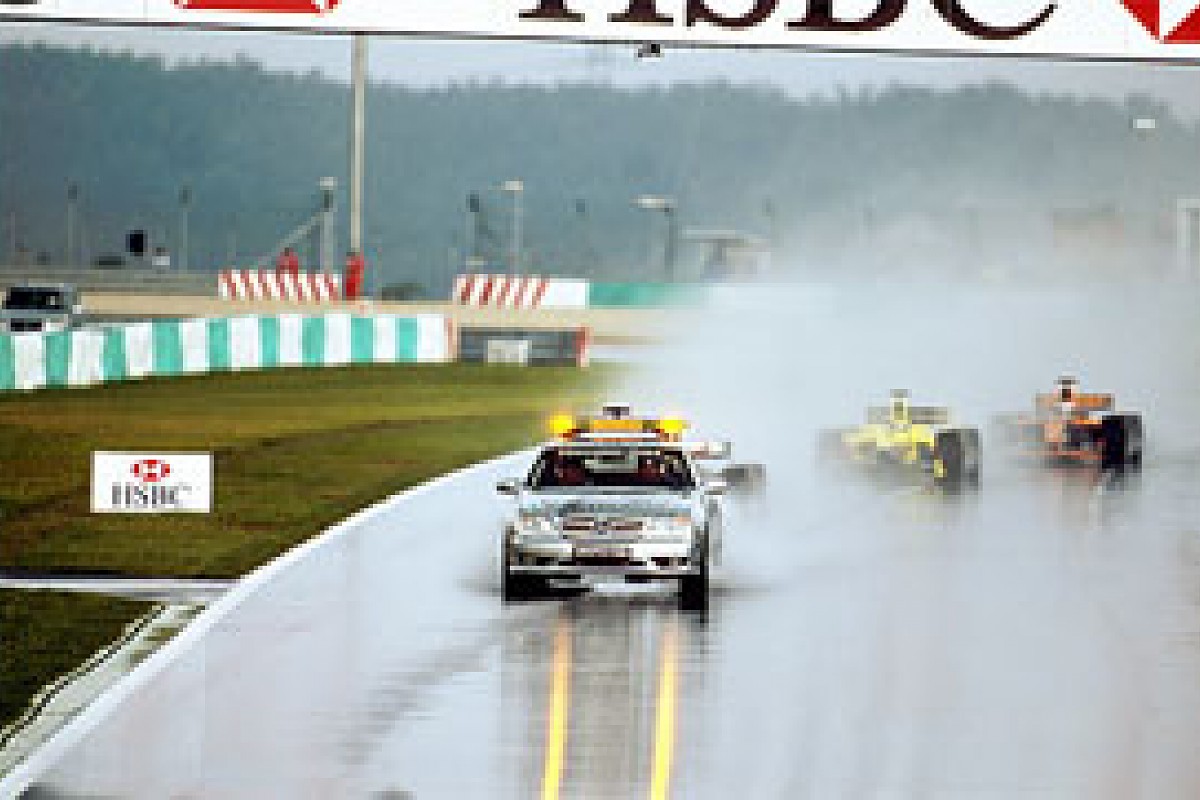 Heavy rain during the 2001 Malaysian Grand Prix © LAT
1. The weather
Sepang is prone to sudden downpours and the early forecasts point to this being a feature of the coming weekend, with showers expected on Saturday ahead of full-blown thunderstorms around Kuala Lumpur on Sunday.
2. The heat
As mentioned earlier, Malaysia is one of the hottest races on the calendar, which creates special challenges for teams and drivers alike. The teams will be looking for any means of keeping the car cool without compromising aerodynamics, while the drivers have to deal with extreme humidity and high cockpit temperatures. If there's anywhere that you don't want a drinks bottle failure, it is Sepang.
3. Who will be first to redeem themselves for a bad start?
Plenty of drivers left Australia with a nagging sense that they hadn't gotten as much out of the weekend that they should have. Sebastien Vettel and Robert Kubica threw away podiums with a joint brainfade in the closing laps; Mark Webber compromised his weekend with a misstep in qualifying and then got clouted by Barrichello; both Williams drivers made mistakes; both Ferrari drivers suffered mechanical problems. On one hand the drivers in question will be happy not to have to wait two weeks for a shot at turning things around, but on the flipside none of them can afford to have things go wrong again.
Strategy
Malaysia is generally a two-stopper, but based on the problems that some teams had with the option tyre in Australia, how those stops are managed remains an open question. In some cases it will be dictated by grid position, although the weather forecast will potentially be the deciding factor.
Event history

This weekend will mark Formula 1's 11th visit to Malaysia following the event's dramatic debut in 1999 when Michael Schumacher returned from injury to help Ferrari team-mate Eddie Irvine's title bid. Schumacher was dominant and gifted the win to Irvine - fruitlessly as it turned out; the Briton eventually losing the championship to Mika Hakkinen. Capping off the drama, the Ferraris were disqualified after the race after McLaren successfully protested their bargeboards, although the result was later reinstated.
Ferrari provided another highlight in 2001 when a sudden downpour caused Schumacher and Barrichello to both spin in almost exactly the same spot, and yet recover to finish first and second.
The race was originally held late in the season, but was moved in 2001 to follow on from Australia.