What a fabulous story. Doom and gloom, people worrying about their mortgages, children and futures one minute, and finishing 1-2 in the Australian Grand Prix the next. As human stories go, it doesn't get much better than Brawn Grand Prix. Okay, it might have been accomplished over 15 months with a lot of Honda money but it was worth the air fare to Melbourne just to see John Button's face.
Throughout the weekend the excitement, enthusiasm and pure enjoyment writ large over the faces of Button and Barrichello, was infectious. And not once did they miss the opportunity to explain that it was not about them, but everyone in the team in such trying times. It was genuine and unprompted. For Jenson and Rubens, in varying measure, it was relief and gratitude speaking.
Jenson Button and Rubens Barrichello cross the finish line © LAT
Even Ross Brawn himself looked shell-shocked. "You don't often find Ross lost for words but I think even the Big Bear was struggling a bit!" Jenson grinned post-race. "He didn't speak for 15 minutes."
Ross admitted it was so. "I've had some great experiences but that was quite moving, I must say. The emotions of the last three or four months... To be here was great, to be quick was great and to win the race was just sensational! I feel so pleased and proud for the team. I've had some of those experiences. They haven't. It's a great group of people. I've worked for some wonderful teams and this is as good as any. They've proved that with the car they've produced.
"I was quiet at the end. You just sit there and think - this can't be true, it can't be happening..."
But it was, and earlier in the weekend, after Massa and Alonso had both said that the Brawn car was a league apart and the title would be settled by mid-season, Ross likened it to Benetton in 1994.
"I'd like to think so," he smiled, "but you can never assume that. The rate of progress will be very rapid with the new regulations. Some people have forgotten what happens when new rules are introduced. At Benetton we sacrificed 1993 and in '94 we won the title. It was an anomaly in a way because we were a small T-shirt manufacturer that won the world championship. People didn't like it. They couldn't adjust to that concept. We've got a long way to go and people will progress very rapidly this year but, a bit like then, we started this car 15 months ago and we're the only team that did."
The team that Benetton unexpectedly beat in '94 was Williams, where Ross started his F1 employment in the mid seventies. Although he admitted it was never his ambition to have an F1 car with his name on - and it still isn't! - he looks to Williams as the model.
"I was lucky enough to start my career with Frank and Patrick, they are two very level-headed people and if there is any way we can emulate what they have achieved, it would be fantastic. I see them as our reference. They have had a couple of tough years but they seem to have a better car now and hopefully are going in an upward direction. The sort of team that Frank and Patrick have would be my ambition."

As things stand though, Brawn GP doesn't need to emulate anyone. They are the target and everyone else has to do the chasing. The pressing questions are: Why is the BGP001 so quick?; Is there more to it than the trick diffuser?; Will the rest catch up?; And if so, how long will it take?
As Martin Whitmarsh at McLaren says, there is no question that the type of diffuser used by Brawn, Toyota and Williams is an advantage and unless it is outlawed by the FIA Court of Appeal in Paris on April 14, everyone else is going to have to follow suit.

"Let's be clear," Whitmarsh says, "the concept circumvents the intentions of the OWG (Overtaking Working Group) regulations and generates more downforce. None of us doubts that. It's not one of these items that you put on and ask if it's going to be any good or not. It is undoubtedly a way of extending the diffuser and heightening it beyond the intention of the regulations.
The diffuser of the Brawn GP 001 © XPB
"Everyone has to do it now. The problem is that because you have to introduce it quickly you will not redesign your gearbox or suspension before Spain and therefore we will be obliged to take the earliest iterations and implement them. And probably then have a second and third iteration, and by the time you get there fully you potentially have a new gearbox and suspension. Look at the cost of all that and you are into £5-£10 million of development."
What's a trick diffuser is worth?
"In first iterations people are seeing 10-15 points of downforce and you can probably think of 20 points being around one second," whitmarsh says. "But it's not just that. You create a virtuous circle. People struggled to switch the tyres on in Melbourne - Ferrari, ourselves, and others - and if the diffuser helps get the tyre in the right temperature zone, you've got performance beyond what would be mathematically available with the additional downforce."
Logically though, there's more to the Brawn pace than simply a trick diffuser. Toyota and Williams, the other members of The Diffuser Gang, were quick in Australia but they weren't Brawn quick. And Heikki Kovalainen savaged a goodly portion of Barichello's underbody on the first lap but Rubens still finished second.
"Err, yes," smiled Ross on Sunday night, "there wasn't too much of Rubens's diffuser remaining. We left most of it on the track. Hope nobody went and picked it up!"
So what else is it about the BGP001?
"Since we introduced the car," Ross says, "I don't think either Jenson or Rubens has had a spin or major excursion. That tells you the car is predictable and responds well.
"People talk about downforce and that's important but it's also important that you have a very stable aerodynamic platform. With these new regulations and a very low, wide front wing there are difficulties there because the wing can be pitch or ride height sensitive.
"On top of that, the vehicle dynamics group headed by Craig Wilson, who has been with the team a very long time, have done a superb job of analysing what should happen with the tyres, how they should work and what geometry changes we should make. If you actually look at where the car is very quick, it's in the slow and medium speed stuff. I went and watched on the circuit in Barcelona and there's some low and medium speed corners before the final turns and the car was exceptional through there. So it's a combination."
Brawn had a bit of a tight-rope to tread in Melbourne. He was blowing off The Establishment, having got to the grid courtesy of the goodwill of one of its major players, namely McLaren-Mercedes. And arguably he was taking the Mickey a little bit by being FOTA's technical representative at the same time as going very quickly with a floor that deliberately circumvented the intentions of the OWG's new rules, a point Flavio Briatore wasn't slow to make.
Ross was doubtless aware of the need to voice a few thank-yous...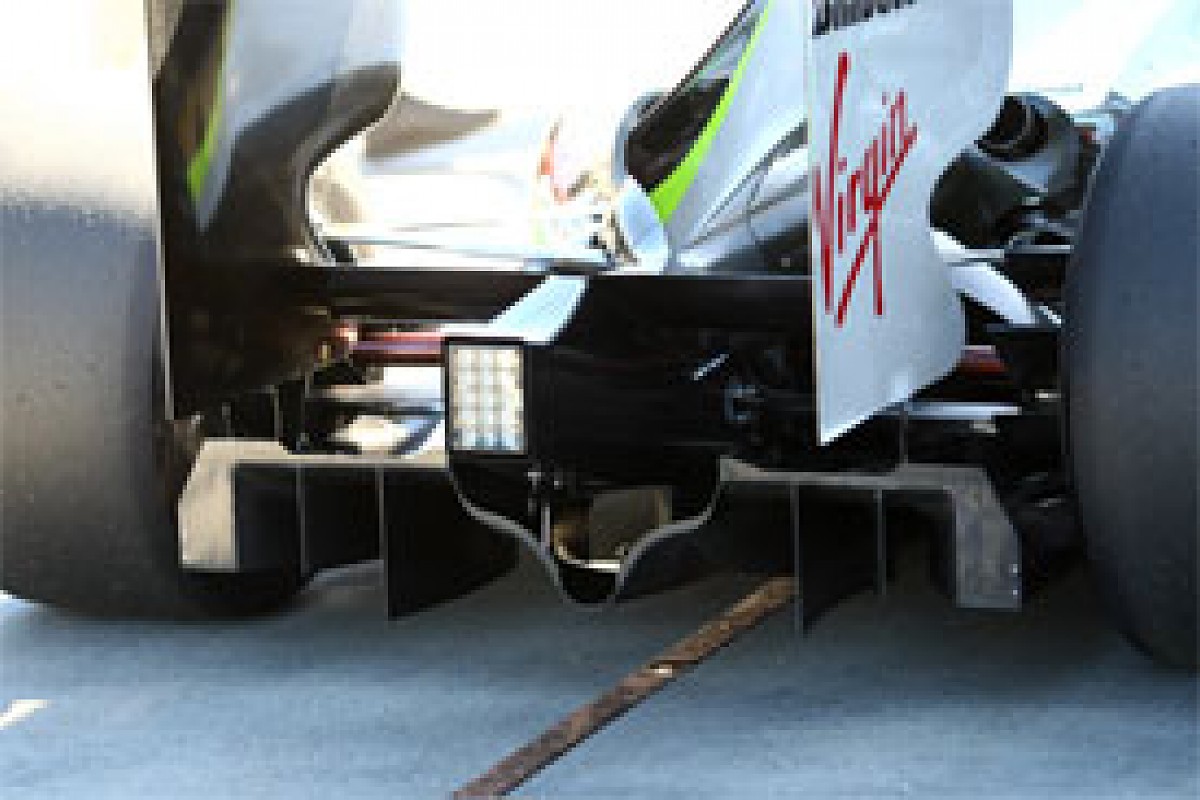 Ron Dennis © XPB
"I must say that Mercedes has been fantastic," he said, "as indeed has McLaren. We are competitors, but Ron Dennis and Martin Whitmarsh have been fantastically supportive of our team staying alive and agreeing to allow Mercedes to supply us an engine. I have nothing but praise for Ron, who seems to be taking on a role as F1's elder statesman these days! There were times during the winter when we said we thought we had a future, although we weren't sure, but they never faltered in their support or in supplying us with information. They did everything to give us a chance of being here today - a fantastic job."

He meant it too. But the nature of F1 is that any bonhomie usually lasts as long as it takes for the Establishment to start being blown off. What chances of a Mercedes KERS system for Brawn if it all gets a bit tight up front, for example?
At the moment Ross isn't bothered. "It's not something we've looked at closely. We had to put the Mercedes engine in at the last minute and we've gained some weight in the car because of the modifications required, so we're not in such a strong position to accommodate KERS. We'll have to wait."
Has everyone taken that on board? Not only is it flying, but it's too heavy as well...
And, intriguingly, there's Sir Richard Branson. He arrived on Saturday for a hastily arranged press conference for a deal he'd inked four hours before getting on the plane to Oz. The fact that the cars weren't fully red and white before they ran round at the front before the world's TV cameras for two hours made me suspect that perhaps Sir Richard hadn't brought his cheque book with him, but that's probably just me being a cynic...
Whatever was agreed for Melbourne, Branson said on Sunday night: "I'm completely hooked after today so it's a good time for the team to sit down, twist my arm and ply me with champagne! We'll stay involved for a long time. The team needs funding and deserves funding. Hopefully there will be other announcements to be made soon. Many of my decisions are based on gut feelings. I knew about Ross Brawn and liked him. I knew he was capable of producing miracle cars and it seemed wrong that he was about to go out of business. Sometimes my intuition works, other times it falls flat on its face. Today though, it worked."
On Saturday Branson had made the point that it was fairly pointless having a car named after an engineer rather than something that needs promoting - such as Virgin or his environmentally friendly fuel, no doubt.
So, could we soon be looking at Virgin Racing instead of Brawn GP? In order to change the name again, the team would need unanimous agreement from the rest. That was forthcoming when it was Ross trying to safeguard 500 plus jobs, but my cynicism can't help wondering whether it would be forthcoming again after what the Brawns have just done in Melbourne!
Sort of, 'Okay chaps, listen. We are in danger of running out of money unless we can take some off the bearded fellow. But he'll only give us some if it's his show while we're in front. By next year you'll all have caught us up, so come on, let's have Virgin Racing so we can continue to rub your noses in it. Fair enough?'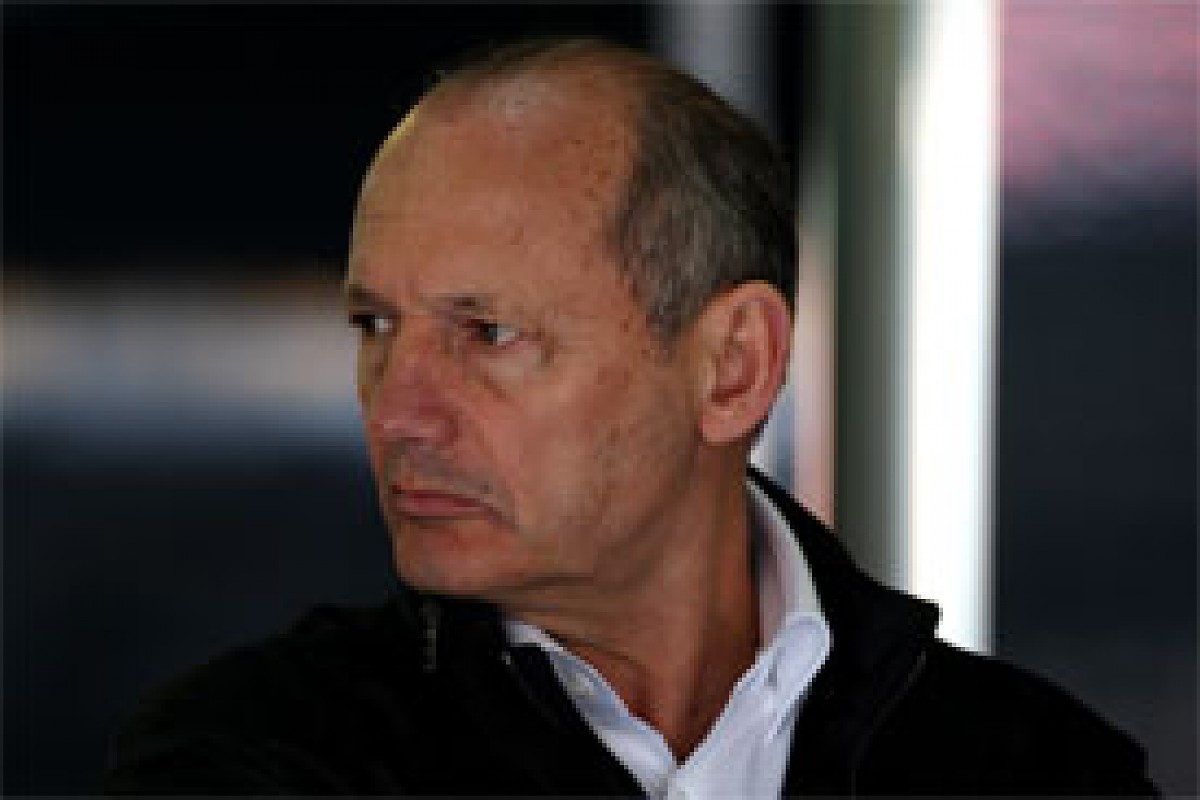 Ross Brawn receives a gift from Sir Richard Branson © TDA
I asked Martin Whitmarsh what he thought the chances of a second name change were, and the answer may surprise you.
"It's already had a name change and what you can say is that the teams were far more co-operative to that process than certain other bodies. There's always the temptation in these controversial times for people to leverage the situation and because of the name change they could potentially have lost their benefits. But the teams have co-operated once and there's no reason why they won't a second time - but other bodies also have to agree..."
Not quite sure what he means but presumably he's talking about Mr E. Kind of, 'Ere, beardie - sorry, Sir Beardie - you taking the Mickey, or what? Should have bought it when you 'ad the chance. No, I'm not paying your freight. You got your own planes, fly it yourself!'
You never know with Bernie but it's not every day that a man like Sir Richard Branson walks into the paddock in the middle of a downturn.
"Virgin or any sponsor new to F1 is positive," Whitmarsh said, "and let's be clear, the Brawn team wouldn't be here today if it wasn't for FOTA and its initiatives. That philosophy isn't going to change. We want to maintain the health of the sport and keep as many teams involved as we can."
Don't know if Flav is feeling as charitable though. Ross smiled a little and said, "I think his comments were a bit emotional. I think if he takes a step back and thinks about it they were not very logical. Clearly he's got a bit of a challenge with the team at the moment and he's firing out in every direction."
Briatore, for his part, thought it was logical to get upset when you've spent a winter chasing KERS performance in good faith because that's what the FIA wanted, while someone else has spent time getting an advantage through circumnavigating the intent of the aero rules. So welcome back, they're bickering again. But it's good healthy bickering this time. Bickering about ingenuity. Like it used to be. Remember ground effect, skirts and fan cars? That kind of bickering. All good stuff.
The big question: does Ross think Brawn GP can keep up with the pace of change?
"I think so. In restructuring the company we've been very mindful of performance. We have an upgrade planned for Barcelona, which looks quite good, and I think everybody will be incredibly motivated. It's not easy to find performance but it won't be for want of trying and we have a good resource. We haven't downsized the company to a level from which we can't operate, but perhaps we no longer have some of the niceties we had under Honda."
Ah yes, Honda. Any contact over the Melbourne weekend?
"Genuinely," said Ross, "the management at Honda have been pleased. Without them we wouldn't have got here. Nakamoto san rang me on Saturday to say how delighted he was for us." No doubt just before he jumped off the window sill...