Last week was a funny old time. Over the past few years I've been to a few F1 launches that were... extravagant, shall we say. I've been to watch Cirque du Soleil at the Royal Albert Hall as a pretext for finding out what Eddie Jordan was about to serve up on the world's F1 circuits. I've been to Alexandra Palace to see the Spice Girls while finding out the latest from McLaren, and I've been to St Mark's Square in Venice to hear what Benetton had to say.
Today though, particularly right now, less is more. Teams do launches simultaneously with tests in Spain and Portugal, or they host a more modest affair at their own gaffe. And it's none the worse for it, must be said.
The Williams FW31 Toyota at the Grove factory © LAT
Last week it was Williams. A few short months ago the word on the street about Frank's team was not encouraging. They were in debt, their sponsors were Icelandic, RBS was in deep trouble, Lenovo was going, etcetera, etcetera.
There was also the rather unique situation Williams found itself in. Since the loss of BMW at the end of 2005 it has not had a major manufacturer partner and was therefore the only true 'independent' on the grid without the benefit of a billionaire sugar daddy with a fortune derived from entirely separate business interests. There was the thorny issue that Frank, believing he had to be a constructor, had geared up to be precisely that, with all the attendant cost, and now he was looking at a small team buying someone else's car, putting Sebastian Vettel in it and blowing everyone off in the Italian Grand Prix. All things considered, the long term prognosis did not look too good.
It was against that background that we headed to Grove last week to see the new Williams FW31 and to listen to Frank, Sam Michael and Adam Parr talking about the forthcoming season. Okay, you're thinking, what about Patrick Head? Don't worry, nothing sinister, just that there was a clashing meet of F1's technical think-tank.
Everyone likes Williams because it's so straightforward, no bullshit. Granted, CEO Parr has arrived fairly recently, an immaculately presented and eloquent Old Etonian who talks corporates and blue chips, but in keeping with Williams tradition, ask him a question and he'll answer it.
We all knew where we were when PR chief Liam Clogger greeted us and said, "Greetings everyone. As you see, we're still here and the power's still on! First, Sam Michael is going to present the car and will take questions, then we'll sit down for some lunch and there'll be an opportunity to talk to Frank and Adam, then we'll have three short sessions for people who are interested. The first will be an opportunity to look at some KERS developments, the second is an opportunity to see some parts of the team and factory that you don't normally encounter and the third is, errr, I'll tell you when I remember!"
It didn't take him long and the third thing was actually a power point presentation that is made to sponsors when the team is explaining what they can do to get the best return out of Formula One sponsorship.
Worthy of an article on its own no doubt, it could not have been more pertinent. That very morning the news bulletins and radio phone-ins were awash with public outrage at former Royal Bank of Scotland head honcho Sir Fred Goodwin's £640,000 annual pension when the fellow had just overseen the biggest losses - £24 billion - ever posted in British corporate history. And there was RBS plastered all over a Williams F1 car. So, by association, there was F1, the big, bad, evil symbol of excess.
If ever there was a better time to sit and enlighten the media about how F1 teams sold themselves, then I can't think of it! Which is why I was frustrated to miss it as I had a same-day appointment with Jody Scheckter at 4pm, an hour further south. But I'll find out and I'll tell you, I promise.
Nico Rosberg testing the FW31 in Jerez © XPB
Nico Rosberg was over from the detachment of Monte Carlo for a couple of days and had been delighted to walk around the factory and discover a mood of great anticipation and optimism.
"I'll get shot if I start divulging any figures," he said, "but from the numbers the technical guys have been seeing, they're expecting a bigger jump from the initial roll-out to the car we race in Melbourne than they have ever seen before."
Sam Michael, with the caution born of experience said: "It looks promising but what's the point of guessing because you don't know what everyone else is seeing. If you find two tenths and everyone else finds four, you look a bit sick."
Frank himself admitted to having a few fears about the Red Bull. As a man who won a lot of motor races with Adrian Newey in his employ, he no doubt has good cause. "And Vettel..." he said, "The kid is damn good. Let's just hope it keeps breaking!"
The Royal Bank of Scotland announcement had come the previous night, talking about reducing the hospitality around its sponsorships by around 90% and bringing them to an end when the contracts reached their conclusion. You would have expected nothing less.
Rosberg, along with others at Grove, could not understand the negative spin put on the announcement in certain sections of the media.
"I just don't get it," he said. "What's the problem? The deal was to the end of 2010, they are paying until the end of '10, when the deal finished anyway, so what's the issue? It gives us two years to replace them, which is normal. No big deal."
Then Sir Frank raised a laugh: "They can stop anytime they want," he suddenly announced, "Just so long as they keep on paying..."
Parr rattled off a roster of blue chip corporates still involved, a situation he viewed as healthy, and Frank put us straight on the finances - it's no secret that Williams has posted substantial losses for the past two years.
"People have talked a lot of nonsense about that," Frank stated. "It was a calculated decision. We posted profits before that, we had to invest to remain competitive and the bank (not RBS incidentally) was comfortable with the situation - and supportive. There are peaks and troughs - always have been, always will be."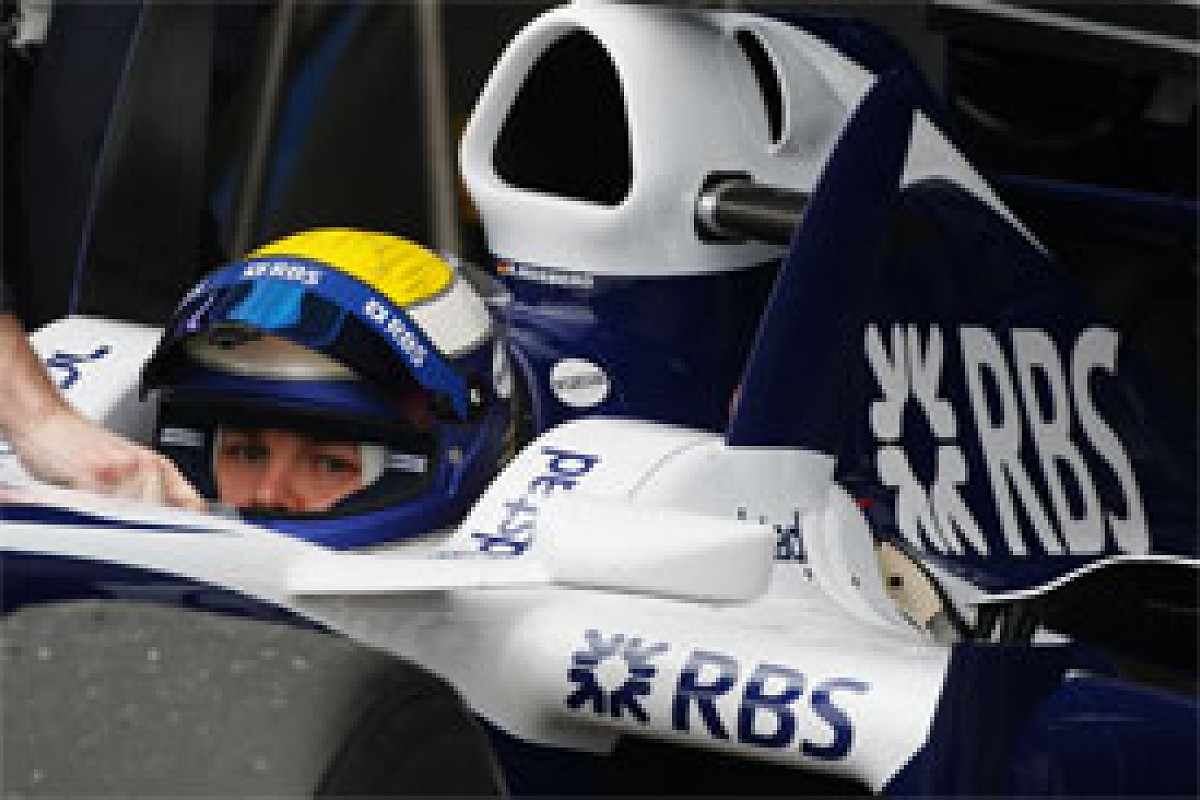 Sir Frank Williams © LAT
But to turn a trough into a peak Frank knows that the team has to return to competitiveness. As long as F1 was a spending contest and Williams was an independent ploughing its own furrow, you seriously wondered whether even a survivor and a racer like Williams could reverse the recent trend. But, with F1 seemingly going into reverse, reining things in and the FIA scheduled to announce measures later this month that will create a new environment for F1 and in which vacant positions on the grid will be filled, you start to feel optimism that it is all coming at just the right time for Frank and his men.
As with everyone, the team is hopeful that the new regulations and the clean sheet of paper start will give them an advantage. For Rosberg, who sees himself as part of the Hamilton/Kubica new generation, it's a case of 'let's hope so because it's time I was doing the business.'
"Williams is a team that breathes racing," Nico says. "Every single person in the factory whether they are making screws or whatever, puts in a huge effort. Their expectations are high and you see the pressure when they are not at the front. I see it as a crucial year because I'm racing for success. By 2010 at the latest I want to be in a top car. It would be great if it could be with Williams..."
If that was a coded message - don't give me another shed or I'm off - it's not likely to worry Frank. As ever, he knows that if he builds a decent car there will always be a sensible pedaller wanting to sit in it.
Less than an hour later I was standing in a muddy field in Hampshire, watching Scheckter, the 1979 world champion, holding a piece of organic buffalo mozzarella in his hand while our photographer snapped away a tad dubiously and the very large buffalo concerned looked rather cross that we were encroaching on their offspring.
"We have had a couple of accidents," Jody smiled. "They're normally placid but they get a bit ticked off if you come too close to the young ones. If they come for you, don't run, walk forwards and do a forward roll."
Err, right... Never did work out if he was taking the Mick, but that's another story and you'll have to read next week's magazine! But right then I did think I'd made a wrong choice; a Williams power point presentation on how F1 sells itself suddenly seemed like a very attractive proposition!