As we prepare to head for Grove later this week and hear Sir Frank's thoughts on the season ahead, it hit me that 30 years will soon have gone by since that great day when Williams won their first grand prix, with Clay Regazzoni at Silverstone.
I'll remember that for so many reasons. Principal among them, I'd decided to enter the Sir William Lyons Award for aspiring young motoring journalists and had written to a number of people in F1 requesting an interview. Frank, maybe because he saw that I, like him, was born in South Shields - or maybe just because he's a decent fellow - had responded personally and fixed a time.
Clay Regazzoni (Williams FW07 Ford) won the team's first race in the 1979 British Grand Prix at Silverstone © LAT
So there I was, sat down with him in the Williams 'motorhome'. Carlos Reutemann had arrived too, and Frank asked him to have a seat while he did my interview! This was 1979, remember, and Reutemann was having a rotten time at Lotus after signing to partner Mario Andretti at a time when The Fonz and Lotus were mopping up.
Of course, the FW07 hadn't actually won but had shown its potential long before we got to Silverstone, so it was perhaps not surprising that Carlos had nipped round for coffee and a chat. Wet behind the ears, I didn't see the significance at the time, just thought that these F1 blokes were obviously a sociable bunch! And I worried that the mean, moody Carlos wouldn't appreciate being kept waiting by a kid with a monstrous tape recorder.
Frank though, was great, although I did have a concern at one stage. Frank had either said, 'my, you do ask pertinent questions!' or he'd said, 'my, you do ask impertinent questions!' Carlos had coughed just as he spoke and I didn't know which it was! In the end, you're only as good as the interview someone gives you and Frank did me proud, allowing me to win the award and get a foot in the door. For which I will always be grateful.
For him as well, that race will always be the one. Alan Jones broke down but Regga picked up the pieces and Frank went home that night a grand prix winner. When I read this week's interview with him, it's clear he's just as much a racer today as ever he has been. Which started us musing; if you had to pick 10 stand-out Williams victories, which would they be?
Number one is easy. But my second choice would also be from that same 1979 season. A couple of weeks after the garden party in Northamptonshire, Jones and Regazzoni finished 1-2 at Hockenheim, confirming the team as an emerging force. That was significant but it would be Montreal I'd choose, a fabulous race-long scrap between Jones and Gilles Villeneuve.
Gilles, the winner in slightly fortuitous circumstances at his home track the year before, probably shouldn't have been anywhere near the FW07 in 1979, but then he was Gilles. And Jones, the forthright, no bullshit Aussie took his hat off to him and said he'd never enjoyed a race as much - hard but entirely fair. He knew that Gilles would push to the limit but not beyond and that was the way he liked to go motor racing.
Third, I'll go for Paul Ricard 1980. Frank has always been quintessentially English and he simply loved beating the Ligiers to win the French GP for the first time. Jones started behind both JS11/15s but passed both Didier Pironi and pole-winner Jacques Laffite before brandishing the union flag all the way round the slow-down lap.
By the end of the following season, AJ was harbouring thoughts of returning to Oz. You wouldn't have known it by the way he drove at Vegas in October, blowing everyone away to finish in the best possible way - until he returned in a Haas Lola that is...
Unfathomable that day was his teammate. Reutemann, who hadn't flounced off in a huff while waiting for yours truly, had actually got his Williams seat and now, with the championship at stake, took the pole. He did seem to be in a huff in the race though, languishing down in a lapped eighth place, which went unrewarded in those days of course. It allowed Nelson Piquet to nick the title by a point by dint of a fifth place. That race, for all its implications, would be pick number four.
Keke Rosberg (Williams FW08C Ford) leads Alain Prost (Renault RE40) during the 1983 Monaco Grand Prix © LAT
Then there's Monaco 1983. Keke Rosberg had won the title for Frank in 1982 with a single victory in the Swiss Grand Prix at Dijon (motor racing is banned in Switzerland). Now he sat sixth on the Monaco grid with a damp track after a drizzly morning. Frank and Patrick looked at the sky and wheeled away their wets. On slicks, Keke led by the end of the first lap and, with spectacular car control on a still wet track, blew the turbos away and won the race.
Williams looked like the shrewdest strategists in the paddock and dined out on it for a good few years - until they tried it again in the principality 14 years later with pole man Heinz-Harald Frentzen and Jacques Villeneuve, and had it backfire spectacularly. The discarded Damon Hill probably found that as amusing as a goodly proportion of the press room. Not maliciously you understand, just in a Laurel and Hardy sort of way.
After Keke came the Mansell years. You could pick Nigel's first win at Brands in 1985, or the way he beat teammate Piquet again at the same track just nine months later, but being a bit selective, it has to be Silverstone 1987. That epic chase of Nelson after a pit stop, that feint and that pass down at Stowe. All in front of a home crowd. Fantastic.
Hungary 1990, where Boutsen and Patrese made it an all-Williams front row and Thierry held off Ayrton Senna all afternoon to win, almost makes it, but not quite. Ditto Mexico 1991 which signalled a changing guard in F1. The Senna/McLaren domination was coming to an end and nothing proved it better than Mexico, when Patrese and Mansell beat the great Brazilian into third place with the emerging FW14 which, along with the FW07, has to be the most significant Williams built. Mansell won another five times with it before the end of the year and could have been close to the title but for another Laurel & Hardy with the lollipop in the Portuguese pitlane.
In 1992 there was no stopping Mansell and the superb ground effects FW14B. People have said that a monkey could have won the championship in that car - and rude people have even proclaimed that one did! - but I doubt that King Kong himself could have got around Silverstone in 1m18.965s, which is what Nigel did to take pole. To put it in perspective Patrese, in the same car, lapped in 1m20.884s and, perplexed, questioned the size of his teammate's sphericals. Ayrton Senna's McLaren recorded 1m21.706s and Michael Schumacher's Benetton,1m22.066s.
The result was a foregone conclusion but it would be remiss not to include one race from that fantastic season and Silverstone is the logical one. Mansell mania had reached new heights and the crowd that day was more football than motor racing.
It didn't get Mansell a 1993 contract at the kind of money he wanted though, because Prost, on sabbatical because he'd called his Ferrari a big red bus, had cannily been snapped up by Frank. The next Williams driver to really capture the imagination after Prost, fuss-free, won an anticipated fourth title in '93, was Damon Hill.
Promoted from his test driving role at the end of 1992, Damon cemented his position with a hat-trick of wins starting at Hungary in 1993 and including Spa, where he narrowly defeated Schumacher, and Monza. For the first of two Damon picks though, I'll go for Barcelona 1994.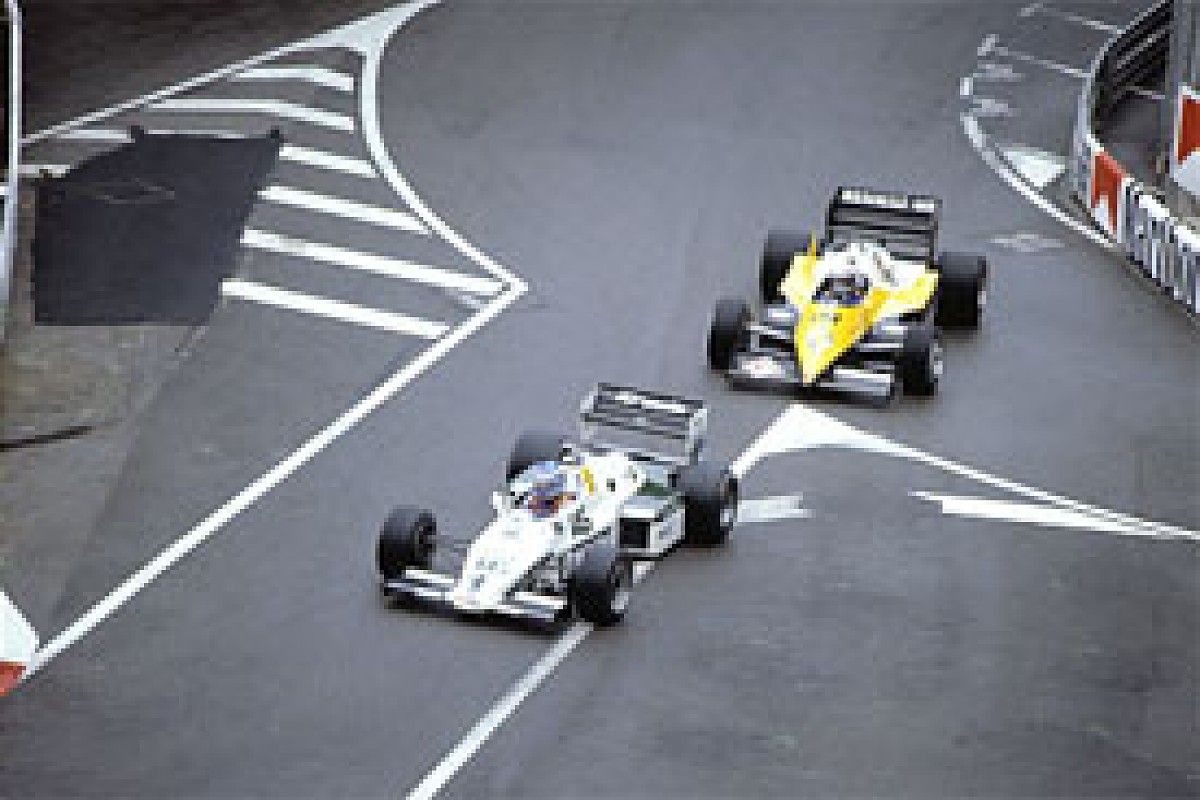 Damon Hill (Williams FW16 Renault) en route to winning the 1994 Spanish Grand Prix at Barcelona © Geza Sury/Forix
The win wasn't special in itself, it's what it signified. This was the race in which Schumacher starred, finishing second with just fifth gear for a considerable distance. But just two weeks earlier, Hill had gone to Monaco a fortnight after Senna's death at Imola, had felt like a fish out of water and had been out on the opening lap. But in Barcelona he got hold of himself and the team and he won the race - a hugely significant moment for all at Williams. It was exactly what his father had done for Lotus in the aftermath of Jim Clark's death 26 years before. Poignant.
And proving again that he was dependable when the chips were down, Damon's drive at Suzuka in 1994 has to go into my 10 selections. Under pressure from Schumacher, and in appalling conditions, he delivered again and took the title down to that infamous afternoon in Adelaide.
My final selection is a decade later - the last Williams win - Juan Pablo Montoya's great drive to beat Kimi Raikkonen's McLaren in the season-closing Brazilian GP of 2004. JPM had already signed for McLaren some 18 months before the end of his Williams contract - after a swearing match with the team after losing Magny Cours 2003 to teammate Ralf Schumacher - and this was another great sign-off.
It's been a while then, Frank, and I'm sure you don't need telling. Can't think of a more fitting way to commemorate 30 years of Williams winning than by having Nico climb onto the top step of the podium to end the barren spell somewhere this summer. Silverstone would be nice... And if it's Kaz instead, I'm sure you won't mind!