Interesting to see Adrian Newey predicting that only one or two F1 teams will do all the winning in 2009. Conventional wisdom decrees that whenever there are swingeing rule changes, performance differentials increase.
You wonder, though, whether all the paraphernalia they have these days - bespoke wind tunnels, CFD, etc, etc, might not reduce that tendency. Newey seems to think not and given the man's area of expertise and track record, I can't think of anyone better qualified to comment.

Newey seems to agree that the 2009 aerodynamic rules represent the most significant year-on-year changes since flat bottoms were suddenly introduced more than a quarter of a century ago, for the '83 season.
Jean-Marie Balestre © LAT
What happened then? Well, take a look back and the landscape seems amazingly familiar. We had an under-fire FISA president (no change there!) Jean-Marie Balestre who rode rough-shod through the supposedly sacrosanct F1 stability agreements in the name of safety. The FISA executive committee had been so busy that they hadn't even had time to get around to discussing "escalating costs in the time of economic crisis."
Balestre had been the man in the centre of the FISA/FOCA (Formula One Constructors Association) war. Turbo engines were in the ascendancy, having first appeared in a Renault at the 1977 British Grand Prix. The largely British small constructors (McLaren, Lotus, Brabham, Tyrrell etc) saw Balestre's plans to outlaw sliding skirts as potentially catastrophic, as ground effects exploitation was the only way in which the British 'garagistes' with their Cosworth engines were managing to stay vaguely in touch with turbo-powered manufacturers such as Renault and Ferrari.
Bernie, in charge of Brabham, had been hedging his bets, commissioning BMW to make him a turbo no doubt because he could see which way the wind was blowing, so to speak.
In 1982, Keke Rosberg had taken the title in a Cosworth-powered Williams but it was achieved with just a single victory and very much against the run of play. Had it not been for Gilles Villeneuve's fatal accident at Zolder and Didier Pironi's career-ending shunt at Hockenheim, Ferrari would have walked it.
No doubt about it though, speeds had increased scarily. From the early days of ground effect some drivers had complained of being unable to keep their feet on the pedals due to g-forces at the old Interlagos Turn 1. And, at Paul Ricard, Jochen Mass had a sizeable shunt in which his car had reached a spectator area, thankfully unpopulated at the time.
This was one of the catalysts for the governing body's action. Just think, they said, what might happen if we are seen to have publicly acknowleged a problem but deferred action on it for a year. Imagine if a car goes into the crowd at Long Beach - just imagine what an American legal eagle might make out of that...
It was very late in the day, November 3, 1982 to be precise, when the FISA F1 Commission met in Paris and decided that the first race of 1983 would be held with flat-bottomed cars. Consider too, that the first race of the '83 season was slated for February 12 in South Africa!
Can't be done, said the constructors, who were initially looking at doing the first three races (South Africa, Brazil, Long Beach) with their '82 cars and building flat-bottomed ones for the start of the European season in France on April 17. But that would still have meant taking the 'dangerous' cars to America and so, in the end, a compromise was reached. The teams would start the new season with flat-bottomed cars on March 13 in Brazil and the South Africans agreed to move their race to the end of the season, three weeks after Las Vegas.
Derek Warwick (Toleman TG183B Hart) 1983 Dutch Grand Prix, Zandvoort © Hans Hulsebos/Forix
At the time, incidentally, yet another revised F1 calendar had 17 dates on it, although FISA said there would be only 16 races and the circuits had until the end of the month to report on the financial state of their races. Which sounds awfully familiar too, except that back then you didn't have the Chinese, the Emiratis or any Russian oligarchs waving around 50 million dollar wads! Exempt from this November deadline, however, was New York, who had a race scheduled for September 25. The Big Apple had as much time as it wanted basically, because everyone was so keen for it to happen. And, no doubt, still would be... In the event we got neither Vegas nor New York but a European GP at Brands Hatch instead, and a 15-race calendar.
So, what happened when they all pitched up in Rio for the late February tests and that new first race? Well, all of a sudden, Toleman, normally to be found propping up the time sheets, were setting the pace.
Initially there had been all sorts of rumours about 'porous' flat bottoms that would still allow some air through with which to create downforce, but that proved far-fetched. The definition of flat bottom applied between the rear edge of the complete front wheels and the front edge of the complete wheels. All sprung parts in that area had to lie within a tolerance of plus or minus 5mm. Toleman's Rory Byrne had designed front-mounted radiators with scooped undersides to promote downforce and the rules also said nothing about creating ground effect around the engine and gearbox. Toleman, like most others, had swept undertrays upwards through the rear suspension and although the car didn't look pretty, it was effective.
It looked like an upset of gargantuan proportions could be on the cards but the race weekend did not run smoothly. Team manager Roger Silman received stab wounds trying to fight off thugs robbing his girlfriend outside their Rio hotel and then, still confident of pole, the Toleman lads had to watch on as both Derek Warwick and Bruno Giacomelli lunched their engines.
The core-reverberating Toleman pole didn't happen and when push came to shove it was Keke 'Don't give me that turbo bullshit' Rosberg who headed the grid with his still Cosworth-powered Williams FW08. Alain Prost's turbo Renault was only a tenth behind, with Patrick Tambay's Ferrari a further tenth adrift, then Nelson Piquet's Brabham-BMW just over half a second shy of pole and just ahead of Warwick. So five different makes of car in the first five places, all within 0.7s of pole. Not too bad for the 'Brave New World'. Granted, the guys at the back - Manfred Winkelhock's ATS and Eliseo Salazar's RAM March - were miles away, some 7s, but F1 was like that back then.
A Toleman win would have been a bit like Adrian Sutil turning up in Melbourne seven weeks hence and blowing everyone away - which of course he might well do in a McLaren Mercedes - sorry, a Force India Mercedes... In the race, Warwick was confounded by chronic understeer and could only get home eighth.
In the final analysis the race result had an air or normality about it after all. Nelson Piquet won for Brabham, much to the relief of overworked design guru Gordon Murray, who Bernie had grudgingly allowed a few days R&R in Hawaii with George Harrison provided everything went well. Rosberg's Williams was second but Keke was disqualified for a push start in the pits, then came Niki Lauda's McLaren, Jacques Laffite's Williams, Tambay's Ferrari and Marc Surer's Arrows.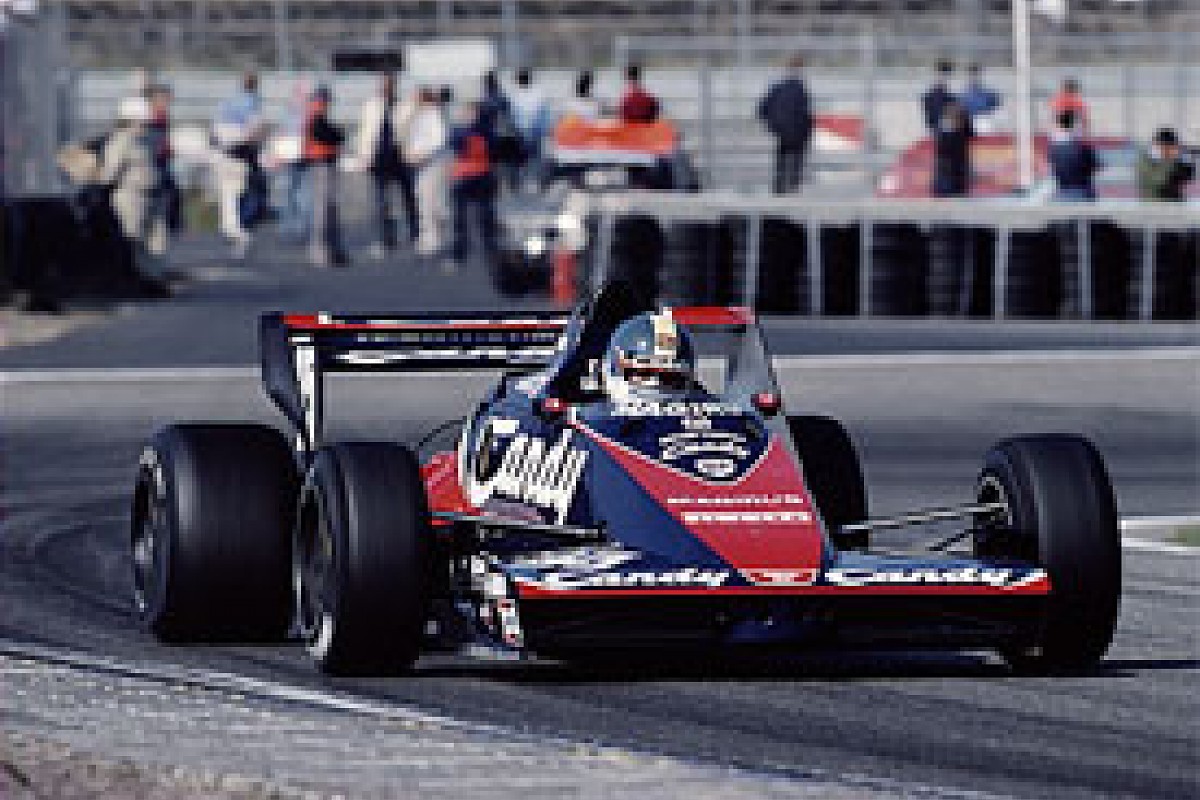 Nelson Piquet (Brabham BT52B BMW) 1983 European Grand Prix, Brands Hatch © LAT
Murray wasn't the only one at Brabham feeling the pressure. Ecclestone himself, 52 then, had also taken on the race's promotion and was ordered to rest by doctors. He obviously didn't listen... Telling Bernie to rest is a bit like expecting Vinnie Jones to show tenderness and compassion in the tackle!
Incidentally, while on the subject of Vinnie, a certain F1 team principal, no names, turned up at a grand prix a few years back looking a bit... well, let's just say his defences had let him down. Apparently he had gotten a bit tiddly at Royal Ascot and had placed his hand on the posterior of a certain lady. Obviously not conduct becoming of a gentleman but, if you are so inclined, best check first that it is not the partner of a certain Vincent Peter Jones...
I digress. Back to Adrian Newey's thoughts. He could well be right but let's hope it's more like '83 when Brabham, Renault and Ferrari were all in there pitching for most of the year. And it all went down to the wire. Nelson Piquet nicked it from Alain Prost at the death in Kyalami as the South Africans were rewarded for their scheduling flexibility with a championship decider. Another year like that wouldn't be half bad.