Dashing, debonair, gregarious - an everyman hero in a spotted bow tie. After only eight years of competitive racing, Mike Hawthorn clinched the sport's biggest prize and then quit to concentrate on running the family business. Three months later he was dead.
The exact circumstances surrounding Hawthorn's accident remain open to debate. Was the 'Farnham Flyer' racing a chum when he lost control? Was he shot at? Had he been suffering blackouts? Had the car been fitted with a hand throttle which stuck open? His home town has a peculiarly lukewarm relationship with Hawthorn's legacy, but today it marked the 50th anniversary of his passing with a church service followed by a parade of historic vehicles - including his first race car.
It was shortly before mid-day on January 22 1959 when Hawthorn fired up VDU 881 , a 3.4-litre Mk1 on loan to him from Jaguar, and nosed out of the Tourist Trophy garage on East Street. His route would take him along the A31, formerly a principal trade route between Guildford and the busy port of Southampton, and then up the A3 into London.
East of Farnham the A31 rises and follows an ancient route along the Hog's Back, a steep and narrow chalk ridge that dominates the surrounding countryside. In 1959 the road was a single carriageway (another was added in the 1970s; the original stretch is now the one where traffic flows from east to west). It's bumpy, undulating and exposed, and even today portions of it have a 50mph limit. An eyewitness later claimed that Hawthorn overtook him at up to 100mph in spite of the vicious crosswind.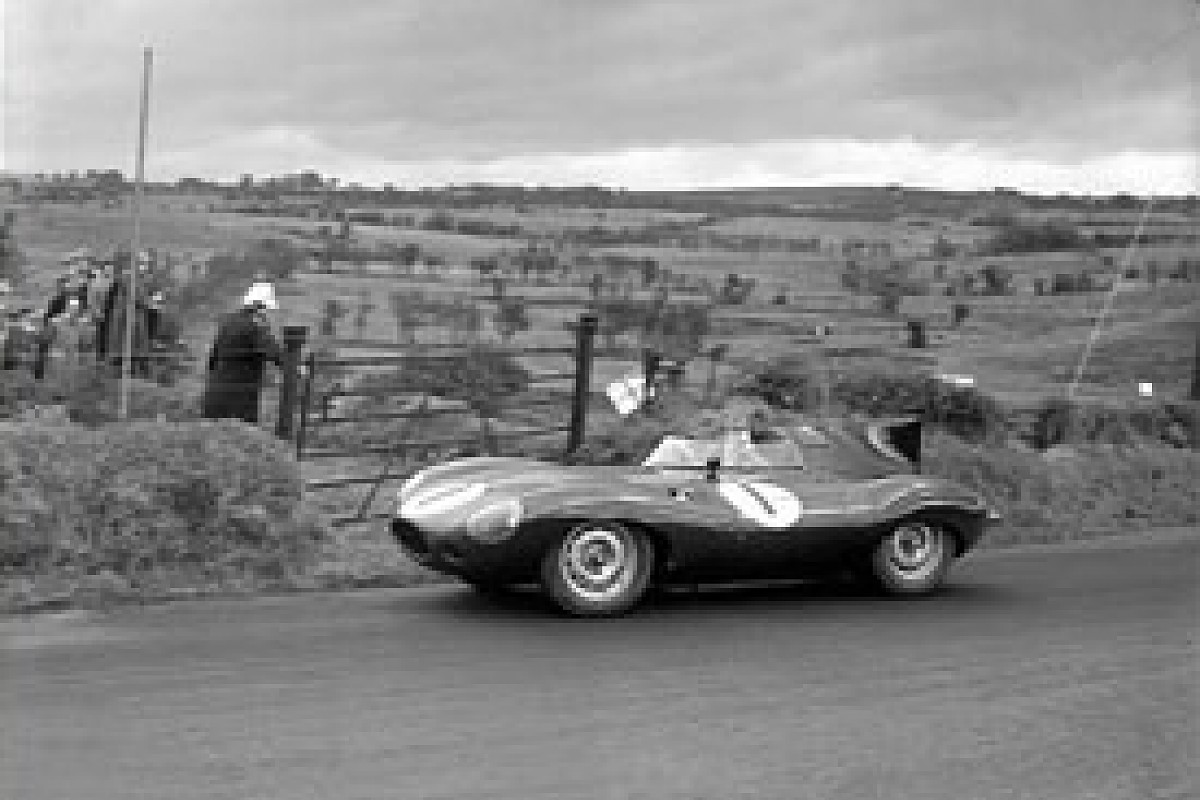 Mike Hawthorn on the 1955 Tourist Trophy in a Jaguar D-type © LAT
Reaching Guildford, Hawthorn turned on to the A3 (now a dual carriageway, then a single four-lane highway) at speed. VDU 881 slewed out of control, clipped a truck coming the other way, then plunged off the road and into a tree. Hawthorn died shortly afterwards. Here the accounts begin to differ.
Rob Walker - owner of the first and last privateer team to win a grand prix - was following closely enough in his Mercedes 300SL to be called as a witness at the inquest. What was Walker doing there? A Tourist Trophy mechanic remembers him pulling up outside the garage and making a 'V' gesture before screaming off.
Hawthorn, who had boasted that "no bloody Kraut car" was faster than his Jag, seized the keys to VDU 881 and roared away in hot pursuit. Until his death from pneumonia in 2002, Walker maintained that they had found themselves on the same stretch of road entirely coincidentally.
It has also recently emerged that Hawthorn had been suffering blackouts. He retired from F1 immediately after winning the 1958 championship at the relatively young age of 29, ostensibly because he had lost a great friend - Peter Collins - during that season. Actually he was suffering from a debilitating illness - indeed, he was wearing a body brace at the time of the accident.
Hawthorn had been excused from National Service on medical grounds. But in order to hold on to his racing licence he successfully concealed the fact that in 1954 he had undergone surgery to remove a diseased kidney. The post mortem found fresh bruising on his back not consistent with the events of the accident; it's been speculated that he'd fallen down the stairs at his home after a blackout.
Did Hawthorn black out at the wheel? It's hard to say - and the lorry driver reported seeing him fighting the steering wheel before the impact. Was he shot at? There had been reports of someone firing a gun at passing cars on that stretch during recent weeks. Had the car been modified to accommodate a hand throttle which stuck open, causing Hawthorn to lose control?
Many of the wilder theories have been put into a more sensible context through the diligence of a dedicated band of Hawthorn enthusiasts whose efforts have culminated in the book Mike Hawthorn - Golden Boy. Co-author Tony Bailey is also one of the curators of the mike-hawthorn.org.uk tribute site.
"Obviously you can never be completely sure with something like this, even when you're dealing with first-hand accounts," he says. "But we've interviewed many people who were close to Mike - family, friends and people who worked with him. And I think we've comprehensively disproved the hand throttle theory - there was a modification, but it was to fit a radiator shroud."
Since Hawthorn's death, Farnham has changed and not changed. During the 1960s the A31 was diverted and the town stagnated, squeezed between the new dual carriageway to the south and the old deer park - formerly the Bishop of Winchester's hunting ground - to the north. It's matter of pride to many residents that there isn't even a branch of McDonald's here.
Another business picked up the Hawthorn name and relocated to new premises near the railway station. The former Tourist Trophy showroom is now shared by a racquet sports emporium and one of those carpet shops that always has a sale on. Hawthorn's local boozer, the Duke of Cambridge, has become a Thai restaurant. Another haunt, the Albion Hotel, is now a thriving gastropub and is still called The Albion, albeit fashionably sans capital letters.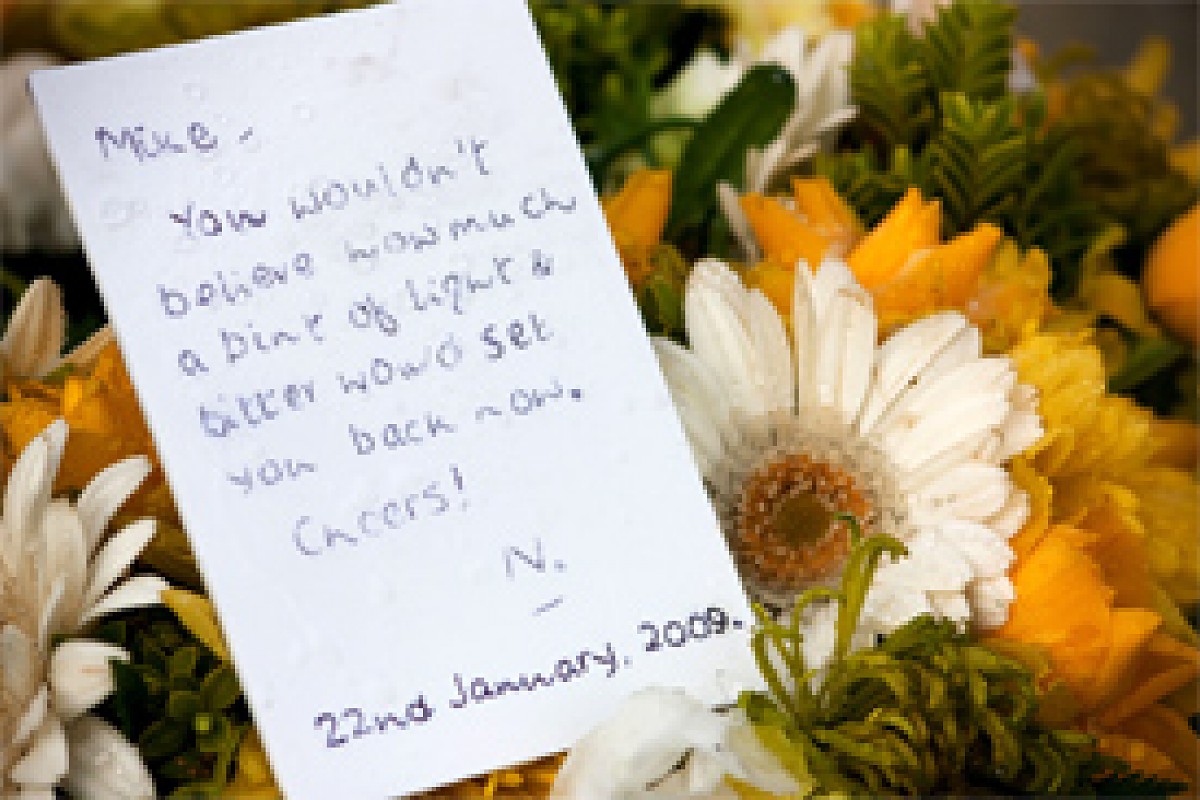 A message left by a local resident on Mike Hawthorn's grave © Stuart Codling
The town has been reluctant to celebrate its association with Hawthorn. He is buried in the West Street cemetery and the grave is well-tended (but not by the council); on the outside wall of Sainsbury's there's a flower pot and a plaque naming him among other famous Farnham residents (including rugby star Jonny Wilkinson); and there's a council estate dating from the 1980s named Mike Hawthorn Drive. That is all. As recently as last year the council refused a proposal to name a building after him; perhaps in these politically correct times they consider him a poor role model.
On Saturday, I visited his grave and found an elderly couple studying the floral tributes, one of which bore a touching note: "Mike, you wouldn't believe how much a pint of light and bitter would set you back now. Cheers, N." The man was lost in thought but his wife spoke of a simmering resentment about the attitude of local bureaucrats.
"I remember when he died," she said. "And they've never done anything proper to commemorate him. It's shameful."
The 50th anniversary celebrations are largely the work of the local branch of the Jaguar Enthusiasts Club, many of whom arrived sporting Hawthornesque spotted bow ties. This morning they and fellow classic car enthusiasts brought over 70 cars to parade through the town after a church service to mark the occasion - at St Andrews in Farnham, also the venue for Hawthorn's funeral. Among them was the 1955 Le Mans-winning Jaguar D-Type, and the Riley Ulster Imp in which Mike topped the class in his first competitive event, the Brighton Speed Trials in 1950.
"I bought it from Mike's mother in 1959," says the Riley's owner, Tim Ely. "It had no brakes and no fuel tank. He'd raced it for three years but it had a longer competition history than that. It came third in its class at Le Mans in 1934, having been 44th and last in the first hour after stopping to repair accident damage. That year it also won its class in the Ards TT."
Norman Dewis, Hawthorn's friend and Jaguar colleague, read at the service and then led the parade in the '55 Le Mans winner, followed by Damon Hill in another D-type and Sir Stirling Moss in an ex-Duncan Hamilton C-type. Motorsport historian and autosport.com Nostalgia Forum regular Doug Nye brought his immaculate Ecurie Ecosse-liveried C-type. Hundreds of townsfolk braved the rain and wind to cheer them on.
When Mike Hawthorn won the Formula One world championship at Casablanca, motorsport reporters on deadlines filed their copy by telex or by shouting it down crackly phone lines. Today, I write these final paragraphs in the wifi-equipped bar of The Albion, 100 metres or so from the site of the Tourist Trophy garage.
Perhaps, just before mid-day on January 22 1959, patrons here may have been distracted by the squeal of tormented tyres from up the road and looked out of the bay window to see the 'Farnham Flyer' streak by on his final journey.
"It would have been his 80th birthday this April, but it's unlikely he'd have lived that long," says Tony Bailey. "He probably had fewer than five years left. His illness would have got progressively worse and he'd have spent his final months in a wheelchair. For someone like him, perhaps what happened was a mercy."