Birmingham: England's second city and home to about a million people. Back in the times of the Domesday Book, it was a village worth 20 shillings, but it's now a powerhouse of a city, forged at the heart of the industrial revolution.
Famous for its Bullring shopping centre, redeveloped at a cost of £500 million and which covers the space of 26 full-sized football pitches, Birmingham is also home to the National Exhibition Centre, which hosts Autosport International, six miles to the east of the city centre.
To ensure you maximise your trip to this year's show, here are a few pointers on what to do and what to avoid.
Don't rush there
Let's face it, the traffic around Birmingham (except the mega M6 Toll) is pretty rubbish. So if you're driving, it's always going to take longer than you expect. When you arrive, it's a breeze: there are over 20,000 spaces on site, but you'll have to pay for one of them. Also, allow time to get from the car parks, whether via the park-and-ride system or on foot.
Perhaps the most convenient way of getting to the NEC is by train. Birmingham International rail station is next door, and linked via a covered walkway (don't confuse this with Birmingham New Street, which is 10-15 minutes away).
If you're flying into Birmingham International airport, there is a rail service straight from the terminal to the NEC. If you are coming from far afield, within an hour of the NEC there are 75,000 hotel bed spaces available, with 7000 in the city centre itself.
Pre-arm yourself with knowledge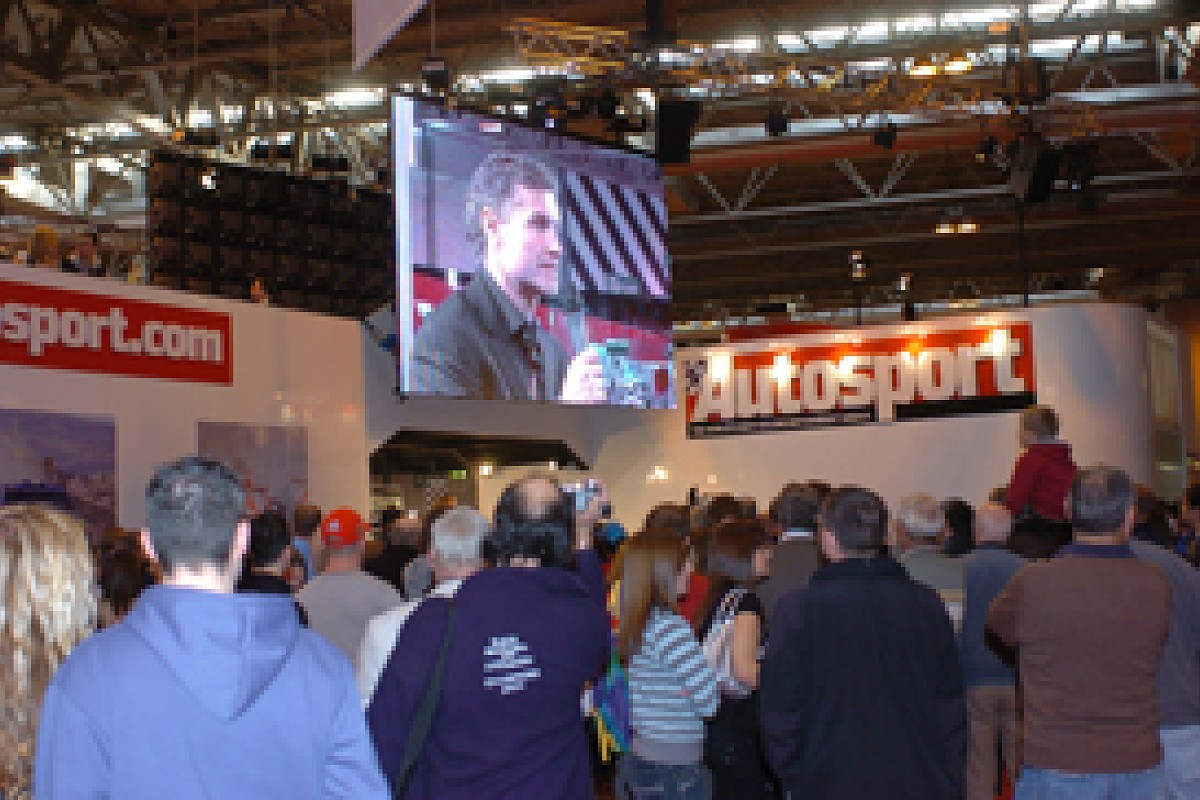 The Autosport Central Stage © LAT
In this week's Autosport magazine, you'll find a map of the halls, and the definitive list of exhibitors. Bring this with you, or you'll spend all day wandering aimlessly.
Find your bearings as soon as you arrive and plan your day around the Autosport Central Stage, where all the big names will be interviewed during the day by our compere (without compare!) Henry Hope-Frost.
Check out where all the other big set-pieces are, such as Live Action, the kart track, the F1 Racing stand, the Team Lotus display and the collection of David Coulthard's cars.
Wear the right clothing: it might be cold outside, but it'll be warm in the halls. There are cloakroom facilities adjacent to the halls for £1 per item - you don't want to be sweating between the stands or carrying a heavy coat around all day.
You're going to be on your feet for most of the day, so wear adequate shoes or trainers. Split up your day, to allow yourself a decent lunch break. A good tip here is to eat early and avoid the rush, so you'll have a much better chance of sitting down and enjoying your meal. Check out one of the 'findit' maps when you first arrive, which will point you in the right direction for the food-and-drink facilities.
Other useful info
With all those quality goods for sale, you'll need access to cash. There's a branch of NatWest in the Piazza (main hallway) near Hall 4. This is open on the Thursday and Friday, but the cashpoint outside runs all weekend. There's another opposite Hall 8 (by Atrium 2 entrance) and another four portable cash machines dotted around the Atrium.
In case of any dramas, there's a medical centre situated by Hall 5, next to the Visitor & Business Centre. The Atrium medical centre is situated by Atrium Entrance 2, opposite Hall 8. A lost-&-found is in the security office on the Piazza between Subway and Hall 1. There is also a smaller security office in the Atrium near Hall 20.
The Autosport Central Stage (Hall 19)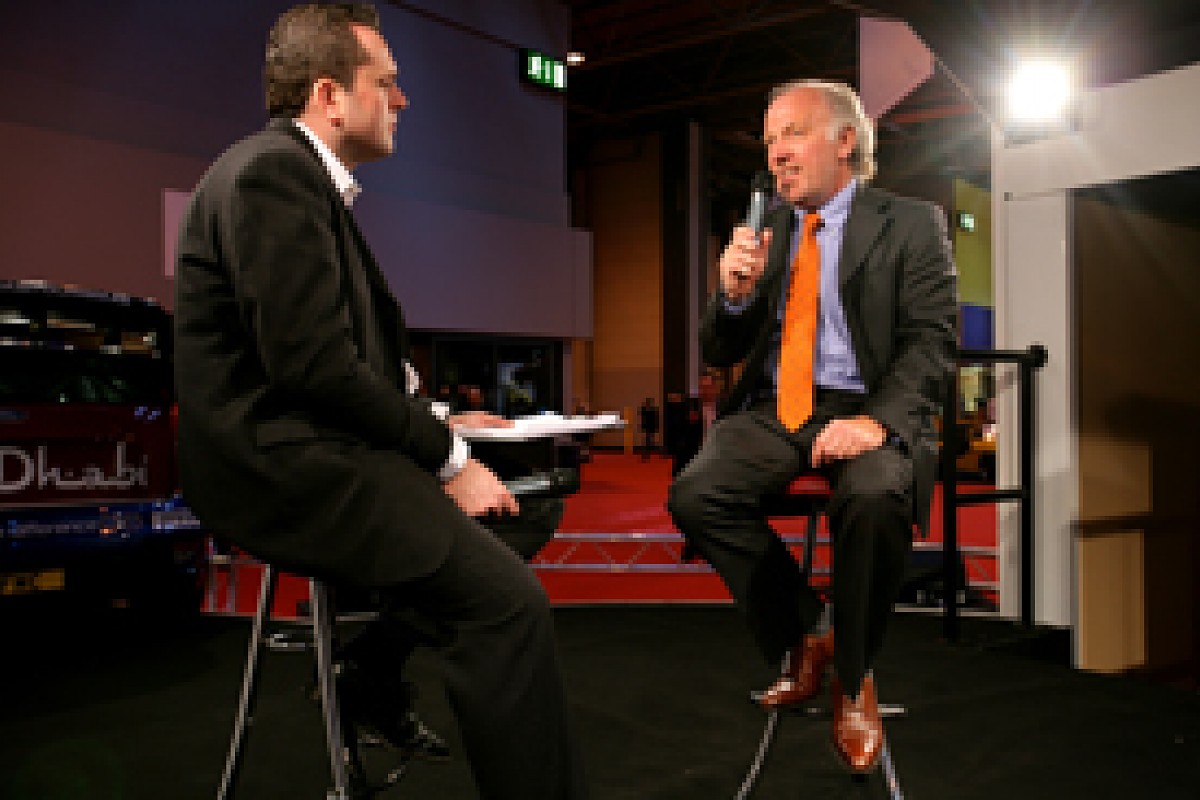 Henry Hope-Frost interviews David Richards © LAT
The stage is the nucleus of the show. Every year it represents the ultimate meet-and-greet arena within the NEC halls. Drivers and team bosses can - and do - chew the New-Year fat, as well as meet the fans in a relaxed atmosphere. Having to be bombarded with questions up on stage is a small price to pay for the stars as they strive to upload those all-important pre-season happenings at the world's best motorsport show.
All of them are usually on best behaviour, but there have been some notable exceptions on that front. Take Jason Plato, who last year turned off the mics backstage and wandered around trying to take the stand to bits while his SEAT BTCC teammate Darren Turner was talking, and giggled like an alco-popped teenager.
Then there's British F1 hero Johnny Herbert, who threw bread rolls at compere Henry Hope-Frost from the rooftop hospitality area while waiting for his turn a few years ago.
The 2009 line-up looks set to encompass every important discipline, so come up and see us. It'll be your chance to share some of the limelight with many of your heroes. Let this lot whet your appetite, and watch out: Plato's on the list again!
• 13-time grand prix winner and 2001 world championship runner-up David Coulthard
• Double Le Mans winner, Audi star Allan McNish
• Eight-time Le Mans winner Tom Kristensen
• Le Mans GT1 class winner David Brabham
• BMW's triple World Touring Car champion Andy Priaulx
• Chevrolet WTCC race winners Alain Menu and Rob Huff
• Double British Touring Car champion Fabrizio Giovanardi
• BTCC top liners Jason Plato and Tom Chilton
• DTM runner-up and F1 aspirant Paul di Resta
• Multiple Le Mans and ALMS class winner Oliver Gavin
• Ferrari sportscar ace and CR Scuderia race team boss Andrew Kirkaldy
• FIA GT Ferrari racer Tim Mullen
Live Action
Not everything at Autosport International is about static displays - however spectacular some of those may be. For those who make their way out of the main exhibition hall and over to the Live Action arena, there's another side to the show - a much louder one.
Located in the biggest hall at the show, the arena features a 4700-seat grandstand where fans can catch the action, with each show lasting around 50 minutes.
The variety of machinery on show in Birmingham this year will be as vast as ever, with single-seaters, world rally cars, oval racers and road cars all put to the test under the roof of the NEC.
The start of the show will have a special flavour to it as always, although little can be given away just yet. But expect a couple of tributes to British drivers who are very deserving of them.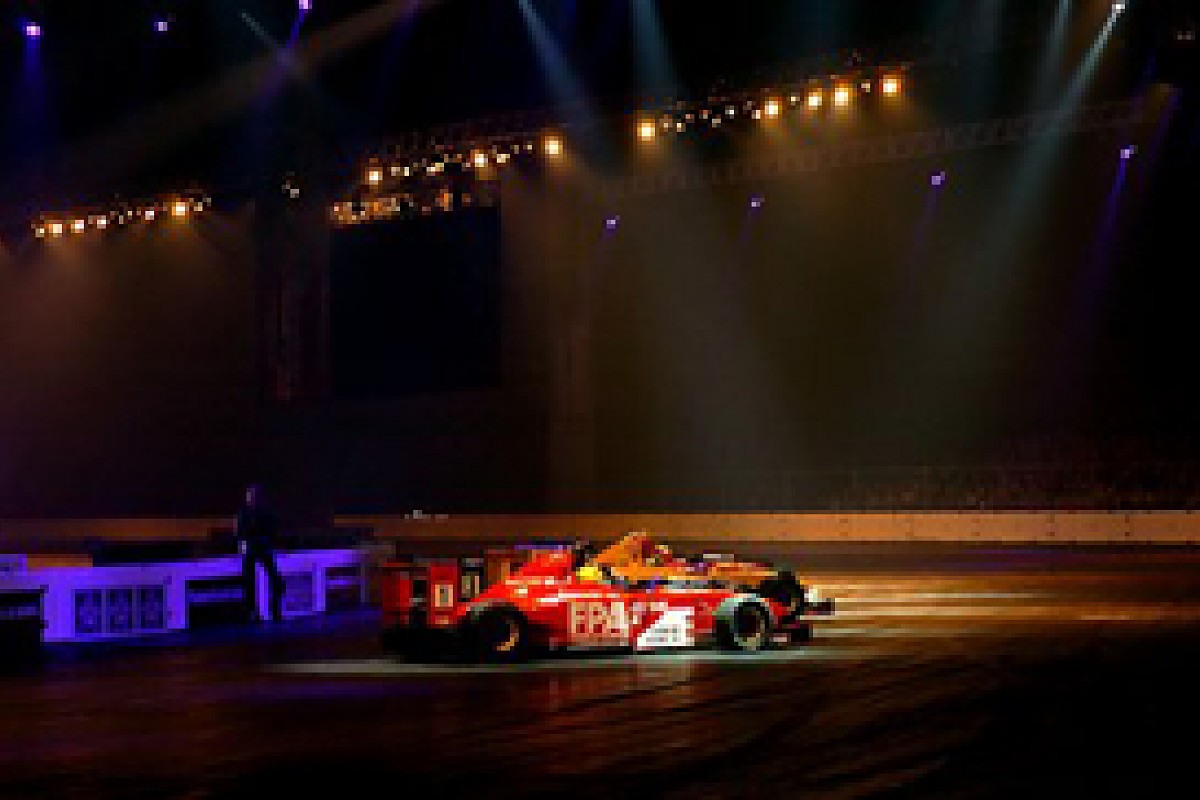 Formula Palmer Audi action in the Live Arena © LAT
The McLaren Autosport BRDC Award nominees will be out in force again this year in Formula Palmer Audi racers - which, quite simply, are far too powerful for the tight confines of the arena, and that just adds to the spectacle. Those cars have a pretty powerful turbo on them, and when that kicks in, watch out for the young chargers doing their best to hold on, all the while giving award winner Alex Sims a hard time.
Any event taking place on a low-grip surface just wouldn't feel right without some world rally cars abusing their tyres, and this year the four-wheel-drive, turbocharged will star. Expect to see the world rally-winning Ford Focus WRC put through its paces, along with the Skoda Fabia WRC and a couple of Hyundai Accents WRC.
Cunning stunts
Any indoor motorsport theatrics would not be complete without the antics of stunt driver extraordinary Terry Grant, who last year made his way onto yet another page of the Guinness book of records for performing the world's tightest J-Turn. It's rare that a Renault Twingo does anything to capture the imagination - but Grant performed the turn between two barriers that were just 378cm apart, a gap only 18cm longer than the car.
As always Grant is keeping a tight lid on the exact details of his exploits this year, but he will be seen behind the wheel (when he's not doing a trick that involves him being somewhere else) of his 5/8 scale Legends car, and a Lamborghini Gallardo among others.
There should be more record attempts too: "Last year's attempt was really cool," he says modestly! "Hopefully we can repeat such a feat this time round."
There will be more Legends cars in action aside from Grant's machine, and the small hot rods look and sound perfect for charging around an indoor arena. There will be a couple of exceptions to the 50-minute schedule though, as the final shows on Saturday and Sunday will be full-on race meetings for a variety of short oval championships, with each expected to last around 90 minutes.
Best of the rest
The Classic Team Lotus display brings together a selection of cars from the iconic team that spanned 36 years in Formula 1. Lotus is still the fourth most successful team in F1 history, despite the fact that the great British squad has been absent for 14 years. Examples of the machines that helped to claim the 79 grand prix victories, 107 poles and 71 fastest laps, from the 25 to the turbo 97T will be on show at Autosport International this weekend.
Autosport International is celebrating the nine heroes of Britain's 50 years of world champions, from Mike Hawthorn beating Stirling Moss by a single point in 1958 to Lewis Hamilton pipping Felipe Massa by a single digit in 2008. The F1 Racing stand includes cars raced by Jackie Stewart, Jim Clark, Graham Hill, James Hunt, Nigel Mansell, Damon Hill and Hamilton.
For further information and tickets visit www.autosport-international.com