Fitting roughly three decades of racing - including the material remnants of 246 grands prix, 13 wins, 62 podiums and 535 world championship points - under one roof is not the work of a moment, but this year's Autosport International has managed to do it. Or rather, the David Coulthard Museum has done it, and we've gone and stolen it for a few days.
The contents of the museum will be transplanted from their home in Twynholm, Scotland, to the Birmingham NEC to be displayed as part of a special tribute to Coulthard's racing career.
Represented is a comprehensive cross-section of the Scot's years behind the wheel, ranging from the kart that took him to his earliest successes through to an F1 car from the stable of Red Bull Racing, the team with which he closed out his professional career in Brazil last November.
According to Coulthard, the extent of the collection owes much to his father's diligence over the years, rather than hours of pouring through classifieds.
"The only thing we really had to go back and find was the kart," he said. "But my father was keeping everything very early on; helmets and stuff like that, just for himself.
"I believe it's the most extensive range for any one driver. There's not a Vauxhall touring car there, which I raced once, and there is not a Jaguar XJ220C, which I raced at Le Mans. Then again, there's no space for them anyway.
"But you've got lots of trophies - some are original, some are replicas, depending on whom I was driving for at the time. There are race suits from every year, helmets ... for a wee, sleepy village, I think it's quite a nice collection!"
Karting
Premier Kart 100cc (1983/4 Scottish Junior Kart Champion)
"That's from 1982; it was my first kart. It's a Premier and it used to run on Carlisle tyres, which were rock hard. At that time of course it was sold when I moved into the next formula, but we came across it again and were able to buy it back, and it still had the same seat with the same hole cut into it because of a bruise I used to get in my lower back - all karters get bad backs and a lot of pain."
Formula Ford
Van Diemen RF89 (1989 Dunlop/Autosport Champion, P&O Ferries Junior Championship, McLaren Autosport Young Driver of the Year Award)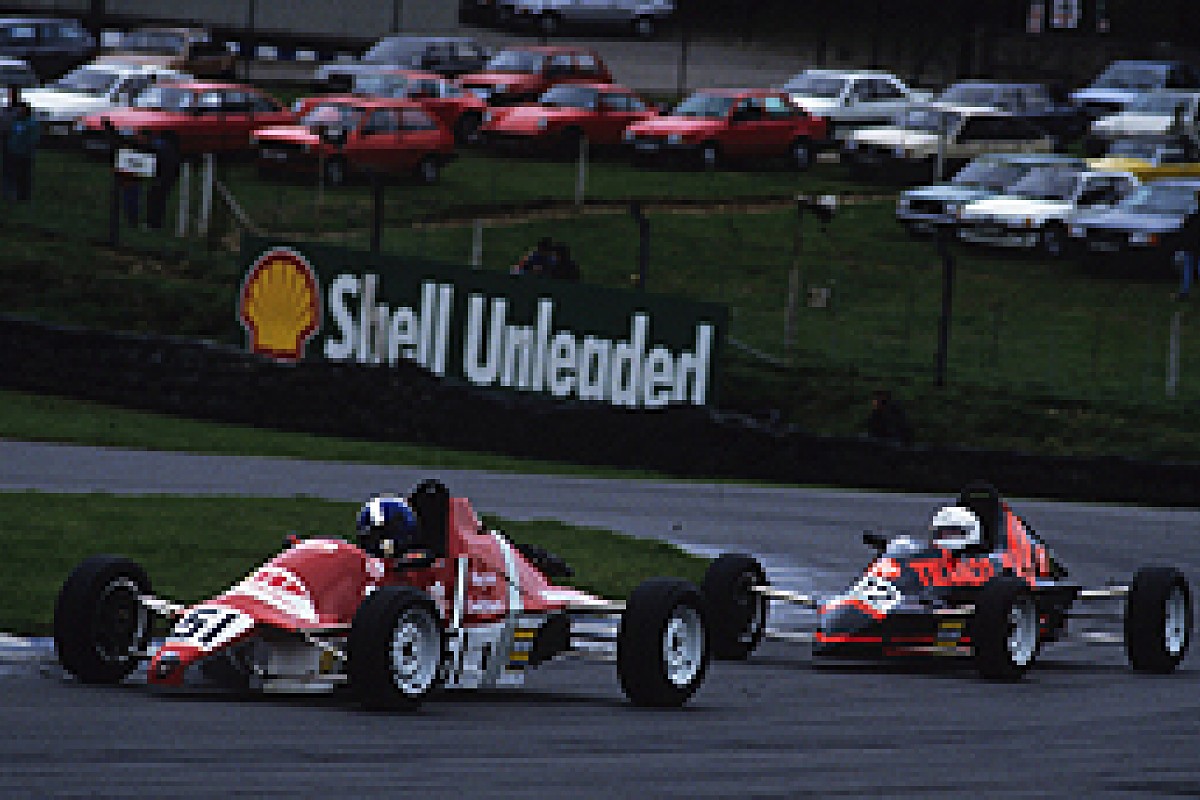 Formula Ford 1600 © LAT
"I used to do all the stripping and cleaning on that, so I spent hours and hours between events making sure that it was immaculate, and that everything was in tip-top condition.
"It finished the Formula Ford Festival, I cleaned it one more time, and we put it into the museum. It has been there ever since. Obviously it has been dusted off, but it's still immaculate because that's the way I operated it when it was mine - I used to get it up on the ramps, and polish the underbody ... there is not a speck of dirt on that car, and I think that the preparation that I put into that car, and the preparation that I put into testing and everything, was the reason that I won so many races in that first season."
Vauxhall Lotus
Reynard Vauxhall Lotus (1990 Formula Vauxhall Lotus Championship 4th, GM Lotus Euroseries Championship - 5th)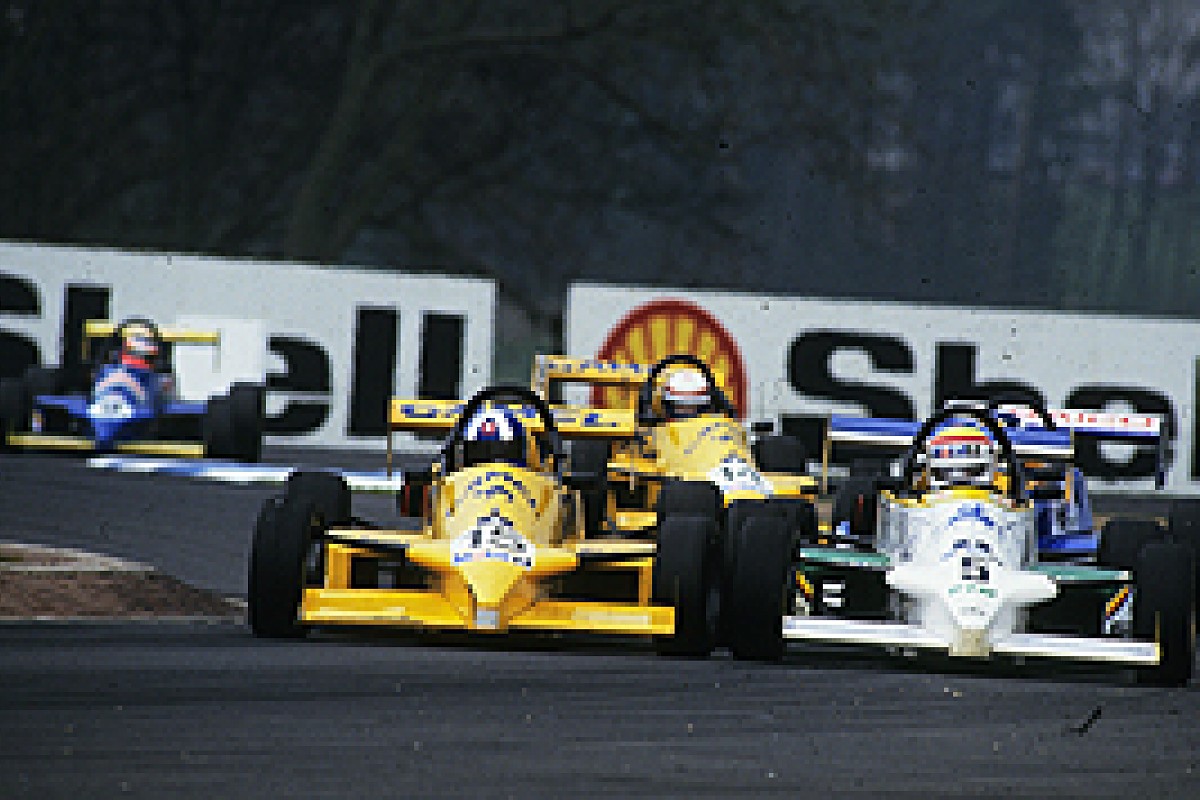 Formula Vauxhall Lotus © LAT
"I never really enjoyed Vauxhall Lotus that much. That was my first time working with a big team - which was Paul Stewart Racing - and my first time working with a teammate. That was new for me - for the previous seven years of my racing career, I had always been the only guy in the team.
"It was interesting to get used to the dynamic of having a teammate - who is obviously not really a teammate because he's there to beat you. But I forged a friendship with Gil de Ferran which has lasted through to this day. We were young, we were on a budget, we'd share rooms together and all that sort of thing.
"I can't say it was the most pleasurable car to drive, but I managed to win one race in Europe with it and I think I may have won one or two in the UK championship. It gave me good experience through racing with Paul Stewart Racing, which was a big professional team, and sponsored by Camel so we got an opportunity to see the Lotus guys and experience that whole side of things."
Formula 3
Paul Stewart Racing Ralt RT35 Mugen-Honda (1991 British Formula 3 Championship - 2nd, Marlboro Masters winner, Macau Grand Prix winner)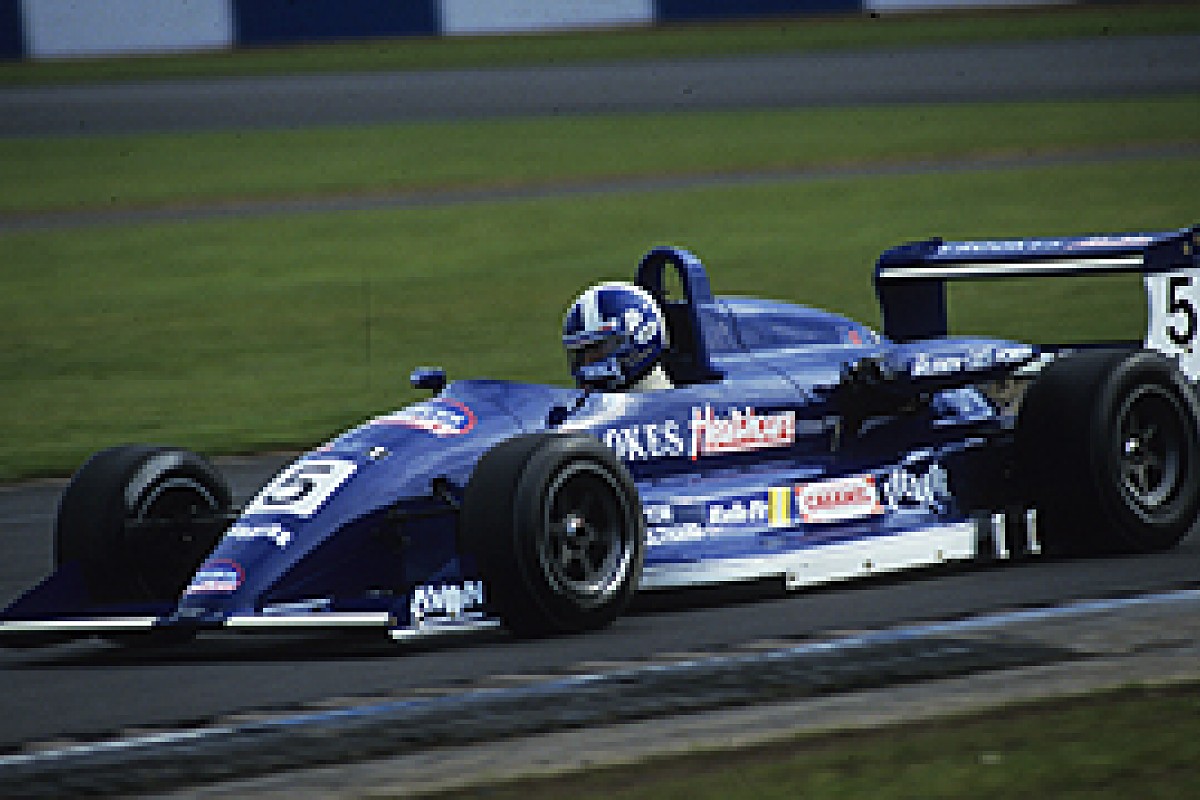 British Formula 3 © LAT
"Formula 3, for me, was a strong season. In terms of wins I won eight races that year including [the Marlboro Masters at] Zandvoort and also Macau. I missed out on Fuji - I finished second to Jordi Gene because I went with a rear element for Fuji for qualifying, and he went with no rear element. So it was literally just a set of endplates that decided the race.
"In terms of the championship, that was decided when I was leading at Donington when I became stuck between gears as I exited Redgate and I was out of the race. I had a black box problem in one of the races as well.
"And at the last race, which was the title decider, all I had to do was finish fourth. Rubens [Barrichello] had qualified behind and was struggling, but when I was coming up behind [Hideki] Noda, for whatever reason I tried to overtake him - I didn't need to - and he cut across the front of me and broke my wing and that was it. Race over, championship over."
Formula 3000
Pacific Racing Reynard 93D (1993 International Formula 3000 championship - 3rd)
Formula 3000 © LAT
"I did a year of F3000 with Paul Stewart Racing first of all, and that was a bizarre one. We tested all winter with the Judd engine, were quick everywhere, turned up to the first race and suddenly we were nowhere. It was very difficult to try to understand how you could be quick in testing and then nowhere in the races. So it was really a bit of a nothing season - I don't remember where I finished the championship ... I think I was third in my second season.
"When I was at Pacific, in the last races it was down to three people to win the championship, and I qualified on the first couple of rows, went around the first corner and the throttle pedal broke in two. And that was it. They'd modified the throttle pedal and the weld broke. I'd used it all season and it broke at the first corner of the last race when it was the championship decider. I parked the car and that was it. Finished third in the championship. I had one win at Enna, and then I started the following year with Vortex. I'd basically run out of money and was trying to put something together. Then Ayrton [Senna] was killed, I was already testing for Williams, and Formula One beckoned."
Formula One
Williams FW17 - 1995 (Winner: Portuguese Grand Prix)
McLaren MP4/15 - 2000 (Winner British Grand Prix, Monaco Grand Prix, French Grand Prix)
Red Bull Racing RB2 (Third place, Monaco Grand Prix)
"The Williams is the Portugal-winning car. Frank [Williams] has very kindly given it on long-term loan., because it belongs to the Williams collection. When he was selling off a load of his cars I was expecting a call to say that that would be one of them, but I'm delighted that he didn't. And it obviously has pride of place there because it is a winning Formula One car.
McLaren MP4-15 Mercedes, 2000 Monaco Grand Prix © LAT
"And then McLaren very kindly gave a show car - they don't give away race cars, so the McLaren is a show car. And the Red Bull is a real car - it's a 2005 car. I get one from each year in the contract, so obviously we're a bit behind!
"I haven't actually been to the Museum for years, to be honest. I haven't been home for a couple of years because I see my parents and what-have-you travelling around. I think it's one of those things that I'll appreciate more now that I'm retired than when I was actually racing."
For further information and tickets visit www.autosport-international.com