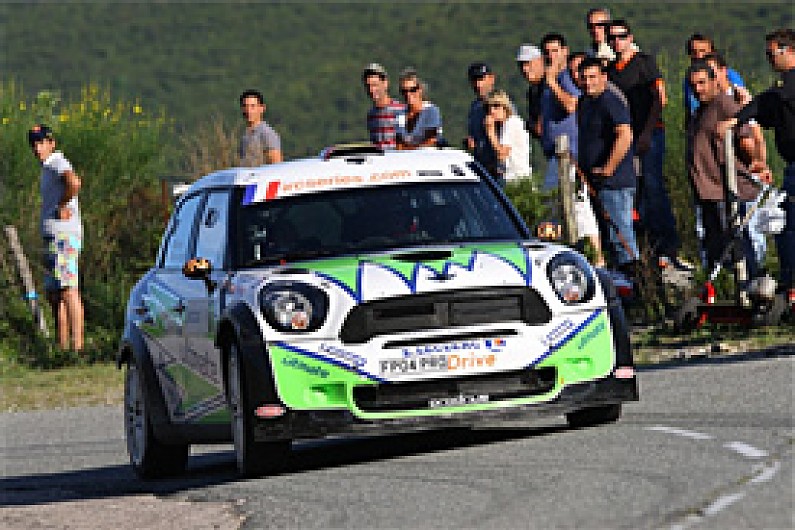 Dani Sordo scored the biggest win of his career so far by cruising to victory on his Intercontinental Rally Challenge debut in Corsica.
Driving an SMG-run Mini, Sordo spent the first part of the rally in a close fight with A-Style Ford driver Giandomenico Basso and championship leader Andreas Mikkelsen (Skoda UK).
But after Basso was eliminated in a road section incident on Thursday night and Mikkelsen lost nearly three minutes with a Friday morning excursion, Sordo was free to control the pace for the rest of the rally.
In Sordo's wake, the main excitement of the final day was Jan Kopecky and Pierre Campana's battle for second. Kopecky (Skoda) won five of the six Saturday stages - but lost a lot of time to local favourite Campana's Munaretto Peugeot on the first pass of the 29-kilometre Marinca-Cagnano stage, keeping the battle close.
Bryan Bouffier had a quiet run to fourth in a Delta-run Peugeot, a long way clear of Mikkelsen, who lost further time with a puncture late on Friday so drove steadily through Saturday. Craig Breen was the best of the Sainteloc Peugeot drivers in sixth as he recovered from day one driveshaft issues and a brush with the scenery on Saturday morning.
Leading results:

Pos  Driver                Team/Car             Time/Gap
 1.  Dani Sordo            SMG Mini           3h22m01.6s
 2.  Jan Kopecky           Skoda                 + 17.9s
 3.  Pierre Campana        Munaretto Peugeot     + 32.4s
 4.  Bryan Bouffier        Delta Peugeot         + 53.5s
 5.  Andreas Mikkelsen     Skoda UK            + 4m19.0s
 6.  Craig Breen           Sainteloc Peugeot   + 5m28.7s
 7.  Jean-Marc Manzagol    Peugeot             + 6m22.1s
 8.  Sepp Wiegand          Skoda Deutschland   + 6m54.8s
 9.  Herrmann Gassner Jr   Red Bull Skoda      + 7m10.2s
10.  Jean-Mathieu Leandri  Sainteloc Peugeot   + 7m39.9s