Peugeot UK driver Kris Meeke arrived in Madeira earlier this week chasing his fourth straight IRC win. The Northern Irishman is at the top of the table - but it hasn't all been plain sailing this season or in his career.
In AUTOSPORT magazine's July 16 issue, we ran an interview with the IRC points leader. Now, for your reading pleasure, we introduce the full transcript of rally editor David Evans' conversation with the rising star of British rallying.
Q. How did the Peugeot UK deal happen?
Kris Meeke: It all started last April [2008], when I did a few rallies in Ireland driving a Renault Clio. I put in a few strong performances, some fastest stage times overall and then Renault Sport came and asked me if I would do some testing and development on the R3. I did that and then did Rally Russia in the car. That was where I met [Kronos Racing team principal] Marc van Dalen again. I'd driven for Marc before [in the Citroen C2 S1600] and he said he would like to put some sort of package together for me.

Then I went to Sanremo last September with a few people. I sat down with Skoda, Fiat and Peugeot. Skoda had just signed up their drivers [Juho Hanninen and Jan Kopecky] for this year, but there was a new guy coming in at Peugeot UK.
Q. This guy knew rallying...
KM: He did. Christian Stein had been working in Peugeot Belgium for about 10 years. He was the guy who had put together the 206 WRC programme out there. We agreed to have dinner one night, so I hopped on an aeroplane from home and met him. We had some grub and a good chat. He seemed interested, but it still took a lot of hard work from him to make it happen in Peugeot UK. He'd been charged with sexing the brand up a bit and there's no better way to do that than with a rally programme - certainly not in my eyes!
Q. Do you think it was a hard sell for him in Peugeot UK?
KM: I think it was. The money for the programme was coming from a variety of budgets; it wasn't like he had to convince one department, he had to work on a few people. Somebody has told me since that if it had been a bit later - when the economic situation had gotten even tougher - it might not have happened at all. But it did.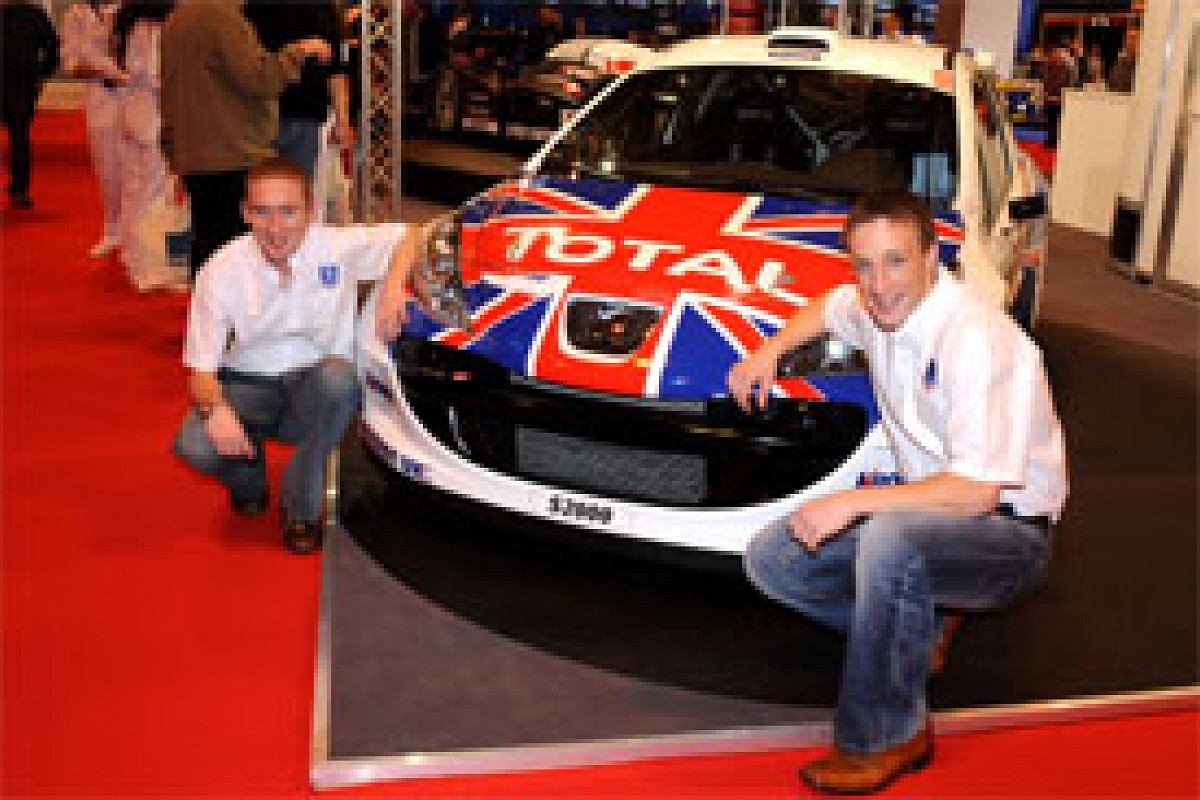 Kris Meeke and Paul Nagle at Autosport International © LAT
Q. Where were you when you found out?
KM: I was out in France doing some Monte Carlo testing on a Citroen C2 car when I got the call. Let me tell you, I won't forget that phone call for a long time! They said: "We've got the green light. We're going ahead with everything and we're going to start putting the wheels in motion right now for Monte Carlo. It was a bit of a shock to the system. I'd been down this road so many times and let myself believe it was going to happen only to have the rug pulled from beneath me.
Q. Did you have a special feeling for this deal?
KM: I would say there was something, yeah. It's easy for me to sit here now and say: "Yeah, sure, I knew this one was coming good..." But I did have a kind of an inkling that this one could happen. But it had been really tough, you know. I'd spent the previous two years with nothing and just going everywhere, essentially begging for money and for help. I pieced some stuff together, but that was thanks to four or five guys who have been fantastic for me. These guys have stood behind me and helped in just about every way they could. When they said they would back me, we took the decision to move away from the WRC, feeling that it was pretty dead for me at that time. I then did those small rallies in a Clio and went to Germany and had a fantastic result there [setting times ahead of Sebastien Ogier in a five-year-old Clio]. But without those guys backing me, I would still be in my backyard.
Q. Did you get frustrated?
KM: Of course I did. I remember sitting in Russia when I was in the Clio and I said to my co-driver: "If only I could get a shot, I know I could be up there with guys like Freddy [Loix] and Nicolas [Vouilloz]". It was the most frustrating thing in the world, but I never lost that belief.
Q. But two years out of a drive must have been tough...
KM: It was. But I moved on. I developed other things in my life, I got more perspective and I really feel I matured as a person and a driver in that time. If you look at the years 2005 and 2006, rallying was the absolute focal point of my life, but it was like I was holding on to it all too tight. It was like I had to keep on proving something on every rally and in every corner.
Q. What's the biggest thing that has changed for you with the Peugeot drive?
KM: I feel so much more relaxed now. I really do.
Q. Do you regret any of the mistakes you made. What about the time you were leading and you drove into [Jari-Matti] Latvala's car?
KM: No. I don't have any regrets. The Latvala thing happened because I was one of the first drivers on the scene; it was one of those things. I did put the car off at some stupid times, though. I'd be in an awesome position in a rally, only to have it slip through my fingers. But, at the time I was approaching those rallies in the best way I could. It wasn't like I could go into a shop and buy that maturity, was it?
Q. Which shunt hurt the most?
KM: Finland, 2005. I was leading by a big margin and on the first corner in Ouninpohja, I had a made a wrong note in the recce. From being out in the lead, boom, it was gone. That was the one which hit me the hardest. When a mistake like that came for me, my response was to go out and try even harder the next time. I kept on pushing and pushing, it was like I was doing my dirty washing in public.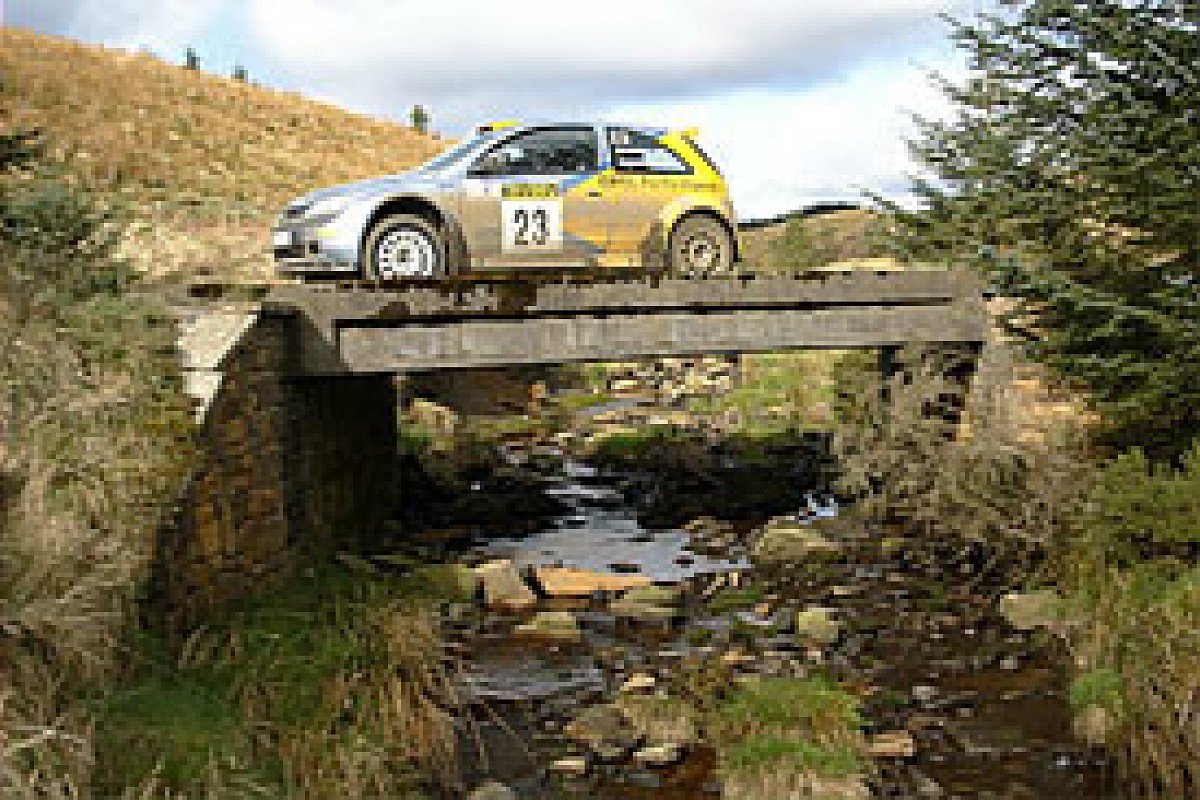 Kris Meeke, Opel Corsa S1600, 2003 Pirelli International Rally © LAT
Q. It's easy to forget you don't have years of history in the sport...
KM: Exactly. When I did the Monte as a Junior round in 2003, it was like my 11th rally ever. I still had so much to learn - and a lot of crashing to do. The trouble was that other drivers did their crashing in smaller championships, where there wasn't so much exposure. But I did mine in the J-WRC and, by the time I'd got myself together in time for 2005/06, I'd also got a bit of a reputation for not finishing rallies. But, like I said, I have no regrets. I did what I thought I had to do at the time.
Q. Do you think having Colin McRae as a mentor might have had an influence on that reputation?
KM: Without Colin McRae's influence, backing and profile in the sport, I wouldn't be where I am today. He took me in as a young guy and gave me a chance, he raised my profile and increased my exposure. I can safely say I wouldn't be here without him. He helped me make the step from a national driver to the world level. But Colin's influence certainly didn't affect my style of driving or my technique. Colin never sat in with me and gave me tuition on how to drive. That just wasn't his way. Colin believed that you could either drive or you couldn't; there was no way he was going to be able to coach that.
Q. Did you ever sit in with him?
KM: No. Maybe one time, actually, when we were messing about in his Mk2 [Escort], but not in a serious car for tuition or anything like that.
Q. Do you think you're still learning?
KM: I'd say I am, definitely. That's the beautiful thing about this. I came back in Monte Carlo and bang, I was straight into a monumental rally - the like of which we haven't seen for a very long time in the current sport. It was a week long, recce, really hard rally with 200km road sections - we were picking tyres at seven in the morning for stages we wouldn't be seeing until the middle of the afternoon. It was a massive challenge.
I guess it's getting more normal now, but the confidence is still coming with each event. At the Azores, Paul [Nagle, co-driver] and I talked about how we would drive the first loop. That went as we'd hoped and we came out with a minute lead. For the second leg, I was in the middle of the road. We were 12 seconds faster than anybody in the final stage and everybody thought we'd been pushing like crazy - I hadn't. I'd backed off, but the change in my technique definitely allowed me to drive at that speed and do it safely.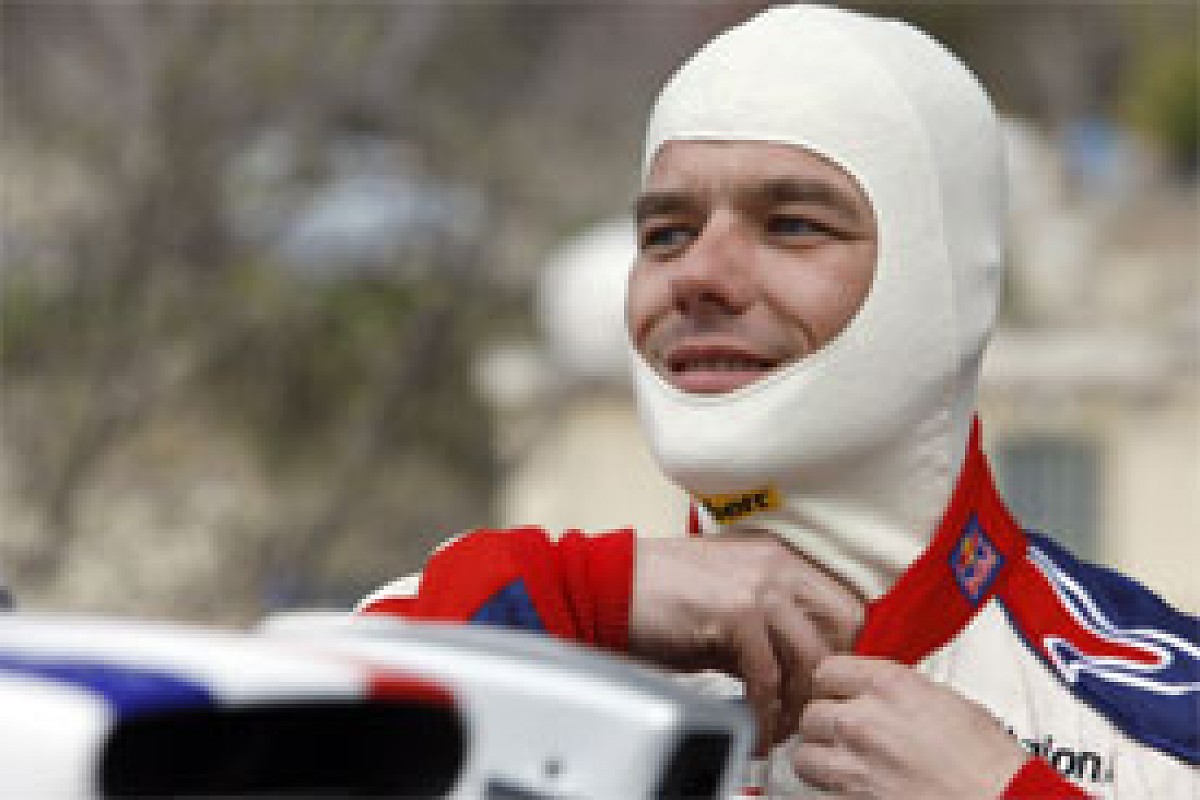 Sebastien Loeb © LAT
Q. Ypres was a very good rally, winning at your first attempt...
KM: It really clicked for me there. But as well, I have to say the reliability of the car was also a really big factor on that rally. To build a championship or a good run of results, you absolutely need that. Look at Sebastien Loeb, he has so much confidence in the package he's got. Everything gels. Everybody is working their balls off and that makes my job a lot more simple. You can see with Sebastien [Loeb] that winning is almost routine for him, okay not so in the last three rallies, but at the start of the year. Now I wouldn't try to hold a candle to Sebastien, but that confidence builds and builds when you start winning - it's a snowball effect.
I haven't changed my approach to rallies all season and, with all the hard work done, I sit on the startline of the first stage and know that I have done absolutely everything possible in the preparation for the rally. It's a strange feeling of calm on the start - but it's an awesome feeling.
Q. Is there more to come from you?
KM: Yes, absolutely. I learned loads going to events like Brazil, Azores and Ypres for the first time. I'm still developing all of the time, still looking at ways to get quicker and improve. I sat with Sebastien Loeb at the Goodwood Festival of Speed, which was fantastic and helped me as well. He sat with me, which was also great - we had a really good chat. He gave me some more stimulation and confirmed that to keep the run going, you don't change a thing.
Q. He was pretty complimentary about you; he reckons you're going to be world champion. What do you think?
KM: Well, he's going to say nice things isn't he. We chatted a lot, all the time we were in the car.
Q. How has this change in your form happened? What do you put it down to?
KM: I've hit on something. It's almost as though I've tripped over this style of driving and mental approach. It's about never lifting the finger from the pulse and keeping it going. It never becomes any easier, but what I have been able to do this year is prioritise things for myself. I've kind of freed my mind a little bit. When I start a stage - on the recce and the rally - I'm not thinking about anything except that stage. That means when I get to a corner and there's a rock on the inside I can deal with it. It's a weird feeling, but I feel I've got more capacity in my mind to deal with these things now.
Q. You've just turned 30. Does that bother you?
KM: Not in the slightest. It's nothing but a number. Marcus Gronholm didn't win a rally until he was 32 or something like that. Sebastien Loeb is also one of the older drivers; I've got a hell of a lot of years ahead of me yet. I only started in the sport when I was 21, which is four years later than a lot of others. I still feel 22 or 23 physically.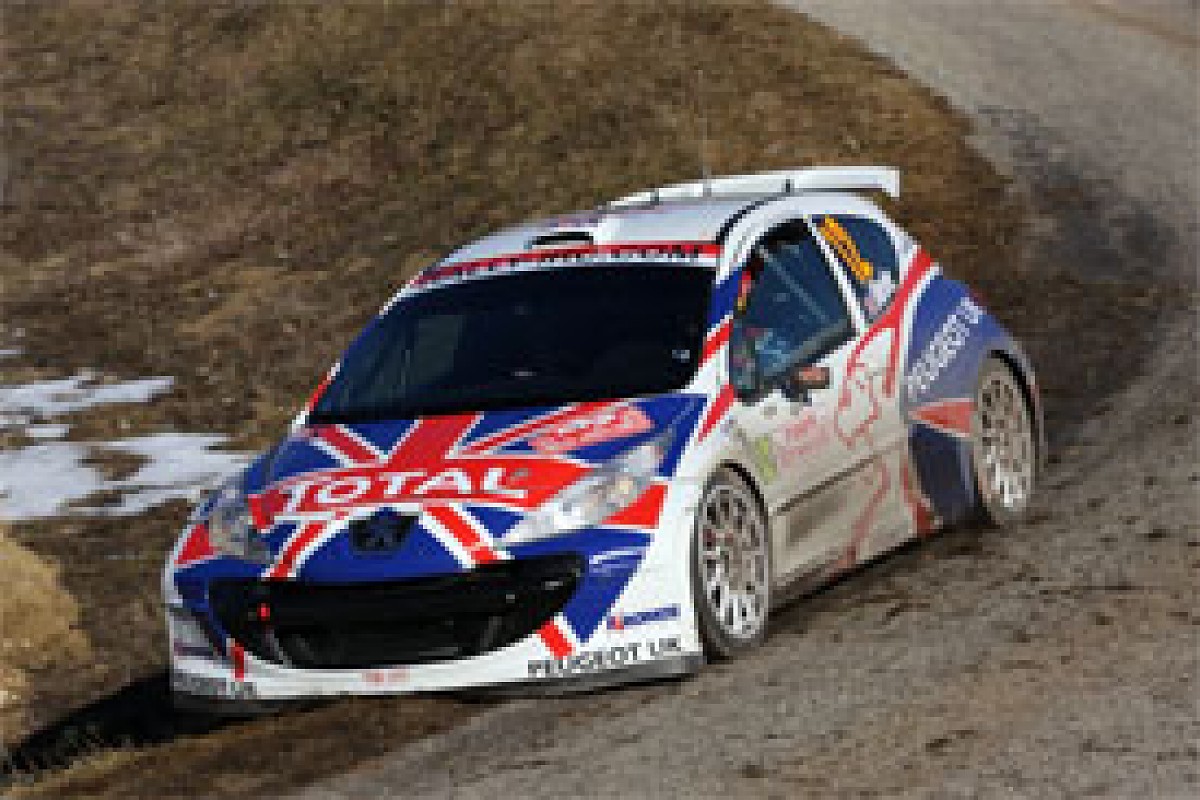 Kris Meeke and Phil Nagle on Rally Monte Carlo
Q. How come the late start?
KM: I simply didn't know I had the ability. My father was big on education. He'd worked in the sport and seen how fickle it could be, it almost made him bankrupt, so he wanted me to get an education. I did that, I went to university and then went to work in the design office at M-Sport. Then I entered a competition for driving, I was curious to see if I was any good. I won the competition and that was that. I could so easily still have been sat in an office working nine to five in a regular job.
Q. Pretty glad you entered that competition then?
KM: Defintely. Having seen the other side of regular life, I really appreciate everything in the sport - the ups and downs, everything. I have a massive appreciation of what I've done and what I've seen. I've seen some awesome things travelling the world in the last seven or eight years. So many times I've been somewhere and thought: "Life can't get any better than this."
Q. What sort of potential do you think you have?
KM: I haven't reached it yet. I have belief in my own ability. I don't think there's any driver out there who's not trying to get to the top or has the ambition to be world champion.
Q. Do you feel you still have unfinished business in the world championship?
KM: Yes.
Q. When do you see yourself back there?
KM: I don't know about next year. The politics in the sport recently have been really difficult to read and to try and pick a conventional route is hard - but I'm in an incredible position. I'm driving for Peugeot and testing for Citroen, the two best teams in the world. I'm doing a thousand kilometres of testing one day and then competing in the IRC - a great international championship the next. Things are very good at the moment. Getting back into the World Rally Championship is about positioning yourself right. At the moment, you'd have to say there's probably not that much point in going back for one final year under the current regulations of WRCs; IRC is the way to go for next year and we'll see how things develop, but of course I want to get back to WRC. I'd be lying if I said I didn't and lying if I didn't say I want to be world champion.
Q. What's the news for next year with Peugeot?
KM: I hope to sit down with the powers that be and see which is the best direction for me. For now, certainly IRC is the best place to be - so why change that?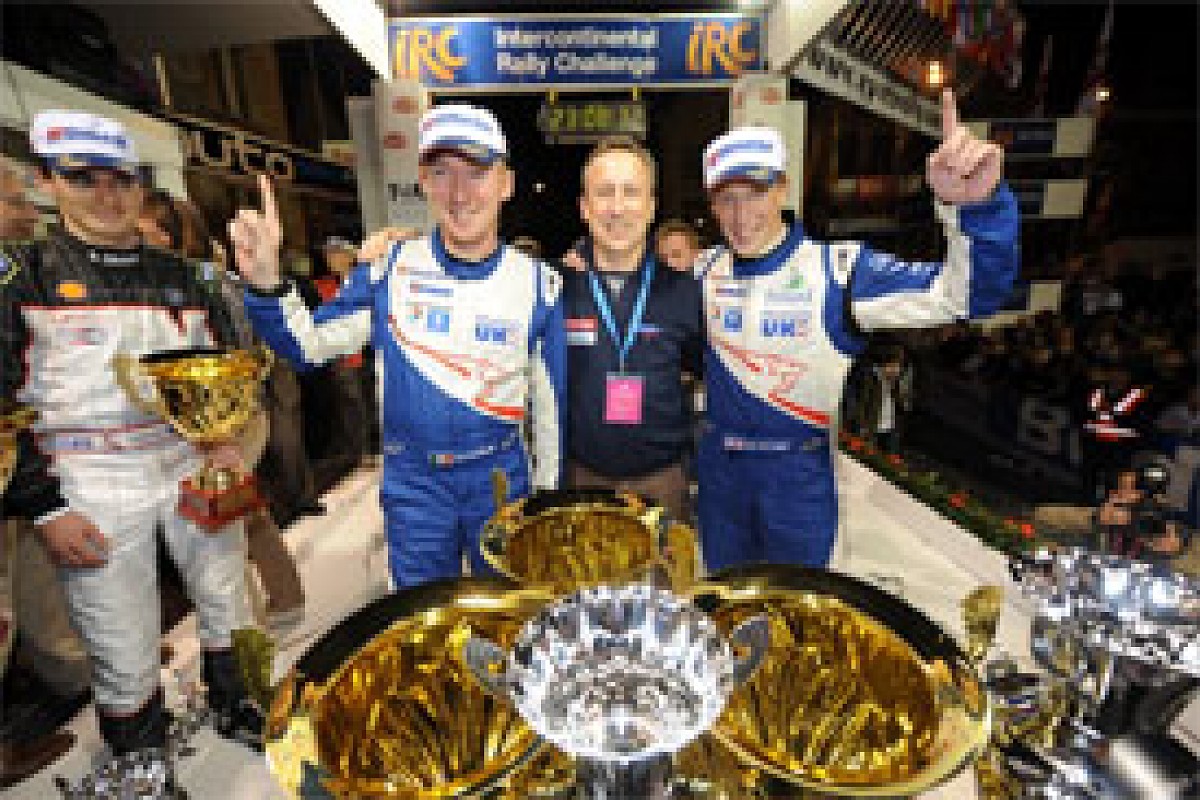 Rally Azores winners Phil Nagle and Kris Meeke
Q. And maybe you'll get more television commercials out of it. How did that come about?
KM: I was intrigued when I said I'd do it. I was away testing somewhere and flew back to London. It was filmed in some suburb of London. There were about 100 people there working on it: make-up, lighting crews, all sorts of things. It was an incredible experience and they worked really quickly. We had the whole thing done in a day. That commercial has been incredible exposure as well - but I was quite happy just to sit there and drive and not have to say anything or do any acting. If I'd had to do that, I would certainly have ended up making a twat out of myself.
Q. You don't fancy a career change then?
KM: Er, no. I would let myself down badly as an actor. But the response I got from people at Goodwood shows how much of an impact the advert has had.
Q. Getting back to the IRC. You lead the championship after three wins. You must be thinking about the title now?
KM: I wouldn'[t say I'm not thinking about it; I'm thinking about the situation and how to make sure we do win it. I've got this regime which I'm working on rallies right now: 95 per cent on the first loop of stages, then have a look. Is it enough? Okay, stay there. If not, up the pace a bit - it's about trying to manage the situation that I'm in. If I need it, I know I've got five per cent in my pocket.
Q. Are you enjoying driving the Peugeot?
KM: Yes, very much. It's so different to a World Rally Car. In a WRC you can jump in and be reasonably on it quite quickly. But in these kind of cars, you really have to work them hard. You've got to take the car to the limit. In a WRC, you can work your way up to the limit progressively, do that in one of these [S2000] cars and you'll be nowhere. You would need a good 12 or 16 rallies to get absolutely on top of a WRC and be driving it 100 per cent committed. You can get there sooner in a S2000 car, but you have to be clever, aggressive and controlled.
Q. This is all bit of a turnaround from that shunt in Monte Carlo at the start of the season. When that happened, didn't you worry that the crashing was going to start again?
KM: Not at all. I had a firm belief in myself. Sure lots of people will have jumped on the bandwagon and said: "Here we go again, he's crashing..." But I knew myself. I knew what happened in Monte Carlo and I knew myself that I'm a different person behind the wheel. I know how I got caught out in Monte Carlo. It's easy to get caught up in the past. For me, the proof will be in the pudding.
Q. And the pudding's the championship?
KM: There are a lot of corners between here and the end of the season.