Imagine for a moment that former British prime ministers John Major and Tony Blair had put their past differences behind them and joined forces to contest December's UK general election with their own political party.
It's a fanciful analogy, but rewind to 2010 and it's not entirely dissimilar to the backstory of BAT Engineering, one of five companies that pitched for the five-year exclusive contract to build IndyCar chassis from 2012.
So-named after the initials of Bruce Ashmore, Alan Mertens and Tim Wardrop, engineering rivals during the halcyon days of the 1980s and 1990s at Lola, March and Galmer, BAT's avant-garde concept for IndyCar's future was overlooked in favour of incumbent chassis supplier Dallara, and the name quietly disappeared as the three partners went their separate ways.
There was little reason to expect that a company nobody had heard of, created during what Ashmore (below, right) recalls as "one of those brainstorming things in the pub", would even get a look in given the calibre of the competition.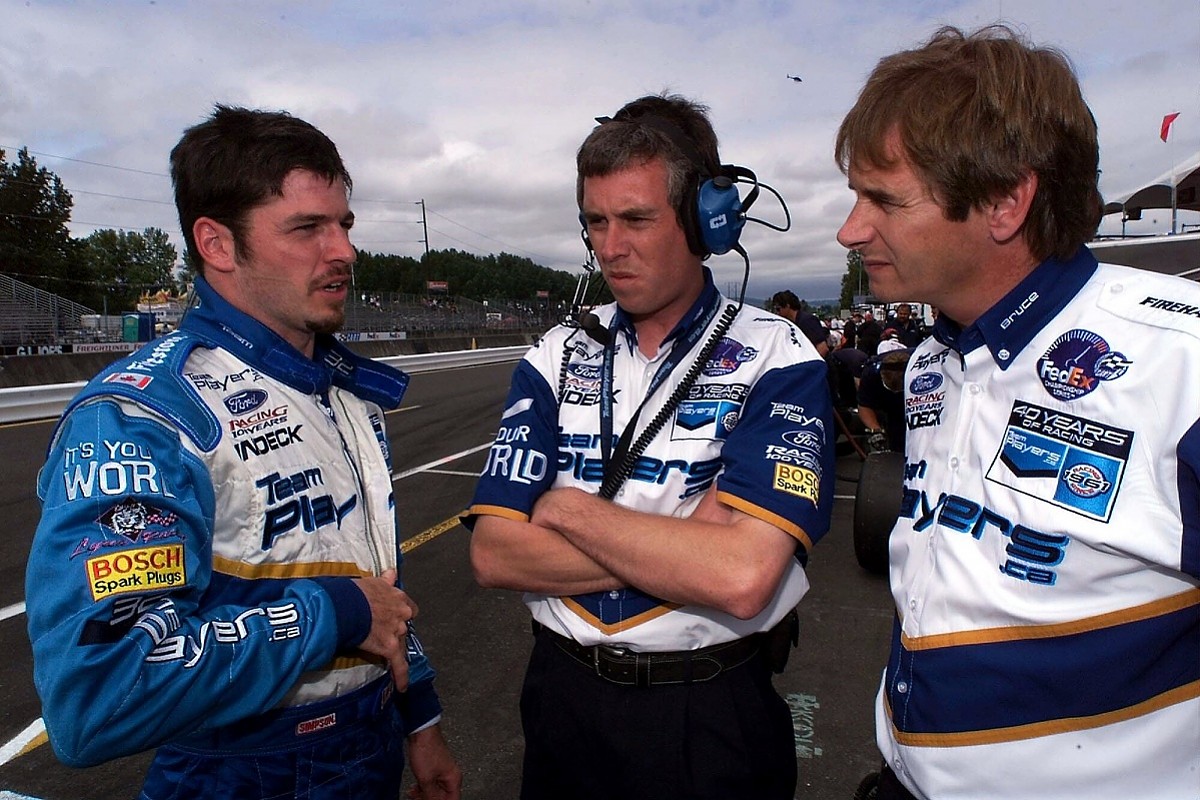 As well as Dallara, it included former Champ Car manufacturers Lola and Swift - the latter having just won the contract to build the new-for-2009 Formula Nippon chassis - and Ben Bowlby's radical DeltaWing, which had the backing of team owner Chip Ganassi.
But the BAT project had novel ideas that were given serious consideration by the seven-man 'ICONIC' committee - echoes of which can be seen in the current IR18 aero package - and an alternate history of IndyCar's last eight years, avoiding the damaging manufacturer aerokit era altogether, is not impossible to imagine.
The credentials of the three Brits behind BAT were impeccable. Mertens's March designs won five straight Indianapolis 500s between 1983 and 1987, and he also designed the Galmer that Al Unser Jr used to beat Scott Goodyear - engineered by Wardrop - in the 1992 race.
"We were considered to be the three wise old sages of IndyCar racing that would make a perfect team if we got together" Alan Mertens
Mertens had engineered Unser to the 1990 Indycar title in a Galles-Kraco Lola designed by Ashmore, whose cars would go on to win the next three series titles before he joined Reynard in 1993 to head up its North American operations. The marque would sweep every CART title from 1995 to 2001.
They were the design brains - Ashmore focused on aero, Mertens on mechanical - while long-time March man Wardrop, who died in 2012, would serve as the development engineer once the cars were up and running.
Previously a Formula 1 mechanic with Williams and McLaren, Wardrop engineered Arie Luyendyk to victory in the 1997 Indy 500 and had run the Dutchman one year before when he set still-unbroken records at the Indianapolis Motor Speedway (one lap and four-lap average) in qualifying (below). He later became the technical director for G-Force's IRL efforts.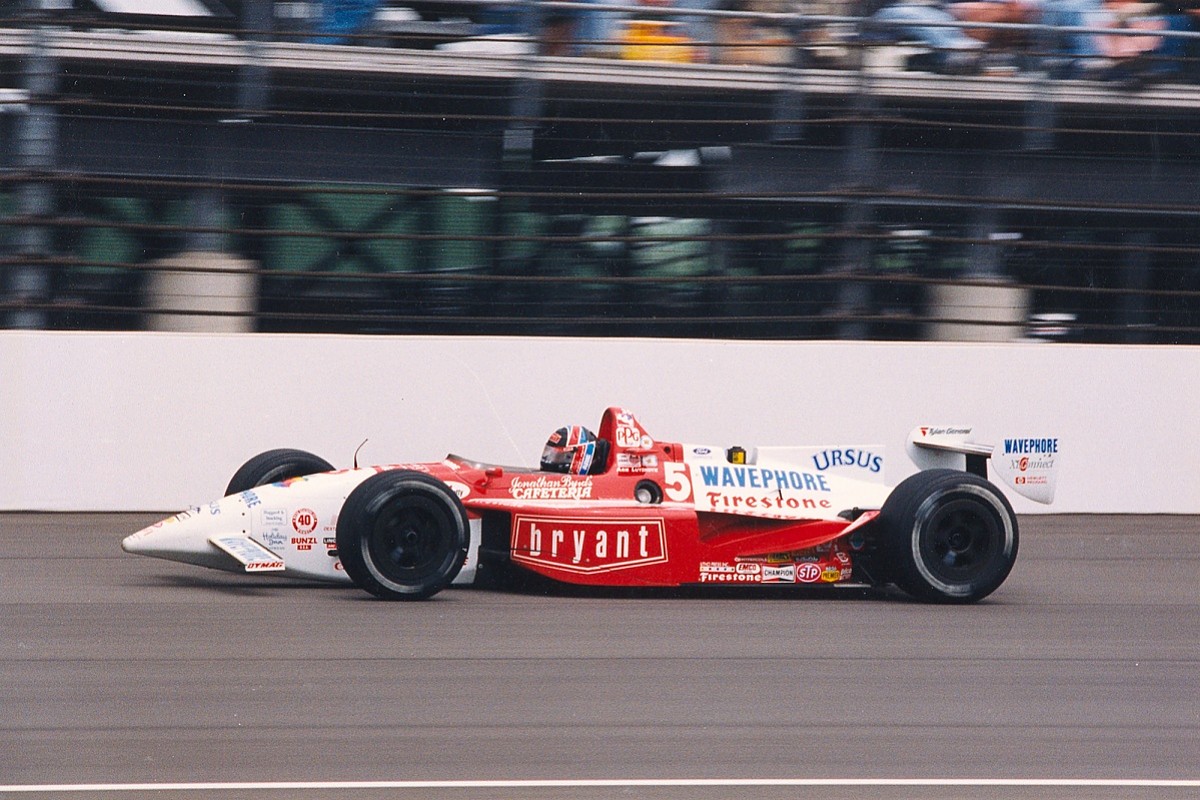 "I can't remember exactly who came up with the idea, me or Tim, but we said, 'Why don't we design an IndyCar and present it?'" recalls Ashmore, who at Wardrop's suggestion invited Mertens to join them.
"There were some things I wanted to know from the past, like 'Why was his car always so quick at Long Beach?' So, I thought, 'Perhaps I could find out!' We thought it would be a really cool story."
Mertens, meanwhile, had developed a nostalgia for motorsport while working in the commercial nuclear industry, and was only too happy to oblige.
"The only time Bruce and I got to talk to each other was on the plane backwards and forwards to America and we used to trade insults," Mertens says.
"But it was a friendly rivalry and we had a huge amount of respect for each other. I was always friends on and off with Tim. We were considered to be the three wise old sages of IndyCar racing that would make a perfect team if we got together."
Sure enough, with their heads together, Ashmore and Mertens were well placed to meet IndyCar's design brief of improving safety. Each had extensive experience of working with legislators and medical officials from IndyCar's laboured transition to carbonfibre in the 1980s, and they invited renowned orthopaedic surgeon and IndyCar medical consultant Dr Terry Trammell to have input into the cockpit layout.
"That was the base of the design," confirms Ashmore. "Alan went away and designed the seat, and I designed the aerodynamics around that."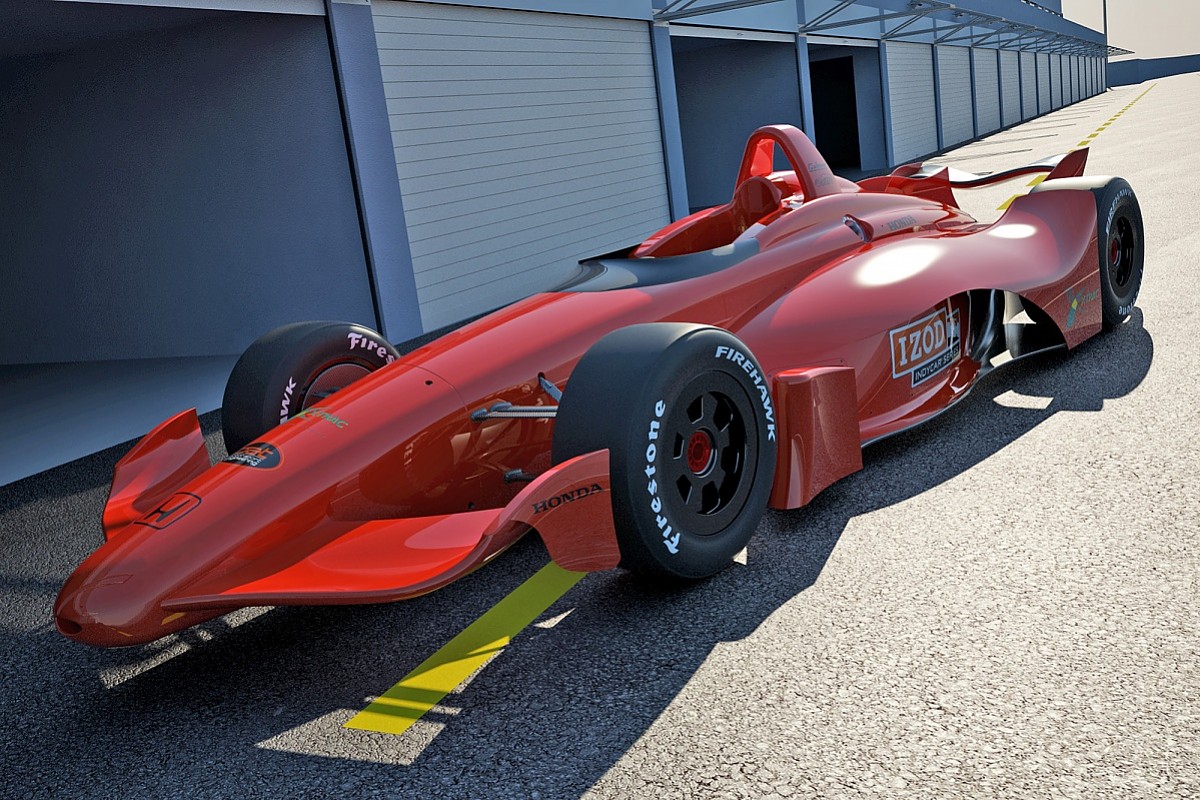 Trammell explained that the reclined seating position of a single-seater driver was conducive to compressive stress on the spine in rearward impacts, so the seating position in the BAT was more comparable to NASCAR - with greater visibility intended to reduce accidents - and resulted in a notably bulkier body shape than its competitors.
"What we were trying to do was mostly revolved around ergonomics," explains Mertens. "We tried to sit the driver up more so if he hit the wall, the loads were more perpendicular to the spinal column as opposed to longitudinally, so it was hoping to get fewer spine injuries."
"They as two individuals probably had more experience than anybody else that was actually doing the proposal" Les MacTaggart
Ashmore also wanted the car to be more resistant to impacts, with beefed-up suspension and bodywork flush with the tyres to avoid inter-locking of wheels, wary of seeing cars launched as they had been in frequent shunts in the 2000s.
"I said, 'Dallara is building an IndyCar which was designed to beat other cars, you're now designing a car for your own series so the suspension can be a lot stronger,'" he says. "Keep the cars running and you keep the race going, so fans will be a lot happier and drivers and team owners will be too."
To further appeal to teams, BAT planned to carry over axle and gearbox internals from their existing Dallara IR-05 (below) and to use the same low-drag bodykit on ovals and road courses, designed to generate underfloor downforce and negate the reliance on wings, thereby improving raceability.
Ashmore estimates that they spent "almost a year of solid time" on the design, working around existing projects on evenings, weekends and holidays.
"We didn't do detail design, but the concept was all there," he says. "Because it was us versus Lola versus Dallara, the old juices started flowing of designing a better mousetrap than they were."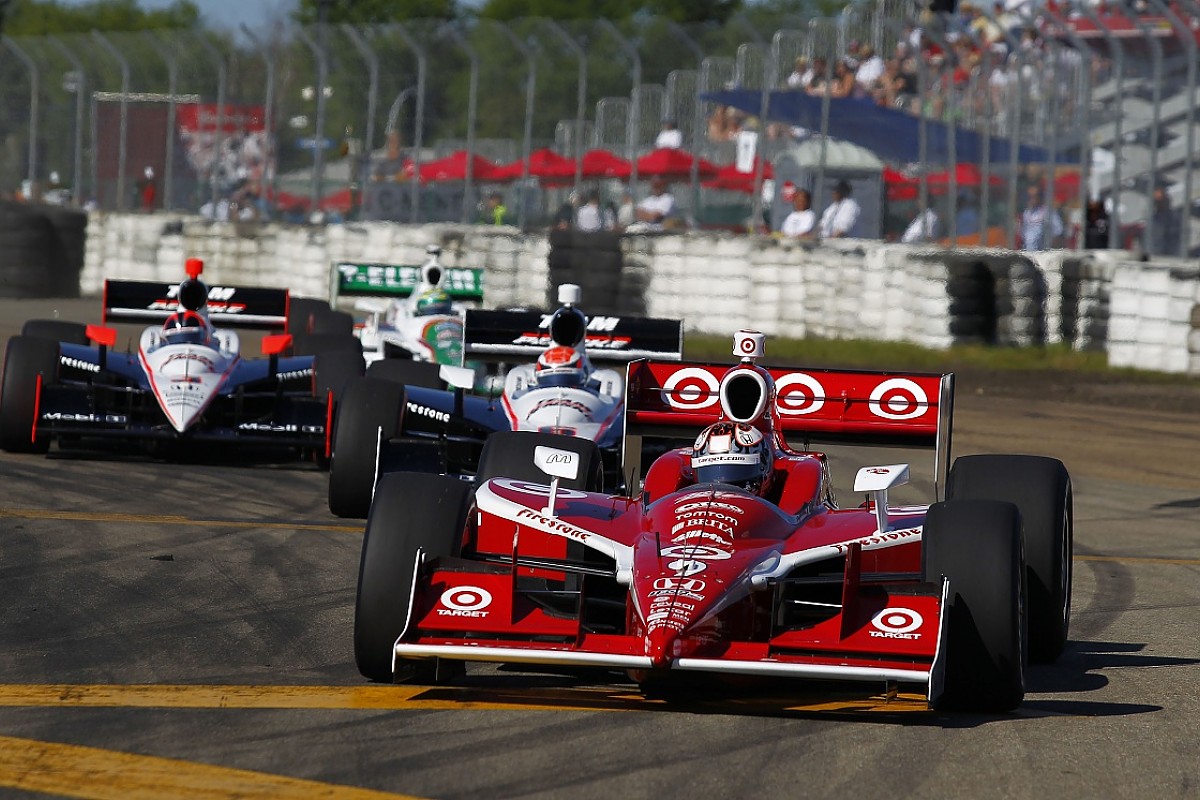 BAT's plan relied on winning support for manufacturing the cars in Indianapolis, close to the Speedway where most of the teams are based. Instead of investing in their own premises, they would function as a 'virtual racing car company' using rented space in established manufacturing and R&D facilities in Indianapolis, including the Auto Research Centre windtunnel Ashmore had overseen while at Reynard.
The parts would be delivered to the teams in kits, so there would be no requirement for an assembly plant; BAT would only have to manage the supply chain. It looked straightforward on paper, but that was the least of Ashmore's worries.
"I knew it would be an uphill battle because nobody really liked me and I don't think they liked Alan either," he says.
"We were the people in the past that were selling them a new car every year, and IndyCar became a spec series because the car owners didn't want new cars every year. I knew before we started that we wouldn't be received that well, even though they didn't really like Dallara either."
There was also the small matter of convincing the so-called ICONIC committee (below), the brainchild of newly installed CEO Randy Bernard, who had arrived from a background in bull-riding in March 2010 to fill the void left by the IRL's ousted founder Tony George.
It featured team representation from Gil de Ferran, then co-owner of De Ferran Dragon, and input from IndyCar competition president Brian Barnhart, the 2012 IndyCar project manager Tony Cotman, Texas Motor Speedway president Eddie Gossage, ex-Jaguar F1 boss Tony Purnell, Ford executive Neil Ressler and Speedway Engine Development head Rick Long.
IndyCar's then-senior technical director Les MacTaggart wasn't on the ICONIC panel, but had oversight of the pitches. Having worked with both Mertens and Wardrop at March, he knew "there was never any doubt that they could produce a quality car" and agrees that the project's safety credentials were first-rate.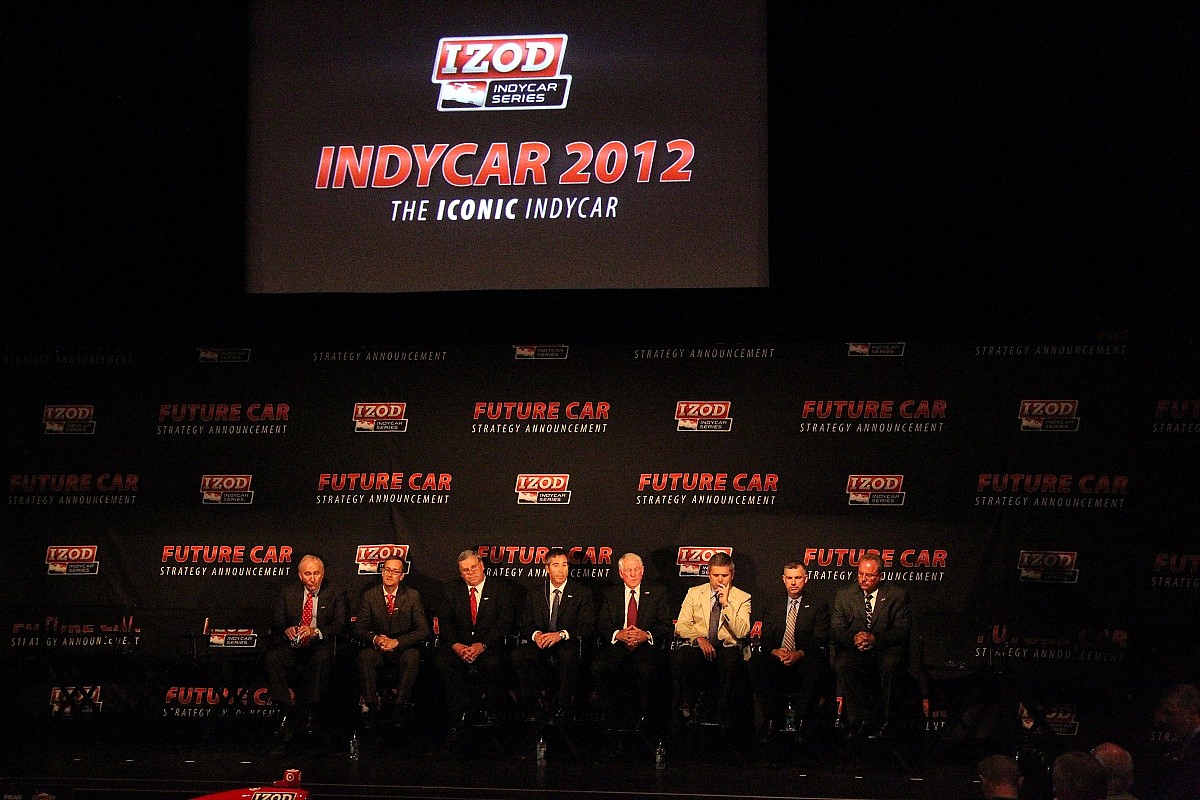 "They as two individuals probably had more experience than anybody else that was actually doing the proposal," he says.
"They were very aware of the potential problems that we had, particularly on oval racing, so from that aspect they were easily, I believe, the best qualified."
Ashmore says he had secured some funding "from some venture capitalist-type people," with the rest coming from a consortium of Indianapolis-based companies prepared to build parts on spec.
But MacTaggart wasn't convinced by BAT's funding plans, having been chastened by the IRL's experience with the abortive Falcon Cars project fronted by ex-Ford Racing boss Michael Kranefuss in 2003.
"We thought we could do it, we were passionate about what we were doing, but that's why engineers don't make businessmen!" Bruce Ashmore
"The problem really was funding, that was the only stumbling block," says MacTaggart. "Companies like Dallara have the financial wherewithal to produce the prototypes and produce a good number of production cars. When I asked Bruce about the funding, he said, 'I've got a guy that's going to help us.' It didn't fill you with confidence."
MacTaggart also believes that outsourcing manufacturing to companies in Indianapolis would have been too expensive when the volume was upscaled, but Ashmore denies that the teams got a better deal from Dallara and instead believes that BAT didn't properly convey how the manufacturing process would work.
Dallara's winning solution was a low-cost rolling chassis that manufacturers could develop bodykits for, along with a manufacturing centre based a stone's throw from the Speedway.
"I don't think we spent enough time on the pitch itself," Ashmore says. "Afterwards, it all came clear when we heard that all Dallara had gone in with was a building! They didn't actually present a car design at all.
"I knew [ICONIC] were worried about it, but Dallara was the same way, they weren't going to build 30 cars in one go. They would build one, and then three and so on.
"With Lola and Reynard, those [IndyCar] projects were started with very little money, just initial tooling and windtunnel testing, and then the deposits start rolling and you build them in batches, so I had that whole plan laid out.
"This was a real key thing that we didn't emphasise when we came to do the final presentation."
"Our biggest problem was that we didn't have a manufacturing facility, we didn't have a home base which gave it credibility in Indy," suggests Mertens.
When the decision was announced amid much fanfare prior to the Toronto round in June 2010, few were surprised. Indeed, there was much excitement at the idea that several new manufacturers would be joining Honda, with Chevrolet and Lotus quickly signed up.
But amid squabbles over the cost of parts - teams had previously been able to build select components themselves - the aerokits were delayed until 2015, by which time the underfunded Lotus effort had already been and gone.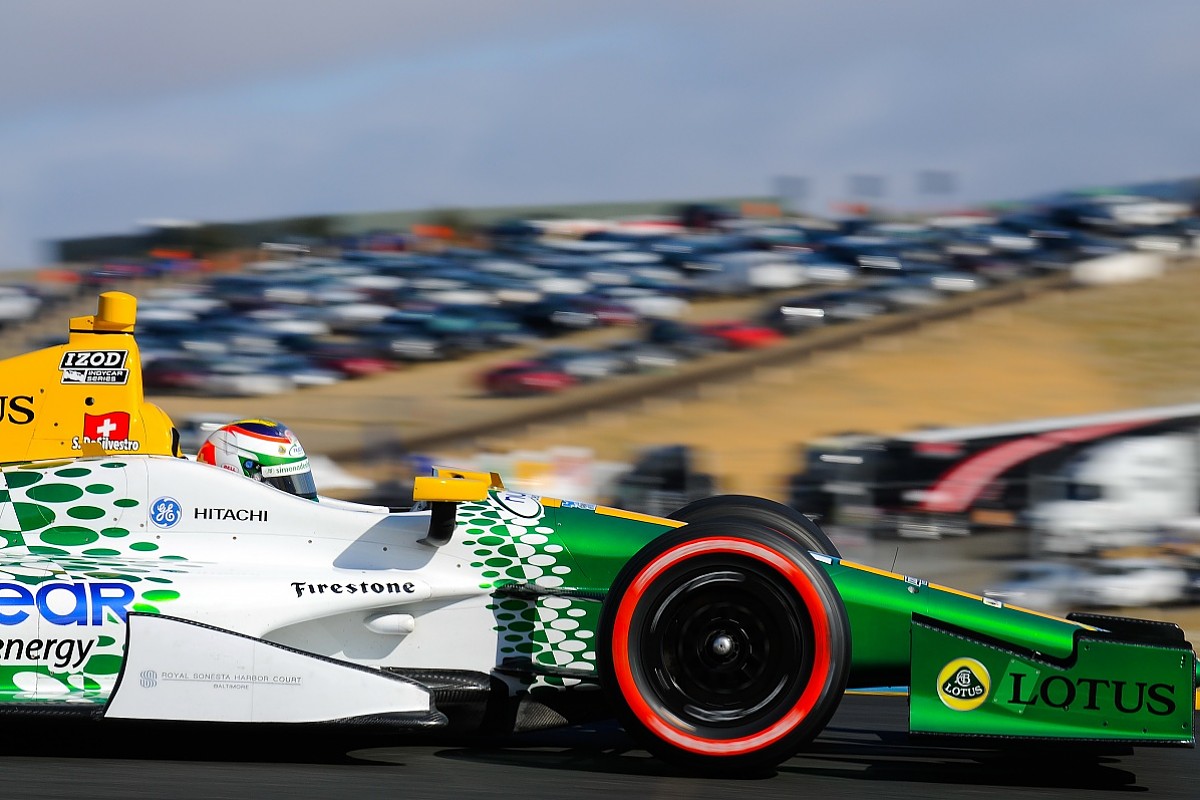 Ashmore's fears were realised as the aerokits - introduced in a flawed effort to help differentiate the cars - proved vulnerable to even the slightest contact, increasing costs for teams and requiring more caution periods to recover debris. They were predictably dropped for the current universal kits in 2018 after a development freeze.
Ashmore reckons the input of a professional salesman - like Reynard's renowned commercial guru Rick Gorne - would have made a big difference, but concedes that budget constraints would have made it impossible.
"The car itself I think would have raced a lot better because it was stronger and the races where cars dropped out wouldn't have happened" Ashmore
"Rick would talk a totally different language to the team owners than we did. I think we did need somebody like that," he says.
"At Reynard North America I saw the process of how it happened, and I knew the mechanics of how it all worked. We thought we could do it, we were passionate about what we were doing, but that's why engineers don't make businessmen!"
Mertens recalls a joint venture with Dallara being suggested, but resentment at its slow erosion of the customer car market meant he "didn't give it enough thought".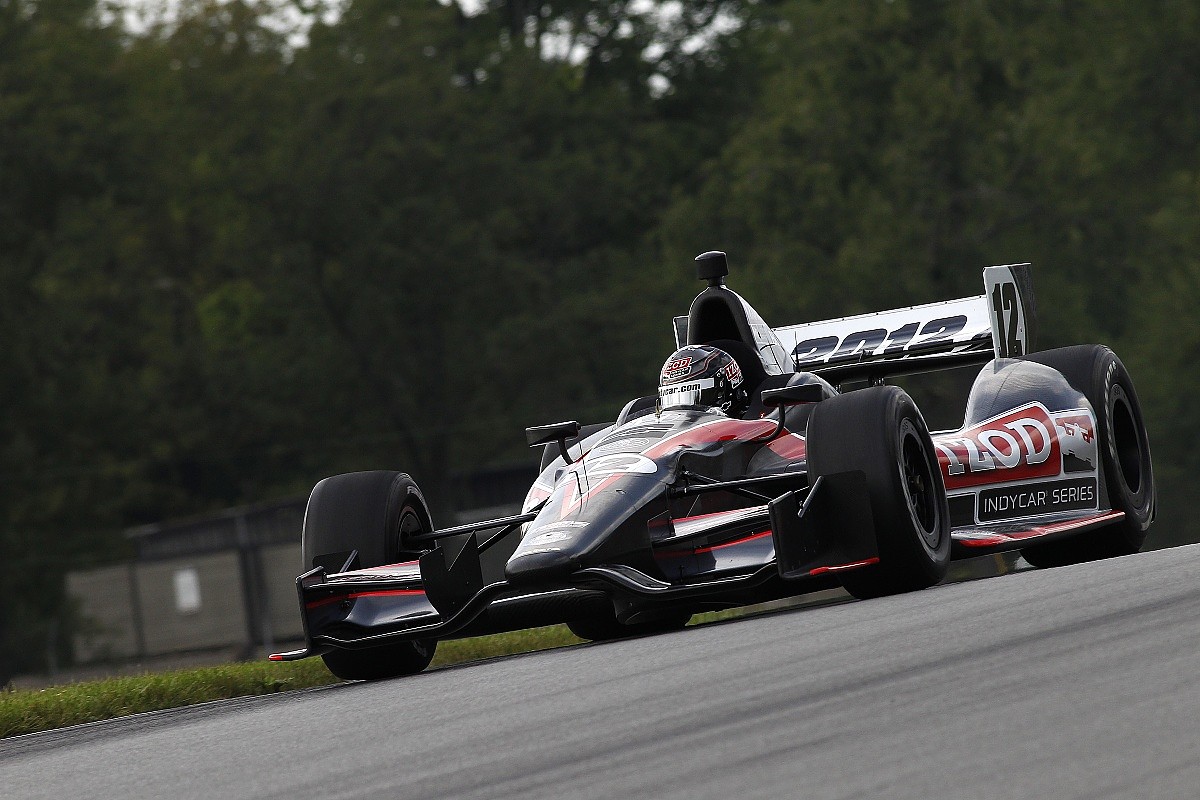 "We were cowboys back from the old days," he says. "We gave them the finger almost without thinking it through."
So what would an alternate history with IndyCar using BAT chassis from 2012 have looked like?
"The current IndyCar bodywork looks fairly similar to what we came up with, so they would have got that six or eight years earlier than they did," says Ashmore.
"The car itself I think would have raced a lot better because it was stronger and the races where cars dropped out wouldn't have happened."
We'll never know now, but Ashmore is right about one thing: it certainly would have made for a great story.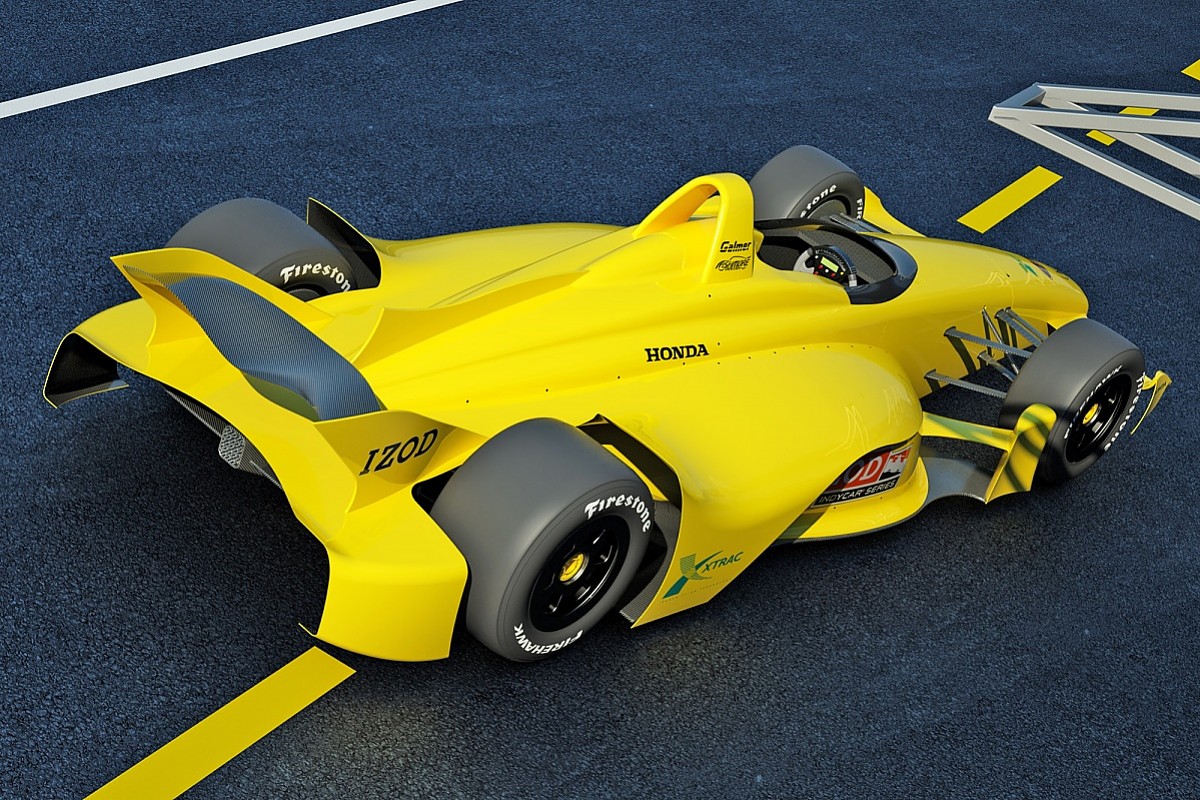 Who was Tim Wardrop?
The third partner in the BAT bid, Tim Wardrop, was an "enigma" according to his long-time colleague and friend Alan Mertens.
A laid-back personality who "did stuff in his own time in his own way, but somehow or other would deliver the goods", Wardrop (below) was, reckons Mertens, "completely different" in character to himself and Bruce Ashmore.
"To a certain extent Bruce and I were very similar, but then Tim couldn't have been more different," Mertens says.
"He had a good gift of the gab, but a very good feel for how a car worked on ovals and giving the driver confidence" Ashmore
"He was an incredible character, a whole story unto himself. He always had a good story to tell and some of the funniest stories I've ever heard in my life came from Tim. It was a great loss when he died."
Although Wardrop didn't have a role in the pitch to the ICONIC board, Ashmore too held him in high esteem.
"I think he would have been really good as the development engineer working with the teams because he had a good gift of the gab, but a very good feel for how a car worked on ovals and giving the driver confidence," says Ashmore.
"He spoke to IndyCar really well too, and where I would get frustrated, he would calm me down and say, 'No, it's all right, they've got a job to do.'
"He was always very calm, and I think he would have been good between me and Alan as a mediator too. He's sadly missed."