In these times of great uncertainty in motorsport, efficiency is king. The swathe of race cancellations means teams don't have the chance to test new parts on track every other weekend, so all the work to prove new design concepts and test reliability of components will instead be done virtually, through simulation.
But we're not talking about the standard home simulators that drivers may be using to stay sharp while waiting for their next turn in the real thing. Simulators capable of making accurate vehicle-dynamics calculations in real time are precious commodities and, as the Alfa Romeo Formula 1 team has acknowledged by embarking upon a major simulator upgrade at its Hinwil base, imperative for any high-performance automotive or motorsport firm aspiring to be successful in the 2020s.
This is an irreversible trend, from which there can be no turning back. That much is obvious to anybody who has spent more than five minutes in conversation with Kia Cammaerts, who founded his own advanced simulation company, Ansible Motion, in 2009.
Cammaerts (pictured below) began dabbling in simulation while working as the head of aerodynamics at Team Lotus - appropriately, Ansible Motion is located in Hethel on Colin Chapman Way - and admits he's more surprised by how long it has taken for its capabilities to be properly used than by how it has become a core development tool across multiple sectors.
"For a young engineer starting now, simulation is part of the landscape, it's baked in, so there's a wide variety of components that you can buy straight off the shelf," says Cammaerts, who has turned down approaches to produce simulators for tanks, helicopters and even tugboats to avoid diluting Ansible Motion's focus on high-performance ground vehicles.
"Whether hardware or software, you can glue them together to make a basic simulator or do offline simulation purely on computers with quite high fidelity."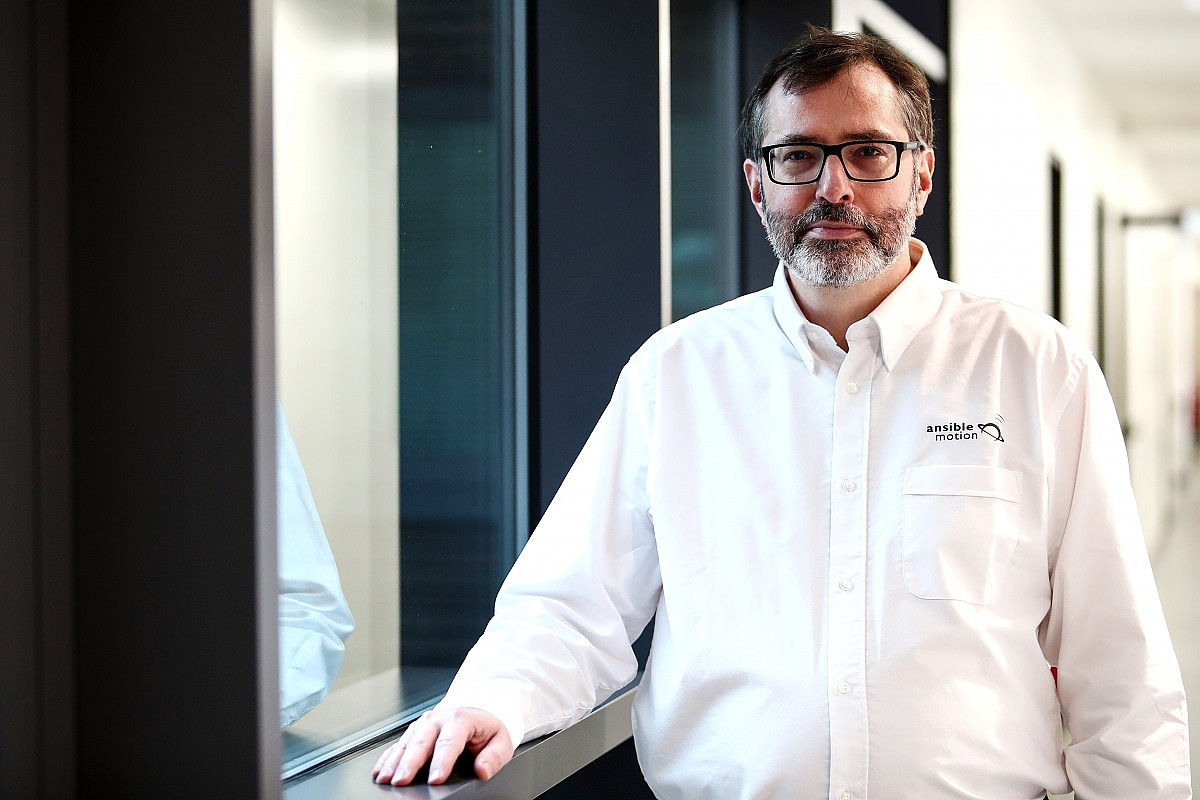 Cammaerts - who started his motorsport career working under Ron Tauranac at Ralt, then moved to Tiga on its Group C2 sportscars and on to March's Alfa Romeo Indycar project before gaining F1 experience at Lotus and Larrousse - says he had to "understand the complete picture to tune the aero design appropriately", and began developing simulation tools himself to model suspension, chassis and engine performance that all fed into his aero work.
"When I started, data acquisition and data analysis were relatively primitive, PCs weren't in widespread use, and certainly you couldn't buy commercial codes to simulate things," he says. "If you wanted to simulate something, you pretty much had to write the code yourself."
"Our system layers up the motion stages one on top of another, which means you have completely independent motion capability wherever you are in the motion space, its unaffected by the order in which you did things" Kia Cammaerts
But, as computer technology improved to a level where calculations could be performed more quickly and with high-fidelity models on powerful graphics cards, the simulations were limited without an accurate model of driver performance. As Cammaerts puts it, "you need to connect real human drivers to detailed models to fully understand everything that they're telling you." And that's where Ansible Motion began.
Where, previously, F1 teams and OEMs had to invest in developing their own simulation models due to the absence of any commercially available alternatives, what Cammaerts attributes to "a happy confluence of several industrial trends" meant it became possible for companies to develop simulation software that could put a driver 'in-the-loop' (DIL).
"The term 'in the loop' really just means 'in real time'," he says. "By 2009, it was possible to put together the components that you needed for a commercially available DIL simulator, but there were none available at the right quality level to fully develop professional vehicles.
"So we created what was the first commercially available high dynamic motion base simulator for use by engineers for developing high-performance vehicles.
"Ours is a stratiform system that layers up the motion stages one on top of another, which means you have completely independent motion capability wherever you are in the motion space. For example, if you brake and turn, our motion capability is unaffected by the order in which you did things."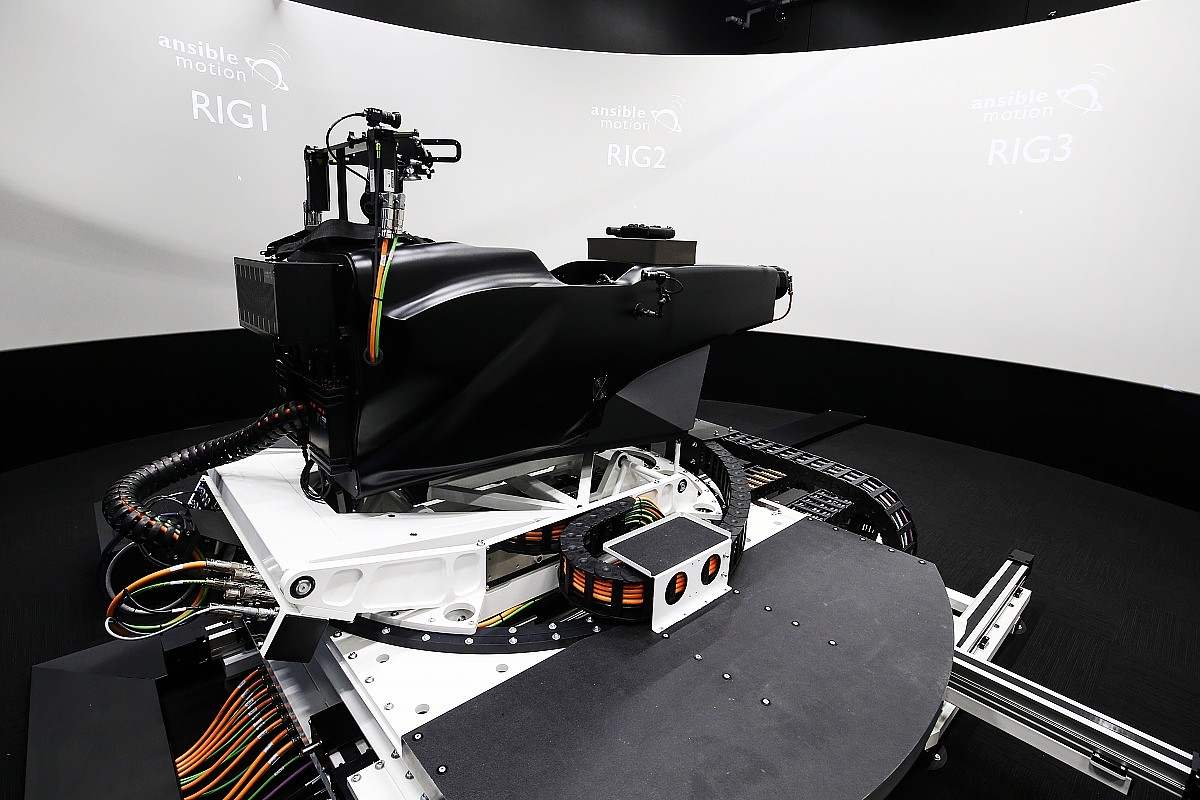 When Autosport headed up the A11 earlier this year to try Ansible's sim out for size on the Rome Formula E circuit - under the guidance of 2017 British GT4 champion Will Tregurtha - the first thing that stood out was the sheer size of the room.
A single-seater tub stands on a state-of-the-art motion platform, made up of different layers that respond as the car pitches forward on the brakes, yaws over kerbs and - after Autosport locks up on the bumpy downhill braking zone into Turn 11 - clatters into the barrier.
Despite having listened to driver-coaching guru Rob Wilson explain the art of weight transfer time and again, the squidgy mass grappling the wheel struggles to process everything that is happening and is certainly convinced by the level of immersion.
Tregurtha, a sim-racing regular who served as the driving standards official at the Le Mans Esports Finals at the Autosport Show in January, explains that's no surprise, and diplomatically suggests that a driver of my limited experience would benefit from more seat time in a less-demanding setting - although a confidence-boosting outing at Spa, a track admittedly not meant for Formula E, resulted in a respectable time shorter than it would take to scramble an egg.
"It's tricky - it's exactly as if you were jumping into a race car for the first time, except here you're allowed to make mistakes," says Tregurtha, who then shows Autosport how it's really done. "You can really feel how deep and detailed the physics on the software and the implementation of the hardware is - it's genuinely impressive.
"I was making saves that I can only do in a real car, because you feel it from the seat and the way your body twists around the car. It's those sorts of things that people can't do on a normal sim without any motion to trick your brain into thinking that you're driving a real car."
Today, Ansible Motion's range of simulators is used by Honda, Ford Performance, General Motors and Michelin, but it certainly wasn't a straightforward path to reach that point when the business first launched.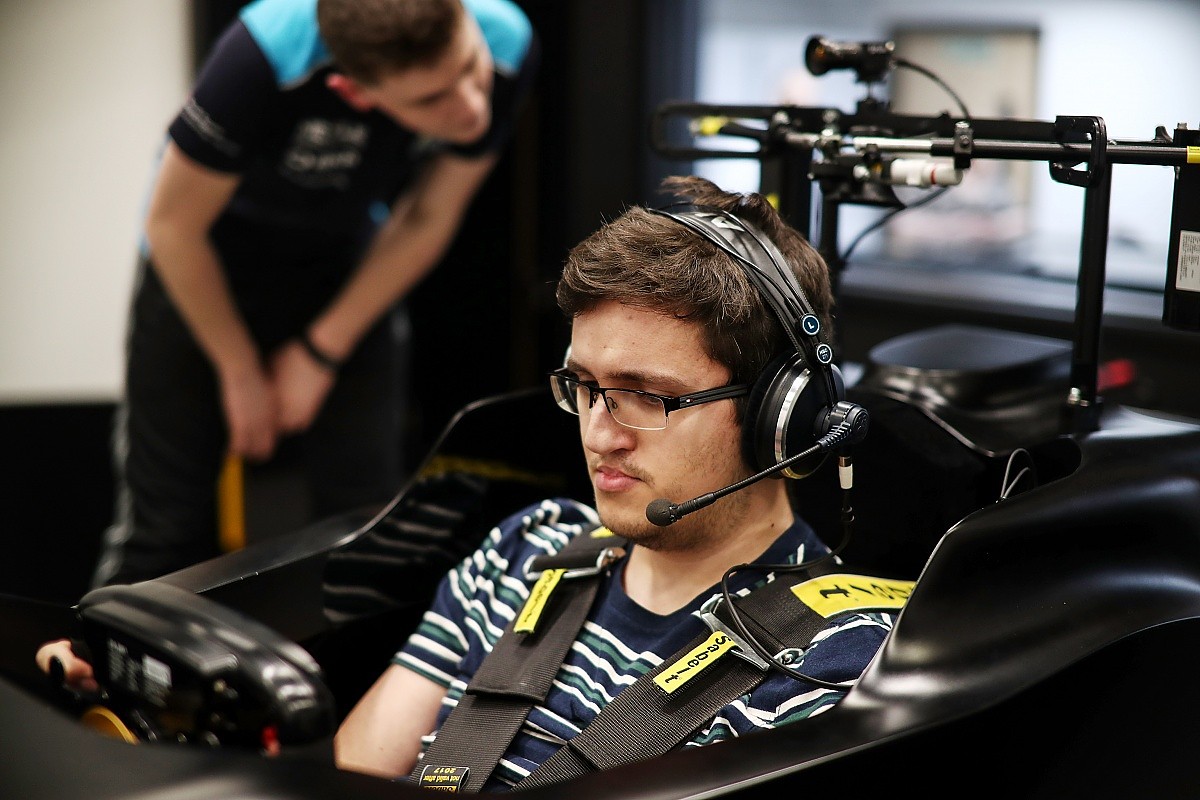 "Layering up the many detailed components and making them all work together was essentially the core problem, as well as understanding what direction to go in because we had nobody to copy at the beginning - we were originating an entire industrial field by ourselves," says Cammaerts.
"Once we'd created it, the next challenge was to convince people that this assembly of technologies could actually work, because the early real-time driving simulators frankly weren't that good."
While that initial scepticism has been banished, Cammaerts says there are still many misnomers that surround simulation.
"If you want to develop vehicles, then there is no substitute for full motion" Kia Cammaerts
"It's not going to feel exactly like the race car, but you've got to have feelings that map to all the feelings that you expect from the race car," he explains. "You've got to be able to simulate the sensations well enough that you can then understand as a professional race driver what the vehicle model is doing underneath all of the layers between you and it."
But how much motion is too much? While it can help with immersion if done right, it can achieve the opposite if done wrong and detract from a simulator's core purpose - namely, to create an environment where a racing car can be realistically represented such that it generates feedback for that driver to use to improve whichever model is being tested.
"If the human can't feel correctly what the vehicle dynamics are doing, they are not going to react as they would with a real car, and any feedback they give and any data you measure from the system won't be fully useful for vehicle development," Cammaerts says.
"The key with a DIL simulator is to provide the right amount of information for the driver to feel exactly what that vehicle model is doing. If you don't get the graphics right, then everything else is lost. But if you don't get the motion right, then the driver won't react correctly either.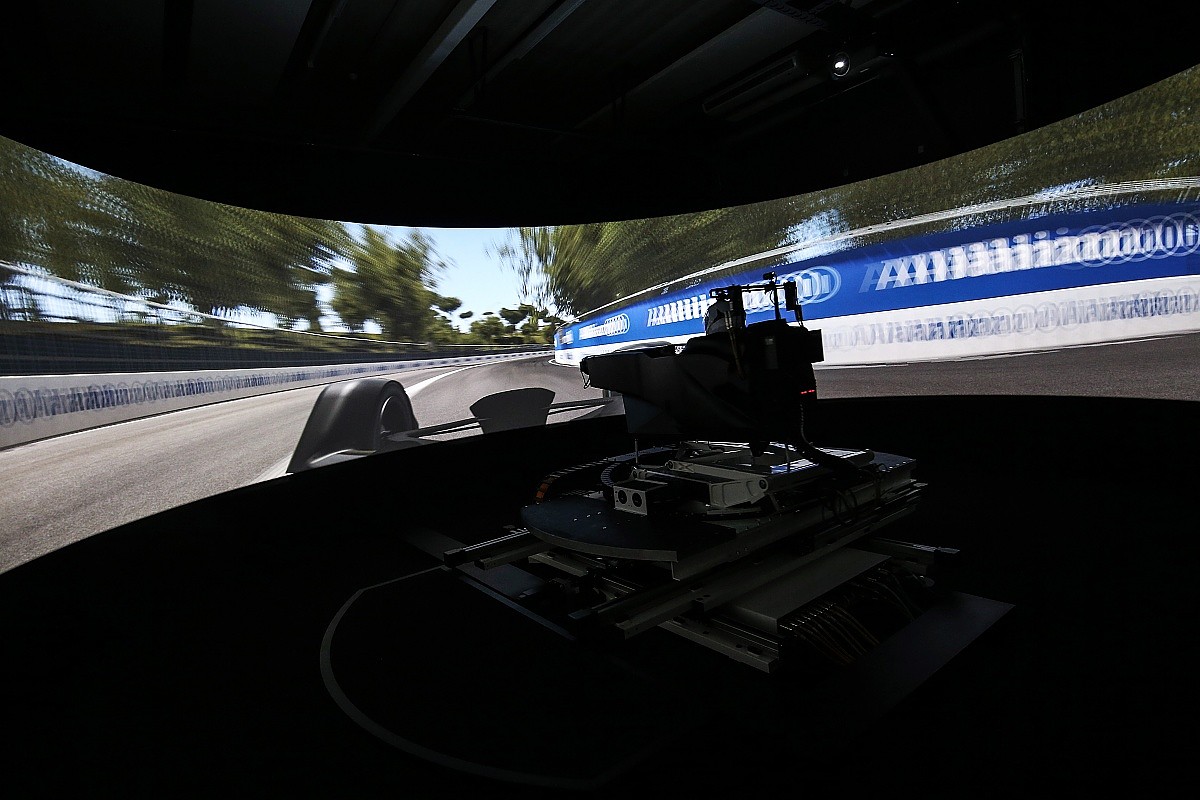 "It's a matter of layering up all the different things that a driver can experience, synchronising them and presenting them to the driver in a way that not only fools him into thinking he's in a real car, but provides him with the same sensory information that the real car would so his responses are appropriate."
The expense involved in getting this balance right explains why most home-based driving simulators don't bother with motion in the first place, and why Ansible Motion deviated away from its original plan, as Cammaerts explains, "to build the smallest, cheapest, simplest machine that could do the job".
"After a fairly cursory look at the physics and the physiology of human motion sensing and what would be required to move a human around enough to give them the information to properly understand the car physics, we concluded that it just wasn't possible to do it cheaply and at small scale," he says.
"The flagship Delta simulator we've been developing for the last 10 years is only getting bigger and more complex. It might well be more cost-effective to go for one of our simpler systems if your requirement is actually to train your driver to operate the vehicle and to learn the track. But if you want to develop vehicles, then there is no substitute for full motion."
Previously, this was chiefly done using hexapod systems - akin to those you might see at a fairground - but they have inherent performance disadvantages that mean their utility has passed.
"With a hexapod, any motion you have in one direction is achieved by moving all of the bits of it at the same time, so they tend to run out of motion very quickly when you want to combine motions," Cammaerts explains.
"If you want to brake and turn, you might move the motion base backwards and then sideways into the corner, then you might rotate in yaw to reflect the turn-in of the car and pitch the system forward.
"Each one of those individual motions uses up motion space from a hexapod, so you tend to saturate the emotion that you can give to the driver and that will immediately result in the feeling of the car not behaving as you expect.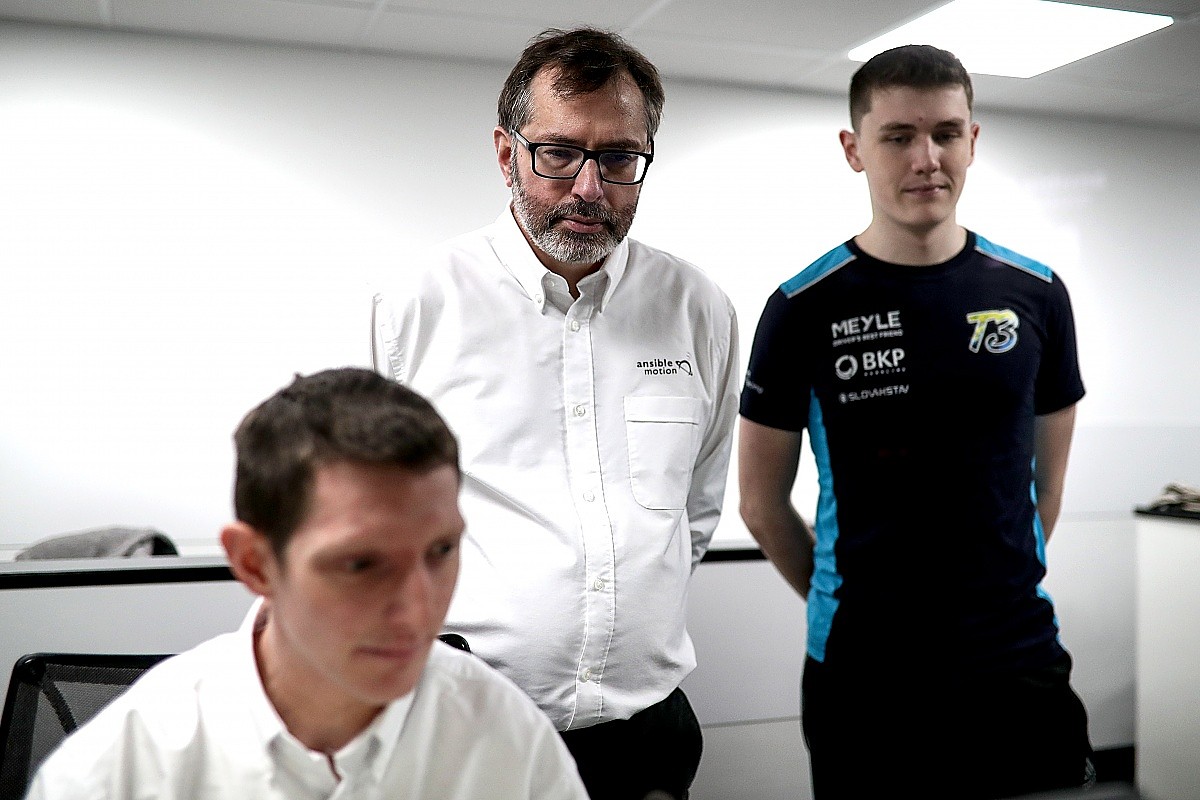 "You can reduce the motion - if you reduce it too much, the driver doesn't get enough sensation to understand the vehicle physics. You can make the hexapod very big, and some people have done that, but the cost becomes astronomical."
Cammaerts says there remains potential for simulation tools to mature in the future, with the industry still waiting on "a couple of breakthrough technologies" such as head-mounted displays that could collapse the motion space needed.
"For professional race teams it shouldn't be a product that you buy from a catalogue, and it's possible it never will be because the technology is always advancing" Kia Cammaerts
"Never say never in terms of simulation," he says. "There's always more to come, there are always bigger or faster motion systems, there are always advances in graphics, there are deeper and higher- fidelity audio models, there are more tactile stimulation devices that you can put in.
"For professional race teams it shouldn't be a product that you buy from a catalogue, and it's possible it never will be because the technology is always advancing."
Ansible Motion recently deployed its first premium compact simulator, Theta C, and later this year will disclose details of its new range of motion systems, which Cammaerts says "will be a step forward" on its current offering.
Autosport will definitely need some more seat time before sampling that...