One month ago, RML's British Touring Car Championship comeback was nothing but a pipedream. But the desire to return to the series it last won in 1999 with Laurent Aiello and Nissan, and simultaneously keep one of its biggest stars, Jason Plato, in the series, was too much to resist. For round two at Thruxton, the campaign had doubled in size, with Mat Jackson joining its ranks in a second Chevrolet Lacetti.
At Thruxton, AUTOSPORT went behind the scenes to follow the team's fortunes as it took on the might of the Vauxhall works team and established independents like WSR, Team Dynamics and Motorbase.
RML's status as the factory Chevrolet World Touring Car Championship squad meant it had its Lacettis of last year "sat under dust sheets not doing anything", according to company chief and founder Ray Mallock. With Plato and Jackson on the sidelines, it was time to move heaven and earth (ie find sponsorship during an economic crisis) to facilitate the deal to happen.
With Plato appearing on a one-off basis in the Brands Hatch season opener resulting in a spectacular race three victory, his full-season deal was inked just prior to Thruxton, re-branded as Racing Silverline. Jackson's deal was a one-off, but it is hoped can similarly be extended to include the whole of the season. "A lot of people have been raiding their piggy banks to get this going, I think!" quipped Mallock.
It led to a weekend that, in true BTCC style, was a roller coaster ride of fluctuating fortunes.
Starting off on the back foot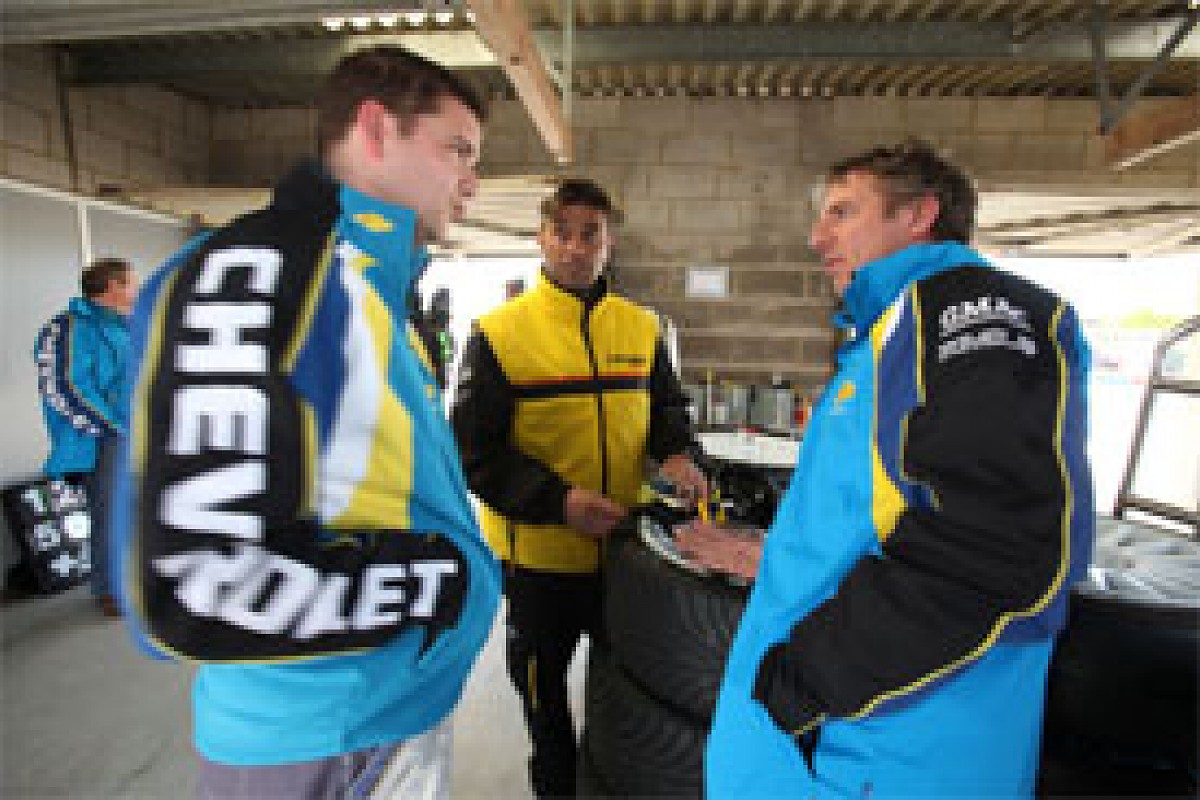 Mat Jackson and Jason Plato © LAT
With just two quick-fire practice sessions before qualifying at Britain's fastest circuit, not only did early inclement weather cloud RML's day, but a technical wrangle was fast-developing behind the scenes.
Plato's victory at Brands hadn't gone unnoticed by the team's rivals, and a deputation from series organiser TOCA's technical staff - prompted by unrest in the ranks - led to a quick-fix to the Lacetti's gearbox oil cooler installation to avoid a full-scale rules row.
The component in question is sited ahead of the engine and takes air from the front splitter, giving a potential aerodynamic benefit. To keep the peace with rivals, RML agreed to drill holes in it, to nulify its effect. This despite Mallock pointing out that it had been used in the WTCC for years, and that a similar system is used on BMW's 'homologation special' 320si.
"By drilling holes in there we've lost some downforce," says Mallock. "It's probably worth a tenth of a second [per lap] but, more importantly, shifts the balance which leads to increased tyre wear. That means we've lost front grip, which is something that both Mat and Jason commented on during the races.
"It's obviously something that has slightly different interpretations of how you can deal with the details of the regulations. Vauxhall doesn't use it, but of course they have a slightly different BTCC homologation package for their front bumper, which gives it its front downforce."
So was Vauxhall the root of the complaint? "I don't think it was actually," Mallock replies. "No, I'm not sure where the complaint came from."
All the fun and games of the BTCC then, just like the old days... "Oh yeah. Our touring car success really kicked off here at Thruxton in 1993, and we won here with David Leslie in the Vauxhall Cavalier. We've had lots of success here, so it's a circuit we've got fond memories of."
Qualifying
It wasn't looking good as the session ticked along. Disrupted by the late change, both Plato and Jackson were outside the top 10, like they had been in free practice. But then, with just seconds on the clock, Plato leapt up to third. Smiles all round, although Plato, as usual, wanted more.
"If I'd known I was that close to pole I'd have really hammered the kerbs!" he says, thumping his right fist into his left palm. The only man to split the dominant VX Racing Vauxhalls, things were looking up - although Jackson would start back in 10th.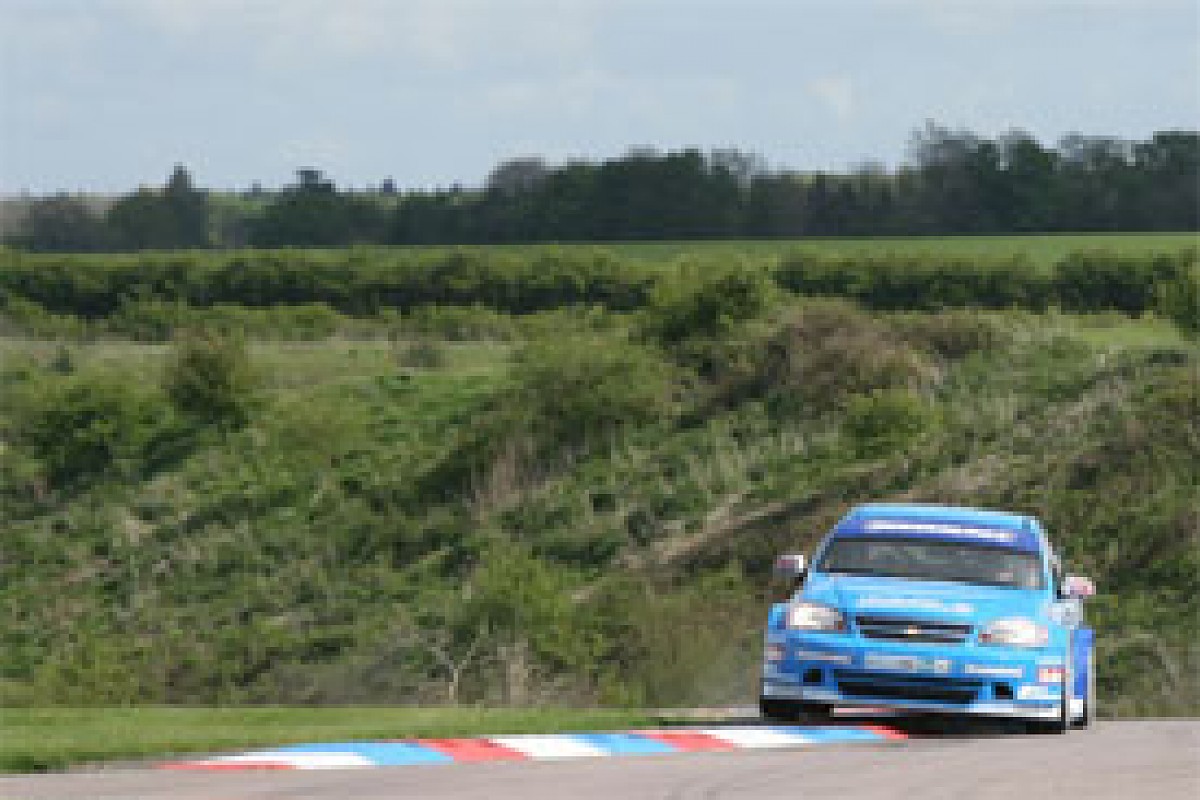 Jason Plato qualifying the Lacetti at Thruxton © LAT
"We lost a bit of qualifying time as we were still modifying the part," says Mallock. "We didn't get the maximum out of the car that we should have done. We've got a good engine, and the car was designed for WTCC circuits, which tend to be faster than British ones. This is a circuit where the Lacetti should shine, so to lose that bit of downforce was a real shame."
Team manager Paul Field puts the performance in perspective: "I think the team's done amazingly well, considering it all came together so late. We're running on tyres we've not tried before, which is the biggest hurdle, but we're learning all the time. It's been frantic between the sessions, because rather than tweaking we're making quite big changes.
"We're all enjoying it and everyone is up for the battle. We're glad to be back in the BTCC."
Race 1
Plato lost out at the start, as a "wall of Vauxhalls" crowded his path through the opening sequence of corners, so he sat back in fourth behind Andrew Jordan. After hassling him in the opening laps, Plato settled into a good rhythm, only to then slow dramatically before pitting to change his front tyres due to a severe vibration.
"Hindsight can be a very painful thing," says Plato after the race. "My experience said 'that's not a good vibration, stop now because a blow out could send us into the wall and wreck the car' but my heart was telling me to keep going.
"As it turned out, it wasn't a tyre going down, it was a buckled rim, so I could have kept going. That's cruel, isn't it? But the last thing we needed right now was a car in the wall, a lot of work for the lads and a whole load of extra expense."
A safety car period saved his race, and from the back of the pack Jason tigered through into the points in 10th.
From his early laps, Plato identified that the Vauxhall is better through Allard and Church, while the Lacetti suffers understeer. That precluded any hopes of an outbraking manoeuvre into the Complex or the Club chicane.
"It's a shame we didn't get to the end of the race in sight of the Vauxhalls, because we could've learned even more," added Plato. "So far, so good. We've had no testing, so we've got to roll with what we've got. Getting the car to work on these tyres is a big job."
Jackson had a solid start to life at RML, running 10th early on while hounding Stephen Jelley's BMW. He grabbed a couple of places late on to finish an encouraging eighth.
"It's a big learning curve, not knowing the car or the team," admits Jackson. "We struggled a bit in that one, but this is a great team that has designed and built this car, so they know what they're doing. It's up to me to get my head around it.
"It was a difficult winter, followed by sitting out Brands, but it's great to be back out there."
Race 2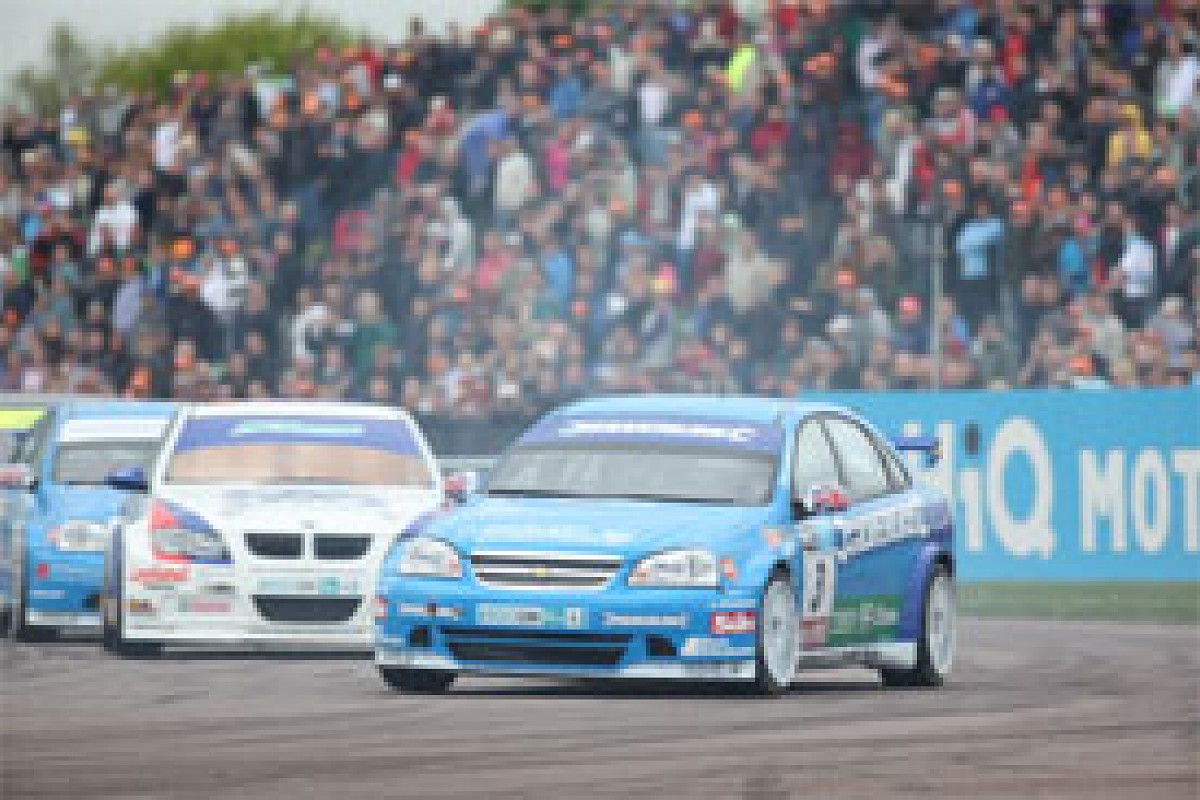 Jason Plato battles in Race 2 © LAT
A real BTCC thriller unfolds. Behind the Vauxhall/BMW war up front, Plato is immediately up to eighth, and then passes Adam Jones's SEAT with the brave move at Goodwood. Then there's a typical schmozzle, in which Plato uses his experience to squeeze past Paul O'Neill's Honda with some "wheel-to-wheel" contact at the Complex.
"We changed a few little things and the car was better early on," says Plato. "We've still got this floaty oversteer that develops as the race goes on. It's the road we've been forced down to deal with the understeer. But race runs are new territories for us on these tyres."
It appears the car's pace drops off dramatically in the closing laps. But, just like politics, there's always more than meets in the eye with the reversed-grid race three to come...
"I wanted sixth, so I put my indicator on to pretend I was coming into the pits," smirks Plato. "Jimmy [Thompson] bought it and a made what looked like a few basic driving errors on that lap, but then Jimmy got wise and slowed up too. Jones didn't know the game, so passed us and I got sixth anyway!
"I could've finished fourth I think, but it's not worth it for a couple of points. Had I had a great race one, it would've been a different story."
Jackson had his own adventure. After a second poor start, an electrical problem meant he had to switch off his power steering pump to save voltage. That gave him a real fight on his hands.
"It's okay until you get into a moment, when the car wants to swap ends," he says. "So every movement you put in, you're chasing your tail because the wheels aren't reacting to what you're putting in any more. I just went wide and collected an advertising hoarding, but my pace was much better in that race and now I'm starting at the sharp end of race three."
Race 3
The reverse-grid Gods smiled on RML, with Jackson elevated to second and Plato fifth. After his terrible earlier starts, Jackson got a beauty and pulled clear of the chasing pack, setting fastest lap on the second tour. Plato dropped to eighth on the opening lap, however, but soon battled his way through to sixth.
But Jackson's path to victory was not an easy one, as the safety car was dispatched on track as John George's Honda hit the wall. After what seemed like an age, the pack was released and Jackson cleverly turned a fake tyre-warming weave into a flat-out attack through the chicane and opened up a huge lead once again.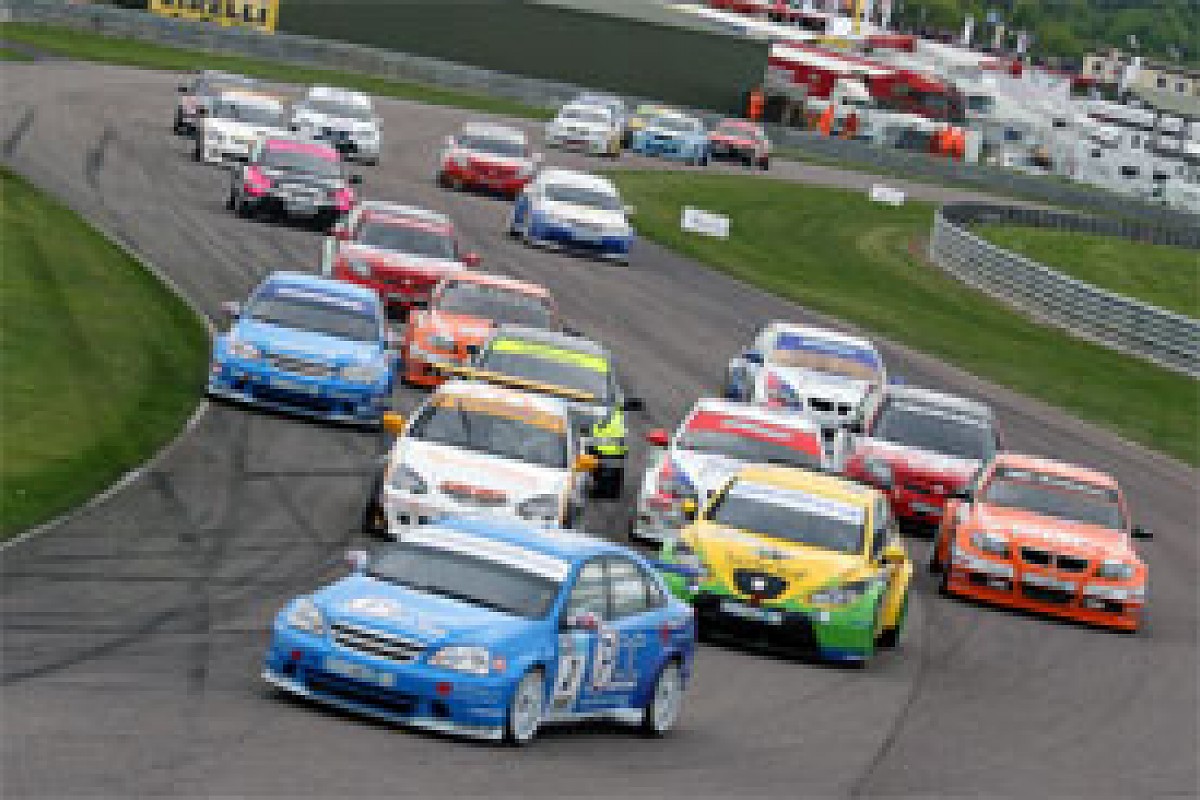 Mat Jackson leads the field at the start of Race 3 © LAT
"I finally made a blinding start and then I got a brilliant restart too, so I'm very pleased about that," says Jackson. "When I knew I'd be starting from the front row, and the pace we had in race two, I said to the guys: 'we can win this'. To come away with a win, it's what you dream of.
"I've done the job on the track, now we've got to work off it to make sure I can stay here. That's what we're aiming for, and we did the best job we could this weekend. A fantastic result for all the boys at RML."
While Jackson stroked it home, Plato put in a huge last-lap effort and leapt up to fourth after some cunning driving at the Complex and out onto the fast stuff.
"I just got squeezed out at the start," rues Plato. "My car wasn't quite as good it was in race two, quite poor on the kerbs. I got stuck behind Matt Neal, and he could ride the kerbs at Goodwood, whereas if I touch it I lose two car lengths.
"I just needed an opportunity, cos it was almost a stalemate, but I saw in my crystal ball what was going to happen. I have to thank Rob [Collard] because I was on the outside and I kept my toe in. He was hard and fair, credit to him, and he left me just enough room. Great racing...Another 10 laps and we'd have had a 1-2!"
As the team celebrated its second win in two race meetings, and demonstrated it's going to be a force to reckoned with in this year's BTCC, Field says: "It's a fantastic result for us and great for Mat. He started well and built up a cushion before the safety car, but then he made a fantastic restart to rebuild that buffer. Mat's race pace was superb, even his last two laps were really quick.
"I think we're getting used to things and it's nice that the drivers' preferences are quite similar, so we're not going off on different development paths. We're learning all the time and now we need to get up to the pace earlier in the race weekend, so we can do some more damage in the earlier races and not rely on the last one."