Brazilian Grand Prix weekend review and results round-up
| | |
| --- | --- |
| | Monday, November 28th 2011, 13:06 GMT |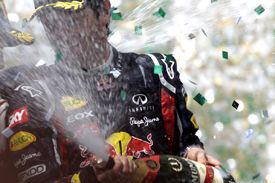 The Brazilian Grand Prix didn't deliver the thrilling conclusion to the 2011 Formula 1 season that it might have done had the much-promised rain arrived, but it did at least generate a slight novelty as Mark Webber scored the victory for Red Bull instead of a gearbox-troubled Sebastian Vettel.
With no title showdown at Interlagos this year, minds had largely moved on to 2012 and the remaining unknowns. The future of Robert Kubica was a hot topic after the mid-week announcement that he would miss the start of next season at least - a fact disputed by his manager.
F1 television coverage in the United Kingdom was also back in the spotlight, as both Sky and the BBC revealed a little more of their plans, in the satellite broadcaster's case including a dedicated channel and Martin Brundle in the commentary box, while the BBC announced the 10 races it would show live.
Rubens Barrichello may not be pivotal to the driver market, but he is a major part of the F1 scene and the prospect of Brazi 2011 being his swansong was much debated, though the man himself insisted he would not be calling it his farewell, even if it should turn out that it was...
The F1 sessions

Webber fastest in first Brazil practice

Hamilton tops second practice in Brazil

Vettel leads final Brazilian GP practice

Vettel grabs record-breaking pole

Webber grabs first season win in Brazil
The F1 headlines

Manager denies Kubica will miss 2012

Drivers say DRS a big success

Ryan evaluating F1 return with Renault

Hamilton: 2011 a 'year of growth'

Austin GP chiefs in push to save race

Kubica manager's view baffles Renault

Petrov: No resentment after outburst

Sky to launch bespoke F1 channel

Schumacher hopes Barrichello races on

BBC reveals 2012 F1 coverage plans

Horner: Teams won't give up on RRA

Pirelli promises to keep F1 exciting

Interlagos considers moving pits

Renault says driver decision imminent

Brundle moves to Sky from 2012

Barrichello: No regrets if last race

Ecclestone: No replacement for Austin