Formula 1's Resource Restriction Agreement can still be saved, insists Red Bull's Christian Horner
| | |
| --- | --- |
| By Jonathan Noble | Friday, November 25th 2011, 18:50 GMT |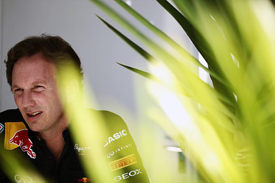 Red Bull Racing boss Christian Horner is hopeful that a deal can still be reached for an effective Resource Restriction Agreement, as teams ponder moving the document outside the remit of the Formula One Teams' Association (FOTA).
Team principals met in Sao Paulo on Friday morning to try and move forward on ending differences of opinion about how the RRA should be framed going forward - with outfits disagreeing over the scope of the deal.
The debate on the RRA had been viewed as key to the future of FOTA, and there were fears that if the matter could not get resolved then it could threaten the future of the teams' body.
Speaking in Brazil on Friday, Horner said that further discussions were still needed for a solution to be found, but he hoped that the matter could get sorted within the next few weeks.
AUTOSPORT understands that the main teams involved in the RRA debate - Red Bull Racing, Ferrari, Mercedes GP, McLaren and Renault - will hold separate private discussions to try and reach a compromise before taking it back to the other FOTA members for approval.
"An RRA is important for F1," he said. "All the teams are unanimous on that, but the thing that isn't clear is how to achieve one that fits everyone's business models.
"The key thing for us is that the treatment and transparency of it is consistent and obvious, and probably needs to go beyond the chassis and incorporate the engine as well. You need to look at package as a whole, and hopefully in discussions prior to the end of the year a solution can be found."
Red Bull has been among the teams suspected by rivals of pushing the boundaries of the RRA, but Horner said he accepted his outfit would come under the microscope because of its success, and remained committed to the RRA concept.
"I think inevitably we come more under the spotlight, and perhaps if we had not had as much success this year it would be less pertinent but that is way of the world," he said. "We are keen to find a solution and we are hopeful that one can be found between now and the end of 2011."
A FOTA spokesman said that some progress had been made on the issue, even though it is understand a proposal put forward by Red Bull Racing to tweak the current RRA was rejected by all but one team.
The spokesman said: "We had a productive meeting. A variety of options were discussed, and one of them is for the RRA to be put outside of FOTA. But none of these options have been agreed upon yet."