Renault to decide on 2012 driver line-up within the next fortnight
| | |
| --- | --- |
| By Jonathan Noble | Saturday, November 26th 2011, 20:24 GMT |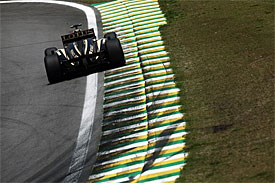 Renault will make a decision on its 2012 driver line-up within the next fortnight, team principal Eric Boullier said in Brazil on Saturday.
With the outfit evaluating several options for next year now that it is confirmed Robert Kubica will not be ready to start the campaign, the final call will be made at an imminent meeting of the Enstone-based team's board.
Boullier said that a number of drivers were under consideration, with various strategies being looked at - which is understood to include others like Romain Grosjean and Bruno Senna, experienced drivers such as Kimi Raikkonen and Adrian Sutil and even those like Heikki Kovalainen, who have deals elsewhere but could be bought out of their contract.
"We have discussed at length the different scenarios, and we have had time because with Robert, we were expecting and waiting for news, and now it is in the hands of the board," explained Boullier. "There is a different strategy with different drivers.
"It should just be a question of days - either this week or next week maximum."
When asked about suggestions that Raikkonen was now a serious possibility with a move to Williams now looking unlikely, Boullier said: "Kimi is a possible scenario... yes, if you want. But the list is long, and there are even some drivers under contract [elsewhere], who have some clauses to get out of their contracts. So the list is quite long."
Boullier added that it was unlikely the team would take Rubens Barrichello, despite holding talks with the Brazilian.
"It is true that he [Barrichello] came to me, and we had a couple of emails exchanged because he showed interest as he does not know what Williams is doing. But I told him he was not at the top of the list so he should not have much expectation."
Boullier also said he wanted to hold a meeting soon with Kubica's manager Daniele Morelli to discuss the Polish driver's future – and especially what his long-term commitment would be.
It was suggested that Kubica would only be able to test for Renault if it was then guaranteed he would not switch to another team soon after. There has been speculation that he already has discussed future plans with Ferrari.
"I need to understand if he could be back, and the commitment of Robert for the medium term. I will not bring a car for him and make a nice test for him if in 2013 he has signed already an option elsewhere."