Mark Webber grabs first win of the year in season-ending Brazilian Grand Prix
| | |
| --- | --- |
| By Matt Beer | Sunday, November 27th 2011, 17:36 GMT |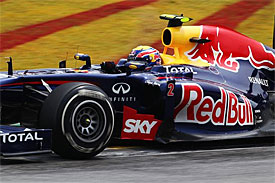 Mark Webber finally claimed his first victory of the 2011 Formula 1 season in the very last race of the year, as gearbox troubles for world champion Sebastian Vettel opened the door for his Red Bull team-mate in the Brazilian Grand Prix.
Red Bull absolutely dominated the Interlagos race, with Vettel holding the lead at the start, and Webber fending off the cars behind for second despite a slightly slower getaway.
Vettel soon opened up a stable three-second gap to Webber, as the Red Bull duo left the rest in their wake at a rate sometimes up to one second per lap.
But from the early laps Vettel was receiving radio messages warning him to short-shift to nurse a developing gearbox problem, and as the warnings became more vehement, his pace slowed enough for Webber to sweep into the lead on lap 29.
While the Australian went on to take his first win since the 2010 Hungarian GP, Vettel still had enough pace to hang on for second.
He was helped by McLaren's Jenson Button and Ferrari's Fernando Alonso battling over third. Alonso passed Lewis Hamilton's McLaren at the start, then claimed third from Button with a spectacular move around the outside at Ferradura on lap 11.
Alonso then pulled away, only to lose pace on the harder tyres in his final stint, allowing Button to catch and re-pass him nine laps from the finish with an easy DRS pass after various earlier attempts were rebuffed.
Hamilton was set to battle with Felipe Massa - who stopped just twice while most made three pitstops - for fifth until a gearbox failure halted the McLaren, ensuring the Ferrari could keep the place.
Adrian Sutil charged to sixth for Force India, beating Mercedes' Nico Rosberg and the second Force India of Paul di Resta.
Ninth place for Kamui Kobayashi ensured Sauber beat Toro Rosso - which failed to score - to seventh in the constructors' championship. Vitaly Petrov completed the points-scorers for Renault.
His team-mate Bruno Senna clashed with Michael Schumacher at the Senna S early on, giving the Mercedes a puncture. The stewards awarded Senna a drive-through penalty for the collision and with gearbox troubles also developing, he fell to 17th, while Schumacher got back to 15th.
Rubens Barrichello was unable to score in what could be his final grand prix. A poor start dropped the Williams to 21st and he was only able to recover to 14th.
PROVISIONAL RACE RESULTS

The Brazilian Grand Prix
Interlagos, Sao Paulo, Brazil;
71 laps; 305.909km;
Weather: Cloudy.

Classified:

Pos  Driver        Team                       Time
 1.  Webber        Red Bull-Renault           1h32:17.434
 2.  Vettel        Red Bull-Renault           +    16.983
 3.  Button        McLaren-Mercedes           +    27.638
 4.  Alonso        Ferrari                    +    35.048
 5.  Massa         Ferrari                    +  1:06.733
 6.  Sutil         Force India-Mercedes       +     1 lap
 7.  Rosberg       Mercedes                   +     1 lap
 8.  Di Resta      Force India-Mercedes       +     1 lap
 9.  Kobayashi     Sauber-Ferrari             +     1 lap
10.  Petrov        Renault                    +     1 lap
11.  Alguersuari   Toro Rosso-Ferrari         +     1 lap
12.  Buemi         Toro Rosso-Ferrari         +     1 lap
13.  Perez         Sauber-Ferrari             +     1 lap
14.  Barrichello   Williams-Cosworth          +     1 lap
15.  Schumacher    Mercedes                   +     1 lap
16.  Kovalainen    Lotus-Renault              +    2 laps
17.  Senna         Renault                    +    2 laps
18.  Trulli        Lotus-Renault              +    2 laps
19.  D'Ambrosio    Virgin-Cosworth            +    3 laps
20.  Ricciardo     HRT-Cosworth               +    3 laps

Fastest lap: Webber, 1:15.324

Not classified/retirements:

Driver        Team                         On lap
Liuzzi        HRT-Cosworth                 62
Hamilton      McLaren-Mercedes             37
Maldonado     Williams-Cosworth            27
Glock         Virgin-Cosworth              22


World Championship standings, round 19:                

Drivers:                    Constructors:             
 1.  Vettel       392        1.  Red Bull-Renault          650
 2.  Button       270        2.  McLaren-Mercedes          497
 3.  Webber       258        3.  Ferrari                   375
 4.  Alonso       257        4.  Mercedes                  165
 5.  Hamilton     227        5.  Renault                    73
 6.  Massa        118        6.  Force India-Mercedes       69
 7.  Rosberg       89        7.  Sauber-Ferrari             44
 8.  Schumacher    76        8.  Toro Rosso-Ferrari         41
 9.  Sutil         42        9.  Williams-Cosworth           5
10.  Petrov        37       
11.  Heidfeld      34       
12.  Kobayashi     30       
13.  Di Resta      27       
14.  Alguersuari   26       
15.  Buemi         15       
16.  Perez         14       
17.  Barrichello    4       
18.  Senna          2       
19.  Maldonado      1       
       
All timing unofficial