Weekend review and results round-up
| | |
| --- | --- |
| | Monday, April 18th 2011, 06:51 GMT |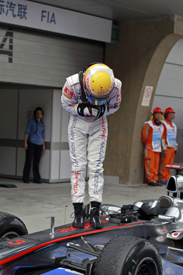 This was a weekend dominated by the racing - as whatever news, politics and rumours were swirling around the Chinese Grand Prix weekend were totally overshadowed by an epic event on track.
In one of the finest dry grands prix in years, varied tyre strategies intertwined to create a spectacular finale as Lewis Hamilton hunted down Sebastian Vettel and ended the world champion's winning run, and Mark Webber hacked through the field to take third from 18th on the grid.
There was encouragement for Mercedes too, with Nico Rosberg leading for some time, and for Felipe Massa, who outpaced Fernando Alonso and briefly put Vettel under pressure.
Formula 1 was not the only series entertaining on this remarkable weekend. The truncated Jordan Rally delivered the World Rally Championship's closest ever finish, as Sebastien Ogier denied Jari-Matti Latvala victory by just 0.2 seconds.
The NASCAR Sprint Cup equalled its own close-finish record at Talladega, with Jimmie Johnson nosing ahead of Clint Bowyer to win by just 0.002s as eight cars crossed the line as one.
IndyCar's Long Beach round didn't look like it would emulate this excitement at first, but a blistering late charge from nowhere to a maiden victory by Mike Conway really lit this race up too.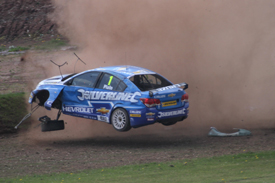 The British Touring Car Championship provided its usual good racing, but Donington Park 2011 will be primarily remembered for Jason Plato's huge race two crash. Amazingly the car was repaired in time for him to come from last to sixth in race three.
British Formula got underway at Monza in entertainingly chaotic fashion. Felipe Nasr emerged from all the incidents to mark himself out as the man to beat at present with two wins from three races.
This weekend also saw Formula 2 and Formula Renault 3.5 kick off for 2011. Mirko Bortolotti and Miki Monras took a dominant win each in F2, and Alexander Rossi started his FR3.5 title bid with a win, but the real sensation of Aragon was teenage race two winner Kevin Korjus.
As it finally resumed three months after Monte Carlo, the Intercontinental Rally Challenge also delivered excitement, with a rally-long four-car fight for victory that ended with Juho Hanninen taking his first asphalt win.
The F1 sessions

Vettel tops first Chinese GP practice

Vettel fastest again in China practice

Vettel completes free practice on top

Vettel storms to Chinese GP pole

Hamilton wins thrilling Chinese GP
The F1 headlines

Pirelli responds to marble concerns

Alonso: Ferrari must stay realistic

Hamilton says loyalty has its limits

FIA asked to look at cockpit safety

Hamilton 'committed' to McLaren

Pirelli: One-stop Chinese GP possible

Glock: Virgin needs experienced staff

Ecclestone speaks to prosecutors

Hamilton compromised Q3 for race

Horner: Webber woes down to cold tyres

Liuzzi: 107 per cent no longer an issue for HRT

Q & A: Webber on his qualifying woes

Vettel pledges to learn from China

Hamilton 'overwhelmed' by victory

Mercedes 'optimistic again' about pace
The motorsport action

WRC: Ogier wins in Jordan by just 0.2s

IndyCar: Conway charges to first IndyCar win

NASCAR: Johnson wins Talladega photo-finish

Formula 2: Bortolotti dominates first race

Formula 2: Monras takes commanding Silverstone win

Formula Renault 3.5: Rossi battles to first FR3.5 win

Formula Renault 3.5: Korjus surprises himself with win

British F3: Nasr wins amid Monza F3 chaos

British F3: Svendsen-Cook wins at Monza

British F3: Nasr makes it two wins from three

BTCC: Neal wins Donington opener

BTCC: Jordan takes first victory of 2011

BTCC: Jackson wins destructive race three

IRC: Hanninen takes first asphalt victory

ALMS: Muscle Milk and BMW take Long Beach wins