Liuzzi: 107% no longer an issue for HRT
| | |
| --- | --- |
| By Pablo Elizalde | Saturday, April 16th 2011, 09:59 GMT |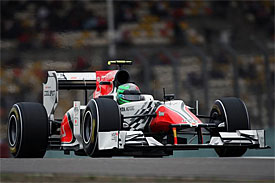 Tonio Liuzzi says the 107 per cent rule should no longer be a problem for his Hispania team after qualifying for the Chinese Grand Prix.
The team was unable to race in the season-opening Australian Grand Prix, but then qualified for Malaysia and again for tomorrow's race, doing it quite comfortably.
Liuzzi was 1.7 seconds quicker than the 107 per cent time and he reckons qualifying will not be an issue anymore this year.
The Italian admitted the target now is to make progress and reach Virgin.
"Today was alright, we could've achieved more from the second set of tyres but we got a strange reaction from them with a bit of understeer," said Liuzzi.
"We closed the gap with Virgin which is the aim, considering that we didn't use all the new development it was a positive qualifying session. Now we have to push hard for Turkey. I'm sure we can give Virgin a better race than in Malaysia.
"We have shown that in both soft tyre and hard tyre conditions we are competitive so the 107 per cent rule should no longer be an issue. We have to now focus on developing the car and try to finish ahead of our main rivals."
Team-mate Narain Karthikeyan, 24th today, agreed that qualifying for races should be straightforward from now on.
"The day started off well with the third practice session where the car went really well. I think that I could have gone quicker and done a better time," he said.
"We have a better package and qualifying shouldn't be an issue anymore, our target is now to get closer to Virgin. I definitely need to get some laps under my belt, my aim is to finish the race."