Glock: Virgin needs experienced staff
| | |
| --- | --- |
| By Jonathan Noble | Saturday, April 16th 2011, 03:06 GMT |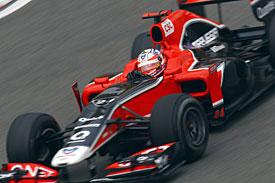 Virgin Racing must make use of more people with solid Formula 1 experience if it is to turn around its current disappointing form, reckons Timo Glock.
On the back of a troubled start to the campaign, with the new MVR-02 having failed to make the step forward in pace that the team had hoped, Virgin is now evaluating what it needs to do to improve its situation.
Glock believes the team needs to do more than just bring updates to its car - because that is unlikely to bring it closer to the cars ahead – and reckons that a more fundamental shake-up is needed.
"Everyone was hoping that pace wise we would be better," Glock told AUTOSPORT. "But clearly we are not where we should be and we hope we have a better performance in Turkey, when we get an upgrade.
"However, everyone else gets an upgrade as well so it will be not that big. In general it is not perfect. It is not a good situation for the team, and we have to put the facts on the table and just sort certain things out and try to move forward."
Glock suggests that getting more input from men like former Renault technical director Pat Symonds, who is a consultant for the team, is now a priority.
"We are building up the infrastructure at the moment, and that takes a bit of time. We need more experienced people. We are on the case to change to that, and make things better for the future."
When asked if Symonds should have more of an input because of his extensive F1 knowledge, Glock said: "I hope he can give us a bit of input, and can help us and direct us a bit. That takes time. It does not happen in two months or a couple of weeks, it just needs a bit of time."
Glock says that there are no major vices with the Virgin car – it is just simply lacking downforce.
"I am not an aerodynamics specialist, so at the moment I can just say that we have not enough downforce and Nick [Wirth] and his crew have to work on it.
"The basic concept of it is not that bad. It is driveable, it is not out of balance, there just isn't enough grip. It's quite easy – it's the downforce we don't have."