Weekend review and results round-up from the European Grand Prix
| | |
| --- | --- |
| | Monday, June 27th 2011, 09:14 GMT |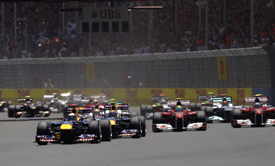 Despite expectations that the engine mapping rules tweak/clarification (depending on your view) might give Red Bull a few headaches in Valencia, Sebastian Vettel ultimately took one of his most comfortable victories yet - in the least exciting grand prix of the year so far.
Form-wise, the only change seemed unrelated to the regulations situation, as Ferrari closed in on Red Bull, while McLaren - temporarily, it hopes - dropped back.
While Formula 1 did not deliver much action on the Valencia streets, GP2 and GP3 certainly did, as the feeder series' topsy-turvy seasons continued, typified by Romain Grosjean winning on Saturday in GP2 then having a messy first-lap crash on Sunday.
Elsewhere, the big non-F1 news of the weekend was that nearly five years after his first IndyCar Series race win, Marco Andretti returned to the top step of the podium with a brilliant win in a very hard-fought Iowa race, while in NASCAR Kurt Busch turned his speed into a result and triumphed in the Sprint Cup Series' first road course appointment of the year at Sears Point.
The F1 sessions

Webber sets pace in first practice

Alonso quickest in second practice

Vettel leads final Valencia practice

Vettel secures another pole in Valencia

Vettel eases to European GP victory
The F1 headlines

Whitmarsh hails engine rules agreement

Whitmarsh: Hamilton happy at McLaren

Vettel unfazed by FIA rule tweaks

Schumacher hits back at Irvine

Sutil intends to keep Force India seat

FIA to experiment with double DRS zones

Pirelli wants qualifying rule tweak

Fry aims to make Ferrari more 'creative'

Hamilton may think twice before passing

Teams back 2014 engine plan

McLaren duo call for more performance

Tyre choice did not hurt spectacle
The motorsport action

NASCAR: Kurt Busch dominates at Sears Point

Formula 2: Bratt takes maiden F2 win in rain

Formula 2: Bortolotti retakes F2 lead with win

GP2: Grosjean wins Valencia race one

GP2: Gutierrez takes first GP2 win

GP3: Quaife-Hobbs takes maiden GP3 win

GP3: Calado scores first GP3 victory

IndyCar: Andretti ends win drought at Iowa

IRC: Loix clinches Ypres victory