Hamilton says he may 'think twice' before trying to overtake in Valencia
| | |
| --- | --- |
| By Edd Straw and Pablo Elizalde | Saturday, June 25th 2011, 17:24 GMT |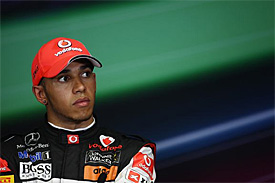 Lewis Hamilton says he will "think twice" before trying to overtake in tomorrow's European Grand Prix, despite vowing not to be less aggressive.
The McLaren driver has been involved in incidents with other drivers in the last two races in Monaco and Canada, crashing with team-mate Jenson Button during the Montreal race.
Speaking after qualifying in Valencia on Saturday, Hamilton said he is not planning to be less aggressive, but he did admit he may think more carefully before trying to pass.
"I'd like to say no," said Hamilton when asked if he would be more cautious tomorrow. "I don't think I will, if the chance comes. Of course, I want to finish for the team, that's the key. I think I will always remain as aggressive as I am.
"But instead of thinking once about it, maybe you'll perhaps think twice. If that means you are more cautious, then so be it but when I get the opportunity I am going to attack and try to overtake."
The Briton, known as a good overtaking driver, said there was nothing he could put his finger on for the amount of accidents recently.
"Not really," he said. "Things happen for certain reasons and of course you look at them and you analyse where you made the right decision or if you didn't.
"But that's just the way life is. It happened in those two races and hopefully it won't happen again. I don't know why the previous overtaking manoeuvres were much cleaner and much easier. Maybe the drivers are putting up even more of a fight than they have in the past."
McLaren team boss Martin Whitmarsh said he had no objections to Hamilton's style.
"I have no problem with how Lewis is racing," he said. "He is a natural, aggressive, born racer and he's going to go out there and race. I wouldn't want him to do it any other way.
"He will learn from it. I don't think he needs teaching from me because he is a professional racing driver."