Vettel unfazed by FIA rule tweaks
| | |
| --- | --- |
| By Sam Tremayne | Thursday, June 23rd 2011, 16:30 GMT |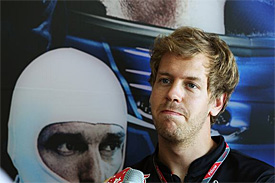 World Championship leader Sebastian Vettel has played down concerns that Red Bull could suffer a dip in performance following FIA rule tweaks which prohibit engine mapping changes between qualifying and the race.
Red Bull has thus far appeared almost untouchable in qualifying, with Vettel taking six pole positions and Mark Webber one from the opening seven races. In Barcelona, the duo were both more than 0.9 seconds clear of the rest of the field.
That dominance has not necessarily translated into race pace, however, with Vettel having been caught and passed by the McLarens of Hamilton and Button in China and Canada - while his lead was also closed down rapidly in Barcelona and Monaco.
Despite the apparent difference between qualifying and race day pace, Vettel believes the FIA's changes will not affect Red Bull more than other teams and remains confident his outfit can secure another strong result on the Valencia circuit.
"I think it's something that everyone was playing around with, especially this year," the 23 year-old explained. "It makes a difference to everyone, but I don't think it makes a bigger difference to us than others. It's the same for all of us, all the teams.
"I don't think (the team) are hiding something from me, so there's no secrets. We had some phases last year where people thought we had some lever in the car – turns out we didn't. From what I know, I can assure you there is nothing special going on from Saturday to Sunday.
"I can only judge what we do and sometimes we had good Saturdays but on Sundays struggled. We've had some straightforward races where we had very good race pace, and other races where we've said straight after that our race pace was not according to what we expect ourselves, so in hindsight we underperformed.
"I think you need to see every race on its own. Canada was largely determined by the weather conditions. Going to Monaco, in my case I think we had a very good race pace initially and then a very different strategy which makes it difficult to read the true pace.
"Looking back we've had a very competitive car in qualifying and race conditions everywhere so far, and that makes us reasonably confident here. Canada should not really have suited us but we had a very good day and put the car on pole, so we will see what we can do here."