The top 20 F1 stories of 2010
| | |
| --- | --- |
| | Friday, December 31st 2010, 11:57 GMT |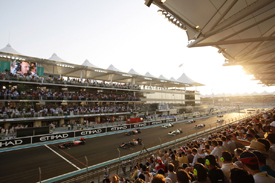 During 2010, AUTOSPORT.com once again delivered all the news as it happened, on every day of the year.
From the intense excitement of pre-season launches and testing, through the drama of the title battle, to the post-campaign analysis, AUTOSPORT was there every step of the way.
So as we wave goodbye to a fantastic 2010, we take a look back at our 20 most-read Formula 1 stories of the year - from more than 4000 that were published.
20. Schumacher seeks blocking clarification
March 27
Michael Schumacher made his much heralded return to Formula 1, and found himself laying down a marker early on after being left frustrated in qualifying for the Australian Grand Prix when he was blocked by some rivals. Wonder what he was saying to Fernando Alonso in that picture?
19. US F1 insider: Hurley can save the team
February 23
The build-up to the 2010 campaign was full of questions about which of the new teams would make it. It became clear early in the year that US F1 was in big trouble, and AUTOSPORT revealed that some staff felt YouTube co-founder Chad Hurley was the only man who could have a chance to save it.
18. Red Bull accepts Webber not to blame
June 1
One of the biggest flashpoints of Red Bull Racing's season came in the Turkish Grand Prix, when Mark Webber and Sebastian Vettel collided. But worse than the on-track incident, it was the team's handling of the affair that created a huge stir - and especially the way blame was initially pinned on Webber. In the end, Red Bull softened its stance.
17. Ferrari fined, referred to WMSC
July 25
Ferrari's decision to gift Fernando Alonso victory in the German Grand Prix at the expense of Felipe Massa caused uproar among fans at the time - and the FIA was swift to act on race day as it fined the team for using illegal team orders and referred the matter to the World Motor Sport Council.
16. US Grand Prix returns to F1 in 2012
May 25
After months of speculation that F1 was close to a deal in the United States, it was Austin, Texas, that sprung a surprise when it announced it had clinched a deal with Bernie Ecclestone.
15. Newey hospitalised after Ginetta crash
August 8
Adrian Newey proved once again that he is the master of designing fast racing cars, even if his own on-track exploits did not go perfectly to plan in 2010. He ended up in hospital in August after a crash at Snetterton while racing a Ginetta.
14. Teams agree new tyre rule for 2010
January 26
AUTOSPORT broke the news in January of a major strategic change to the 2010 rules, whereby the top ten drivers were forced to start the race on the tyres they qualified on. It proved vital in spicing up a few grands prix over the course of the season.
13. FIA closes rear diffuser loophole
March 19
While most of the technical talk in 2010 was about F-ducts and blown diffusers, there were other big talking points about car designs in the early stages of the year. After Bahrain a number of teams had to modify their starter motor holes.
12. Nine-drivers given five-second penalties
June 27
The stewards had a busy time after the European Grand Prix when a number of drivers were deemed to have broken the safety car delta time en route to the pits. In total, nine drivers got penalised.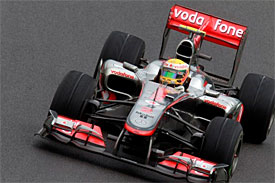 11. McLaren launches radical new MP4-25
January 29
When McLaren unveiled its 2010 challenger in January, it talked at the time about some 'radical' concepts on it. But it took a while for most of those secrets - including the F-duct - to be uncovered by the media and rival teams.
10. Schumacher handed 20-second penalty
May 16
Ever the opportunist, Michael Schumacher offered a glimpse of his old magic at the final corners of the Monaco Grand Prix when he pulled off a move on Fernando Alonso. Unfortunately it was against the regulations - and he was docked 20-seconds by the stewards.
9. Alonso tests '09 Ferrari with new livery
January 21
F1's winter testing ban meant Fernando Alonso had to wait a while to get his first taste of a Ferrari F1 car - but it eventually came in late January when he drove a 2009 car in the team's current livery for a promotional appearance.
8. Horner: Webber asked Vettel to back off
June 2
After the Turkish Grand Prix collision between Sebastian Vettel and Mark Webber, there remained a lot of intrigue surrounding the events building up to that moment. AUTOSPORT uncovered a few days later that Webber had asked Vettel to back off shortly before the incident.
7. Ground effect, turbos set for F1 return
September 3
AUTOSPORT uncovered in September that exciting plans were underway for a radical overhaul of the rules for 2013 - including the return of ground effect and the switch to turbo engines.
6. Team US F1 shuts down operation
March 2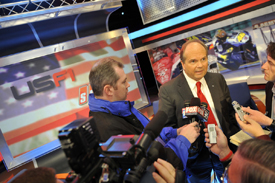 Team US F1 had kept pushing to get its cars on to the grid, but in early March AUTOSPORT revealed that its hopes were effectively finished when the operation was closed down.
5. Raikkonen bids for 2011 Renault seat
September 14
Kimi Raikkonen may have left F1 for rallying at the end of 2009, but the season just gone was filled with speculation about whether he would come back. AUTOSPORT revealed in September that the Finn had been in contact with Renault to see if a deal could be struck for a grand prix comeback
4. Massa grid error prompts FIA probe
September 2
Amateur video footage that emerged after the Belgian Grand Prix showed that Felipe Massa had stopped in front of his grid slot before the start at Spa. AUTOSPORT reported that the FIA vowed to find out why its GPS technology had not picked the infringement up.
3. Virgin reveals its VR-01 F1 contender
February 3
Virgin Racing's first F1 car generated a lot of interest - especially as on its launch date there were some technical issues that prevented its official 'virtual' unveiling going ahead as planned on the team's website.
2. Exclusive: First image of new Williams
January 28
AUTOSPORT delivered a bit of a scoop in late January when it revealed the very first picture of the 2010 Williams, which had hit the track for a secret filming day at Silverstone.
1. Exclusive: First image of Lotus F1 car
February 9
Not satisfied with revealing to the world the first pictures of the Williams, AUTOSPORT's most popular story of the year was an exclusive spy shot of the new Lotus F1 car - as the famous marque returned to the track with its green and yellow paint scheme.