McLaren: Tyres still a challenge for Formula 1 teams
| | |
| --- | --- |
| By Matt Beer | Wednesday, June 20th 2012, 16:09 GMT |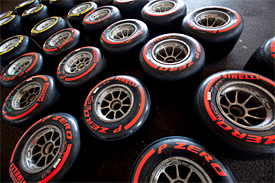 McLaren's operations director Simon Roberts thinks it is too soon to suggest that the top Formula 1 teams have now got a handle on the 2012 Pirelli tyres and will command the rest of the season - but reckons it is only a matter of time before that is the case.
After the Canadian Grand Prix, Pirelli's motorsport director Paul Hembery argued that the tyre-influenced random results of the early rounds - which saw five different teams winning races - would fade as the regular frontrunners fully grasped the Pirellis' intricacies and pulled clear, although Red Bull chief Christian Horner suggested that the rubber could "be a factor for probably another 13 races" before it was fully understood.
Speaking in a Vodafone McLaren Mercedes phone-in, Roberts said that Hembery's assessment was probably premature, but acknowledged that the top teams' resources would probably eventually allow them to crack the puzzle - and suggested the tyres' behaviour in Montreal had been an important step in that regard.
"I saw his comments and thought 'maybe he knows something...'" said Roberts of Hembery's thoughts. "I think all the teams are learning, without a shadow of a doubt. Whether anybody has actually solved the conundrum, I don't know.
"I think with every race that goes by and all the data we get, certainly the big teams who have got enough analysis going on in the background will make those steps forward.
"I think we did learn a huge amount in Canada and that does stand us in good stead. Whether we've cracked it or not, I wouldn't like to say. If we get a one-two in Valencia then I'd say we've done a pretty good job... It is a challenge."
Although McLaren is still unsure whether it is fully on top of the tyres' behaviour, Roberts reckons its victory with Lewis Hamilton in Canada proved that changes it had made following earlier pitstop and strategic errors had begun to pay off.
"We're very conscious when we make changes to the way we do things that you can inadvertently increase the level of risk or just get people slightly out of position," he said. "The guys on the race team did a huge amount of work on trying to refine the pitstop strategy and even the way we approach qualifying.
"I think we were fairly pleased in Canada and hopefully we've turned a corner. We're not planning anything different going forward. We think it's now pretty stable, so no big changes and hopefully we'll just consolidate what we've been doing and keep it in the sweet spot."