Red Bull boss Christian Horner reckons 2012 Pirellis may remain a mystery for teams
| | |
| --- | --- |
| By Jonathan Noble and Glenn Freeman | Tuesday, June 12th 2012, 10:28 GMT |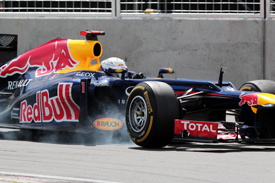 Red Bull Racing believes Formula 1 teams may never totally get on top of the tyres this season - as a number of outfits chase the secret to having both good qualifying performance as well as long-distance pace in the race.
Sebastian Vettel had looked quick throughout practice and qualifying at the Canadian Grand Prix, but he was not as able to look after his tyres as well as race-winner Lewis Hamilton.
Red Bull's team principal Christian Horner says he does not expect anyone to truly understand why performances shift around so much - and that races will be characterised by varying speeds shown by cars between qualifying and the race.
"I think that the [tyre] window is so narrow on this that it's difficult," explained Horner. "You can move the performance around: you can attack qualifying and maybe it hurts you in the race, or you can go soft in qualifying like Lotus did and perhaps be stronger in the race.
"I think this is going to be a factor for probably another 13 races. It's a tricky one. Fernando [Alonso] is probably sitting there wishing he had pitted with 15 laps to go, but again, seven laps from the end he is leading the grand prix."
Horner says it is more difficult this season to predict the right strategies for the race – especially because some cars are better in their long-run pace than their single-lap performance.
"Two guys that went on the one stop, one started 15th and the other at the back end of the top 10 and they have come out second and third," he said. "We have qualified on pole, been in the lead on lap 15, yet run into trouble seven laps before the end."