Mallory Park set for early racing return as July meeting planned
| | |
| --- | --- |
| By Scott Mitchell | Thursday, February 27th 2014, 12:05 GMT |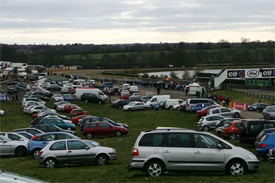 Mallory Park will host at least one car race meeting in 2014 after organisers confirmed a summertime race event.
The Classic and Sports Car Club has agreed to help with the meeting, to be held on July 20, which will include races for its new Dunlop Production Cup for Porsches and existing Special Saloons and Modsports category.
A CSCC Allcomers race for non-slick tyre-shod cars and a historic touring car race have also been mooted, while Formula Ford 1600 Super Series chief James Beckett is working on an FF1600 grid for the event.
CSCC director Hugo Holder said that the late confirmation of the event would make it difficult to put it together, but the club was prepared to step forward and take a chance to help the circuit recover.
"We thought it was important we support it," he told AUTOSPORT. "We're a little bit on the back foot, and of course there's an element of risk, but it's got to be worth it to get Mallory up and running again."
Circuit operator Real Motorsport Limited had previously claimed there would be no four-wheeled racing at the facility in 2014 after fearing its own deal to take over the facility had come too late to put together a full calendar.
But last week organisers revealed they were targeting a revival of the Boxing Day Plum Pudding meeting after the official formation of the circuit's new members' club, Mallory Motorsports Club Limited.
MMCL, which will trade as Club Mallory and is headed by long-time circuit affiliate Cliff Johnson and Adam Crowton, has been created with the intention of helping put together a car racing schedule.
The turnaround in fortunes for the circuit came as a surprise to those in charge, but co-operator Eddie Roberts said it was yet another step towards what they have been aiming for since taking over the day-to-running of the facility in December.
"It was unexpected, but we're going to be active and that's great," he said. "It's massive, it's a step to show it is a car circuit and we are really pushing to bring racing back to Mallory."