Mallory Park circuit files for administration
| | |
| --- | --- |
| By Ben Anderson | Monday, September 30th 2013, 15:35 GMT |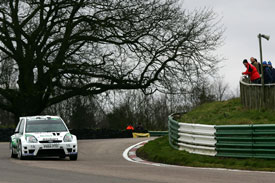 The company that operates Mallory Park was put into administration this week, as the ongoing row over noise nuisance with the circuit's local community continues.
Mallory Park Motorsport Limited, which runs the circuit on behalf of the British Automobile Racing Club, has taken the step after failing to agree an increase in the number of days per year that the circuit is allowed to operate for, plus a reduction in the amount of rent it must pay to the landowner, Titan Properties, a company owned by former racer and BRDC member Chris Meek.
The circuit has been in dispute with its local council over noise for the past two years, which resulted in MPML being fined in Court earlier this year over five breaches of its planning agreement.
That Court decision also obliged Mallory Park to adhere to the limits set down in that 1985 agreement.
This arrangement permits a maximum 44 days of racing per year at Mallory, plus testing on Wednesdays.
Mallory Park had subsequently reduced activities at the circuit to two days per week, but MPML said the resultant loss of track-day income has put it in financial difficulty.
The BARC and MPML had been negotiating with Hinckley and Bosworth Borough Council in an effort to find a compromise that would allow Mallory to operate for more days than allowed by the 1985 planning agreement.
They have simultaneously sought a reduction in the amount of rent payable to Titan, which it claims has risen by 40 per cent over the last eight years.
Titan recently claimed a site to the West of the circuit could be developed to redesign the circuit and alleviate the noise concerns, but did not reveal details of how this plan could be put into practice.
MPML said it had developed its own "three stage recovery plan" for the circuit, which had received positive feedback from the council and local residents, but that it needed a reduction in rent to make the plan viable.
With no compromise forthcoming, MPML's directors felt they had no option but to place the company into administration, though it is hoped racing will continue at the Leicestershire circuit.
Administrator Ian Robert, of Kingston Smith & Partners LLP, said: "I will be working with all the stakeholders to ensure that Mallory Park will see racing again.
"To that end, I will be negotiating with the landlord and the council, with the support of the BARC, to ensure that racing can be enjoyed at Mallory Park for years to come."