BARC gives up on finding a solution for Mallory Park problems
| | |
| --- | --- |
| By Scott Mitchell | Monday, October 14th 2013, 15:13 GMT |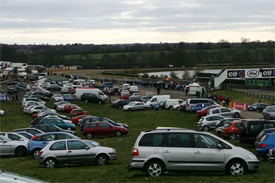 Mallory Park has suffered a huge blow in its fight for survival after its leaseholder the British Automobile Racing Club declared it would have no further involvement with the circuit.
A BARC statement announced it has given up on finding a solution to the mounting problems facing the facility, which will now be unable to host any racing unless another leaseholder can be found.
The circuit was put into administration last week after a long-running noise dispute with its local council led to it being fined and ordered to operate a maximum of 44 days of racing per year, plus testing on Wednesdays.
The BARC's statement said it had "exhausted all discussions" with the administrator, and that the club is now "unable to pursue any future involvement" with Mallory.
"The BARC announces today with considerable regret that it believes it has now exhausted all discussions with the administrator in respect of Mallory Park," the statement read.
"The BARC has been informed that the landlord, Titan Properties, will not reduce the rent by half as widely previously publicised and in fact will only offer terms for the next 12 months without any commitment towards necessary capital expenditure on track works moving forward.
"The BARC has also been informed that any possible future agreement from Hinckley & Bosworth Borough Council is subject to certain caveats moving forward although we have not seen definitive terms.
"Clearly the BARC is committed, as it has been over the previous months, to continue operating Motor Sport at Mallory Park, but is not in a position to do so with continuing uncertainty in respect of contractual arrangements with Titan Properties and HBBC.
"Therefore under these circumstances the BARC has come to the conclusion it is unable to pursue any future involvement with the Mallory Park Circuit."