AJ Foyt against Indianapolis road course race for IndyCar
| | |
| --- | --- |
| By Matt Beer | Thursday, September 26th 2013, 12:55 GMT |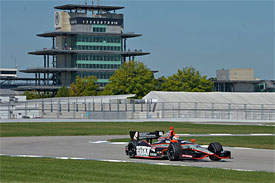 Four-time Indianapolis 500 winner AJ Foyt has warned against plans to add an IndyCar race on the Speedway's road course to the event bill.
IndyCar has held a test on the former Formula 1 circuit in the Indianapolis infield, which is now used in a different configuration for MotoGP.
The series is evaluating whether to stage a road course round on the track as part of the Indianapolis 500 build-up next May.
Foyt believes that would detract from the 500 itself, and have little appeal for spectators.

Indy winners sceptical over road course
"In my own opinion, I would hate to see that because Indianapolis 500 has been like the Kentucky Derby," he said.
"It's a legendary race, and I think it would take a little bit from the 500.
"Now after the 500, mid-year, something like that, that would probably be fine.
"But I'd hate to see it interfere with the Indy 500 maybe a week or two before it opens.
"I don't think it's a good deal, and that's my personal opinion.
"I don't think you'd have that many people there."
KURT BUSCH INDY BID 'REALLY HARD'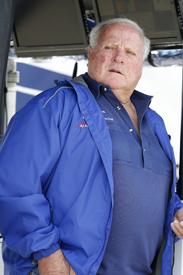 Foyt also believes the days of star drivers from other series making successful Indy 500 bids are over, amid NASCAR Sprint Cup title contender Kurt Busch's discussions with Andretti Autosport over a 2014 Indy programme.

Although he was able to win the Daytona 500 and Le Mans 24 Hours alongside his USAC Champ Car career in his heyday, Foyt thinks drivers now need more track time to get to grips with different cars.
"I think Kurt Busch is a great race driver and one of the few from NASCAR that could probably come over and do a good job," Foyt said.
"But this one race on and off, it's really hard.
"Tony Stewart was really good in these cars, but when you're out of them four or five years it makes it hard to come back because so many things have changed.
"It would take a little while to learn. I don't care who you are.
"If you're AJ Foyt, Mario Andretti, whoever, it still would take a day or two to learn."