Spielberg European F3: Felix Rosenqvist adds spectacular third win
| | |
| --- | --- |
| By Jamie O'Leary | Sunday, June 2nd 2013, 09:51 GMT |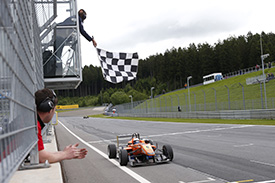 Felix Rosenqvist overtook Daniil Kvyat in stunning fashion to set up his third Formula 3 European Championship win of the weekend at Spielberg and further close on the series lead.
The Mucke Motorsport driver, whose result made him the first man to win three times in the series in a single round, started third on the grid and held the position through the first two corners as Raffaele Marciello and Kvyat disputed the top spot.
But as the front two held each other up at the following corner, both Rosenqvist and Latifi's superior exits brought them alongside the pair.
Having safely outdragged championship leader Marciello into the Turn 4 braking zone, Rosenqvist then drove around the outside of Kvyat's Carlin machine through the two following high-speed left-handers.

All the racing action as it happens on AUTOSPORT Race Centre Live
Rosenqvist's fifth win of 2013 reduced his deficit to Marciello to just 27.5 points, the Swede having begun the weekend 77.5 adrift.
Kvyat took his third runner-up spot of the weekend, 2.6 seconds in arrears, while Lucas Auer finished third; the Austrian passing his Prema team-mate Marciello at Turn 3 on the eighth lap and then fending off pressure from Carlin's Jordan King.
King lost fourth to his Carlin team-mate Harry Tincknell before the end. Marciello, who dropped to eighth after running wide as he lost out to Auer, recovered to sixth by overtaking both Latifi and Pipo Derani.
Latifi just held on to seventh after he and Derani banged wheels at Turn 2 on the penultimate lap. That incident allowed Brit Alex Lynn to haul his Prema car up to eighth, having started back in 19th.
Lynn's cause was also helped by a collision that eliminated Antonio Giovinazzi and Eddie Cheever as the pair - and six others - squabbled over 10th spot at half-distance.
The safety car was deployed for six early laps for an accident that occurred at Turn 1 on the second lap, and which was triggered by a spin from Carlin's Jann Mardenborough.
While most of the pack managed to miss his car, Tom Blomqvist clipped the stationary machine, breaking his own rear suspension and coming to a standstill against a barrier.
Moments later the unsighted Mans Grenhagen ploughed into Mardenborough, and was rear-ended by his Van Amersfoort team-mate Dennis van de Laar, whose car was then launched over the top of the Swede's.
Results - 20 laps:

Pos  Driver               Team/Car                          Time/Gap
 1.  Felix Rosenqvist     Mucke Dallara-Merc              35m12.692s
 2.  Daniil Kvyat         Carlin Dallara-VW                 + 2.691s
 3.  Lucas Auer           Prema Dallara-Merc                + 7.005s
 4.  Harry Tincknell      Carlin Dallara-VW                 + 8.743s
 5.  Jordan King          Carlin Dallara-VW                 + 9.845s
 6.  Raffaelle Marciello  Prema Dallara-Merc               + 10.236s
 7.  Nicholas Latifi      Carlin Dallara-VW                + 18.342s
 8.  Alex Lynn            Prema Dallara-Merc               + 19.266s
 9.  Pipo Derani          Fortec Dallara-Merc              + 20.606s
10.  Roy Nissany          Mucke Dallara-Merc               + 20.868s
11.  Lucas Wolf           URD Dallara-Merc                 + 22.184s
12.  Josh Hill            Fortec Dallara-Merc              + 24.990s
13.  Felix Serralles      Fortec Dallara-Merc              + 26.159s
14.  Will Buller          Fortec Dallara-Merc              + 29.179s
15.  Michael Lewis        Mucke Dallara-Merc               + 38.770s
16.  Spike Goddard        T-Sport Dallara-Nissan           + 39.218s
17.  Tatiana Calderon     Double R Dallara-Merc            + 43.110s
18.  Andre Rudersdorf     Ma-con Dallara-VW                + 55.429s
19.  Sandro Zeller        Zeller Dallara-Merc              + 59.615s

Retirements:

     Sean Gelael          Double R Dallara-Merc              18 laps
     Sven Muller          Ma-con Dallara-VW                  11 laps
     Antonio Giovinazzi   Double R Dallara-Merc              10 laps
     Eddie Cheever        Prema Dallara-Merc                 10 laps
     Jann Mardenborough   Carlin Dallara-VW                    1 lap
     Tom Blomqvist        Eurointernational Dallara-Merc       1 lap
     Mitchell Gilbert     Mucke Dallara-Merc                   1 lap
     Mans Grenhagen       Van Amersfoort Dallara-VW            1 lap
     Dennis van de Laar   Van Amersfoort Dallara-VW            1 lap