IndyCar removes push-to-pass delay for 2013 season
| | |
| --- | --- |
| | Tuesday, March 19th 2013, 12:17 GMT |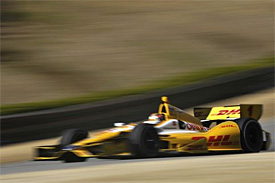 IndyCar has removed the activation delay of its push-to-pass system as part of new standardised rules for 2013.
The series re-introduced the system at Toronto last year but tweaked the activation delay as the season progressed.
Under new rules the system will now be instantaneous, although the length of each boost will fluctuate between each road or street course.
For the St Petersburg season-opener, as well as Detroit, Sonoma, Baltimore and Houston, drivers will be able to use a total of 150 seconds of boost, split between 10 bursts.
That will be increased to 20s of boost - again with 10 bursts available – for Barber, Long Beach, Sao Paulo, Toronto and Mid-Ohio.
IndyCar vice president of technology Will Phillips said the changes reflected the layout of each track.
"The length of each push of the button should cover the longest straight, if that's where they choose to use it, of each circuit," he said.
"You'll have to be careful because there are only 10 opportunities to use it during a race.
"If the driver chooses to use one, they can't cancel it.
"That in itself makes it more difficult to choose to use as a defence mechanism rather than as an overtaking opportunity. It's use it or lose it"