IndyCar adjusts push-to-pass for Sears Point
| | |
| --- | --- |
| By Mark Glendenning | Tuesday, August 21st 2012, 09:34 GMT |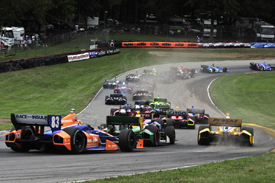 IndyCar has tweaked the activation delay on its push-to-pass system for this weekend's race at Sears Point.
The series has reduced the delay between the driver hitting the button and the system kicking in from the 5s used at the previous race at Mid-Ohio to 3.5s, which IndyCar director of engine development Trevor Knowles says is the result of the Sonoma track's shorter straights.
"All parameters of the push-to pass system can be tailored to fit any circuit," said Knowles. "Sonoma has shorter straightaways than what we had at Mid-Ohio, so we've adjusted the parameters of push-to-pass to fit this particular circuit. But the principles for use that were in place for Mid-Ohio have remained the same for Sonoma."
Drivers had the chance to experiment with the 3.5s delay at last week's test. The push-to-pass system was reintroduced to IndyCar in Toronto last month, although the activation delay was only tried for the first time at Mid-Ohio.
The delay was met with a cool response from drivers, with some pointing out that it could no longer be used defensively, and others complaining that the system is too sensitive to throttle changes for the delay to be workable.
"I think it was stupid, honestly," said Penske's Will Power at Mid-Ohio. "Because the way they got it, you have to have a certain throttle percentage. You'd hit it and get in the corner and it would unclick itself and then you've got another five seconds... it was useless. Honestly. I didn't find it useful at all."