Ferrari plans aggressive early development push for F138 F1 car
| | |
| --- | --- |
| By Jonathan Noble | Monday, March 4th 2013, 09:34 GMT |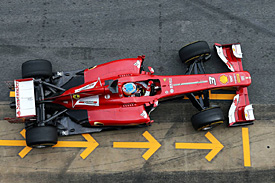 Ferrari is planning a major development push with its F138 for the early stages of the season.
In a bid to lay down solid foundations for a championship challenge, Ferrari's technical director Pat Fry has revealed that the outfit plans big update pushes for the first race and then the Chinese Grand Prix.
"We haven't quite got all the bits here, and there is some stuff coming through," he explained.
"It will be challenging testing things at a track that is not used that often, so we have to see. There are more bits coming through for Melbourne, more for Malaysia and a bigger upgrade for China - so we have a reasonable development plan going."
Fry believes that, with the battle between the frontrunning teams looking too close to call at the moment, having a good development plan is place is essential.
"I think exactly where we will be in Melbourne I don't know," he said. "We have a reasonable balance and both drivers are happy with the cars.
"Our job is to keep up the development rate. We had a pretty good development rate [in 2012] once we understood our problems, and you can never get faster car instantly.
"Last year we thought to target Spain and then Canada and I think that development rate shows that if we do a good job we should be able to maintain that all year. That is the target.
"If you look back over the last three months we have been on that gradient."
Ferrari is encouraged, however, by indications that point towards a much better correlation between its CFD and windtunnel work, and what is being delivered on track.
"Last year we made some fundamental mistakes which we have learned from," he said.
"I think this test for us has been good; what we have developed in CFD and the wind tunnel, it is delivering on the track.
"You never have 100 per cent correlation but it is pretty good. It helps us give more confidence that the developments we bring to the race will hopefully move us ahead on the day."
He added: "We have had some reasonable good results here. We know what is working in the CFD/tunnel is starting to deliver on track so it is a good sign for Melbourne and for our development path through the year."