Daytona 500: Danica Patrick becomes first female NASCAR Cup pole-winner
| | |
| --- | --- |
| | Sunday, February 17th 2013, 20:16 GMT |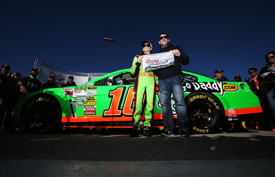 Danica Patrick became the first female driver ever to take a NASCAR Sprint Cup pole position as she outpaced her rivals in qualifying for the Daytona 500.
Having been rapid in January testing and fastest in Saturday practice, Patrick's pace came as no surprise.
The IndyCar race-winner is starting her first full season at Cup level with Stewart-Haas Racing. She also took pole at Daytona last year during her Nationwide Series campaign.
"I have a feeling it's going to be one of those things I look back on in 10, 20, 30 years and feel something about," said Patrick of her historic achievement.
"At this point in time it's just about going out there and getting what you can. You guys can all talk about it, I'm just turning left..."
Stewart-Haas looked like it would dominate for much of qualifying, as team-mates Ryan Newman and Tony Stewart led the way before Patrick's lap and held second and third behind her for a long spell.
But its formation was interrupted when Jeff Gordon snatched second in his Hendrick Chevrolet and 2011 Daytona winner Trevor Bayne thrust his Wood Brothers Ford to third in the closing stages.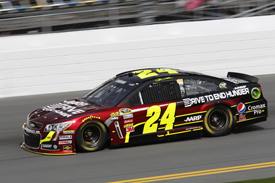 Only Patrick and Gordon's positions are set for next Sunday's showpiece race, with the rest of the grid decided by the results of the two Duel races on Thursday. Sunday's times set the Dual starting orders.
Newman and Stewart were pushed back to fourth and fifth behind Bayne, with Kasey Kahne in the second-best Hendrick car.
Joe Gibbs Racing duo Denny Hamlin and Kyle Busch were seventh and eighth, followed by their former and new team-mates, with Gibbs-to-Penske convert Joey Logano and Roush Fenway-to-Gibbs mover Matt Kenseth completing the top 10.
Reigning champion Brad Keselowski was only 23rd, two places behind his main 2012 title rival Jimmie Johnson. Last year's eventual runner-up Clint Bowyer was 18th and Sprint Unlimited winner Kevin Harvick 25th.
Qualifying times:

Pos  Driver              Team/Car                     Time     Gap
 1.  Danica Patrick      Stewart-Haas Chevrolet       45.817s
 2.  Jeff Gordon         Hendrick Chevrolet           45.850s  + 0.033s
 3.  Trevor Bayne        Wood Brothers Ford           45.924s  + 0.107s
 4.  Ryan Newman         Stewart-Haas Chevrolet       45.931s  + 0.114s
 5.  Tony Stewart        Stewart-Haas Chevrolet       45.936s  + 0.119s
 6.  Kasey Kahne         Hendrick Chevrolet           45.953s  + 0.136s
 7.  Denny Hamlin        Joe Gibbs Toyota             45.972s  + 0.155s
 8.  Kyle Busch          Joe Gibbs Toyota             45.973s  + 0.156s
 9.  Joey Logano         Penske Ford                  45.973s  + 0.156s
10.  Matt Kenseth        Joe Gibbs Toyota             45.983s  + 0.166s
11.  Dale Earnhardt Jr   Hendrick Chevrolet           46.016s  + 0.199s
12.  Ricky Stenhouse Jr  Roush Fenway Ford            46.027s  + 0.210s
13.  Juan Pablo Montoya  Earnhardt Ganassi Chevrolet  46.034s  + 0.217s
14.  Paul Menard         Childress Chevrolet          46.035s  + 0.218s
15.  Casey Mears         Germain Ford                 46.037s  + 0.220s
16.  Austin Dillon       Childress Chevrolet          46.063s  + 0.246s
17.  Carl Edwards        Roush Fenway Ford            46.097s  + 0.280s
18.  Clint Bowyer        Waltrip Toyota               46.100s  + 0.283s
19.  Martin Truex Jr     Waltrip Toyota               46.105s  + 0.288s
20.  Jeff Burton         Childress Chevrolet          46.117s  + 0.300s
21.  Jimmie Johnson      Hendrick Chevrolet           46.134s  + 0.317s
22.  Jamie McMurray      Earnhardt Ganassi Chevrolet  46.144s  + 0.327s
23.  Brad Keselowski     Penske Ford                  46.163s  + 0.346s
24.  Marcos Ambrose      Petty Ford                   46.203s  + 0.386s
25.  Kevin Harvick       Childress Chevrolet          46.215s  + 0.398s
26.  Aric Almirola       Petty Ford                   46.215s  + 0.398s
27.  Greg Biffle         Roush Fenway Ford            46.218s  + 0.401s
28.  Mark Martin         Waltrip Toyota               46.229s  + 0.412s
29.  David Gilliland     Front Row Ford               46.236s  + 0.419s
30.  David Ragan         Front Row Ford               46.245s  + 0.428s
31.  Michael Waltrip     Swan Toyota                  46.317s  + 0.500s
32.  Josh Wise           Front Row Ford               46.331s  + 0.514s
33.  Kurt Busch          Furniture Row Chevrolet      46.474s  + 0.657s
34.  Michael McDowell    Parsons Ford                 46.501s  + 0.684s
35.  Scott Speed         Leavine Ford                 46.502s  + 0.685s
36.  Terry Labonte       FAS Lane Ford                46.508s  + 0.691s
37.  Regan Smith         Phoenix Chevrolet            46.609s  + 0.792s
38.  Dave Blaney         Baldwin Chevrolet            46.633s  + 0.783s
39.  Bobby Labonte       JTG Daugherty Toyota         46.738s  + 0.814s
40.  JJ Yeley            Max Q Ford                   46.852s  + 0.921s
41.  David Reutimann     BK Toyota                    47.284s  + 1.348s
42.  Travis Kvapil       BK Toyota                    47.333s  + 1.380s
43.  Joe Nemechek        NEMCO-JRR Toyota             47.357s  + 1.385s
44.  Mike Bliss          Humphrey Smith Chevrolet     47.509s  + 1.536s
45.  Brian Keselowski    Hamilton Means Toyota        48.946s  + 2.973s