NASCAR Sprint Unlimited: Kevin Harvick starts year with victory
| | |
| --- | --- |
| | Sunday, February 17th 2013, 04:59 GMT |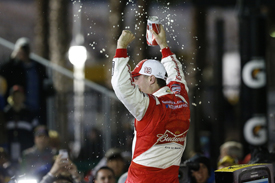 Kevin Harvick took the honours as NASCAR's sixth generation car made its competitive debut in the Sprint Unlimited race at Daytona.
Richard Childress Racing driver Harvick led all but one lap of the third and final segment of the non-championship race, but it was two pieces of inspired defensive driving through the final corner that sealed his win.
The first part came when he dived low to block Tony Stewart, the second when he adjusted his line to go high and prevent Greg Biffle from getting a run to the flag.
"I was really nervous about the #20 [Matt Kenseth] and #14 [Stewart]. I think there cars were better than the one we have," Harvick said. "We don't care about anything other than winning and this was an awesome day for us."
Here is how the full 75-lap event played out: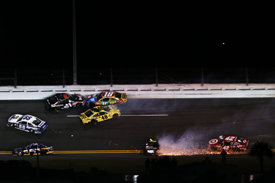 Segment 1 - 30 laps
Aided by a push from Harvick, Stewart won the first of the three segments, but the real talking point was a multi-car pile-up that accounted for some of the pre-race favourites.
The incident was sparked when Stewart attempted to dive inside of race leader Kenseth, but clipped the Ford of Marcos Ambrose in doing so.
Both drivers did brilliantly to keep control of their cars, but the sight of Stewart broadside across the track caused Denny Hamlin to hit the brakes.
This led to him being nudged from behind by Joe Gibbs Racing team-mate Kyle Busch, which in turn sent Hamlin up the track into Jimmie Johnson.
In the ensuing melee, Jeff Gordon, Kurt Busch, Martin Truex Jr and Mark Martin all picked up damage.
"I saw a car sideways, but thought we'd all be fine, then the cars higher up tangled," said Martin, whose Michael Waltrip Racing Toyota was too badly damaged to continue. "I was squeezed. There were cars all between me. Gosh, we didn't get far there..."
Johnson, Gordon and Kyle and Kurt Busch were all forced out by the damage sustained, which combined with Terry Labonte's earlier retirement meant only 12 cars took the second segment start.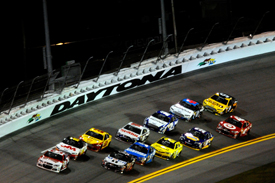 Segment 2 - 25 laps
Harvick was first across the line in a more subdued second segment. The Chevrolet driver led home Biffle, Joey Logano, Stewart and Truex, who were more or less in single file.
The segment's main excitement came as Logano and Dale Earnhardt Jr came close to touching, which made Earnhardt run down the track and into Stewart.
There were a couple of rubs, which caused a bit of damage to the left rear of Junior's Chevy, but all three drivers did well to maintain control of their cars.
Ominously for fan favourite Earnhardt, he finished the segment in 12th, a long way off the back of the leading pack.
All the pit crews were able to make repairs and adjustments before the cars lined up in the finishing order of segment two for the final dash for the cash.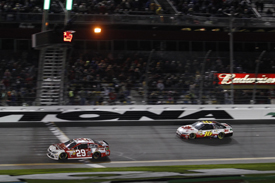 Segment 3 - 20 laps
Harvick took the high line, Kenseth the low. Kenseth's Toyota appeared to have the legs, but he was too fast for the cars behind him, and without anyone to push him on, he could not get a run on Harvick.
For one lap he managed to get his nose in front, but the glory was fleeting. In fact, with around four laps to go, Kenseth appeared to have lost contact with the leading group.
Using his favoured low line, he side drafted his way back to the front, with the fast Logano as his aide. But blocks by first Stewart and then Harvick halted his run.
Harvick's blocking was inspired, and earned him another Daytona win.
See more pictures of NASCAR events at Daytona, including the Sprint Unlimited, in the AUTOSPORT news gallery
Results - 75 laps:

Pos  Driver              Team/Car                       Time/Gap
 1.  Kevin Harvick       Childress Chevrolet        1h03m22.000s
 2.  Greg Biffle         Roush Fenway Ford              + 0.149s
 3.  Joey Logano         Penske Ford
 4.  Tony Stewart        Stewart-Haas Chevrolet
 5.  Matt Kenseth        Joe Gibbs Toyota
 6.  Aric Almirola       Petty Ford
 7.  Kasey Kahne         Hendrick Chevrolet
 8.  Dale Earnhardt Jr   Hendrick Chevrolet
 9.  Martin Truex Jr     Waltrip Toyota
10.  Juan Pablo Montoya  Earnhardt Ganassi Chevrolet
11.  Marcos Ambrose      Petty Ford
12.  Carl Edwards        Roush Fenway Ford

Retirements:

     Kurt Busch          Furniture Row Chevrolet         15 laps
     Jimmie Johnson      Hendrick Chevrolet              14 laps
     Denny Hamlin        Joe Gibbs Toyota                14 laps
     Kyle Busch          Joe Gibbs Toyota                14 laps
     Jeff Gordon         Hendrick Chevrolet              14 laps
     Mark Martin         Waltrip Toyota                  14 laps
     Terry Labonte       FAS Lane Ford                    2 laps