Rookie Bayne wins Daytona 500
| | |
| --- | --- |
| By Diego Mejia | Sunday, February 20th 2011, 22:34 GMT |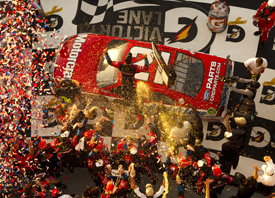 Rookie Trevor Bayne caused a major upset in the Daytona 500 by taking his maiden NASCAR win in only his second Sprint Cup Series outing while becoming the youngest winner of the blue riband event.
With just a single Cup race under his belt before entering events at Daytona, Bayne, who celebrated his 20th birthday on Saturday, made history by becoming the seventh driver to win the Daytona 500 at his first attempt while ending a 10-year win-less streak for Wood Brothers Racing.
Racing for NASCAR's oldest team, Bayne survived a chaotic race that saw a race-record 16 caution periods, and then made the right moves in the green-white-chequered finish.
Following a first attempt to finish the race under green, Bayne inherited the lead from Roush Fenway's David Ragan, who got penalised for jumping the penultimate restart while trying to quickly get in tandem formation with Bayne, hoping to break away from the field.
Once in the lead in the legendary #21 Ford, Bayne found his new drafting partner in JTG Daugherty's Bobby Labonte, the Toyota pushing him from the final green flag all the way to the last corner, as the chasing tandem of pre-race favourite Kurt Busch (Penske) and Earnhardt Ganassi's Juan Pablo Montoya ran out of steam along the back stretch on the last lap.
Roush Fenway's Carl Edwards, pushed by a second Ford of David Gilliland, closed on the leaders and Edwards was able to place the nose of his car right on the inside of Labonte's out of the last corner, leaving Bayne up front without a push from behind.
However the rookie from Knoxville, Tennessee was able to keep enough momentum while guarding the inside line, preventing Edwards from getting a run on him as the chequered flag waved ahead of them after 208 laps.
"I can't even describe it," said a stunned Bayne, who struggled to find his way to Victory Lane. "It's our first time coming here so I feel a little undeserving. It's just unbelievable. It's the craziest thing I've ever experienced.
"Honestly I didn't think I had a chance. Every time it seemed like the second pack would catch the guys at the front. This is a race where you've got to have to have somebody helping you to win it. Everybody that helped me there, I can't thank them enough.
"I felt like I was in the worst possible place I could be, leading on the last lap. But coming out of Turn 4 I said 'there's no way, we're leading this Daytona 500 coming to the chequered'.
"Then I had this incredible push from [Labonte] and actually I was kind of worried when David Ragan had to do the black flag penalty there. I thought we had lost our help and we were going to be in trouble but it just worked awesome for us."
Ironically Bayne, whose team is only funded for a limited number of races in 2011, could have led the Cup standings out of Daytona, but as NASCAR's new rules stand, drivers competing in multiple national series can only contend for one championship.
With a limited schedule planned in Cup with Wood Brothers, Bayne is entered as a title contender in the second-tier Nationwide Series where he drives full-time for Roush Fenway Racing.
Edwards, the new points leader, lamented missing out on a maiden Daytona 500 win, but admitted Bayne did a good job at blocking him heading to the start-finish line for the last time.
"Trevor did a good job of blocking the bottom and then that car was a rocket and took off to the finish line and we didn't have a chance to the able to mount a real charge on him," Edwards said. "I think I can tell you guys that second place in the Daytona 500 feels way worse that any other position I've ever finished in here, but that is made better by listening to Trevor and how excited he is."
Ford's eventually took a top-three sweep with Gilliland's Front Row Motorsports car, followed by Bobby Labonte while Kurt Busch rounded out the top five, feeling like a mistake on the last lap prevented him from winning his maiden Daytona 500.
"On that last lap, I just needed to stay on the bottom of the track and it just didn't seem like Montoya could stay together and get enough steam built up on the run," Busch said. "I was in perfect position to win the race, running third, and just made a mistake. It's tough. We came all this way and came up a little shy. All in all, it was a great points day for us. We'll take it."
As expected, the race unfolded with two-car tandems racing against each other for more than 500 miles. The new style of racing seemed to ignite chaos at times, some drivers getting turned around by their drafting partner.
A total of 16 caution periods that lasted for 60 laps in total made for a race-record, as many of the expected title contenders ended up with low scores after being involved in incidents, including reigning champion Jimmie Johnson.
The traditional 'big one' took place as soon as lap 29, involving 14 cars when Michael Waltrip turned around his team-mate David Reutimann at Turn 4 ahead of a big group of cars. All Hendrick drivers but Dale Earnhardt Jr were caught up in the wreckage, Jeff Gordon and Johnson suffering enough damage to be forced to their garages for lenghty repairs.
Veteran Mark Martin dropped two laps down while his car was fixed but he was eventually able to get back on the lead lap though the free-pass rule under caution, finishing the race in 10th.
The nature of the two-car tandem technique also led to a number of engines failing, including 2010 championship contender Kevin Harvick's, his Childress team-mate Jeff Burton, and an ill V8 for last year's winner Jamie McMurray, whose ECR Chevrolet unit dropped a cylinder in the decisive stages.
McMurray's team-mate Montoya survived a spin, missed a number of potential incidents and contact with Greg Biffle to finish sixth in his best season start in Cup. The Colombian worked with his team-mate for most of the race until McMurray's engine hit trouble, forcing Montoya to look for new drafting partners in the closing laps.
Similarly Kyle Busch recovered from an early spin and saved a second one later to finish eighth behind Regan Smith, who was involved in a late incident when Kurt Busch turned him sideways as Tony Stewart pushed the back of the Penske Dodge, while racing at the front only two laps from the scheduled end.
Earnhardt, whose late father was remembered with a lap of silence on lap three, was unable to see the chequered flag after being involved in the final incident, along with Ryan Newman and Martin Truex Jr.
The race set a new record for the most lead changes at Daytona, with a total of 74 between 22 drivers.
Results - 208 laps
Pos  Driver                Team/Car                         Time/Gap
 1.  Trevor Bayne          Wood Brothers Ford           4h03m32.000s
 2.  Carl Edwards          Roush Fenway Ford                + 0.118s
 3.  David Gilliland       Front Row Ford                   + 0.172s
 4.  Bobby Labonte         JTG Daugherty Toyota             + 0.343s
 5.  Kurt Busch            Penske Dodge                     + 0.762s
 6.  Juan Pablo Montoya    Earnhardt Ganassi Chevrolet      + 0.929s
 7.  Regan Smith           Furniture Row Chevrolet          + 2.170s
 8.  Kyle Busch            Joe Gibbs Toyota                 + 2.228s
 9.  Paul Menard           Childress Chevrolet              + 2.711s
10.  Mark Martin           Hendrick Chevrolet               + 2.737s
11.  AJ Allmendinger       Petty Ford                       + 2.769s
12.  Bill Elliott          Phoenix Chevrolet                + 2.832s
13.  Tony Stewart          Stewart Haas Chevrolet           + 3.825s
14.  David Ragan           Roush Fenway Ford                + 5.094s
15.  Terry Labonte         FAS Lane Ford                    + 5.335s
16.  Robby Gordon          Robby Gordon Dodge               + 5.679s
17.  Clint Bowyer          Childress Chevrolet             + 12.263s
18.  Jamie McMurray        Earnhardt Ganassi Chevrolet     + 16.208s
19.  Martin Truex Jr       Waltrip Toyota                  + 33.421s
20.  Steve Wallace         Rusty Wallace Toyota            + 34.097s
21.  Denny Hamlin          Joe Gibbs Toyota                  + 1 lap
22.  Ryan Newman           Stewart Haas Chevrolet           + 2 laps
23.  Joey Logano           Joe Gibbs Toyota                 + 2 laps

Retirements:

     Dale Earnhardt Jr     Hendrick Chevrolet           202 laps
     Kasey Kahne           Red Bull Toyota              199 laps*
     Dave Blaney           Tommy Baldwin Chevrolet      198 laps
     Jimmie Johnson        Hendrick Chevrolet           189 laps*
     Jeff Gordon           Hendrick Chevrolet           173 laps*
     Brad Keselowski       Penske Dodge                 166 laps
     David Reutimann       Waltrip Toyota               164 laps*
     Brian Vickers         Red Bull Toyota              160 laps*
     Travis Kvapil         Front Row Ford               153 laps
     Andy Lally            TRG Chevrolet                149 laps*
     Matt Kenseth          Roush Fenway Ford            133 laps
     Greg Biffle           Roush Fenway Ford            126 laps
     Jeff Burton           Childress Chevrolet          92 laps
     Marcos Ambrose        Petty Ford                   82 laps*
     Robert Richardson Jr  Front Row Ford               45 laps
     Joe Nemechek          NEMCO Toyota                 29 laps
     Michael Waltrip       Waltrip Toyota               28 laps
     Brian Keselowski      K-Automotive Dodge           28 laps
     Kevin Harvick         Chevrolet                    22 laps
     JJ Yeley              Chevrolet                    10 laps

* Running again at chequered flag