Red Bull adamant driver equality policy will stay
| | |
| --- | --- |
| By Jonathan Noble | Saturday, September 1st 2012, 09:29 GMT |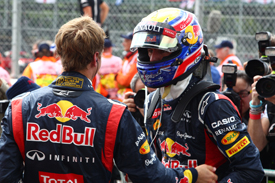 Red Bull insists it has no qualms about its policy of letting both Sebastian Vettel and Mark Webber fight it out for the title - even though they could take points off each other.
With the world title battle likely to boil down to a contest between the Red Bull drivers, Fernando Alonso, Lewis Hamilton and Kimi Raikkoen, there are both advantages and disadvantages in one team having two men in the hunt.
But Red Bull team principal Christian Horner claims no thought will be given to favouring one of his men – and says the outfit has learned valuable lessons from incidents that happened in 2010.
"The drivers have gone through a lot of different experiences together and I think there is a genuine respect between the two drivers," he said.
"They are both performing very well, so from a team point of view it is healthy to have two drivers who are pushing each other, that are running at the front, and it will be no different in the remaining nine races.
"We will continue to give both guys the same opportunity and ultimately it will be down to what they do on track, as it should be."
Horner reckons that the fact that his two men are adrift of championship leader Alonso actually has its benefits.
"In many respects the pressure is off our two drivers because they are doing the chasing rather than being the chased. They have nothing to lose in the last nine races to go for it," he said.
Reflecting on the first part of the campaign, Horner said: "It has been an interesting first half for us. The way that the regulations evolved over the winter and the way we managed to deal with that means we have got a better understanding with the car.
"We are unlucky not to be sitting here with four races wins, after the disappointment of Valencia, but to have won in Monaco, Silverstone and Bahrain, we have more than a 50-point lead in the constructors' championship.
"But we don't take anything for granted. Obviously the main objective is to get both drivers right up there with Fernando."