Red Bull Racing embroiled in technical row ahead of Monaco Grand Prix
| | |
| --- | --- |
| By Jonathan Noble | Sunday, May 27th 2012, 10:56 GMT |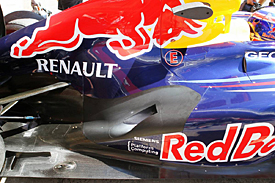 Red Bull Racing is embroiled in a technical row ahead of the Monaco Grand Prix, with rival teams unhappy about the floor design on the pole-winning car.
It is understood that at least three teams - believed to be McLaren, Ferrari and Mercedes - are questioning the design of a 'hole' in the floor situated ahead of the rear wheels of the RB8.
Although no outfit is willing to speak officially on the matter, sources have suggested that while there is no motivation to take the issue to an official protest yet, such an action cannot be totally ruled out.
Under article 3.12.5 of Formula 1's technical regulations, teams are not supposed to have any hole in the floor in certain areas - and it is the location of these slots that appears to be the main issue.
The rules state: "All parts lying on the reference and step planes, in addition to the transition between the two planes, must produce uniform, solid, hard, continuous, rigid (no degree of freedom in relation to the body/chassis unit), impervious surfaces under all circumstances."
It then adds: "Forward of a line 450mm forward of the rear face of the cockpit entry template, fully enclosed holes are permitted in the surfaces lying on the reference and step planes provided no part of the car is visible through them when viewed from directly below."
Red Bull Racing has declined to comment on the matter, but a senior source at the team insists that the design has been declared legal by the FIA and that there is no intention of modifying it because rival teams are unhappy.
The design in question has been on the car since the Bahrain Grand Prix, which Sebastian Vettel went on to win.
One option the team would have to avoid the possibility of a post-race protest would be to change the design of the slots to avoid any risk of trouble. However, if such a modification was made ahead of the race then both Mark Webber and Vettel would have to start from the pit lane.
The slots in the Red Bull floor are designed to try and inject higher energy airflow into the gap between the tyres and diffusers – to try and overcome the airflow disruption caused by the rear tyre. This will help produce more rear downforce.