Michael Schumacher declares Monaco Grand Prix still possible despite grid penalty
| | |
| --- | --- |
| By Simon Strang and Jonathan Noble | Saturday, May 26th 2012, 13:59 GMT |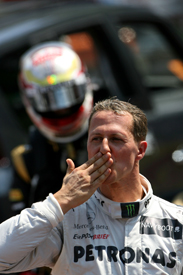 Michael Schumacher vowed to fight for his sixth Monaco Grand Prix victory on Sunday despite having to take a five-place grid penalty that nullifies what would have been his first pole position since returning to Formula 1 two and a half years ago.
The 43-year-old German admitted that it meant a great deal to him to be quickest in qualifying on the tough street track, having come in for some criticism over his slow start to the 2012 season. The penalty means that Red Bull's Mark Webber will start from pole.
"First of all, I am more than thrilled and excited about making a pole here in Monaco," said Schumacher, who received the penalty following his collision with Bruno Senna in the Spanish Grand Prix. "Monaco to all of us is the track of the year that has a very prestigious position, and to manage pole position here after what I have gone through in the last two and a half years is just fabulous. And that is what sticks into my mind.
"I told you guys in the press conference that I would get pole, start sixth and win it - and that is what I am going to aim for. That's all I have in my mind and the past doesn't matter."
Schumacher, who has started from pole position in Monaco three times in his career, described the feeling when he knew he was fastest as 'beautiful'.
"Obviously I saw my time on the dashboard [I thought] it should not be too bad, but you don't know as being one of the early ones out on track you don't know what will come behind.
"Seeing the monitors and at one point I saw number one and then I started to believe and got confirmation on the radio, it is just beautiful.
"Monaco being so special, we call it in terms of percentage a bit more of a driver track than other tracks, and because of the prestigious atmosphere and what it means for us, it is super fantastic if you manage to do such a lap," he added. "I knew I was on the lap, but you are never sure as we have seen how tight qualifying has been.
"It is very tricky in these days and not always possible to get all these together. Here and now we did and hopefully we learned more and more in order to do it more often. Reminding me I am still around is a good point."
Schumacher added that he saw his performance as a vindication of the level he believes he has been able to operate at for some time, in spite of results not always matching his expectations.
"I leave it up to others what it means or does not means, to me I am obviously excited and very happy and confirms what I have felt for a long time," he said when asked what being fastest in Monaco qualifying meant. "It is just sometimes you have to put everything together at the right moment.
"I have to say a great thanks to all the team, particularly some of the guys who work very closely with me - we had a special session earlier this week that unified and united us even further.
"This is the result that comes together from that. I am grateful to the trust that Mercedes and the team had in me, they supported me. I am happy to give it back and want to give more back tomorrow."