Ferrari technical chief says team still has plenty of work to do to stay in Formula 1 title hunt
| | |
| --- | --- |
| By Jonathan Noble | Monday, May 21st 2012, 12:35 GMT |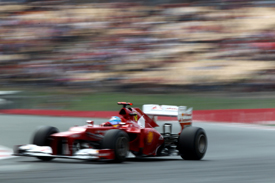 Ferrari must keep up its aggressive work rate for the remainder of the 2012 Formula 1 season if it is to have any hope of maintaining its world championship challenge.
That is the view of technical director Pat Fry, who reckons the team is on the right path thanks to recent updates - but knows that plenty more is needed if it is not to lose ground to its rivals.
"It was a good effort all around to get the parts delivered to Barcelona and I think most of them worked as expected," Fry said in a video posted on Ferrari's official website.
"There were a few things we are still looking at now trying to understand if they are working to the right level, but all the bits added performance – some just a little bit less than we were expecting.
"So, all in all, everyone was reasonably happy with the updates we made. But obviously we still have a long way to go, and we have to keep working at a similar rate."
Ferrari delivered a revamp of its F2012 at the Spanish Grand Prix, which helped Fernando Alonso finish in second place and take the joint lead of the points standings with Sebastian Vettel.
Looking ahead, Fry said that more developments were planned over the next few races – including new aerodynamic parts for Canada and a fresh push on exhaust designs.
"[For Monaco] we have a few more small updates that will bring some more downforce to the car, but the interesting thing [there] is how each car uses its tyres," said Fry.
"It is going to be a constant drive for updating, like everyone does these days. We have a different rear wing and front wing package for Canada, which is a slightly different downforce level.
"And then we are working on the exhaust system. There will be versions of that that we will test. We learned a lot at the start of the year in understanding the problems we had from that, and we had another go at Mugello.
"We have a good understanding, but the performance... we are just trying to put it on the car as quickly as we can. It will be a constant drive all the way through the season."